If you want to use Facebook to promote your business then you must know how to start a business page on Facebook. It is easy to start a promotional campaign on Facebook since it is simple to use and can reach a wide audience.
It's crucial to learn not only how to start a business page on Facebook but also how to use it effectively for marketing. And of course we'll teach you a quick and easy step by step guide so you can start today.
With Facebook having almost 3 billion users, it makes it a perfect place to market your business. This is a great opportunity to reach people who may be interested in your products or services. Additionally Facebook has some great metrics besides being the biggest social media platform.
This guide will help you set up and personalize a Facebook page. We'll teach you how to start a business page on Facebook in a quick and easy way.
Facebook Business Page Definition
Public Facebook accounts are called Facebook Pages. Public figures, brands, and organizations can utilize Facebook Pages.
The purpose of business pages is to share contact info, post updates, and to share contents. Events and releases can also be promoted through business pages. But the most important part is connecting with Facebook audiences.
Facebook ads and Facebook shops can be linked to Facebook pages.
How to Start a Business Page on Facebook
You need to log in to your personal Facebook account before you can set up your Facebook Business Page. No worries, your personal information won't appear on your business page.
You need to do this due to the fact that each business page is managed by one or more administrators. Administrators are Facebook users who have personal accounts.
In your new business Page, your personal account acts as a key to gain access. Members of your team will also be able to access their individual roles and capabilities through their personal accounts.
To begin, sign in to your personal account if you haven't already. Then follow the steps to create your Page.
Sign up
Signing up is the first step in getting started. Visit facebook.com/pages/create to get started.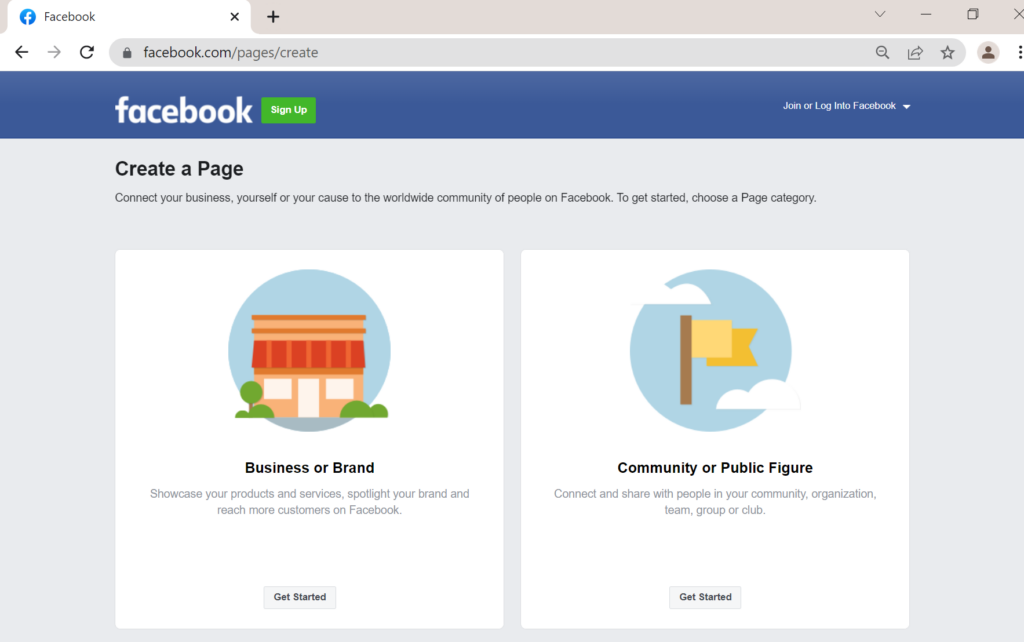 As you can see, the page looks like this. Simply click the get started button. You will again be asked to log in before proceeding.
On the left side of the page, you can enter your business information. During this process, the right hand side preview will update in real time.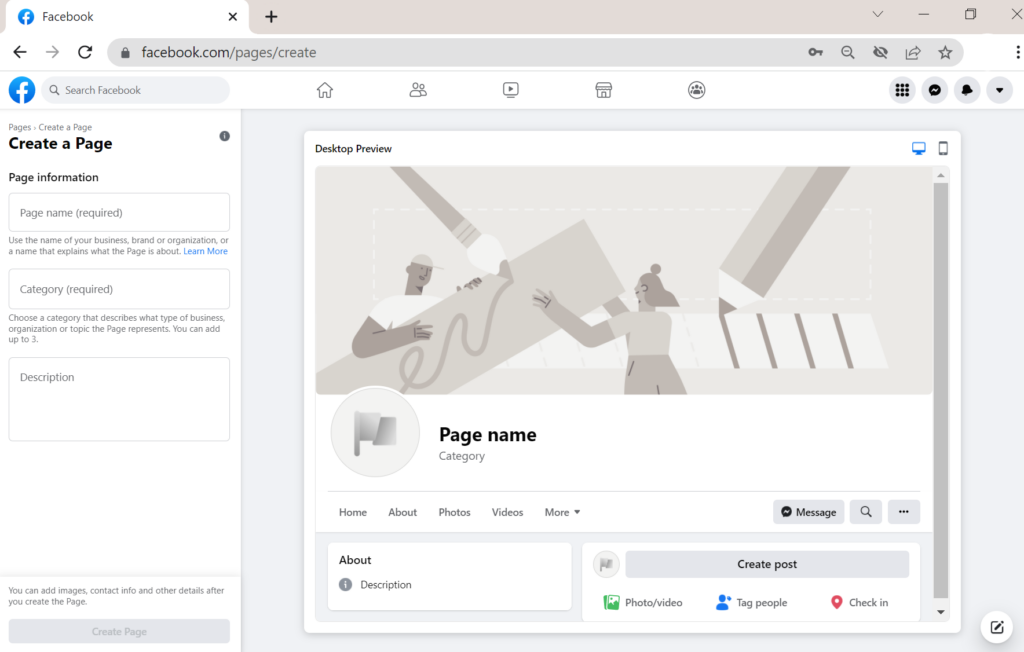 This page will appear once you log in.
Fill up the boxes. Type in the page name, category, and description. You should use your company's name for the page name.
It's also a good idea to use the name people will most likely search for when looking for your business.
If you type a few words describing your business, Facebook will suggest categories. There are up to three suggestions.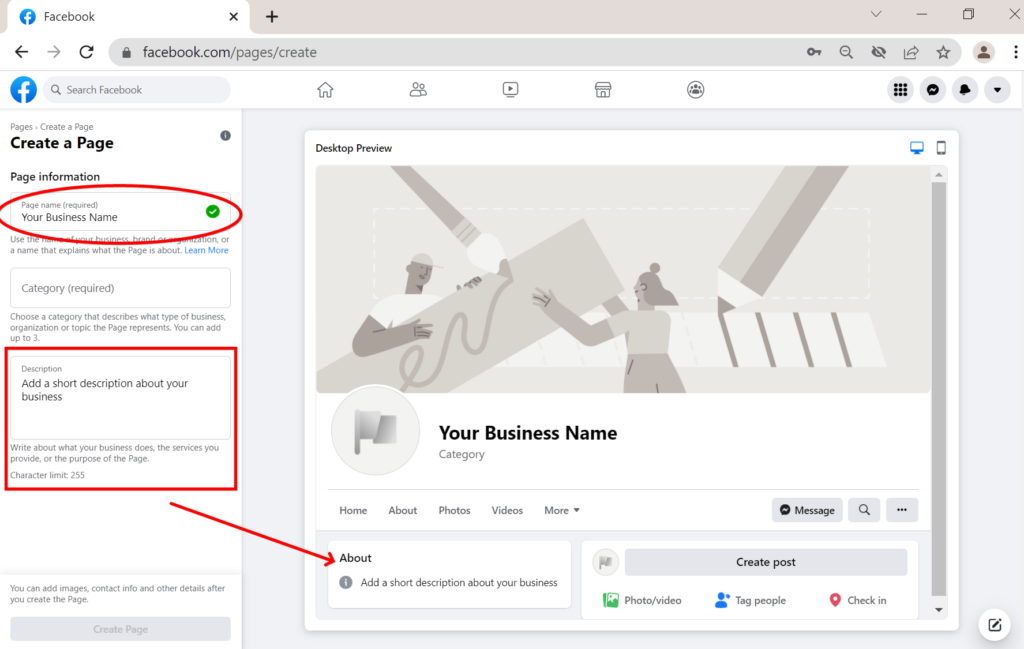 Adding a description is the next step. Search results, display short descriptions of what you have added. A couple of sentences should be sufficient. The maximum number of characters is 255.
When you're happy with your description, time to proceed to the next step. Lastly, don't forget that you can only proceed to the next step if you've completed the page name, category, and description.
Include images
For your Facebook Page, you'll need to upload a profile picture and a cover photo. Create the right first impression with your visuals, so choose wisely here. Choose pictures that are easily identifiable with your business and are aligned with your brand.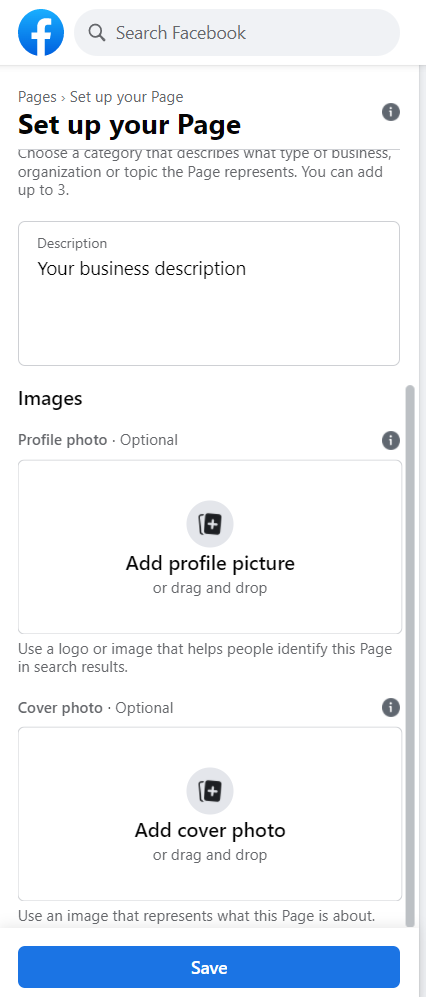 First, you will need to upload a profile picture for your account. Search results and user interaction show this image next to your business name.
Your Facebook page shows this image as well. So you'll need to select an appealing photo that reflects the essence of your business.
Brand recognition begins with an appealing image and logo.
It is probably the safest move to use your brand logo if your company has a recognizable brand. An image of your face works wonders, especially if you're a public figure.
Local businesses might also benefit from well-shot images of their signature products. Your page should be easy to recognize so that a potential follower or client can access it easily.
Ideally, your profile image should be 170×170 pixels for all social networks. Don't put any important details in the corners since the photo will be cropped into a circle.
Click Add Profile Picture after choosing a great photo. Don't forget to add your cover photo as well.
The top right button on the preview lets you switch between the desktop and mobile view after you upload the photos. To ensure your images look good on both displays, you can use these tools.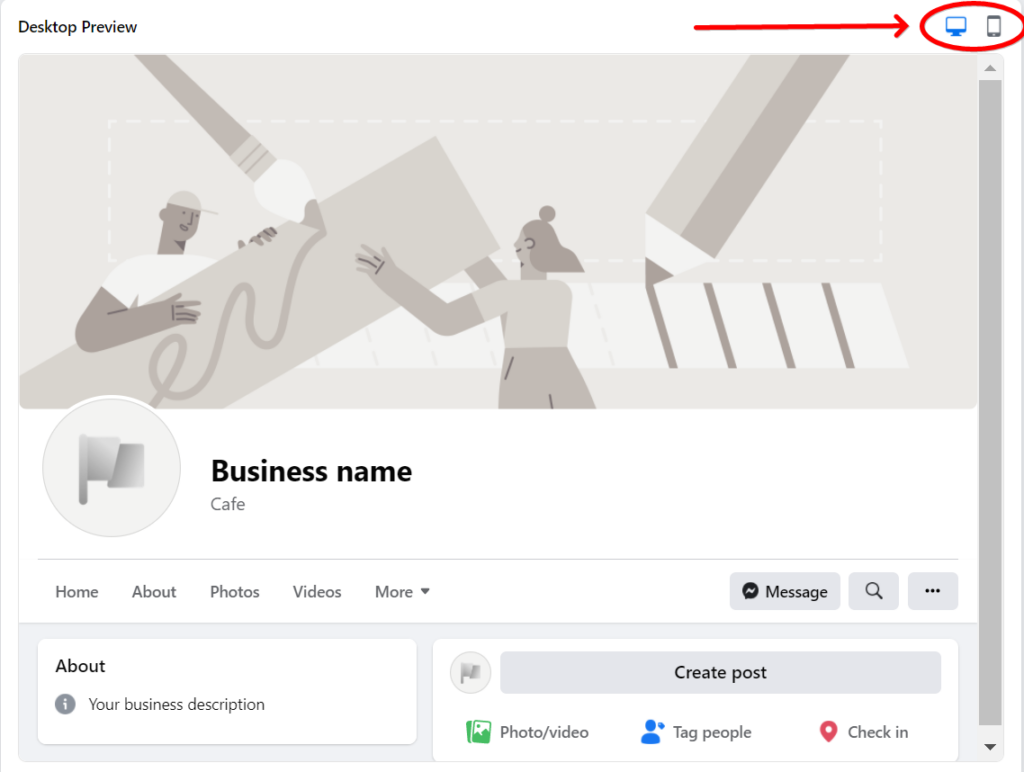 Save your selections when you are finished.
Voilà! Despite its small size, your Facebook Business Page now exists.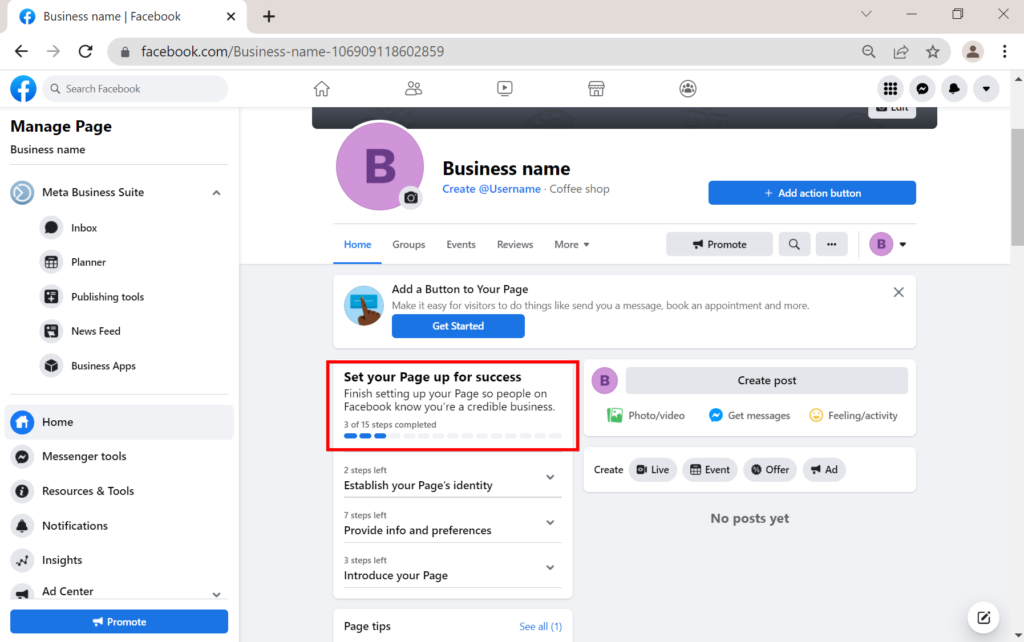 Before you share your new page with your audience, you still need to do a lot of work to do.
Set up a username
Facebook's users can find you by looking up your username, also known as your vanity URL.
The maximum length of a username is 50 characters. Try to avoid using extra characters just for the sake of it.
Ideally, you would want the name to be easy to type, and it should also be easy to remember. You should use your company name or an obvious variation of it.
On the Page preview, click Create Username to create your username.

You can enter the name you wish to use here. Facebook will indicate if the name is available. Getting a green checkmark means you're on your way.
Click the choose a username link if you're having difficulty creating a user name. Here are the guidelines you should follow to successfully create a page username.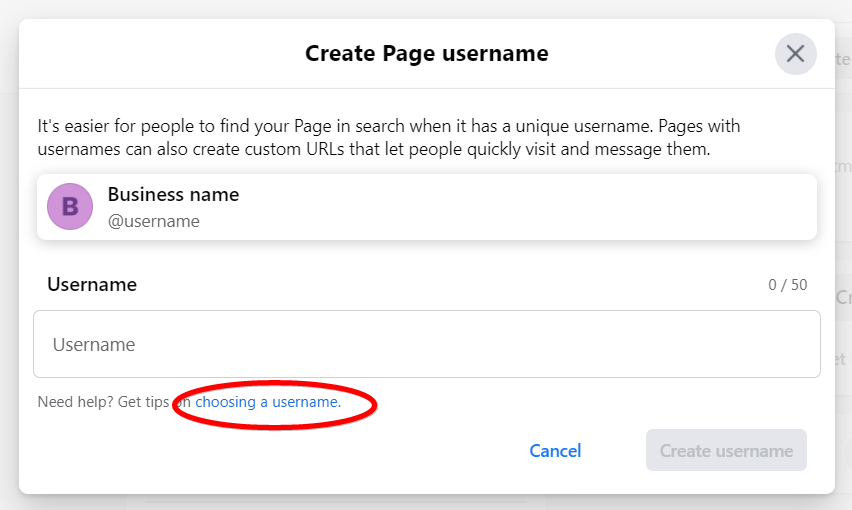 Your confirmation will appear in a pop-up. Press Done.
Enter your business Information
Leaving the details to a later date might be tempting. Your Facebook Page's About section should have all the fields filled in right from the beginning.
A customer often goes to Facebook the first place to find out more about you, so having it all there is important. People may want to review your Facebook Page to confirm, for example, if you're a pet-friendly place.
It is fortunately very simple to do this on Facebook. Click on the item titled Provide Info and Preferences.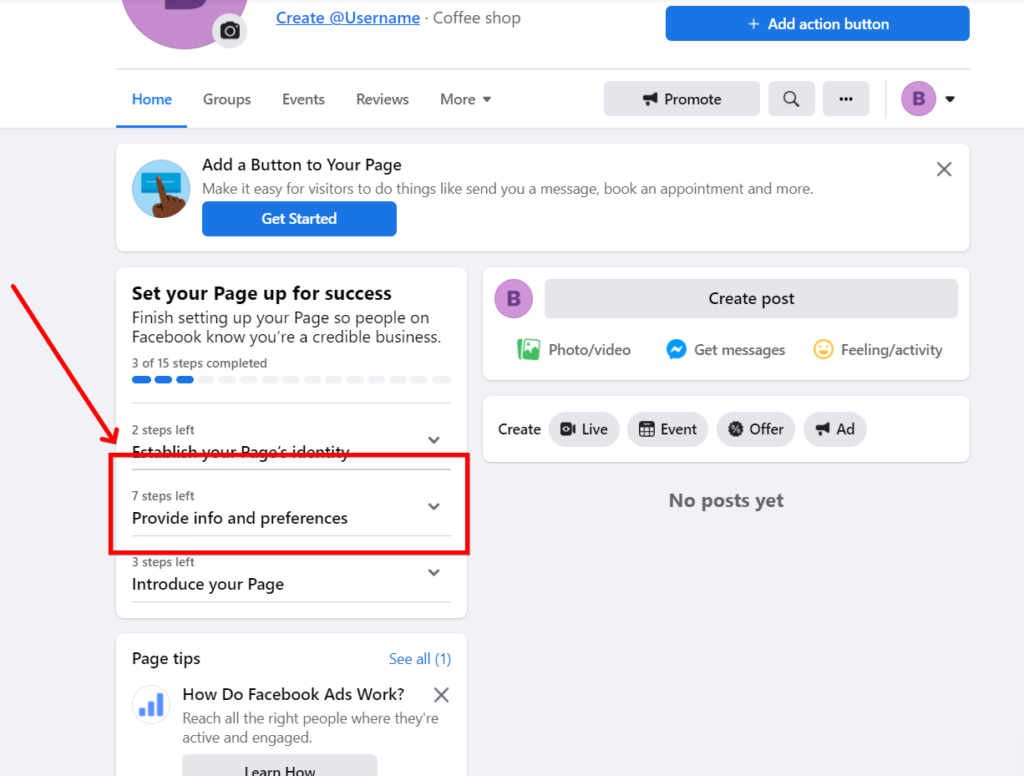 You can enter your website's information here.
Enter your business' hours of operation here if your business is open to the public. These hours are displayed in search results.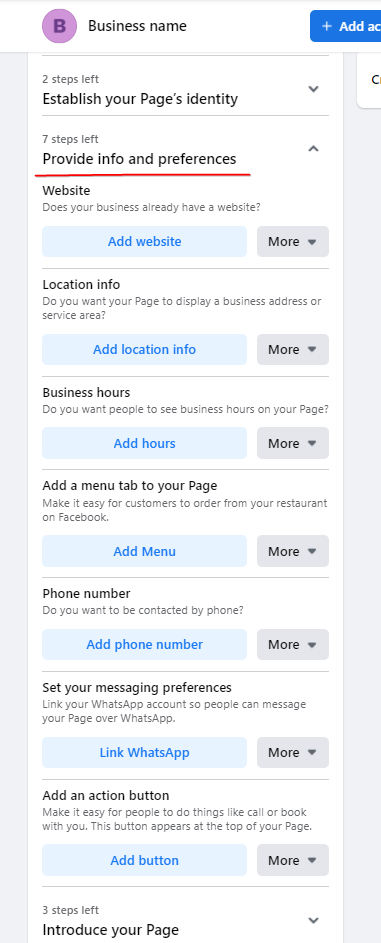 Add an action button to your website. Don't forget to complete this section. The built-in call-to-action button on Facebook makes it very easy to provide customers with what they want. This facilitates real-time engagement with your business.
Visitors will learn more about your business by clicking on the right CTA button. As an alternative, you can promote your shop, direct them to your app, or ask them to make an appointment.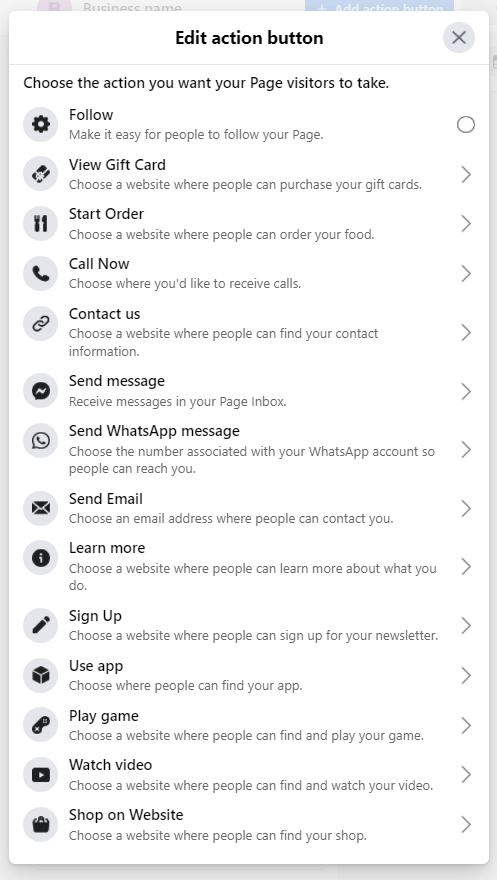 Click the Add Button in the blue box to add your call to action. Select and modify something relevant to your business.
You can always access these steps later if you don't want to complete them now. In the Manage Page menu on the left, just scroll down to Edit Page Info.
You can now create your first post
Before you invite people to like your Facebook Page, post some valuable content. If your industry has influential leaders, you might be able to share their content.
You could also create a specific type of post, like an event or offer.
Your Facebook Business Page visitors should find value in whatever you post. This will encourage them to stay on your page.
Engage the audience
You now have an impressive online presence thanks to your Facebook Business Page. Fans and potential customers can interact with you on Facebook. Getting followers is the next step.
Make sure your Facebook friends know about your Page by inviting them to like it. You'll find the invite friend link once you click the introduce your page box.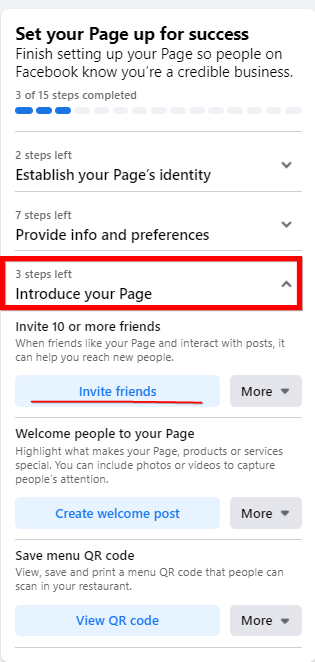 You'll be able to see a list of your Facebook friends when you click the blue Invite Friends button. Click Send Invites when you are finished selecting your friends.
You can also use other channels to promote your new page, such as your website and Twitter. Include a logo with the message "Follow us" on email signatures and promotional materials.
Organize your page with collaborators
If you plan to share your Facebook marketing duties with others, you'll need to grant them access and assign them roles. Navigate to the Page Roles section of page settings and add collaborators.

Anyone who has liked your page or any Facebook friend can be typed in. Additionally, you can enter a Facebook email address.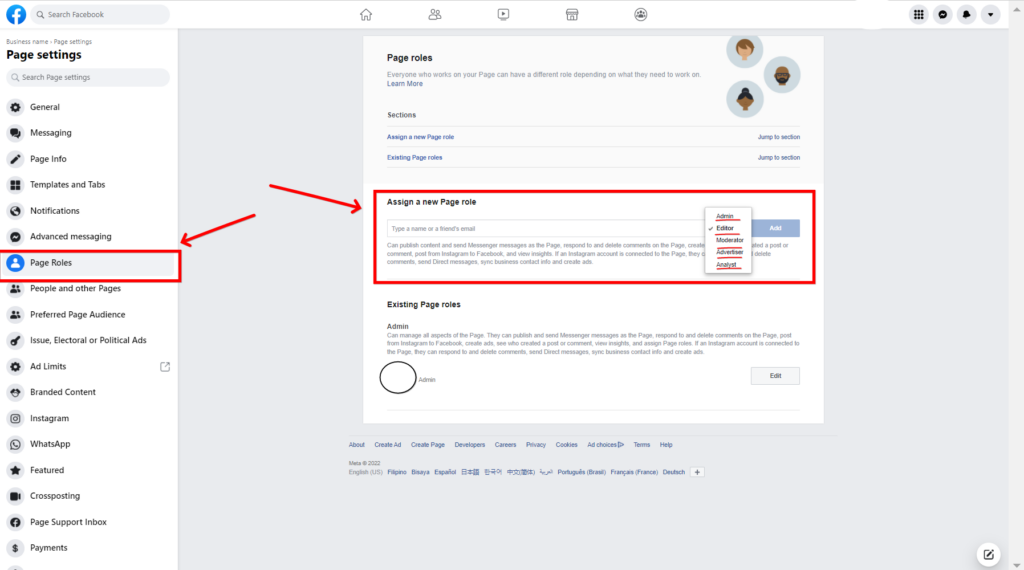 In either case, anyone you invite as a collaborator must be a friend on Facebook.
Role options include:
Admin – Full access to every aspect of the site.
Editor – Edits the page, posts as the page, sends messages, creates Facebook ads, and displays insights.
Moderator – Responds to comments on the page and can delete them. Send messages on behalf of the page. Find out who created a comment or a post, create ads, and view insights.
Advertiser – Views insights, sees which admins posted or commented, and creates ads.
Analyst – View insights about which admins created which posts and comments.
Optimizing Facebook Business Pages
Now that you know how to start a business page on Facebook, the next step is to optimize your page for maximum success. By implementing these strategies, you are able to maximize engagement on Facebook and other social networks.
You can further customize your page based on the information you enter. If you are on your page, you can select Edit Tabs from the More drop-down menu.
Here, you can choose from a variety of templates. These include nonprofit organizations, shops, services, restaurants and cafés, etc.
Follow and like other pages
A Facebook Page can be used to build a community for your business, since it's after all a social network. Connecting with relevant Pages that are not competitors is a great way to build community.
Having a virtual business gives you the opportunity to network with other businesses in your industry. And it doesn't put you in direct competition with them.
Likes cause Pages to be notified, and they may then check out your Page, or even like it in return.
Business pages get separate news feeds from personal profiles. From your business profile, you can interact with all the companies you follow.
Facebook will suggest some Pages for you to like if you haven't liked any yet.
Make a pinned post
Do you want your Page visitors to see any important information? Would you like them to know about an important promotion? Make a pinned post about it.
Facebook Business Pages display pinned posts just below their cover images. Your visitors will be attracted to it and want to stay if you place an eye-catching item in it.
If you want to pin an existing post to the top of your Page or publish a new post. All you need to do is to pin the post to the top of the page. All you need to do is to click the three dots on the right side of the post.
Take advantage of Page Insights
Knowing your audience better will enable you to create more content tailored to their needs.
It is easy to collect data using Facebook Page Insights. You can learn from your fans' interactions with your Page and the content you share. Page Insights can be accessed from the Manage Page menu by clicking Insights.
Join Groups
Facebook Groups are an organic way of reaching a wide audience that is interested in a particular topic. You won't even have to spend money on ads.
When you join and post to a relevant Group as your page, anyone curious about your post can click through to your business page. This allows as many people as possible to become familiar with your business. This also increases your exposure to a wider audience.
The insights report lets you know how your Page is performing as a whole. It also contains data about the demographics of your audience. As you post, you'll be able to see how many people are seeing it.
In addition, individual posts can be tracked according to the number of comments and reactions they receive. You can use this information to plan future posts.
Insight provides you with a way to see the number of people that clicked on your call-to-action button. Aside from that, clicks can also be tracked from websites, phone numbers, and addresses.
The demographic data is broken down into age, gender, country, city, and device groupings. With this information, you can better design content for your future audiences. Simply click the Actions on Page link under Manage Pages.
Add a link to your Facebook page on other Websites
It is possible to improve your search engine ranking by gaining backlinks to your Facebook Business Page. In addition, your page will also gain more followers.
Your blog posts and website should contain links to your Facebook Page. If you collaborate with other bloggers, insist that they do the same.
What's Next?
Yes, you now know how to start a business page on Facebook, however it doesn't stop there! You need to do much more than post on Facebook or other social media to promote your business. In order to strengthen the relationship with them, you should turn them into email subscribers.
Social media fans and followers are a good thing. A subscriber who shares their email address with your content business, however, is much, much better. According to the statistics, your subscribers are 10 times more likely to engage with your content than followers on social media.
Social media holds no guarantees. It is rare to read a headline that suggests Facebook could disappear next year.
It seems extremely unlikely that such a thing would happen. While this platform can be useful for gaining followers and subscribers, you should also be using it to grow your other outlets. That includes growing your email subscribers list.
The importance of email in business is often underestimated. Keep your email communications professional and high quality. By doing so, your business will benefit in a positive way.
Email is the most successful, cost-effective and dependable marketing communication medium. That's why you should incorporate your Facebook business page into email marketing.
Additional Advice
If you are currently using email marketing – we recommend that you also use an autoresponder. Autoresponders can enhance the effectiveness of your email marketing. And they make email marketing easier without adding much effort.
You can use Mailvio, it is an autoresponder with a built-in SMTP- server. Mailvio's high quality and affordable service will take your email marketing to the next level.
Additionally, you will be able to maximize your ROI. It offers the following services:
Automation with Powerful workflows
Detailed Analytics
A/B Split testing
Email segmentation
Drag and drop editor
And a lot more!
To wrap it up
Feel free to use all the resources at your disposal when it comes to promoting your business. You can combine these resources to make them more effective and efficient.
By combining them, you will have a more powerful marketing campaign. Not only that but also a longer-term relationship with your customers.
On top of that, search for programs or software to make your job easier. It is not always necessary to spend a lot on software, there are affordable programs you can use.
Our best wishes are that we were able to explain how to start a business page on Facebook. I believe that is all there is to it at the moment. Wish you luck, and don't hesitate to come back to this post if you need help.