Did you know that you can get paid to send emails from home? Well not literally, you don't just get an instant dollar because you sent an email.
You need to do a few other things to ensure that you'll get paid when you send emails.
Among the social media platforms, which do you think has the most active users? Facebook? Twitter? TikTok? Or Instagram?
Sorry to say, but those social media platforms aren't the right answer. The primary social media platform that holds the most active account is email.
The percentage of click-throughs delivered by email is 6 times higher than that of other social media platforms.
Thus, email marketing has remained highly effective for quite some time. Due to this, you must take advantage of email marketing and maximize its potential. 
That's why we made this guide to show you certain ways that you can monetize your emails. Email marketing offers you more than just brand promotion. You can also get paid to send emails.
How to Get Paid to Send Emails?
Make money online by using the most powerful tool you have at your disposal: email. Paid search advertisements, social media, and SEO cannot be compared. In fact, there is no marketing channel that has a higher conversion rate than email. 
Sending out emails alone will not earn you money. But we just said that you can get paid to send emails right? So how exactly does it work?
You must first have great content in your email. Something valuable and engaging that people would want to read. Sending messages to multiple addresses cannot generate income on its own.
Get Paid to Send Emails: How to Get Started
You can definitely make your email marketing campaigns a success if you follow the tips that we'll break down below. Let's get started:
Targeted Lists Are The Best Place To Start
You should definitely aim to build a responsive email list before you begin your campaign. It's impossible to launch a successful campaign without one.
Converting visitors into subscribers is the best way to collect email addresses. What's the best way to do it? There's a possibility that not everyone will be willing to sign up or opt-in.
Offering them something valuable will encourage them to sign up. You must be very careful not to send marketing emails to people who did not request to receive them.
Unwanted emails can damage your sender reputation, and you could even be flagged as a spammer. You don't want this because Gmail or other email providers may start blocking your emails. This won't just affect your open rates, but your company's reputation as well.
This is why you should first start by building targeted email lists. 
Establish a Campaign Goal
Why are you launching this campaign?
Do not start a campaign if you don't have a specific goal. You should take a moment and reflect on exactly what action you would like your subscribers to take.
Are you looking to promote a product or service in order to increase sales by providing them with something they'll find valuable? Is your goal to nurture and keep existing subscribers happy? Or maybe to engage your inactive subscribers?
There is no rule that says your goals must be the same. According to what you want to accomplish, you can create your own list of goals.
Work on Your Subject Lines for Emails
The next step is to draft your email. Your subject lines for emails are the first thing that users notice.
Here is where the real action begins. Come up with a compelling headline that people cannot ignore.
Remember that it's your subject lines for emails that will determine whether or not someone opens your mail. It is the headline that determines whether it gets discarded, or worse, lands in the spam folder.
Create an Engaging Email Content
You drew a follower's attention with your subject line. What's next? Don't leave them hanging without reading something convincing.
If you want them to keep reading, use persuasive writing to keep their interest. Insist that they take action.
Your message paragraphs should be short and concise. Easy-to-understand messages will keep your readers interested.
Connect with your readers through your messages. Your tone of voice can help you achieve this.
If you are writing an email, always use the first person. Using this method, you can make your readers feel as though you are speaking directly to them.
Use the reader's name when addressing the email. When the email is signed with their name, it may feel like it was written especially for them. When they see their names, they may be more inclined to open it.
Lastly, don't waste time with unnecessary rambling; get straight to the point. Long emails are not helpful.
Plus, they tend to be a bit boring. Try not to waste your time on unimportant subjects. Make your point quickly and deliver it clearly.
Create a Visually Appealing and Effective Design
Designing your copy is the next important step. You want to make sure it looks good and professional.
You should consider your calls to action, as well. Make your buttons appealing and actionable by choosing the right words, colors, and sizes. Here are some engaging call-to-action examples you can use in your campaigns.
The Art of Monetizing Email Marketing
Let's find out which methods are most effective in 2022 for monetizing an email list.
You Need to Sell Something
Selling products or services is a good place to start. What products do you want to sell? Have you already thought about what product or services you'd like to sell?
Those who already have a product in mind can skip this step. If not, you should start here. You can sell a physical item or digital services.
Your email marketing efforts will have a hard time making money without a product to promote. Unsure of what products to promote? Check out these suggestions of products you can sell:
Online courses
E-Books
Software
Classes or Seminars
Professional services
Memberships
Use Autoresponder for your Email Campaigns
With Mailvio, you will have an easier time running your email campaigns. It is a full-service autoresponder with a built-in SMTP server. Through automated emails, you can easily profit from email marketing. 
After someone subscribes to your newsletter, an autoresponder sends them a series of emails automatically. By doing this, you can focus on what you're passionate about while you save time and effort.
Your welcome email is the first in your series of autoresponders. Your first email to subscribers sets the tone for the rest of your emails.
In addition, welcome emails have a higher engagement rate than other types of emails. This is an ideal opportunity for making sales.
If you want to provide your readers with ongoing value, you can provide a welcome series after sending your welcome email.
Affiliate Marketing
Online marketers sometimes abuse affiliate marketing, which gives affiliate marketing a bad reputation. Through the promotion of low-quality products, they damage the reputation of their products.
As long as it's done right, it can benefit both parties. Introducing products that will enhance your audience's life will also benefit you. By promoting your product, they will receive more commissions.
Here are a few questions you should answer before you start promoting affiliate products.
If your audience subscribed to your email list, you need to figure out why they did so. Do they share any common interests?
For instance, if your email list consists of doctors, you might want to offer discounted medical products to them. When you promote products that don't match your audience's interests, you will lose their trust.
First-time affiliate products are unlikely to be a massive success. It will probably take at least a few test runs to determine the best one for your audience.
It should only be a matter of time until you find success. Especially if you stay persistent and follow the right affiliate marketing principles.
Promotional Emails Are Powerful
Marketers commonly increase sales with promotional emails and their campaigns achieve good results.
These emails are probably in every one of your inboxes every day. Your favorite brands usually notify you of their latest deals, specials, or promotions.
The type of messaging might seem intrusive, but the majority of people don't seem to mind. Email is the preferred method of receiving promotional content by more than 70 percent of customers. This compares with only 17 percent who prefer social media.
You don't always need to send promotional emails. You can also send lead nurturing messages to build brand awareness.
Repeat Purchase
A repeat purchase may be part of cross-selling as well as a repeat purchase made over time. Sending a friendly email reminder is an effective way to increase sales.
For businesses, email marketing is an excellent way to earn money. In particular, businesses that rely on repeat sales, seasonal demand, or perishable products.
For example, dog groomers can send pet owners a message to remind them of their next appointment. 
Discounts and coupons can also be helpful. You might be able to motivate a person to book another grooming appointment if you offer them a discount on their next appointment. 
If your customers need to schedule an appointment, simply remind them. If they're not ready to purchase right now, you can offer to set up reminders for them.
Share the Word With Others
The word-of-mouth marketing strategy is one of the oldest forms of marketing. A consumer's choices of goods and services are influenced by recommendations from family, peers, and friends. 
When it comes to making a purchase, personal endorsements are the most trusted source. Send your loyal, engaged customers an email asking them to endorse you. Ask them to spread the word about your products and services.
Ask them to give you positive online reviews if you want to go a bit farther. Encourage them to follow you on social media as well.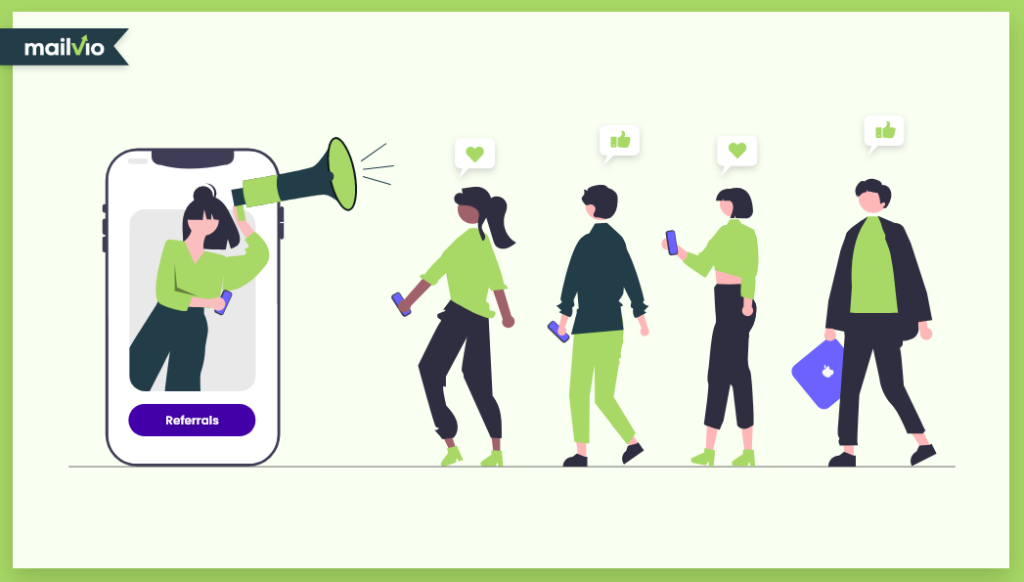 As an additional strategy to increase brand awareness, you can also use referral links.
Give incentives to customers who refer new paying customers to your company. An example of an incentive is a discount, coupon, voucher, cash, prize, or redeemable points.
Offer Premium Products or Services
Adding extra products or services at the point of sale is a great way to make money with email marketing. This practice is also known as upselling. 
Let's take a look at the grooming service again. Assume they have requested a service from you, or they have availed of a service from you. You can upgrade the service by offering them a Specialized Skin & Coat Treatment.
Fast food chains usually do this. When you order a regular Coke, they will ask you if you want to upgrade it to a larger size.
Similarly, you can do this with your emails in order to generate more sales and inform them of the various products you also offer. 
Develop a Plan to Deal With Cart Abandonment
A buyer gets distracted or leaves a purchase unfinished as a result of forgetfulness. The reason is they were not ready to buy at that particular moment. By sending highly relevant emails about your product or service, you can encourage people to buy it.
A series of abandoned shopping cart emails increases the chances of a customer buying that product compared to just one follow-up email. 
It may be helpful to send emails once a day or every two days. Avoid sending long cart abandonment emails. A little humor or personality doesn't hurt when it comes to grabbing the reader's attention.
Cross-Selling Related Products
You can discover a customer's likes and interests from every purchase they make. Using this information, you can entice them with additional products they may enjoy.
"If you bought this, you might find this interesting". There's a good chance you have a message like this waiting in your inbox.
You are more likely to sell more to shoppers when you send them targeted, personalized messages. Here's an example of a great cross-sell.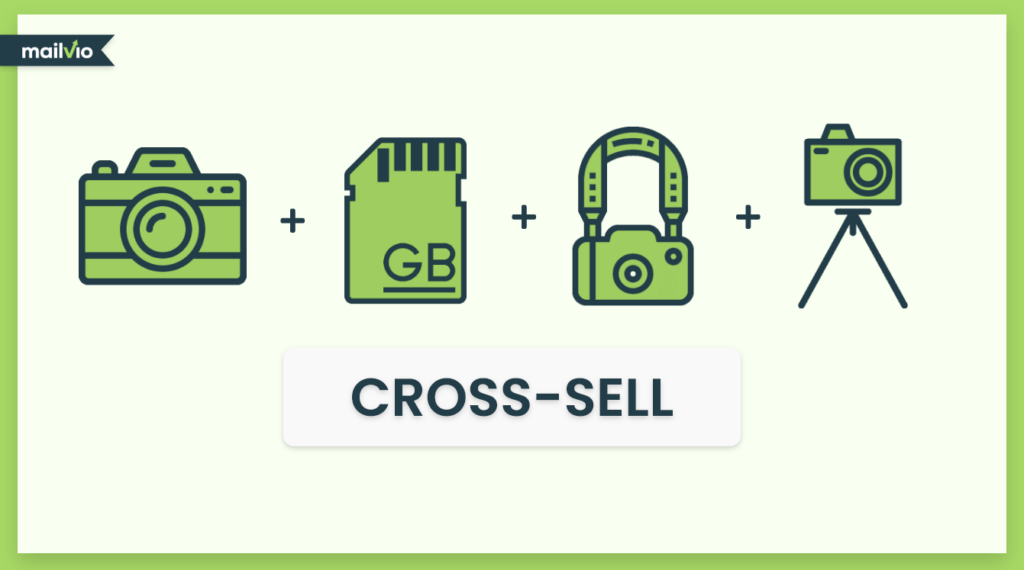 If a customer buys a digital camera from your store, you can suggest they also buy a memory card. You can also suggest a camera strap or even a camera stand.
Upselling is mostly just upgrading a product. Cross-selling is primarily recommending other products.

Cross-selling is when you offer different products related to what someone has just purchased.
Over to You
The challenge of monetizing your email list can seem overwhelming especially if you're just starting out with email marketing.
If you want to get paid to send emails or to make money from email marketing, you need to share good-quality content. You will be able to create high-quality info products if you know your niche better.
It is our hope that you now understand what marketing emails can do for your company and how to get paid to send emails. 
Your next step should be to optimize your campaigns for optimal performance and adhere to email marketing best practices such as: 
Automation
List segmentation
Targeted contents, etc.
We hope you found this article helpful. If so, please visit our blog for more email marketing tips and tricks, and don't forget the drop a comment below.