As a marketer, you work to establish the best prospecting strategy and write the ideal follow-up emails. You send the email, expecting a higher response rate, but nothing happens. Don't give up. In this article, you will get familiar with the effectiveness of follow-up emails.

According to statistics, 24% of sales emails are opened, but only 20% of leads are followed-up on. Among campaigns with 1 follow-up email, 22% more prospects can be converted. It is a significant loss of opportunity. Additionally, the fear of being annoying to prospects or getting rejected can discourage further contact.

There are a lot of reasons why follow-up emails aren't getting the respect they deserve. One of these is that marketers are concerned about creating first impression emails and not enough with persistent forms.
When Should You Send Follow-Up Emails?
Most of the time, after you've sent the first outreach email and received no response, you will send follow-up emails. However, these follow-up emails can also be valuable when you want to check-in after the first meeting or reconnect with clients.
When Is The Best Time To Send Follow-Up Emails?
While most emails get opened the first day they arrive, you should send a follow-up at least 3 days later. Make sure you give them enough time to respond.

Several studies have revealed the best day to receive a response from an email. Studies have found that Tuesday and Thursday have the best results, but other weekdays aren't far behind. According to a HubSpot report, you should avoid sending emails on weekends.

Most experts agree that sending a follow-up email should take place between 10 AM and 11 AM in the recipient's own time zone. However, the worst time for receiving emails is 12 PM.

Send your follow-up emails in the middle of the week rather than on Monday morning. You don't want your follow-up to land on the stack, and you may never hear from them again.

After hearing what others say, now it's time for you to figure out what works for your audience.
Study your data
To perfect the timing of your emails, you will need to reach into your own data stores. Then assign timeframes to specific segments of your audience. When your list is from an unfiltered source, you will not always know who you are mailing. Your job is to become familiar with your target audience better.
Your previous engagement metrics are a wonderful source of information, and you can send outbound emails with a short (and custom) survey. Although not all your leads will contact you, those that do will share some very valuable information with you.
Consider the time zones
Make sure you reach out to your prospects at the perfect time. Among other things, don't shoot them an email at 5 AM. Mailvio lets you schedule outreach according to the time zone of your recipients. Thus, Mailvio will calculate your sending times and launch each email so that it reaches your recipients at 2 PM their time.
Demographics
This means you shouldn't send your older audience as many emails as your younger audience. They will perceive it as pushy and impatient. Younger adults and teenagers, yet, may appreciate receiving more emails each week.
What Is The Right Number Of Follow-Up Emails To Send?
Next, it is important to determine how you frequently send follow-up emails. We know 80 percent of non-routine sales take place only after five follow-ups.

You should follow up at least five times, giving the recipient more time to respond each time.

You reduce the chance of overdoing it. And also marked as being a spammer by prolonging the time between follow-up emails.
What Are The Best Ways To Write A Follow-Up Emails?
Describe your intent
Try to summarize why you are emailing the client once you have introduced yourself. Then let them know you have already contacted them before. Do not assume the recipient remembers your email from earlier. Send the same message in a different format.

You should make every effort to express the primary objectives of your follow-up email. Do it by identifying your main goals and addressing them in your follow-up. Perhaps you are interested in receiving specific information or getting an issue from the client.

Set up a meeting with a client, get them to participate in your study, evaluate your product, or become familiar with your service. Sending follow-up emails can be a great way to foster relationships with existing clients or receive feedback.

Last but not least, keep your follow-ups short and sweet when you state your intention.
Examples:
You will love this product I have.
I've provided a link to my resource:
How about a free trial month?
Please join us for an event we're hosting…
Email Openers
Email openers should mention your initial contact. It should remind clients that you contacted them in the past. If you've already met with the client, ensure that they understand who you are from the start.
Here are some examples of follow-up email openers you can use:
Still any interest in our service?
Besides the voicemail, I want to send you this email as well.
Following up on an email I sent last week.
Have you looked at my previous proposal?
Just in case you didn't get my email last week…
It takes two to tango
Subject Line
The Subject lines are the first thing a potential client sees in an email before they open it. A compelling subject line is not enough for a cold email. A compelling follow-up email subject line is equally important.
Write subject lines that are direct, short, and show your intention clearly. Therefore, your subject line must clearly state what you are trying to accomplish. In the email subject line, use the recipient's name whenever appropriate. You can also ask a question that the answer will get by reading the entire email.
Examples:
Our next step
Start now, it's not too late
Could you please provide me with some feedback?
As promised, here is the link
Call To Action
When you present specific offers to the client, they are more likely to answer. If your lead isn't a good fit for your offer, you can propose a time and date for a call or meeting.
Your emails need to be aligned with your call to action if you keep sending them without a response.

Examples:
When is a good time for us to meet in person?
Tuesday meeting at 10:00
Got 15 minutes?
Follow-Up Emails Best Practices
It should be all about your prospects. In your follow-up, you should focus on your prospects. Provide them with information about their needs and how your product or service can help.
Avoid using industry jargon. Be careful not to confuse your prospects with some hi-tech words and phrases. Don't be formal. Try to talk to them in the same way that you would to your friends and family. It's important to explain how fantastic your product or service is in layman's terms so that everyone can understand why it's great. By using industry jargon, you'll only alienate your prospects instead of bringing them closer.
Use a multi-channel approach. Use this approach and be sure to get close to your prospects. Work toward a personal meeting after that. The process of following up results in success, so you must up your game.
You should say "thank you" every time your prospects respond. Whatever their response thank them for their time. Even though they are busy professionals, they took the time to write you a couple of lines rather than ignore your email.
Make your outreach more personal. Utilizing Mailvio to personalize every single element of your campaign is crucial for the success of your strategy. Our process even allows you to create your own personalized token and take this to the next level. It's practically the equivalent of an email-to-email correspondence.
Decide on the next step. Give your prospects a few days to consider your offer, and schedule the next follow-up. Put them in charge of communication by signing off your emails with "Talk to you soon". In this way, you won't have to wait for them to contact you.
Adding a Subject Line will spark their interest. People open emails when their subject lines are interesting and catchy. Consider using one-liners, funny puns, a bit of controversy, and other techniques to catch the attention of your recipients. But make sure you don't offend someone by crossing the line.
Make sure you ask questions. When you ask questions in your subject line, you are implying that your email has answers and solutions.
Don't go overboard. Keep in mind you're not writing a novel! Make it short, informative, and to the point. Prospects don't have the time or patience to read long messages, so let them know what you want right away.
The last thing you want to do is promise something in your subject line. Hoping that will make people click on it while writing about something entirely different is a surefire way to end up in spam.
Don't clutter up your messages. By running more than one offer or discussing more products, you are distracting your prospects. Make sure to focus on one thing and have a single call to action. Don't stuff your email with images and links, people don't like it when you have to figure out what you want them to do. Your narrative should lead them to that action you want them to take.
You have to know when to let go. If your prospects request that they be removed from further follow-up emails, remove them immediately. Clearly, they are not interested in your proposal, and you won't persuade them to change their minds. So, thank them and move on.
Avoid sending passive-aggressive emails. In spite of the fact that you follow up five times, you should remain polite as if it were the very first time. Becoming frustrated at the prospect will only lead to losing chances. Avoid taking things personally and try to stay optimistic.
Examples of Follow-Up Email Templates By Mailvio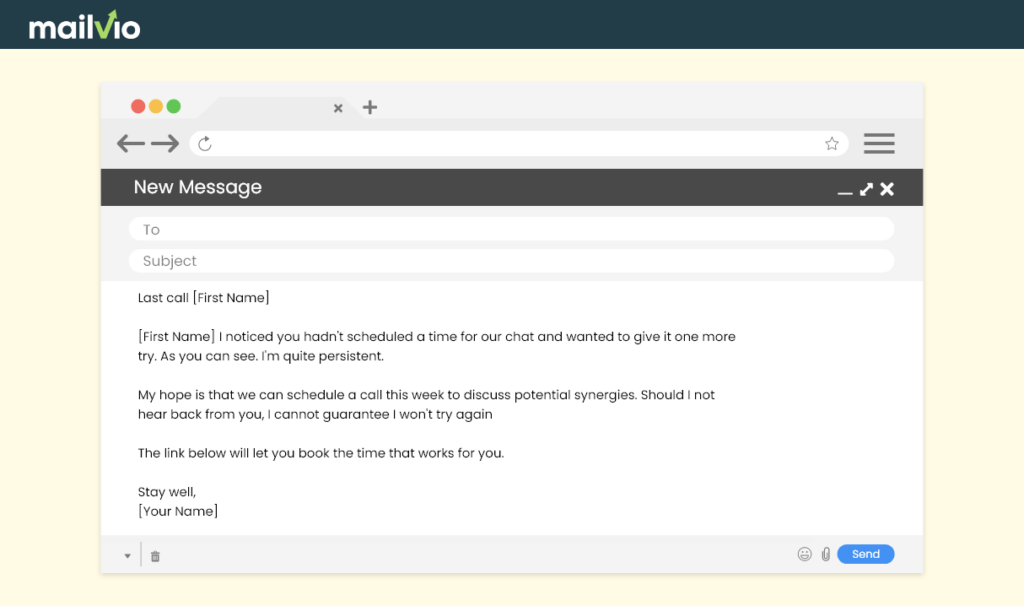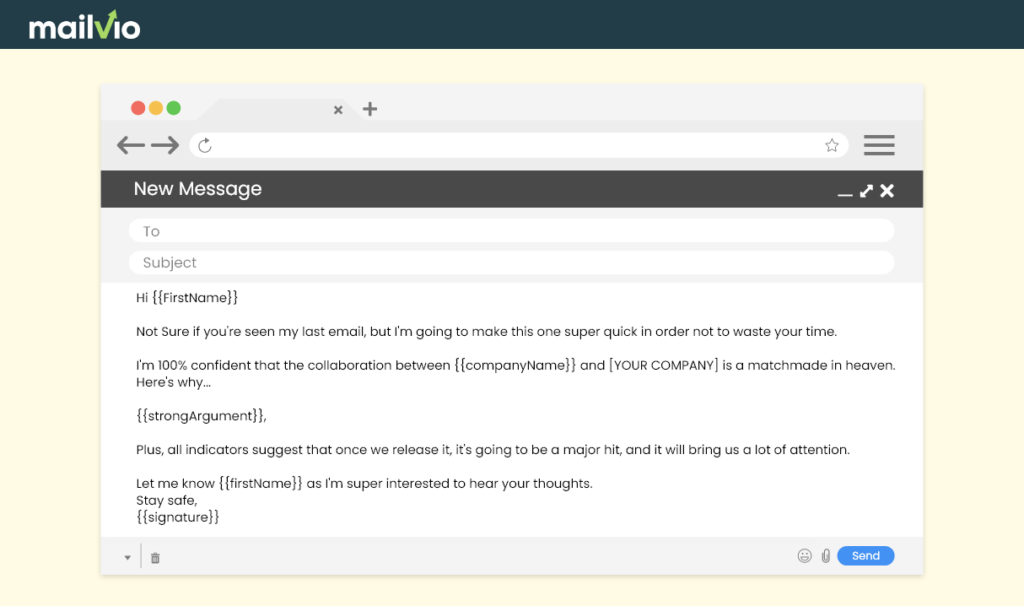 Conclusion
Persistence, balance, and timing are the three most important aspects of email marketing success. Don't give up when your prospect hasn't replied to your emails after two or three attempts.

You can use our suggestions as a guideline to determine the best time to send emails but never assume a one-size-fits-all approach. To this end, adjust your campaigns in line with your metrics. And use Mailvio email autoresponder will help you do the automation perfectly, so you can focus on sending emails and engaging your leads & customers.

With Mailvio you can do :

Automation – It has powerful workflows and actions that allow you to automate all or part of your email marketing. Intuitive and easy.

Broadcast Emails – Quickly and easily send your broadcast message with its intuitive desktop.

Detailed Analytics – Stay on top of how your email marketing is performing with its detailed analytics.

Email Segmentation – Segment your audience based on an array of factors for better engagement.

Email Creation – Use your own HTML code or its powerful drag and drop editor. You can choose from different amazing free templates.

Transactional Emails – Your emails can make the sale for you with transactional email.

A/B Split Testing – Easily set up tests to see which messages are performing better, then drill down to the gold.

Drag & drop editor – Build your email campaign without the need to write complex code.