If you do any type of online business, I'm sure you use some form of email marketing to interact with your customers.
But here's the thing, unless your subscribers open your emails, you'll never achieve your goals. Even if you have the best email marketing campaign in the world.
So what makes people open your emails? Your subject lines of course.
Your email subject line is the very first thing people see when they receive an email from you. That means, your email subject lines can make or break your campaign.
Here are some facts to back up this claim:
33% Of recipients open emails based on Subject Lines alone
Nearly 70% Report Emails As Spam Based On Subject Lines

What does this mean? Two things.
The quality of your subject lines plays a big role in getting your emails opened. Along with other factors such as your "from" address.
And, if you are not careful with your subject line choices, the majority of your emails could end up in the spam folder.
But, over 80% of business people say they prefer to communicate by email. So, let's look at how you can use this to your benefit.
Specifically, how to write compelling subject lines for sales emails that get people to buy.
These tips you are about to learn have helped us generate millions in sales of our own products and affiliate offers. So we know they work. Without further delay, let's begin.
Curiosity-Based Subject Lines for Sales Emails
"The cure for boredom is curiosity. There is no cure for curiosity."
"There is no cure for curiosity. It must be outgrown or endured. A child is born with its mouth in position to utter the word "Why?" and when, at some later date, it is punished for asking too many questions, it thinks up enough additional questions during its punishment to make the Encyclopedia Britannica look sick".
This famous quote was printed in the "Boston Sunday Post" all the way back in 1915. It sums up perfectly, the curious nature of people.
If you can spark curiosity in the minds of your subscribers with your subject lines, it is almost certain that they'll want to open your emails.
They must open, otherwise, they'll always wonder if they are overlooking something important or…
Missing out on a worthwhile experience.
Here are a few examples of Curiosity-Based Subject lines for sales emails from some top digital marketers. Straight from the inbox:

Once you get your subscribers to open your emails, be sure to keep the same trend. Add curiosity to your email body, and keep them guessing and interested.
This way, they'll happily read all the way to your call to action, and click on them to check out whatever product you are selling.
Urgency or Scarcity Based Subject Lines For Sales Emails
FOMO – the fear of missing out.
People hate to feel that they have missed out on a great opportunity. And they will do almost anything to prevent that. It's this mindset that drives the stock market and, even more so, the cryptocurrency markets.
As the price of cryptocurrencies rises so does their popularity. And people who didn't get a chance to buy at a lower price start feeling as if they missed out.
As if they have to Buy NOW, otherwise, the price will continue to rise and they will never get another chance. Sadly, people who FOMO into cryptocurrencies often end up with big losses. But you know what? They'll do the same thing all over again.
This is a great example of how both scarcity and urgency can impact a person's buying decisions.
By adding urgency or scarcity to your email subject lines your subscribers will be completed to open your emails. Especially if they are current customers of yours.
This tactic has been shown to increase open rates but as much as 22%.
Here's how some successful marketers have implemented scarcity and urgency in their subject lines: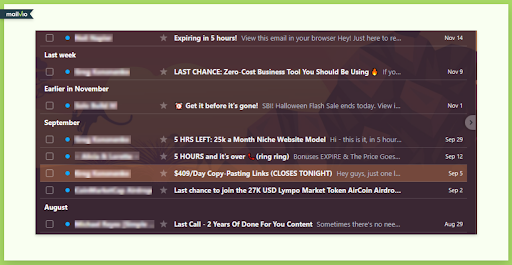 And, as you probably guessed, they continue the trend inside their email body. Urging readers to act now before time and/or supply runs out.
Incentivised Subject Lines For Sales Emails
The higher the earning potential of a niche is, the more competitors it will have.
That means while you may have the greatest product in the world, so does the next guy down the road.
If you want people to buy from you, there must be some incentive, some benefit that they can't get anywhere else.
This is why marketers tend to add extra bonuses to their sales pages and sales emails.
This is also true for opt-in pages. In order to build an email list, leads are offered some form of incentive in exchange for their email address and personal details. 
Even Amazon offers you a free trial to sign up for their Amazon Prime program.
Other types of incentives include: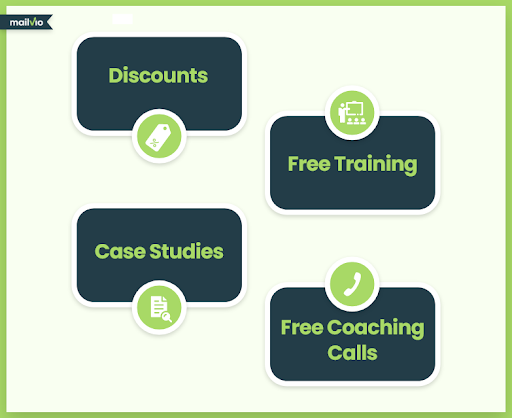 Discounts
Free Training
Case Studies
Free Coaching Calls
This method works extremely well. And when it is incorporated into your email subject lines, it works even better to skyrocket your open rates.
Here's how it has been done in various industries: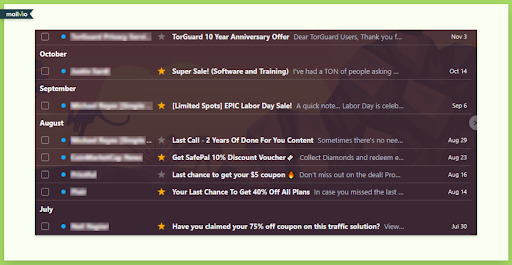 Personalized Subject Lines For Sales Emails
People buy from people they like and trust. This statement has been proven true time and time again.
Equally true is the statement – you can sell anything to people you know and understand.
The better you know your customer and understand their pain points, the easier it is to tailor your marketing efforts to their needs.
By doing so, people will get the feeling that you or your brand really get their situation. You've taken the time to consider their needs and will provide a suitable solution.
So how do you get to know your customer or give off the impression that you do?
It starts by understanding your ideal customer avatar. This will enable you to grasp their concerns and how the market has addressed them so far.
This will help you develop marketing strategies that are unique to your brand.
The next step is to collect personal data from your leads. This is normally done at the optin page. This may include:
Name
Age
Gender
Location
Job Title
Relationship Status
Etc.
With this data, it becomes extremely easy to personalize your marketing. So that each potential customer will feel you are addressing their needs individually rather than as a generic group.
There are many more benefits to personalizing your customer such as a massively improved email open rate.
Here are some examples of subject lines for sales emails that incorporate personalizations:

And again, if you should use this strategy, be sure to do so consistently throughout your email body as well.
Proof Subject Lines For Sales Emails
The proof is in the pudding, or should I say Testimonials.
If your subscribers are really interested in purchasing a product or service from you but are hesitant…
They may need a little proof that their money will be well spent. Of course, you should explain the benefits and do your best to convince them but…
All your efforts will pale in comparison to the effectiveness of customer testimonials.
Before someone makes a purchase they want to know that the item they intend to buy works for other people.
The majority of online shoppers will check the review section of any product/service before deciding to buy. Use this to your advantage.
Show your subscribers what others have to say about your business. And pull them in with a strategic subject line as shown below:

Then all you have to do is deliver your proof inside of your email and direct readers to your offer.
Authoritative Subject Lines For Sales Emails
Adding proof to your subject lines for sales emails works really well. But, what if you are just starting out and have no customer proof?
Not to worry. This is a great opportunity to share your own experience with your products or services.
Let's say, for example, you're trying to sell an affiliate marketing course. The best way to show people the methods you teach work is by showing your own results.
Screenshots of your accounts or videos of you implementing what you teach will work really well.
These subject lines worked really well:
At the end of the day, people will buy from you because you have been where they are at and…
You've gotten the results they desire by using the exact offer you're promoting. Incorporate this idea into your subject lines for sales emails and watch your open rates soar.
Better Than The Competitor Subject Lines
As I said earlier, any niche that is worth exploring is likely to have many competitors. And, unless you were one of the first to arrive in that market…
It's likely that you'll have to compete with larger brands.
But that also gives you an advantage. By doing market research you'll know from the start what faults your subscribers have with your competitors. And with that knowledge, you can create a superior product or service.
A great example of this is Funnelvio vs Clickfunnels. While Clickfunnels is a great platform it's a bit expensive and requires a lot of effort to design high-converting funnels.
Funnelvio solves this with its 1 Click Page Importer which allows anyone to instantly duplicate any converting funnel online. And of course, make it their own. Plus, Funnelvio is way more affordable.
Here's how this was incorporated in a subject line for a Funnelvio promo email:

Reminder Subject Lines For Sales Emails
Reminders work best with subscribers who've already shown an interest in purchasing your offer.
Chances are, by using the tips in this article, you'll get a lot more engagement from your list.
And many of your subscribers will make their way to your checkout page but fail to complete their purchase.
Sending a reminder email that takes your customer back to the checkout page will help to close the sale.
Here's a good example of how to execute this idea with a subject line:

Reminders also work great when promoting webinars. Since most of your selling will be done live, your emails for this don't need to be salesy. Just ensure that they provide all the details your subscribers will need to join.
But first, get them to open your email with a strong subject line as shown here:
We can take this further, by combining your reminders with a bit of urgency. This works especially well for product launches.
Speaking of product launches, here's a reminder email I received recently about an upcoming launch.
Opens Rates VS Deliverability Rates
I've shared some of the best subject lines for sales emails that will improve your open rates.
But, what about deliverability? Are your emails actually showing up in your subscribers' inboxes?
Or do they get filtered out and sent to the spam folder? Are you struggling to keep your email bounce rate under control?
If you face any of these issues, especially as a digital marketer, you may need to upgrade your email autoresponder.
Your autoresponder should boost your sender reputation, help increase deliverability, and…
Help to reduce your bounce rates by providing proper list management features.
This is important especially if you plan to run any type of affiliate campaign.
For this, I highly recommend that you check out Mailvio by clicking here.
It's our very own email automation software, built specifically for digital marketers. And while it provides all the features mentioned above, it's also more affordable than our closest competitor, Active Campaign.
Click here to see how Mailvio can help you get higher deliverability rates.
Conclusion
Once you get the hang of writing engaging subject lines for sales emails your conversions will soar.
So go now and implement the tips you learned here today.
I'm excited to see how they will affect your open rates. So please revisit this post and share some of your results below.
Also, don't forget to view Mailvio in action here.
Steven is the co-founder of Mailvio and oversees the operations and technical strategy and implementations. Steven has been an online entrepreneur since he was 14 years old and has been running SaaS companies for the last 10 years.