In email marketing, it's important that you know how to write compelling subject lines in order to run successful campaigns. Your subject lines are the first thing your subscribers will see in their inbox, so it must be good enough for them to want to open your message. 
35% of recipients open emails based on the subject line alone. And another 69% of recipients say they place them in the spam folder because they couldn't trust the subject lines. 
So, in this article, we are going to share with you a complete step-by-step guide on how to write better subject lines. 
Here at Mailvio, we have tested thousands of subject lines for ourselves and our clients, and it's safe to say we have a firm understanding of what works.
As a result, our campaigns have generated millions of dollars in affiliate sales and sales of our own products. 
And by implementing the same knowledge that you are about to learn, we have been able to scale our email marketing businesses immensely.
Along the way, we'll share various emails directly from my inbox to help you better understand everything. And of course, some of our very own campaigns will be shared as well.
Now to get started, let's see how badly written subject lines can affect your campaigns.
Issues With Bad Subject Lines
As mentioned above, your subject lines are the very first thing people see when your emails hit their inboxes.
So naturally, they have a big impact on your open rates. And it's true; the money is on the list as the saying goes. But only if your subscribers on that list open your emails. 
To put it simply, if your subject lines are terrible, you'll have a very low open rate.
The lower your open rates, the lower your conversions and engagement rates will be. But most importantly, you won't be able to serve your subscribers efficiently.
On average, across various industries, email open rates are about 20%.
If you find that your open rates are consistently below this, then you may need to improve the quality of your subject lines.
Furthermore, poor subject lines for emails may:
Cause your emails to be flagged as spam
Affect your deliverability rates in a bad way
Destroy your brand's reputation
Cause your customers and subscribers to unsubscribe
Cause your emails to never get opened
Get your sender's address blacklisted
Spam and Deliverability Issues
Most email service providers today, such as Gmail and Yahoo have extremely overactive spam filters. They are constantly on the lookout for an ever-growing list of "spam" words and phrases.
If you make the mistake to include any of these in your subject line, your content may never get delivered. 
Sometimes, simple mistakes such as typos and using ALL CAPS may trigger spam filters as well.
So what does this mean for your campaign results?
Well, emails that end up in your recipients' spam or junk folders simply don't get read for the most part.
And over time, if your content constantly gets marked as spam, your senders' address may become blacklisted.
This will lead to a higher-than-normal email bounce rate. This is something that you absolutely need to avoid as repairing your sender's reputation is nearly impossible.
Brand Reputation and Customer Loyalty
Once you enter the email marketing game you will be competing with a lot of other marketers for a space in your subscribers' inboxes.
So it is imperative that the point of interaction between your brand and your subscribers is one that brings value to those subscribers.
That starts by creating relevant subject lines that inform your customers that your content will be beneficial to them. For example, let them know about the new arrivals coming into your store.
Sadly, many marketers today use "click-bait" methods to get people to open their emails. These include making false promises or claims. 
And sure, they may open your emails. But once they realize that the content isn't actually going to help them you'll be in trouble.
Your content will be quickly marked as spam and your subscribers will begin to distance themselves from your brand.
And just like your sender's reputation, brand image, and customer loyalty can be very difficult to repair once damaged.  
Failed Campaigns – Seven (7) Common Mistakes
Overall, poor subject lines will result in failed campaigns. With fewer of your emails being delivered or opened, you'll have lower engagement, open, and conversion rates. 
For Digital and Affiliate marketers that means leaving money on the table. The bottom line is, if you want to get the most value from each subscriber interaction you must improve your subject lines.
So, how do you know if your subject lines are terrible? Well, let's check to see if you are making any of these seven predominant mistakes:
USING ALL CAPS
Using all caps in your subject lines is the online equivalent of constantly yelling at a deft person in a library!
It makes you seem as if you are shouting or being condescending. It's a common mistake amongst newer email marketers and it's sure to get your content marked as spam.
We can see an example of this here:
Not only does this subject line uses the very loud ALL CAPs, but it also has another issue – it's a very long subject line.
Extremely long subject lines
Remember, no one has all day to read an epistle. In fact, most recipients will make a decision on your content within 3 seconds of reading it. And, depending on their device type or email service provider (esp), your subject lines may be truncated if too long. 
We recommend subject lines not exceed 60 characters or 8 words. The subject lines can be displayed differently in different email clients, which have different display limits.
For details, see the table below:
Being too vague
There are several important purposes behind subject lines. Their first step is to tell subscribers what the email body will consist of. It tells what's to come, as their title implies.
It is also important that your subject lines encourage subscribers to open your messages. Your subject line should evoke anticipation, curiosity, excitement, helpfulness, or a sense of urgency, depending on your approach.
You can use the subject line as an opportunity to introduce your audience to an idea. Due to limited time/text, your message must be direct and persuasive.
None of this can be achieved if your subject lines are vague and just too mysterious.
In this example above the subject line is very vague.
"Last chance." Last chance for what exactly?
From opening up the email we can see here that Brian is referring to a webinar replay. But what if his subscribers had not seen any of his previous emails?
It's highly unlikely that they would know what he is talking about based on this subject line alone. 
Let's have a look at another example from Brian.
This time Brian is only using one word here, "Urgent."
One can only assume that Brian's list is very committed to his cause. Otherwise, these subject lines need some big improvements.
Trying to hard-sell
A lot of people make the mistake of trying to "hard sell" to their subscribers within their content and subject lines.
Constantly using words and phrases such as "Free" will not only make you look very salesy but also trigger spam filters. 
Try to sell without selling. Focus on what value or benefit your products will provide to your subscribers. And ensure that you test your subject lines before sending your emails.
Doing so will ensure that you avoid the use of any overpromotion words that may get your content marked as spam.
Overuse of punctuation!!!
The fewer punctuations you use the better your subject lines will be. If you are using more than one punctuation mark per subject line then you'll need to go back to the drawing board. 
Spam filters pick up on excessive punctuation as scammers frequently include this habit in their scams. So even if you are just adding more than one exclamation mark for emphasis, your messages may just end up in the junk folder!!!
You'll want to avoid phrases like; Buy now – Big sale – Purchase today. Anything along these lines will get you into the spam folder without fail.
Being deliberately deceptive
It goes without saying that honesty is the best policy in business. Building trust is key to improving your open rates.
Take a good look at your subject lines and ask yourself:
Am I making false promises?
Am I making misleading claims?
Does this subject line accurately represent my content?
Am I setting the right expectations for my subscribers?
Be truthful to yourself here because if your subscribers end up feeling misled they will quickly disappear.
Additionally, you'll want to avoid using fake replies or forwards in your subject line. It is easy to irritate recipients by beginning the subject line with FWD: or RE:
By doing so, you will increase open rates temporarily. But you will end up destroying your brand reputation.
Let's see an example now.
I received this email recently and as you can see, it was automatically placed in the spam folder. There are several reasons for this.
Firstly, I don't even have an Amazon account so there is no way this email could be relevant to me.  
Secondly, I never opted into this email list. When you put this all together the result will always be the same.
Having no subject line
An easy way to write a terrible subject line is to just not write one at all.
Your email will be received under the subject line <No Subject>. It will cause confusion, leaving your recipients with few options other than to delete it. Imagine receiving an email like this:
It's the equivalent of a blog post without any Titles!
With that said, be sure to take a good look at your subject lines and ensure that you are not making any of these seven (7) common mistakes.
Now that you understand what makes subject lines terrible you may be wondering what good subject lines entail.
Let's have a look.
The Anatomy of Great Subject Lines
People should love to receive your emails. So much so that they scan their inboxes daily to see what you have in store for them.
And for your subscribers to fall in love with your content it will come down to 5 key areas:
Connection
Urgency
Personalization
Intrigue and;
Desire
Here at Mailvio, we call this the CUPID Framework for writing compelling subject lines.
By implementing these 5 key components into our subject lines we've been able to see open rates of over 25% constantly.
Naturally, this translates into very profitable campaigns. So let's take a look at exactly what the Cupid Framework is.
Connection
Being able to connect to your audience will work wonders for your campaign results. Your audience needs to feel that you understand the issues they are facing. In other words, you are familiar with their pain points.
Remember, your audience isn't checking their inbox because they are looking for something to read. They have real-life problems that they need to solve. And you should be very familiar with what these problems are.
It will be easy to build a targeted list and provide relevant content to those subscribers once you understand the common issues in your niche.
But, sadly, many email marketers don't pay attention to this. While it's true that email marketing is a numbers game, you're unlikely to make any progress if you can't connect with your subscribers in a meaningful way. 
The key here is to create content around whatever it is that keeps your subscribers up at night.
A great way to understand this is by taking a look at this message from one of my favorite YouTube channels, Simple Soccer. 
This channel is all about helping soccer players improve their in-game ability. And one common issue soccer players face is not receiving the ball enough while playing.
So, Simple Soccer went ahead and included this specific pain point in their subject line:
"This is WHY you're NOT getting the ball in matches." And it's enough to motivate any active player to check out the content if they want to improve their game and receive the ball more. 
And regardless of your niche, this tactic will work extremely well because it shows that you know and care about your subscribers.
Here are a few more examples of how you can build strong connections with your subject lines across various niches:
"Not getting enough traffic to your blog? This will help"
Right away, this touches on the common pain point many bloggers face, generating traffic. It also entails a bit of curiosity/intrigue which we will touch on in a moment.
"Say goodbye to yellow teeth and hello to a more confident smile"
Imagine feeling ashamed to smile in public because of yellow or stained teeth. You'd always be thinking in the back of your mind that people are looking at your teeth whenever you speak. And naturally, you will not be very confident in public.
If only there was something you could do to make your teeth whiter. Then you check your inbox and see this subject line.
How quickly would you click to open it?
"Don't read this if you've made more than 1k online this month"
This subject line is very clever. The majority of online marketers make less than 1k per month (over 90%).
That's nowhere near enough to quit the rat race and most time, a huge chunk of their earnings won't even be profits.
It's a safe bet to say that 9 out of 10 people on your list would definitely connect with this subject line.
Urgency
Now we are connecting with our audience. But it's still possible that they won't open your content right away.
Usually, when people think they have more time to do something they will procrastinate until the last moment. College students are notorious for this. 
So it is important that you add a bit of urgency to your subject lines to get your subscribers to act. 
Let's analyze this example from our very own Neil Napier:
We can see here that a connection is being made to Vimeo and Wistia users who are paying monthly to host their content. By accepting Neil's offer they can potentially stop paying their monthly subscriptions.
But they have to act fast because there are only 10 spots available. If they close the email thinking they can come back later or just before their subscription renews they'll miss out big time as all spots might be taken by then. They will have to keep paying their monthly bills.
Let's analyze another example:
Urgency is approached differently here. A deadline is in place to pick up this offer (midnight today). But it doesn't stop there, there's also a price increase so you'll have to act fast if you don't want to pay more later.
The subject line encapsulates this urgency perfectly while highlighting the main benefit of the offer, automated traffic.
Personalization
One of the best ways to build a connection with your audience is to add a bit of personalization.
When done right, your subscribers will feel you are speaking to them specifically and not just sending generic messages.
So how do you personalize your subject lines?
This is where knowing your subscribers comes in. Creating a high-converting optin page that collects relevant data from leads is essential to building an email list. 
This data may include:
Name
Age
Gender
Location
Hobbies
Profession
Device type
Social media handle
Etc.
You can then use this data to personalize the content, such as for example the thank-you email subject lines after a successfully completed action by your client.
In addition to this, you may want to segment your lists according to specific demographics and criteria.
This will ensure that the right emails are sent to the right people at the right time. List segmentation is one of the main purposes of autoresponders in the market today.
The following subject lines exemplify this well:
"Happy 4th of July, Amy".
A subject line like this is only relevant to people living in America since the 4th of July is their independence date. It also includes the subscriber's first name, Amy. Thumbs up for personalization and relevance.
"How to create a Clickbank account in Nigeria"
With this example, we are targeting Nigerian marketers. As you may be aware, Clickbank is one of the best affiliate marketplaces online. However, people from various countries including Nigeria may find it difficult to create a ClickBank account.
No doubt, this subject line will be very relevant and personal to affiliate marketers from Nigeria.
"This is why men over 30 are leaving Facebook"
Here we have 3 points of personalization. Gender, age, and social platform. This subject line is very specific to its target audience. It speaks directly to men over 30 who use Facebook. It also entails a bit of curiosity which we'll touch on next.
Intrigue/Curiosity
In some cases, subject lines help to convey that "opening this message will benefit the receiver." At other times, it is advisable to maintain a bit of mystery, especially if it stimulates curiosity.
Their tendency to get a higher open rate may be due to the fact that they require opening the email to get more information. The subject line should be mysterious, yet align with your brand. Otherwise, it might look like spam.
You have to be careful not to seem too vague, however. Let's see how it's done with another real-world example:
In this subject line. The phrase "stay-at-home mom" speaks to a very specific demographic of people. It's added here to build a connection with middle-aged people/parents.
This subject line is also trying to emphasize that earning $10k/month from home is something that "normal" people can do. 
In other words, you don't need any special skills. Just a specific strategy that works. And guess what? The only way to learn that strategy is to open the email and read its content.
NB. There are quite a few punctuation marks here. As mentioned earlier, this is something you definitely want to avoid if you want to dodge the spam folders. There is a slight chance you may get away with it if your brand has a good reputation, however.
Desire
Why should people read your emails? Is it just to benefit you? Or is it that you offer some benefit they desire?
We already learned the importance of understanding your audience's pain points. It's equally as important that you understand exactly what solution they desire. The two go hand in hand like yin and yang. 
Being able to offer a unique solution that solves your audience's problems will give you a competitive edge that others can't compete with. You'll only need to weave these solutions into your subject lines cleverly.
I'll use two of my favorite examples to better explain this concept.
Let's take a look at another example from Simple Soccer:
This subject line is simple, Become a Beast in Matches!
As a soccer player, the whole point of training night and day is so that you can perform well on match day. This is your main desire. There is no way you're not going to open an email that helps you fulfill such a desire.
Next up we have this sleek message from Greg Kononenko:
Greg is a good friend of mine from Australia and he makes a pretty nice income from his YouTube channel.
In this email, Greg uses the subject line to show that you can get tons of views on YouTube without being on camera. It's a very subtle but thoughtful subject line considering most people's fear of being on camera. 
Good job Greg!
And in a nutshell, that's what the CUPID framework is. A systematic approach to connecting with your audience on a personal level while enticing them to open your emails for their own benefit.
It's not necessary to include all 5 of these components in every message you send. Depending on your goals, one or two may just be enough. 
Now, let's take a closer look at how you can write your very own CUPID Framework subject lines while avoiding the 7 common pitfalls.
P.S. Please note that all the subject lines above are very short or at least within the recommended character limits.
Craft Your Next "High Open Rate" Subject Line
Now with the Cupid Framework in mind, let's go ahead and write some really compelling subject lines for higher open rates. But where should we start?
Naturally, we need to decide what is the purpose of our email and the benefit it will provide to our viewers.
Also, who will our content be most relevant to and why is it relevant at this moment in time? In a nutshell:
Purpose
Benefit
Audience
Why Now
Purpose
This should be fairly easy to identify and will determine the call to action of your emails. What do you want to achieve from your campaign? Possibly you wish to:
Drive traffic to your website
Sell a product or service
Get people to book a call with you
Offer a free gift/bonus
Or fill up your webinar seats
Benefit
In what way will your subscribers benefit from reading your email? What is it that they should look forward to gaining for offering you their time?
Your subject lines will be useless if you don't fully understand your audience's pain points and desires.
A good place to start is by doing some competitive research. What are your competitors offering in your niche? What issues are they trying to solve and what are they ignoring?
It's not a bad idea to join the mailing lists of some of your top competitors. From there you can see how they approach addressing your audience's needs.
Use this information to improve your own approach. You should also take pointers on what you feel your competitors are lacking and use this to your advantage. 
Audience
Who is the intended audience for your email?
By now you should be well aware that it's not appropriate to send irrelevant content to everyone on your list. Casting your net too wide won't yield you more fish.
Instead, consider the purpose and benefit of your email then decide which segment of your subscribers would most appreciate it.
The segment you choose will help with personalization later on.
Why Now?
Okay, now we have to ask ourselves, why should our subscribers take action at this moment in time?
Remember, if you give people a reason to procrastinate they will.
Real-Life Examples
Funnelvio
By looking at the subject line above can you guess what the purpose of this email is?
Here Neil attempts to interest his readers in seeing why Funnelvio is better than Clickfunnels.
Since Clickfunnels is a well-known funnel builder, the subject line speaks to everyone who needs to build funnels. Specifically, people who may be using Clickfunnels.
By doing so two things are achieved connection and curiosity. Why exactly should I choose Funnelvio over this other product?
If there is one thing I would improve it would be the generic word "you." I would replace it with a phrase such as "digital/affiliate marketers."
So it would read, "Why digital marketers should choose Funnelvio vs Clickfunnels." This way the subject line would be a bit more personalized. 
Biztransformers
This is a great subject line from Ivana at Biztransfromers. Using the first name of your subscriber in your subject lines is a great way to build connection and personalization.
Furthermore, the subject line makes use of an open-ended question. At the same time, it speaks to subscribers with a specific desire. That is, to build a recurring income business.
Here we have 3 components of the CUPID framework being used; connection, personalization, and desire.
Of course, the benefit on offer here is the possibility of learning how to create a recurring business.
Tubeshift
Next up, let's take a look at this message from the guys at Tubeshift. 
The subject line used here is simple yet effective. It speaks directly to affiliate marketers for a bit of personalization. At the same time, it adds intrigue, an air of mystery.
Caffeinated Blogger
Greg lands a spot in this section with this stellar subject line speaking to affiliate marketers.
Here the focus is on the benefit of driving traffic to your affiliate links which in turn means more commissions.
And the subject line does a good job at sparking curiosity as well.
Ryni Beats
The last example here is from Ryni Beats.
This subject line does a good job of adding urgency, explaining "why now." There are only 8 hours left after all. But there are a few issues.
8 hours left for what? There is no way to tell the purpose of this email from the subject line alone.
And exactly who is it for? The subject line makes no indication of this. And lastly, it's just too vague, no benefits are conveyed. So why exactly should anyone ever open it?
Let's see if we can improve this subject line.
By reading the body text we can see that 30 new beats are on offer. The email promises as well to help improve vocals. So we could create a subject line like this:
[8 hours left] Get better-sounding vocals instantly + 30 New rap beats…
How is this an improvement?
This new subject line outlines the benefits to be gained from opening the email. Also, by adding the word "rap" it calls out a specific demographic, people interested in rap beats. At the same time, it maintains a sense of urgency.
So you might be wondering how exactly would you know that this subject line will work well. Well, there are various subject line tools I use for quality checks. Here are my top recommendations. 
Tool Recommendations: Subject Line Testing
Here's a list of our top recommended tools to test your subject lines before sending.
1. Email Spam Tester
This is one of the best subject line testing tools you'll come across. It checks if your emails will get flagged for spam. 
This tool has a lot of valuable paid features and is suitable for mid-sized to large-scale teams. 
If you want to know what could be wrong with your subject lines and how to improve, this tool will do the trick. 
Pricing for this cool Spam Tester starts at $39/month
2. Test Subject by Zurb
It goes without saying, your emails must look good on mobile. Almost 50% of all emails are viewed on mobile devices. If your content isn't mobile-optimized then chances are you will be missing out on half of your potential views.
Test subject by Zurb provides an instant preview of how your emails will look on most mobile devices.
3. Subject Line Grader by Net Atlantic
Find out how compelling your subject line is, and how you can make improvements. Additionally, you will learn how close your character and word count is to the ideal length.
Find out how well your word mixture and balance stack up. Can you add more action, emotion, or power to your sentences? Use the Subject Line Grader to find out.
4. Emotional Marketing Value Headline Analyzer by The Advanced Marketing Institute
Learn which side of a prospect's brain is stimulated by your headline, and which one you should appeal to with the email's content and goals.
Emotional Marketing Value Headline Analyzer is affordable and easy to use.
5. Headline Analyzer by CoSchedule
Although Headline Analyzer was designed to analyze headlines for blogs/articles, it can also be used to analyze subject lines.
It provides an overall headline score as well as tips on grammar, structure, and word placement.
As one of the most trusted headline test tools, this is definitely one you should have on hand.
These 5 tools will help you to write much better subject lines and improve your overall campaign performance.
But there may be times when you'll need a more hands-on way of checking your subject lines for quality. That's where split testing comes in. 
Advanced: Split-Testing Your Subject Line
Sometimes figuring out which of your subject lines will perform better can be a difficult task. You may need to split several subject line ideas to get the best result.
What exactly is split testing?
The goal of A/B testing is to send one version of your campaign to a subset of your subscribers and another version to a different subset. 
In simpler A/B tests, multiple subject lines can be sent to test which one generates the most opens, while more complex A/B tests can test completely different email templates to see which one generates the most clicks.
Nowadays, sophisticated autoresponders such as Mailvio make it easy to carry out such tests.
Here's how:
Step 1. Start a new campaign
Inside your Mailvio dashboard, navigate to the Campaigns tab and select the "Start a New Campaign Button.
Step 2. Select the split testing option
On the resulting page, select the split testing option.
Step 3. Name your campaign
In this step, you will need to name your campaign.
Note that the name you choose will only be visible to you. So choose a name that accurately depicts the goals of your campaign. 
Step 4. Choose your audience
The next step is to select which segments of your list you would like to send your campaign to.
Step 5. Adding your split tests
In this step, you will choose the details of your split tests as well as the number of tests you desire.
In this example, I'll choose to split test only two subject lines.
Step 6. Fill in details
Once you hit the "Add test" button you will be given the option to fill in the details for each of your tests. These details will include your subject lines and sender address.
You will also have the option to add or edit the details of your email body here.
Step 7. Add your email content
The last thing you'll need to do is add your email content. You can choose a premade email, start from scratch, or choose from one of Mailvio's many stunning templates. 
Here I'll choose a pre-made campaign then hit the save and continue button in the drag-n-drop editor.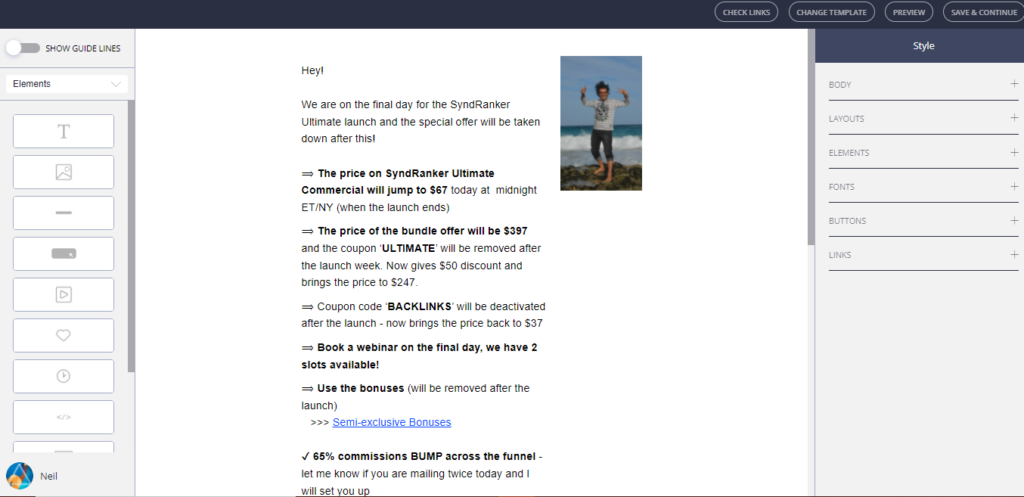 Final Step. Send your campaign
The final step is to go ahead and send off your campaign. In this case, I have a total of 4196 subscribers in my selected segment from my list. Mailvio will send each of my tests to either half of these subscribers.
You will also need to decide what metrics are most important for your campaigns such as unique clicks or opens.
And that's it, the whole process is fairly simple and should take you no more than 3 minutes to complete.
Please note that although this example was with Mailvio, the overall process is the same for most autoresponders.
Bonus: Subject Lines KPIs
Tracking the success of your subject lines is very important. By doing so you will learn what's working and how to better engage your audience.
In short, the more you understand what works and what doesn't, the better subject lines you'll write.
So, what email marketing KPIs should you be looking at? 
For us here at Mailvio what it comes down to is:
Deliverability
Open rates
Click-through rates
Deliverability Rates
Deliverability rates for your emails are the first key performance indicator. You may find that your content has a high spam rate or ends up in the promotion tab.
This is a sign that you need to go back to the drawing board and take a look at what needs to be worked on.
Naturally, your subject lines will need to be inspected.
Open and Click-through Rates
What percentage of your delivered emails are being opened? Do you find that higher open rates lead to more clicks? Normally this will be the case.
But there may be times when your click-through rates are lower despite high open rates. This may indicate that your subject lines are a bit "click-bait-ish". In this case, you have to work hard to ensure your subject lines accurately reflect your content. 
Other factors may be at work here including your audience and the timing of your emails. Keep split testing. 
How many of your clicks and opens are unique? Sometimes a portion of your list will open and click on your content multiple times. This may give the impression of high open and click-through rates.
This may be good or bad for your campaigns depending on your goals.
You might not want recurring visitors if the aim of your campaign is to sell a product since they are unlikely to buy more than once.
On the other hand, if you are sending traffic to your blog or YouTube channel, then recurring visitors will be ideal.
Bonus: 499 High Converting Subject Lines
We've prepared a very special bonus for you. 499 High Converting Subject lines that will skyrocket your open rates.
These subject lines have been tested rigorously and proven to work time and again. 
With this bonus, you will never have to stress over writing another subject line again for at least 2 whole years!
These subject lines are crafted specifically for the digital/affiliate marketing niche but can be edited to suit your needs.
Most importantly, you'll be able to incorporate the CUPID framework while avoiding the 7 common pitfalls most marketers make.
NB. To avoid saturation, this bonus is only available for a limited time and for a limited number of our readers. Be sure to download it before leaving this page.
Steven is the co-founder of Mailvio and oversees the operations and technical strategy and implementations. Steven has been an online entrepreneur since he was 14 years old and has been running SaaS companies for the last 10 years.