Email copywriting is an art form. It requires a delicate balance of humor, wit, and personality to make the reader open your message.
There are many factors involved with producing high-quality emails. From the formatting of the message, to how it's presented visually – there's a lot that goes into every email you send.
But it is the copywriting itself that really makes the email. It's the words you choose, and how you present them to your reader that makes all the difference.
As a copywriter, you must be able to attract the reader with intriguing subject lines. Your first paragraph needs to be enticing. Enticing enough to interest people in reading the rest of your content.
This article will provide 10 tips for improving your copywriting for email marketing. You might find them helpful no matter what type of business you're running!
What is Email Copywriting?
Email copywriting is the art of writing effective content for emails. It's more than inserting a logo and contact information into an email template. you have to get people interested in what you have to say!
When people receive a new email, it is instantly judged on three factors:
The subject line. This will determine whether the reader decides to open the message or not.
The first paragraph. It must be compelling enough for them to read further and find out more about your product/service.
The email copy. This is where you lay out all the details of your offer.
That said, how do you ensure that your email copywriting practices are effective?
How can you improve the quality of your emails without hiring a copywriter?
Make sure to use the ten simple tips below as a starting point and add your own style and personality into the mix.
10 Email Copywriting Best Practices You Need to Know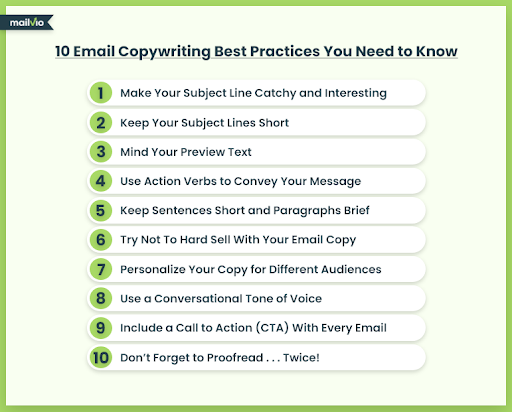 We've arrived at the business junction of this article.
The tips below should help increase your open rates, click-throughs, and conversions.
Let us begin!
Make Your Subject Line Catchy and Interesting
Your subject line is the most important part of your email copy. It's the first thing people see. And it should be compelling enough to make them open the message.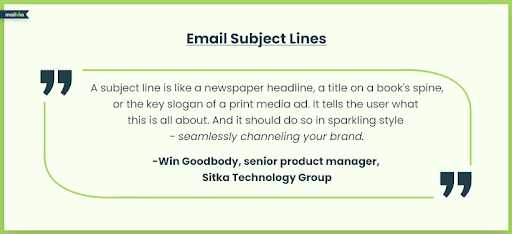 A great way to learn how to write a compelling subject line is by reading other people's emails.
Check out the newsletters you subscribe to. And those sent by companies where your target audience is also present. See what kind of subject lines they are using and write down the better ones.
You can swipe a subject line or two for your own purposes. Just make sure you change them slightly so that they don't appear plagiarized.
Here are a few I am thinking of swiping:

Using puns or wordplay is another great way to grab attention. Your humor doesn't fall into the icky realm of "trying too hard."
An optician, for instance, could have a subject line that reads:
"Eye on the prize" or "Let your eyes be your guide".
A restaurant might have:
"Your eyes are bigger than your stomach!"
You get the idea!
Be creative and ensure that it reflects what you're trying to say about your product or service.
Keep Your Subject Lines Short
It is recommended that you keep subject lines between five and ten words or up to 50 characters.
There are several reasons for that:
Short subject lines get 19% higher open rates than long ones
Subject lines will be cut off if they are too long.
Mobile email apps also tend to truncate subject lines longer than 40 characters.
Mobile users are 30% more likely to click on email subjects with fewer than ten words.
The human eye takes in more content when reading shorter words and phrases.
Here are some examples that worked really well:

Short, sweet, and clever works best in most cases – as long as you don't fall into that "trying too hard" trap again!
Mind Your Preview Text
Preview text is the short snippet of information that appears next to your subject line.
It gives the email recipient a better idea of your offer.
Your preview text should be compelling enough to get people curious. With a little curiosity, they'll click to see what's inside your emails.
It should also be written in the same style as your email copy, and make sense with your subject line.
An optician might have: "You'll always see clearly" for a subject line that reads "Eye on the prize."
A restaurant could use something like: "Your eyes are bigger than your stomach!" in the subject line, but "Join us for lunch" in the preview text.
A clothing store could have: "Wear Your Style" as a subject line. And "tag it with love (sale ends tonight)" as their preview text.
Just like with subject lines, keep preview texts short!
You don't have to include your full email copy in the preview text, and you shouldn't. But it should give a good idea of what your email is about.
Remember, the preview text won't appear by itself.
For this reason, you should make sure that the two are compatible.
Use Action Verbs to Convey Your Message
Using action verbs instead of nouns will add a dynamic quality to your email copy.
As much as possible, try using action verbs that convey a sense of urgency to get people's attention.
Instead of saying "our sale ends soon," you could have "the clock is ticking" or even better, "time's running out."
You can also use verbs that relate to your product/service.
Use words like "discover," "find out," or "learn how to…" as verbs. These are great for enticing someone into opening your email copy.
Aside from action verbs, try using words like: "stop," "avoid," and "prevent."
These words help readers understand what's at stake if they "miss out" on an opportunity or offer.
You can also try to use "must" or "need."
These words convey a degree of necessity that your email copy has to get across.
Using the word "to" is also a good idea! Include it in your email copy to add a sense of direction and purpose.
You can use it with "stop," "avoid," and "prevent" as well: It's time to stop making the same mistake over and over again!
Also, be careful with exclamation marks! If you use them, make sure you only do so to convey a sense of urgency or excitement.
"The sale ends tonight!" or "Don't miss out on this offer" are good examples of email copy with exclamation marks.
Otherwise, it's probably best to refrain from using them.
Keep Sentences Short and Paragraphs Brief
In copywriting, shorter sentences and paragraphs are more effective.
You want to keep your writing easy on the eyes so it can be easily read and understood.
Try using:
short sentences; and
short paragraphs (no more than three or four sentences).
This will help your email copy to come across as clear, concise, and easy to read – which is exactly what you want it to be!
Here are some more tips for keeping sentences brief:
Use simple words;
Avoid using "that" or other unnecessary modifiers;
Only use one adjective/adverb per sentence ("a lot of" is unnecessary, but "many" isn't.);
Avoid using complex words when there's a simpler alternative. For example, "utilize" is often unnecessary when you can just type "use".
As mentioned above, your paragraphs should only contain three to four sentences. Another rule of thumb is to keep one idea per paragraph.
If your paragraphs are too long, divide them into many paragraphs for easier reading.
Also, use bulleted lists and numbered for any step-by-step instructions given. This helps with readability and content outlay.
This will make it easier for readers to follow along with the steps, which is what you want them to do!
Take a look at the sample to see how it's done in real life.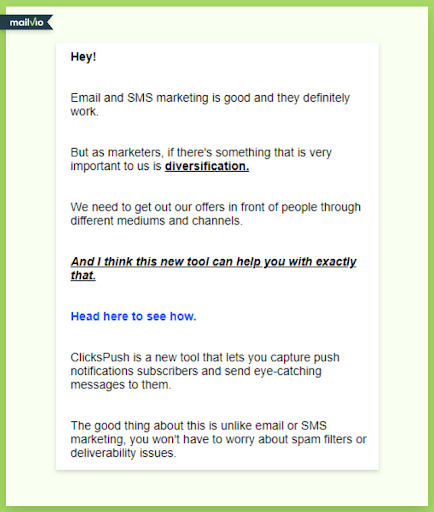 Try Not To Hard Sell With Your Email Copy
Copywriting for email marketing is very different from other types of copywriting.
Why?
Because your email copy is a sales tool.
This means no more talking about yourself! Your readers don't care about how awesome you are or how many years of experience you have.
They care about what they can get out of your product/service, how it will benefit them, and what it will do for them.
This is not to say that you can't include some promotional content in your email copy. But, you should make this content secondary to the informational and persuasive elements.
Your main goal should be to show readers how you can help them by providing value.
Talk about their problems or pain points, and how your product/service will benefit them.
For example, an email about data management services can discuss:
How data is stored
The different types of storage methods and how they work
What happens if a company doesn't have proper data management
How data can be used to improve a business's performance
Remember, 80% of the time, copywriting for email marketing is about giving value. While 20% of the time, it's about selling.
Personalize Your Copy for Different Audiences
One of the biggest complaints about email marketing is how impersonal it can feel.
This happens when copywriters send out mass emails to an audience as if they're all the same.
But, you don't want this! You want your copywriting efforts to establish an emotional connection with readers.
To avoid coming off like a robot, it's important to personalize your email copy.
Use a Conversational Tone of Voice
Your email copy shouldn't sound like a brochure or sales letter. It should be written as if you are talking to a friend across the table.
The tone of voice that you use in the body of your email copy is very important.
It helps to establish a connection with your reader; it also makes your copy more persuasive.
To use a conversational tone in your email copy, avoid using stiff or formal language.
This might mean getting rid of industry jargon and any terms that are specific to what you do/sell.
You might be thinking: why not? It sounds professional and important!
Yes, it might sound professional. But remember that you're not writing for professionals! You're writing to a wider audience, and your email copy has to appeal to them.
If you want people in the industry to take notice of what you do/sell, then, by all means, include some jargon.
But when it comes to communicating with regular consumers, keep it simple.
Don't be afraid of using contractions (they're/their/there) either. Even shortening words ("just" instead of "in the near future") is great for email copywriting.
You could even drop some consonants.
For example,
"We can improve your conversion rate" could become "Ya know how we make conversions better?"
This email copywriting example uses "ya" instead of "you", which makes it seem more friendly.
Remember, it's all about making your email copy sound natural and less robotic.
Include a Call to Action (CTA) With Every Email
This might seem like a fairly obvious tip, but you'd be surprised at how often it's overlooked.
A call to action is usually a brief phrase that urges your reader to take the next step. 
The CTA can be as simple as "sign up now", "register today", or "order yours".
There are a few rules here because it's all about what works for you and your brand.
However, there is one general rule regarding CTAs: make them stand out from the rest of the copy. You can do this by:
changing up the style of text (bold, different colors);
using an action verb like "go"/"start" or;
creating a button that links directly to where people need to go next (a sign-up form on your website).
Don't rely on readers finding and clicking what they think might be important. Take the initiative and guide them instead!
This is how Pixlr did it: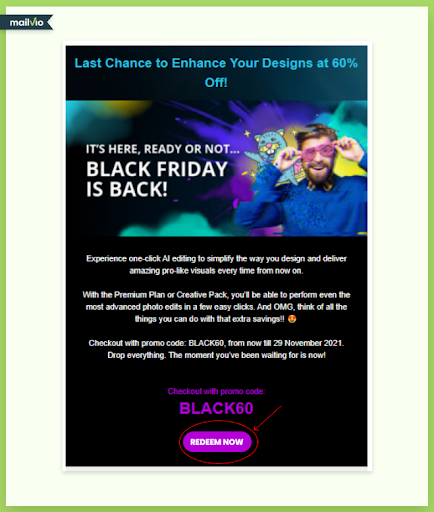 You should also consider including more than one CTA per email. Especially if your email covers more than one topic or product.
But don't go overboard with this one or else you'll end up overwhelming your readers.
One CTA is enough for most emails, but if it's a long-form email then two CTAs are usually fine.
If it's even longer than that, consider giving them three options to choose from.
It all depends on what you're offering, how long the email is, and what works best for your audience.
Don't Forget to Proofread . . . Twice!
Nothing can tank your email copywriting credibility faster than poor spelling and grammar.
Even the most carefully crafted email copy will fall flat if it contains these errors. This is especially true for transactional emails – one little mistake can cost you big time!
So, make sure that your email copy is impeccably written (and proofread!) before sending it out to your subscribers. You want it to look professional, not spammy.
You can either read through it yourself or hire someone else to do it for you if you're short on time.
Don't rely only on spellcheck because sometimes words look correct but aren't.
A classic example of this is the improper use of "there" vs. "their" and "they're".
A quick way to check your spelling and grammar is by using a tool like Grammarly. It has an online version that you can use for free (you just have to create an account).
Or, if you'd rather work offline then check out Ginger – it's a free proofreading app for both Mac and PC.
This will help you avoid embarrassing mistakes in your email copy. And in the long run, will help establish your professionalism.
Bonus Tip: Split-Test Before Sending
Once you are satisfied with your email copy, it's time to test.
Split-testing (or A/B testing) is a method of comparing two versions of an email. The aim is to determine which one performs better.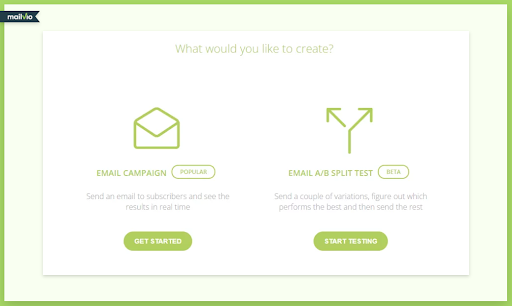 You can test various aspects of your email copy including:
– subject line, layout, call-to-action button color, and fonts –
Ensure you have enough data before drawing any conclusions.
The best way to split test and gather performance data is to use an autoresponder like Mailvio.
These autoresponders allow you to easily craft emails for split testing and…
Makes it possible to monitor results in real-time such as:
Opens (The number of subscribers that have opened your emails);
Clicks (The number of subscribers that have clicked one of the links in your email (if there are any);
Unsubscribes (The number of people who have unsubscribed via the unsubscribes links); and
Hard Bounces (the number of emails that have been hard-bounced). 
Mailvio is also packed with email templates that you can use to speed up the email creation process.
Note: You can also conduct split testing using Google Analytics.
Conclusion
The money is on the list for sure. But getting that money out depends on your email copywriting skills. 
You must be able to connect with your readers and provide value to them with every interaction.
This may be easier said than done so you might need to do a bit of split testing to get it right.
But in general, you want to keep your emails and subject lines short, to the point, and purposeful. 
These tips have helped marketers from all walks of life generate millions in sales. And they work brilliantly for affiliate offers as well.
Now, it's up to you to take action and improve your email copy. Best of luck.
Do you have any additional tips or tricks for writing high-quality email content?
Let us know in the comments section below!
Steven is the co-founder of Mailvio and oversees the operations and technical strategy and implementations. Steven has been an online entrepreneur since he was 14 years old and has been running SaaS companies for the last 10 years.