What is push messages? Push messages are clickable pop-up messages that appear on your users' browsers irrespective of the device they're using or the browser they're using.
You can make great use of push messages to communicate with and engage your users. Research shows that by using the right push message software, you can increase retention rates by seven times. While open rates can grow by a significant percent.
Marketers can send alerts all at once, at a scheduled time, or based on time zones or users patterns. With an effective push messaging strategy marketing professionals can automate these strategies to save time and target more users at once.
Additionally, marketers can create segments based on behavior patterns, age, geography, gender, and many more.
A user's location is also important, not only to send notifications like an alert about flooding at the border. But also to ensure that messages are delivered in the native languages of the global audience.
Communication channels have their own strengths and weaknesses, which must be understood in order to build an effective customer relationship. Using that knowledge, you can then craft campaigns that work to maximize the strengths and get rid of the weaknesses.
In this day and age, email remains a very popular way to interact with customers. In fact, there are over 4 billion email users in the world, so I don't think it is surprising. When communication via email takes place, however, it is quite possible to run into such challenges as: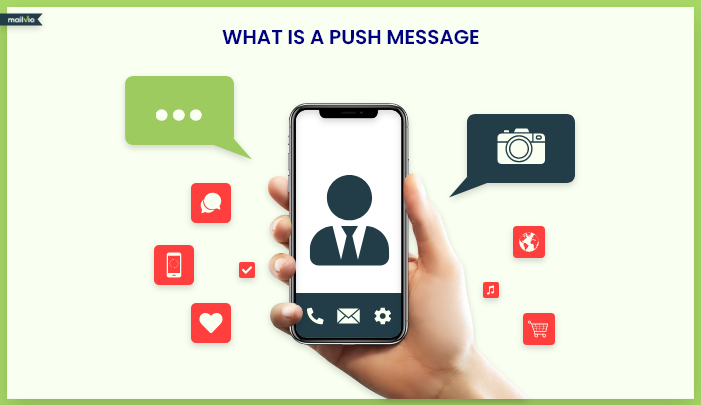 Bounced Emails
There's no denying that email bounces are very common in email marketing. If for some reason your email isn't delivered, then you will need to determine the reason for this.
There are several reasons why a soft bounce can occur. Including the recipient's mailbox being full, the server being down, or the message being too large.
If you receive a hard bounce, it means that the recipient's mail server has returned the email as permanently undeliverable. Invalid addresses can cause this error. No domain name, errors, change of address, etc.
Email Submerged In A Sea Of Messages
There are times when users' inboxes can become very crowded. In spite of the fact that most people take time to study the received message. They often choose to take a quick glance at it instead and read only the most important information. In that case, your message may ultimately go unnoticed.
Being Marked As Spam
In most cases, it's easy to get into the spam tab of a user's email account. Emails of this type are less likely to be seen by recipients, very few people check the spam tab. This, in turn, means lower open rates, lower click-through rates, and lower conversion.
As a matter of fact, most users view an email for almost seven hours on average. This will not work for you if you have a time-sensitive message. The best solution is to have push notifications sent. Instantly delivered to a user's desktop or mobile device.
Benefits of Push Messaging
Engaging with users through push messaging has many benefits, as there are a number of ways to do so. Companies can use the messages to interact with potential customers and to retain their interest through the use of carefully crafted, personalized messages.
Push messaging has many benefits for brands that operate in a range of different sectors. Offering a new way to communicate with users, engaging them, and drawing their attention to an app or website.
Getting The Most Out Of Push Messages
Using push notifications correctly can be an effective way of improving engagement and maintaining users' interests. Overusing them, however, can result in users becoming completely disconnected from your company. In the following guide, we will give you a few tips about how to effectively use push messages.
Scheduling
You should not overlook the importance of timing, so do not overlook it. By aiming messages at the right time, users are most likely to read them.
By segmenting content according to their stage in the customer journey, one can send push messages that are most likely to be noticed. Determine when different audiences are most likely to engage with messages, and send messages at these precise times.
Outline Pertinence
Engage users in relevant interactions to minimize the risk of users losing interest and opting out. Segmenting your audience allows you to customize content. In addition to boosting engagements, it will make users willing to respond to future messages.
Short And Attention Grabbing
It will take only a couple of seconds for users to decide whether or not to engage with a push message. So make sure the content is short and to the point. You should use punchy, catchy, and concise content that has the ability to attract users' attention. That will make them more likely to click the message.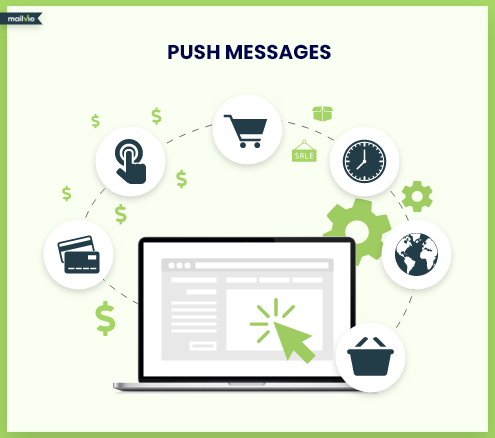 Advantages Of Push Messaging For Marketers?
Above we have explained what is push messages. Push messaging is one of many tools that help your content reach its true potential for customer engagement and retention.
By taking into account data on preferences, location, age, language, and more. Marketers can set up notifications that are targeted toward different user segments and increase conversion rates.
In conjunction with other channels, such as a push notification preceding a follow-up email. Marketers can ensure users are engaged at every stage of the customer journey.
Emails And Push Messages
This pairing is the most popular among customers. It will allow you to reach those users who have ignored your emails with short and easy-to-ignore push messages.
Customized and automated notifications will ensure they are always timely and relevant. There is no way to mark push notifications as spam, and they are harder to ignore.
In fact, you can expect to see them pop up on every user's screen, which, of course, will catch their attention. As a result, you will not have any delivery issues that could occur with emails. As there won't be any danger of spam coming through.
In advance, sending a series of emails is awesome for getting people to register and for keeping them informed. Nevertheless, sending a push notification during the event will be more beneficial. By combining both platforms, a greater chance of success will be achieved.
Automation and Push Messages
Mailvio is a tool that lets you build email and push notifications campaigns, it's one of the best. A drag-and-drop campaign builder that generates a chain of push notifications and emails when a user clicks.
Through Mailvio, you can automate message flows based on behavior to ensure that each user gets a clear and relevant experience. Due to their relevance and timeliness, these messages are able to make the greatest impact and produce the greatest conversions.
Consider, for example, that you want to send a welcome email to your new users that contain a special offer.
You can tell if someone ignores your message or only opens it, but doesn't take advantage of it. After some time, you can send them a push notification, reminding them of you once again.
Upon reading the message and taking the required action. You can continue the next stage of the process by sending them a series of emails and push notifications. Containing instructions, tips, and best practices on how to use your application or website.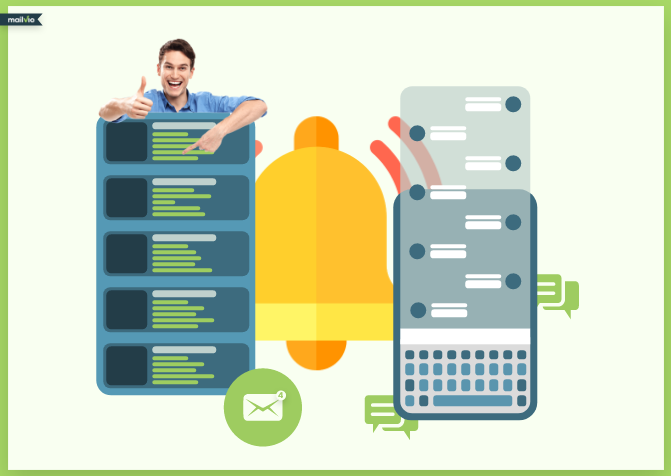 What is Push Messages Best Practices?
Several tips to help guide you with your push messages:
1. Segment your subscribers as many times as needed to send them the most relevant content.
2. Create triggered notifications for actions that require repeat visits to your site, such as abandoned carts.
3. Using a custom permission prompt, you can set up a double opt-in process. By doing so, you will prevent your permission prompts from being blocked by the Chrome browser.
As well as being able to choose the most relevant pages and locations to show your push notification. You can create compelling text to show the advantages of getting push messages from you.
4. Automation features such as welcome messages, breaking news, drip campaigns, and digests allow you to automate up to 95% of your campaigns. Behavioral advertising is a technology used by media websites to grow their business.
5. Adapt your campaign schedules to your subscriber's behavior according to the subscriber's behavior. That way, you can ensure that the notifications are sent at the appropriate time.
Conclusion
As a marketer, you have to develop an excellent marketing strategy that optimizes your financial statements and maximizes your revenue. As we have explained what is push messages above. The importance of utilizing these tools to generate higher open rates remains off the charts.
We recommend combining email and push message marketing to reach your target. With this strategy, your messages will be automatically targeted to your subscribers tailored to their interests. With the knowledge of what is push messages, it's up to you to use them correctly.