What is an SMTP server? Why do we need an SMTP server? What's the best SMTP server if I'm planning on having one?
If you are venturing into the email marketing world, you've probably come across the word SMTP. Probably some of the questions above are some of the things you are trying to figure out. This article is perfect for anyone seeking answers and for those who wish to broaden their knowledge about these topics.
A big digital civilization is encroaching on the world due to effective and fast communication. Emails are a major part of this communication process we are going through. Emails have played a huge role in shaping our communication styles.
It is common for us to send each other emails every day. We send approximately 150,000 emails per minute. A staggering 300+ billion emails are sent and received every day. A wide variety of businesses and individuals use it as a communication method.
When you click "send," what happens next? Specifically, what happens after you send the message to the recipient?
The way your emails get to their destinations involves a complex process. An SMTP server is necessary for sending such a large number of emails. SMTP, the email protocol that is pivotal for email transmission, and is the center of everything.
Keep reading, and you'll find out everything you need to know about it.
What Is An SMTP?
First of all, what is an SMTP? What does SMTP stand for? Simply put, SMTP is the acronym for Simple Mail Transfer Protocol.
The protocol enables email messages to be sent between email accounts over the internet.
Basically it works the same as your IP address (Internet Protocol) for communicating with the main network. This protocol is part of the application layer of TCP/IP. Just like a CDN, SMTP utilizes a "store and forward" concept.
Your communication can be sent via SMTP with the help of your Mail Transfer Agent (MTA). It is possible to exchange information between different email clients and accounts using these Email protocols.
In addition to IMAP (Internet Message Access Protocol) and POP (Post Office Protocol), SMTP is one of the most popular email protocols. In addition, it is the only protocol specifically designed for sending emails.
SMTP is responsible for moving the email from your MTA to another MTA. Simplified Mail Transfer Protocol uses a set of code to make it easy for messages to be sent between email servers. A message is broken down into different parts by SMTP that only the email server can comprehend.
Messages are reduced to small text fringes. This can be recognized by the servers. Servers can decode the codes provided by SMTP. Messages may pass through one MTA or multiple computers before reaching their destination.
This is similar to a letter that goes through a lot of hands on its way to its destination. ISPs rely on their SMTP server to regulate and determine the number of emails each connection can send.
What Is An SMTP Server?
What is an SMTP server? An SMTP server is an application, just like any other server.
The service is provided to other applications within a network, known as clients. SMTP servers are responsible for sending, receiving, and retransmitting mail.
Servers are like post offices in the real world. To ship a letter from city A to city B, the letter must first pass through a local post office in city A.
The following step involves processing the letter and sending it to the post office in city B.
Afterwards, city B is responsible for delivering it to its final destination.
Similar things occur with SMTP servers, except that instead of taking days, it only takes a few minutes for your messages to be delivered on your client's inbox.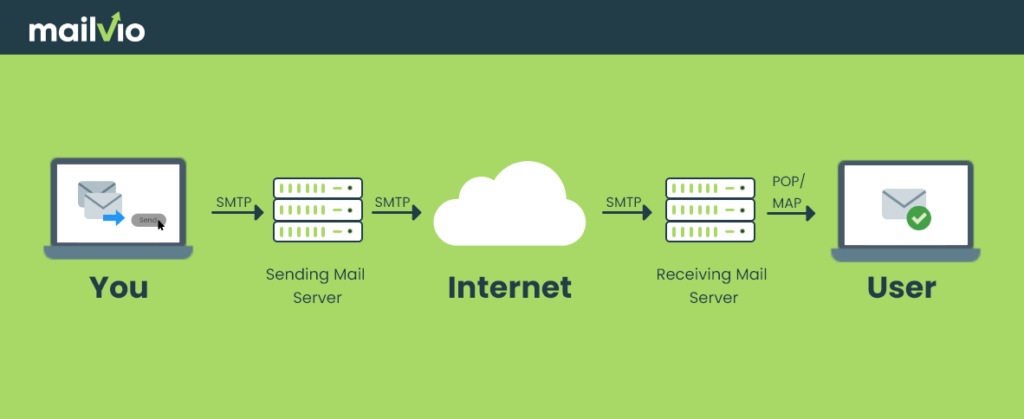 SMTP is specifically designed for sending, receiving, and relaying email. The server doesn't necessarily need to be on a machine for this to work. Instead, it's an application that runs continuously to send new mail.
Is It Necessary To Have An SMTP Server?
Your email cannot be sent to its destination without an SMTP server. Clicking the "send" button on your email client automatically converts your messages into a string of codes.
These codes are then transferred to your SMTP server. As a result, codes are processed appropriately, and messages are sent to the correct email address.
The email can no longer be sent to the recipient if there is no outbound SMTP server. It may even get lost in the conversion process without it.
The server relays SMTP email messages and also checks that the outgoing email message is being sent from an active or working account. In case of a failed delivery, the email will be returned to its sender. Senders are informed that their email address is incorrect or that their ID has been blocked by the receiving server through this action.
Why Do We Need To Use SMTP Servers?
Now you are knowledgeable about what is an SMTP server. However, what is the purpose of using SMTP servers when there are various Email Service Providers out there? For instance, Gmail, Outlook, Zoho Mail and Yahoo.
Our regular emails are delivered through these email providers. We also use these providers for business purposes. Unfortunately, these email providers have certain limitations that an SMTP server can solve.
These issues can be resolved by using an SMTP server. The SMTP server can also be used to send transactional emails and drip campaigns.
Scaling is why SMTP servers are preferred over Common Email Providers. The latter is only feasible when using dedicated SMTP servers.
Let's take an example: you are running a business, and you need to send out bulk emails to promote your new product. Or you just want to send informational emails.
All of these things cannot be just done by sending email from the web interface, so you will need a system to handle them. SMTP is that system.
Advantages Of Running Your Own SMTP Server
In case you're considering setting up your own SMTP server, you should know it has both advantages and disadvantages. Here are a few things to know:
Third parties will not be a problem
The actions of third party can sometimes affect deliverability. With your own SMTP, any problems that may occur won't require you to deal with 3rd party providers.
Furthermore, as a result of sharing server space, email deliverability can be compromised when anything untoward occurs. One can avoid these issues by setting up your own SMTP server.
Sending volumes are not restricted
Some web hosts and email service providers limit the number of emails you can send each day. You can send as many email messages as you want on an hourly or daily basis when you have your own personal SMTP.
Your email list is private
Having your own SMTP also means that you don't have to share information about your email lists. This means you can keep your own data and that of your customers private.
You can Keep track of email delivery
You will always receive information about the delivery of your email, no matter what happens after you send it. The results will let you know if your message was sent and if any error codes occurred.
Access to Archives
You can also perform research on all of your emails sent with your own SMTP server. You cannot access your own email archive without having your own SMTP. This makes standard measures like follow-ups and reporting difficult.
Disadvantages Of Running Your Own SMTP Server
Now we've discussed the advantages of running your own SMTP server, let's take a look at what are its disadvantages.
It's local
Owning your own SMTP server also has the disadvantage of being local. Power outages or problems with internet connections can compromise the performance of the system. Backup servers and fail-safe can be set up, but again, this requires technical expertise.
Complex, Time consuming and Costly
SMTP servers require many resources to run. This means you need to constantly check that everything is working properly. In some cases, you may also need to hire a dedicated team or specialist to handle the work.
In addition to that, setting up the server is a completely different story. Businesses often find this too costly. There are a lot of technicalities involved in this process, and it can be very complex. It also requires a lot of effort as well as time-consuming.
Issues with security and deliverability
When your email volume changes, it can take some time to get the deliverability just right, unless you are sending to specific/limited recipients. What's really challenging is ensuring your email server is protected against spam and unauthorized access.
It's one of the biggest advantages of using a third-party service. Their systems already know all of that stuff, and they know when adjustments need to be made.
Advantage Of Using A Third Party SMTP Server
What is an SMTP server's advantage? There are many SMTP servers available, but you should remember that not every server provides the same services.
Therefore, not everything listed below is applicable to every server. Thus, it is necessary for you to select a reliable server, so that you can take advantage of all of its benefits.
Higher deliverability rate
A third-party service has established long-standing relationships with Internet service providers and mailbox providers. The team is capable of solving problems and adapting to the unique requirements of different recipients.
How can you get a higher deliverability rate? Software such as this ensures that the emails you send will be delivered successfully and be received by their intended recipients. Furthermore, they will ensure that the email addresses you are sending to are valid and correct.
As a result, you will have a lower bounce rate. Furthermore, you will increase your credibility and sender score. Additionally, your sender score dictates how well your email is going to be delivered.
In addition, you're less likely to have your email blocked by Gmail or by other email providers.
The job will be easier
With the help of a third-party email provider, everything is handled for you. You don't need any technical experience or extensive knowledge to operate it.
Your email server doesn't require you to maintain and monitor it either. Tech support can often assist with problems if necessary.
Minimum effort for lower costs
Select a software or SMTP server that has an autoresponder as well. With an autoresponder you won't have to put in much effort with this because everything is handled by the server or provider. An autoresponder can send emails, generate traffic, and engage customers with minimal effort.
When you pay for a service that you will use every day, you don't have to worry about looking after the emails yourself. Since you won't have to pay someone to monitor and maintain your server, this can save your business time and money.
A company that sells SMTP servers usually has customer support that can answer your questions and address your concerns. In most cases, there is no fee for this service. This is part of the service they provide.
Disadvantage Of Using A Third Party SMTP Server
What is an SMTP server's disadvantages? We've discussed the advantages of using a third-party SMTP server. Now let's address its downsides.
Cooperation is always required
In the event of any issues with your email server, you must work with the company of the server to resolve the issue. It's not something you can always handle on your own.
Contacting other people and coordinating with them is always necessary. It can sometimes be exhausting and can cause misunderstandings. Virtual communications can make matters even more complicated.
If you want to work well with the customer service of your chosen software, you need to be patient and have a positive attitude. To make the most of this opportunity, make sure you pick a service and team with lots of domain expertise. And a company who prioritizes excellent customer support.
Your options may be limited
Furthermore, you must adhere to the terms of service of the provider. Limitations may apply to how many emails you are allowed to send.
Aside from that some providers have limited services. In some cases, they may offer a lot of services, but their rates can be high.
A Guide In choosing A Better And Reliable SMTP Server
What factors should you consider when choosing a reliable server? When choosing a server for your business, it's best to check the features they are offering before availing their services. Look for gaps in their services.
Additionally, you can read some reviews, feedback, and articles written by other customers. However, remember that all of these people have different opinions and experiences with the products you're considering. Their experiences do not necessarily mean that yours will be the same.
The information is just for your reference and to give you an overview. You can also use the advantages and disadvantages listed above to assess the services that they offer. In addition, when choosing an SMTP server, ensure they have these qualities as well.
An affordable and multiple packages
It is a good server if they can offer multiple plans for customers to select from. You should make sure that the plans they offer are worthy of the price you're paying.
They should also offer different kinds of plans to meet different types of mailing needs. Certain servers are significantly more expensive than others that offer the same services at a lower cost.
Detailed analytics
Analytics should be available on the server, so you can see how your campaign is performing. By doing this, you will be able to identify which aspects you're lacking and which are doing well.
It will give you full control over your mailings, allowing you to see open rates and click-through rates, for instance. By doing so, you can improve your campaign in the future;
Provide 24/7 support
Issues and problems are inevitable. No matter how good a server is, something will go wrong occasionally. Whether it's something about the product or the work that you're doing.
The benefit of having a third party server is that there are professionals who are highly knowledgeable about these issues. Therefore, it's crucial to choose a company that offers good customer service and can offer assistance and support whenever you need it.
The Software We Recommended
It comes down to this: Email runs on SMTP. Having your own SMTP server is definitely an option, but it may be more challenging than you'd expect. If you do not have previous experience with email protocols, you may find it complicated.
It is usually best to find a third-party email service. There are a lot of SMTP servers available on the market, so finding one won't be difficult.
However, should you try each of them to find out which is the best? We may be a little biased here, but we suggest you try Mailvio.
A comparison of popular tools is presented here with their features, costs, and ideal use scenarios. There is also a side-by-side comparison table that may be useful for your research.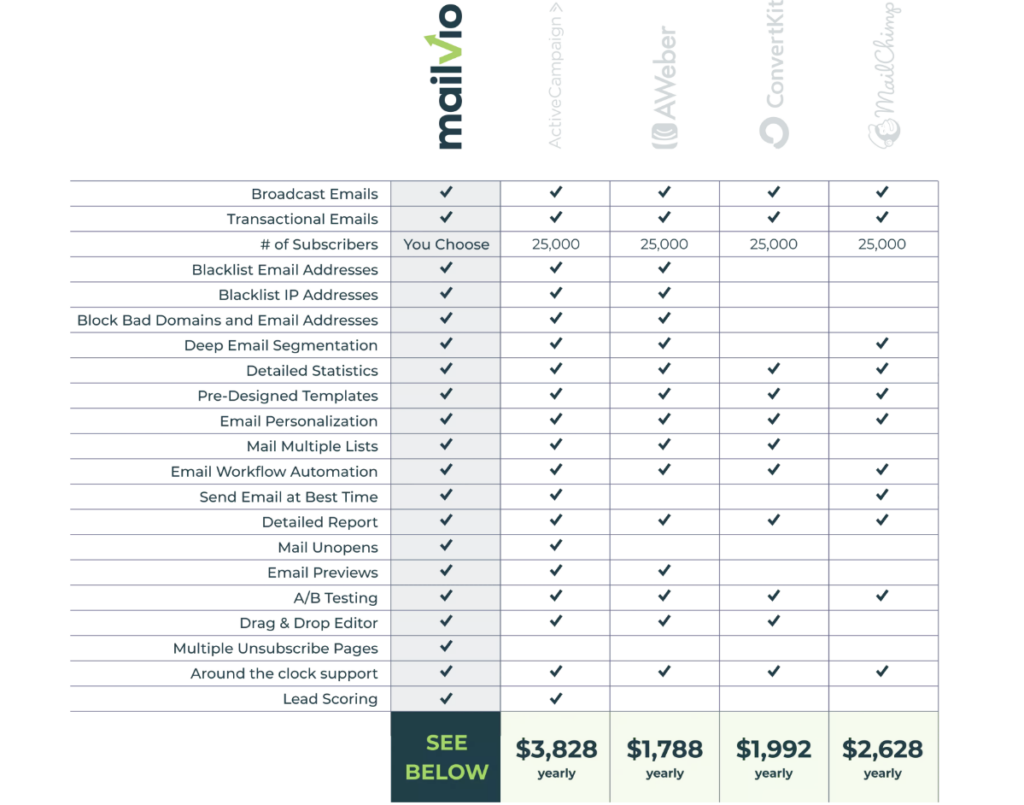 Mailvio features a full-service autoresponder. It has a built-in SMTP and automation workflow. There are no technical skills required to use this software, and it's very easy to operate.
You'll be less likely to experience the disadvantages listed above with Mailvio. Communication with the service provider will always be necessary, but with Mailvio you won't have any issues. You can receive 24/7 top-notch customer service from Mailvio, and they are more than happy to assist you.
Mailvio also provides a wide range of services. It will certainly help you to run a successful email marketing campaign.
A/B Campaign Testing, Email segmentation, Hands-free campaign scheduling. As well as detailed analytics, Broadcast emails and much more. The prices are justifiable and very affordable, especially for start-up businesses.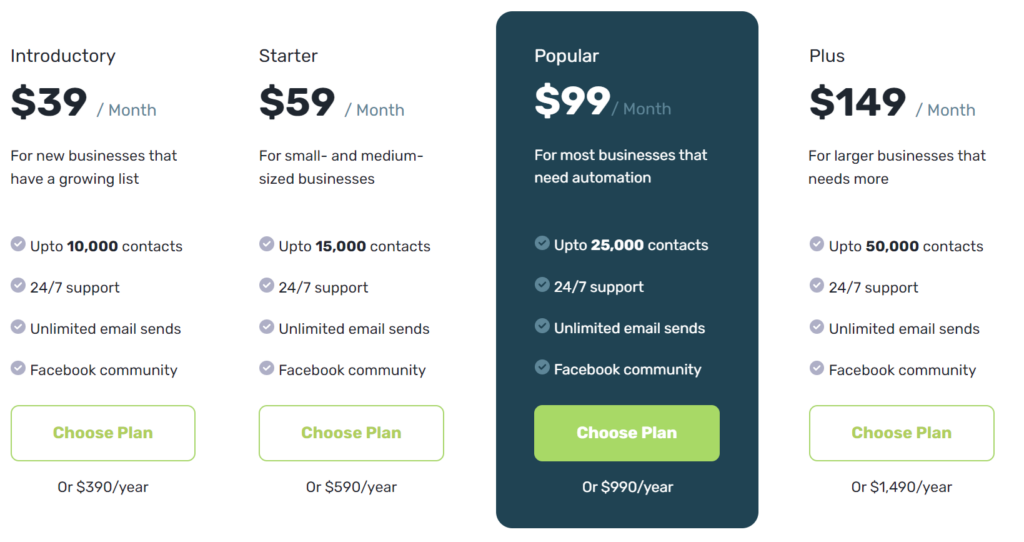 Conclusion
What is an SMTP server? How does it work? Why would I use it? Although all of those questions were addressed, SMTP servers themselves can still be quite complex.
The concept may seem difficult to comprehend and to process. You can easily feel overwhelmed especially if you're just starting out in the world of email.
Taking on this venture requires a great deal of learning. Despite this, stay hopeful. All of these may seem overwhelming at the moment, but they will pay off eventually.
You don't always have to learn this stuff on your own. Many courses are available to help you learn these things more easily.
The internet is a vast space on which you can search and optimize in order to learn whatever you want. Additionally, you have a lot of options to choose from. On our website (mailvio blog), you can read a lot of information and articles about the email marketing world, allowing you to gain more knowledge.
Hopefully this article has helped you understand what is an SMTP server, and that you'll be able to use this information to your advantage.