A splash page, sometimes called a splash screen, is an introductory page seen by first-time website visitors.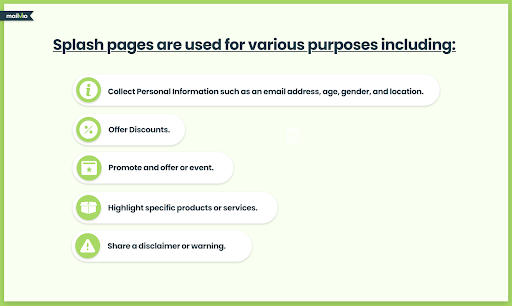 Splash pages are somewhat similar to Exit Pop-up and other trigger-based pages.
These pages show up when a user takes some form of action on a website. Such action may include attempting to exit a website or scrolling to a certain section of a page.
Today we will take a look at the importance of splash pages, how they are used with real-life examples and how to make one.
The Anatomy of A Good Splash Page
A good splash will have eye-catching images, short but great body texts, and a call to action which may include a submission form.
The most essential elements of a splash screen are:
Eye-Catching Images
Body Text
Call to Action
Let's look at each element a bit closer.
Eye-Catching Images
The main purpose of images on a splash page is to grab visitors' attention. Without this element, website viewers will have a poor user experience and the goal of the splash page may not be achieved.
It's best to use professionally designed images or royalty-free ones. There are many websites such as Pexels that offer royalty-free images at no cost.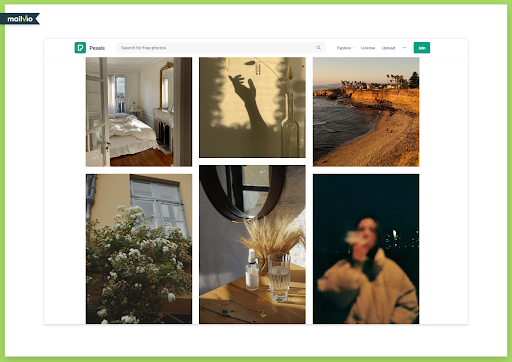 Ensure that whatever images you choose are visually pleasing, match your brand, and are relevant to your viewers.
And lastly, for better SEO results, ensure to use images that are not too large in size as they may increase page load time.
Body Text
Your body text will make or break your splash page. It needs to be short and action-based. This is where you get to share with your readers an offer that they can't find anywhere else.
If the body text of your splash page is too long, people may not be invested in reading it. Chances are they'll end up leaving your website altogether. That would eventually lead to lower SEO rankings for your website.
Call To Action
Of course, your splash page must serve a specific purpose. What action do you want your viewers to take? This should be clearly stated in your call to action. Otherwise, people may get a sense of pointlessness and look to exit your website.
Also, it is important that there is an option to close your splash page and return to the original page visited without fulfilling a call to action. Again, you don't want people to be leaving your website because they can't access what they need.
Ensure that page visitors can close your splash page whether or not they act on your call to action.
Many other elements could be included on your splash screen. These may include a countdown timer for time-sensitive offers or an email sign-up form to capture leads. What you add will depend on your specific needs.
Splash Page vs Landing Page vs Optin Page
A splash page is very similar to landing pages and optin pages. However, there are some key differences worth pointing out.
Firstly, these three pages differ based on their goals and design.
A splash page's main objective is to share information that may interest website visitors enough for them to take action right away. You can call the use of these types of pages interruption marketing as viewers did not visit a website with the intention of viewing a splash.
Normally, people know exactly what to expect when clicking on a link to a landing or optin page.
A landing page is stand alone page designed to drive conversions such as having people:
Purchase a product
Register For A Webinar
Download An Item
Enter A Contest
Optin pages are used to collect leads and personal data in an attempt to build an email list. They are sometimes called lead capture pages and always have a lead capture form. These forms may or may not be present on a landing or splash page.
Now that we've shed some light on these three-page types, let's see some real-life examples of splash pages.
Five (5) Splash Page Examples
These 5 examples were handpicked because they each bring something very special to the table.
Observe their techniques and even visit the links provided below to see how effective they are for you. And be sure to implement some of these tactics in your own splash pages.
Conversion Gods Splash Page
Conversion Gods is a platform in the digital marketing niche that aims to help people improve their sales copy. And they actually do a very good job at that.
Their splash page converts really well. It offers users a PDF to help them create better VSL copies. By accepting this offer, users will have to submit their email addresses on a secondary page.
This is a good example of how to use a Lead Magnet to build your email list.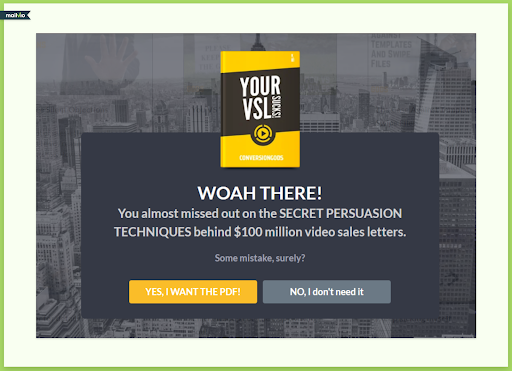 This splash page is one of the simplest you'll ever see. It has a simple image of the PDF that users can access, minimal and clear body text, and an easy-to-understand call to action.
In essence, this splash page gets to the point right away and users can simply select the "No, I don't need it" option to exit.
Fashion Nova Splash Page
Fashion Nova is the first eCom brand on this list. They are one of the most popular brands and cater mostly to women.
If you love saving money you will love their splash page, if not, they give you the option to pay full price 🙂
This page is very clean and minimalist with no special images. It has quite a bit of body text but most of it is simple to read and impactful.
It also entails a very simple yet effective sign-up form to collect email leads.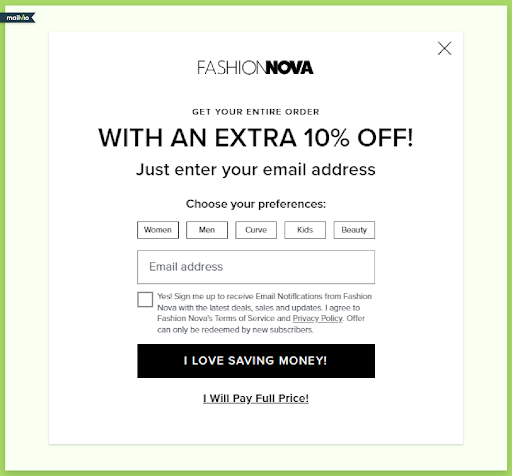 There are two important things on this page. First, the "choose your preferences" option. This allows Fashion Nova to instantly segment their email lists so they can send more targeted and personalized emails in the future.
The second thing to note is the check box. The check box makes this a permission-based sign-up form. It also gives a clear explanation of what users will be signing up for. This rescues the chance of future emails being marked as spam.
J.Crew Splash Page
J.Crew does excellent splash pages.
This website sells multi-brand clothing for men, women, and children in many countries around the world.
Before I continue, I want to pull your eyes to a common theme you'll see on most splash screens, and legal pages. 
Legal pages may include Privacy Policies, Terms of Conditions, and Cookie Policies. These are essential to staying compliant with international laws, especially laws regarding privacy. 
If they are not added to the splash page itself, legal pages can usually be found in the footer section of a website.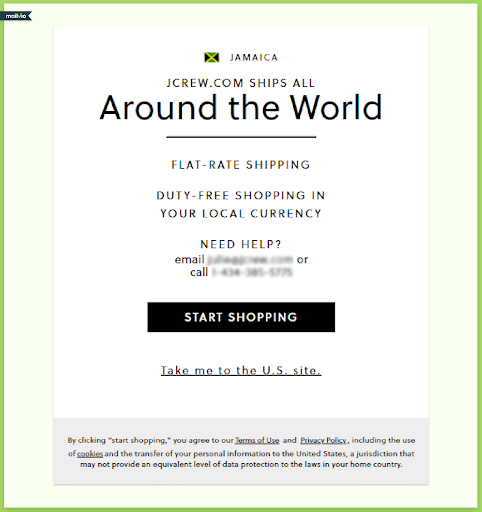 Now, what makes this page work so well? Firstly, automatically adjusts itself based on a user's country. Giving them the option to shop in their local currency.
Also, this page provides free shipping and duty-free shopping. Which will help visitors save a ton, especially people outside of the United States.
And something you don't see that often, is contact information. This adds to the credibility of this platform. Finally, there are two strong calls to action both designed to give users a customized shopping experience. 
N.B. there is no exit option on this splash page. This may confuse users a little so J.Crew, if you're reading this, you may want to add an option to exit.
PETA Splash Page
People for Ethical Treatment of Animals – PETA. This is a non-profit organization that aims to enhance the quality of life for non-human animals around the world. They are a very popular name in the vegan community.
Apart from their aim is to raise funds to help take better care of animals they've adopted. Here's one example of a splash page designed around that goal.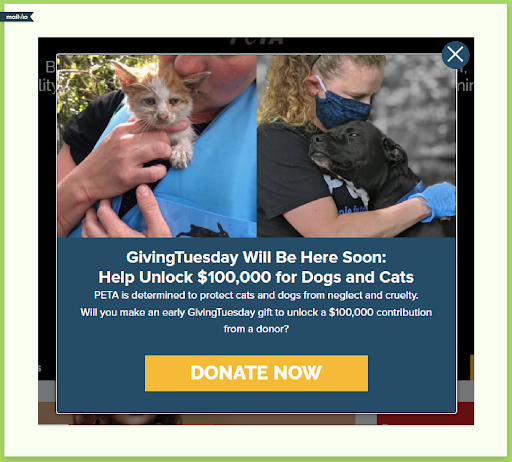 This is a very strong splash screen because it explains really why they need a donation with both their body texts and images. Their call to action is also very clear and there is a button to exit this screen if users don't wish to donate.
If you visit Peta's home page many times you'll notice that their splash pages may change.
This second option gives website visitors a better visual representation of the amount they can donate.
A page visitor may see this option and think "Wow, even if I donate as little as $10 it will make a big difference."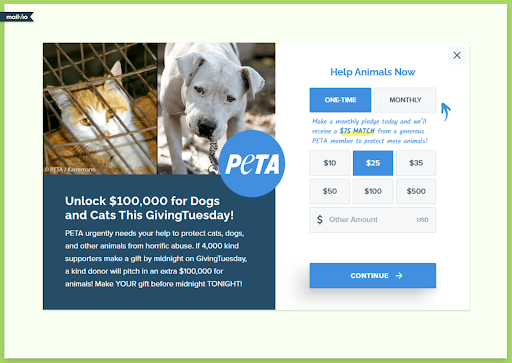 This option has a bit more body text and relevant images. Normally it wouldn't be a good thing to give multiple options on your splash page as it may confuse viewers. But that doesn't seem to be the case here. The call to action is once again clear and, as usual, there is the option to exit if viewers wish not to donate.
Top Ford Mobile-Friendly Splash Page
Tom Ford is one of the biggest names in the fashion industry.
He launched his own luxury brand back in 2005 and has been a creative director at Gucci and Yves Saint Lauren.
His website uses a very simple splash page to get people to sign up for his email newsletter. You can see it below.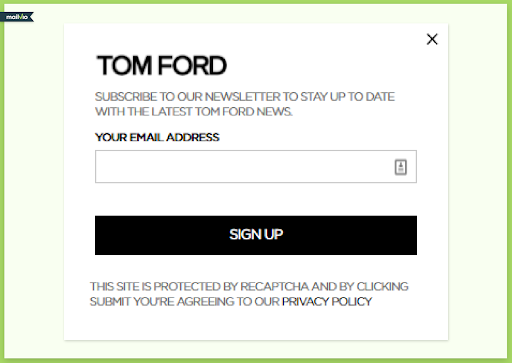 This splash page works really well because of its simplicity. There is a clear call to action, actionable and shot body text, and a sleek, mobile-friendly design.
This splash screen doesn't use any images, just a standard white background. But that works in its favor.
Users can quickly scan this newsletter sign-up form and decide in an instant if it is right for them. If not, they have the option of returning to their desired content by clicking the close button.
How to Make A Splash Page
The great thing about splash pages is that they are simple to make. You do not need to be technically gifted and you don't need any expensive software. There are also many freelancers available on platforms like Fiverr that create one for you at a fair price.
If you do wish to do it yourself (highly recommended) you'll need to use a page builder like Funnelvio or something similar. There are many tools available especially if your website is hosted on WordPress.
Whatever page builder or plugin you choose the general concept of creating a splash page will be the same. 
Here's what you need to know to create a high-converting splash page.
Use a Pop-up or Screen Overlay
The examples above all make use of pop-ups or screen overlays for their splash pages. This is a much better option than creating an entirely separate page.
This gives users the option of exiting if they are not interested in your offer and it also lets them know they are in the right place.
Plus, having an entire separate splash page may negatively affect your SEO rankings and load time.
Remember Why People Visited Your Website
Remember, people don't visit your website with the hope of seeing your splash pages. Be mindful of this. Ensure to redirect them to the information they originally sought out.
Don't Complicate Things
The best splash pages are simple. They tell readers exactly what they will get if they accept your Call to Action. Use as many words as you need but no more. The last thing you want to do is write an entire epistle no one would ever have time to read.
Remember Your Brand
Use your brand assets at all times to differentiate your brand from the competition.
As much as possible, incorporate our brand's colors, fonts, logos, etc. in the design of your splash screen. Otherwise, users may feel they are in the wrong place and click to exit.
Make Them Mobile-Friendly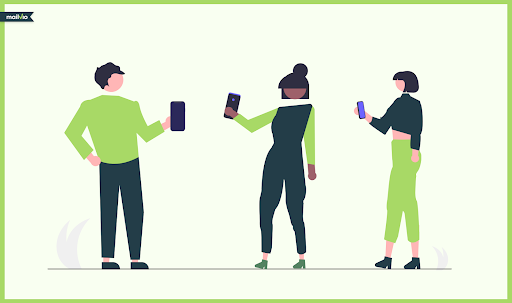 This one speaks for itself. If your pages aren't optimized for mobile view a large chunk of your visitors will be displeased.
Over 50% of all website visits are done on mobile. So you definitely do want to give half of your viewers a negative user experience.
Track Your Results
There is a good chance you'll need to edit your splash pages from time to time. It's important to track your results so you can know what's working and what needs improvement.
In some cases, you might be better off without a splash page altogether. Be sure to keep an eye on:
Your Bounce Rates
Click-Through Rates
Time Spent On Screen
Conversions
Provide Value
At last, the most important thing, providing value. Your splash page must offer something desirable that users cannot get anywhere else. Otherwise, there is no point in having one.
Value could be anything such as a discount as shown above with Fashion Nova. Or even the good feeling of supporting a worthy cause as in the case of PETA.
Put this all together and you'll have a winning combination that would make Lionel Messi jealous.
Conclusion
To recap, a splash is an overlay, pop-up, or preceding page that visitors see when entering a website. It usually appears only after the first website visit but can also trigger on multiple visits. 
Splash pages should provide valuable information that cannot be accessed anywhere else.
They are a great way to capture leads, offer discounts, and promote products
Now, if you need any help designing your own splash pages drop a comment below to get some assistance.
And check out Funnelvio if you need to create stunning landing, opt-in, squeeze, or pop-up pages. 
Cheers, until next time.
Steven is the co-founder of Mailvio and oversees the operations and technical strategy and implementations. Steven has been an online entrepreneur since he was 14 years old and has been running SaaS companies for the last 10 years.