You can increase sales and conversion rates by using countdown timers online. Why? A countdown timer creates a sense of urgency that can lead to more sales and conversions.
Businesses can use countdown timers online to let their prospects know when sales or offers will begin. This can reduce cart abandonment, which should result in more sales.  
The goal of every business is to reach more people and generate more revenue. Unfortunately, the competition and other factors can make this challenging. The modern business world uses a variety of techniques to attract and entice customers.
Online marketing techniques are vital during the busiest retail months. This includes live trending, countdown timers, etc.
This provides a rounded approach to digital marketing.
The use of a 'countdown timer online' is one of these tactics. We'll discuss these widgets in this article. Additionally, you'll learn how you can carve out a niche for yourself.
What is a Countdown Timer 
The countdown timer can be described as a virtual clock. It indicates the end or beginning of an offer or event by counting down from a certain date or number.
Landing pages often use these timers. But now they're also appearing on checkout pages to show urgency and create the sense of "running out of time." 
Businesses can also use these for a lot of different things, like announcing upcoming special offers, price reductions, or upcoming launches. These announcements can create curiosity and keep customers interested.
Countdown Timers Online: How to Make Them Work
The results of a Whichtestwon survey showed that adding a countdown timer could increase a business' revenue by up to 9%.
There is a simple countdown that indicates when the next-day delivery will happen.
For some people, it may not seem like much of an increase. The number of people who visit your website will, however, make a huge impact on your profit if you calculate it.
A countdown timer has been shown to be effective in other tests as well. An additional test evaluated the benefits of using a timer on a website. It was found to increase the completion times of forms.
In the test, it was found that a timer can increase sales, even when it isn't easily noticed. So, why do these virtual clocks work so well? There is a psychology behind it.
The timer creates a sense of urgency by creating a sense of pressure. Urgency is deeply rooted in several psychological principles. Among these are scarcity and the fear of missing out.
Several websites make use of scarcity in some capacity. You must show that your stock is running out. Yes, it may sound a bit odd at first. Despite this, products that are regarded as scarcer tend to be more sought after than those that are easy to find.
Even established brands are known to use the 'scarcity effect' to drive sales. One of the most well-known online marketplaces in the world, Amazon, is even using this kind of strategy.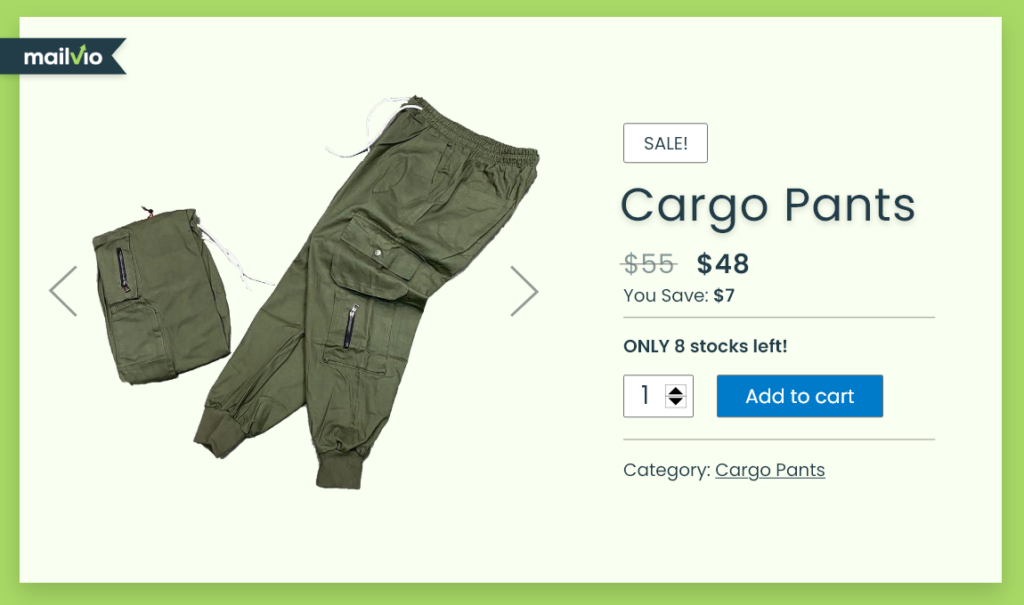 Your conversion rate can be quickly increased by an inventory warning and a virtual countdown clock. 
How Do These Timer Effects Work?
What is the process of creating these effects using timers? Scientists believe that countdowns can have a great impact on urgency.
Their specificity enables them to attract a person's attention. Using vague language like 'limited time offer' is less effective.
Customers have become more educated. Concrete, credible offers are more effective. Utilizing a timer on a website has other benefits as well.
On most pages, you will not find dynamic content. On the other hand, the timer is dynamic.
We're designed to scan our environment constantly looking for opportunities and hazards. Scenes that haven't been changed for a long time tend to be ignored or disregarded by the brain.
Our attention is drawn to something catchy and something that changes rapidly.
Benefits of Countdown Timers Online 
Here are some of the benefits of using countdown clocks online. Using a countdown on your site can benefit your business in the following ways:
Principle of Scarcity
The natural human response to scarcity can be triggered by a countdown clock in emails. At the time of the COVID-19 pandemic, we saw this in recent buying behavior. 
A countdown timer and other marketing tactics are important for exploiting scarcity and urgency. Having a few products or services in stock says something about how popular they are.
However, this type of marketing is still highly effective even if the product is no better or worse than its competitors.
Gives a Feeling of Urgency
As mentioned above, countdown clocks create a sense of urgency. The benefit of this strategy is that shoppers will make quicker decisions. If you use this strategy, you may benefit over time.
To create a sense of urgency, companies employ a variety of tools. Countdown clocks are visual and hard to ignore, so they've had great success.
Establishes a Value
Give your customers the chance to plan and prepare their budgets by reminding them when a particular sale or campaign starts and ends. 
Promote your new product or service with an attention-getting promotional timer. New products can benefit greatly from this type of promotion.
If you want to let people know that something new is coming, you can search for 'free countdown timer for my website'. Countdown clocks are easy to find for free on the internet. Free tools, however, may not always produce accurate results.
The Best Placement for Countdown Timers
You can use a countdown clock anywhere you want to, but here are the best places you can set one.
Email Marketing
You can include an email countdown timer, which might surprise some people. A countdown GIF basically shows the amount of time until a future event.
There are several ways to use a countdown in emails. The end of the countdown can mark the end of an event such as seasonal sales. Additionally, if the timer is creative, it may attract more attention.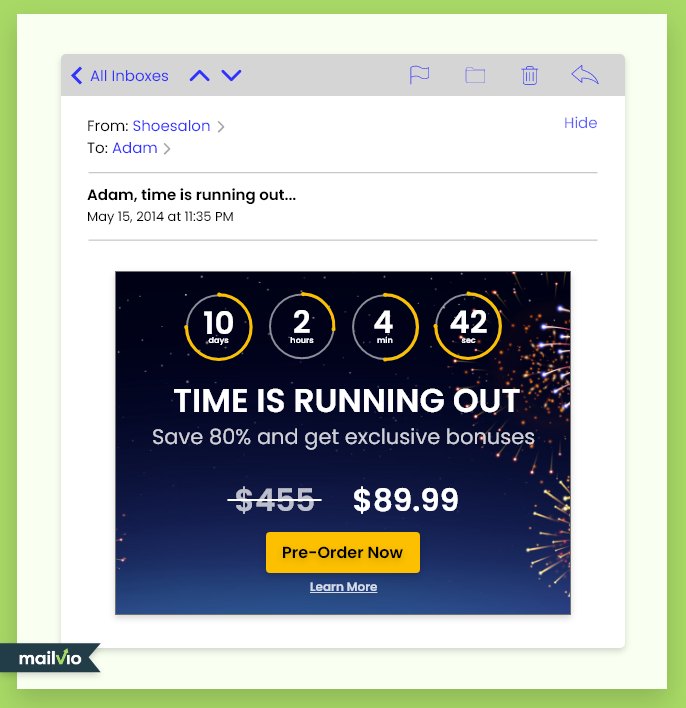 But, do you need to personally send a message to every person on your email list? If you have other websites to maintain, it can be tedious and exhausting.
It is for this reason that autoresponders are so useful. The autoresponder will take care of this for you and send all the messages in a timely fashion.
Mailvio is one option you can consider if you're interested in autoresponder software. It is a full-service autoresponder with a built-in SMTP server. Despite its affordable price, it provides a high-quality service.
It has a lot of services that can surely help in your email marketing campaigns. It has email segmentation, detailed analytics, A/B Split testing, and a lot more.
For Landing Pages
As the name suggests, landing pages are basically squeeze pages used to promote special offers. In addition, it may get user information such as an email address and name.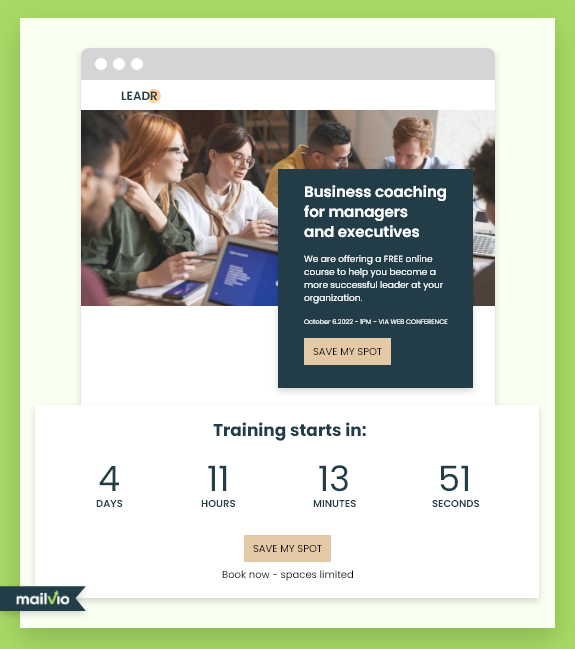 Countdown timers are fairly common on landing pages. They are usually included in the software that hosts your website. However, not all websites provide this function; it is still dependent on the website. 
There are many free countdown widgets for landing pages that you can find online. 
You Can Place One on Your Webpage
They can be placed on almost any page, which is the best part about countdown timers. You can place them on your home page, your About page, and your blog page. The placement of the ads and their appearance can both affect conversion rates.
You must know where you intend to place the countdown timer before you look for one for your website. On the homepage, countdown clocks may not be ideal, but on product pages, they may look great.
In the Product Page
Over the past few years, these widgets have become increasingly popular on product pages. Shopify countdown timers can be added to product pages as a countdown app.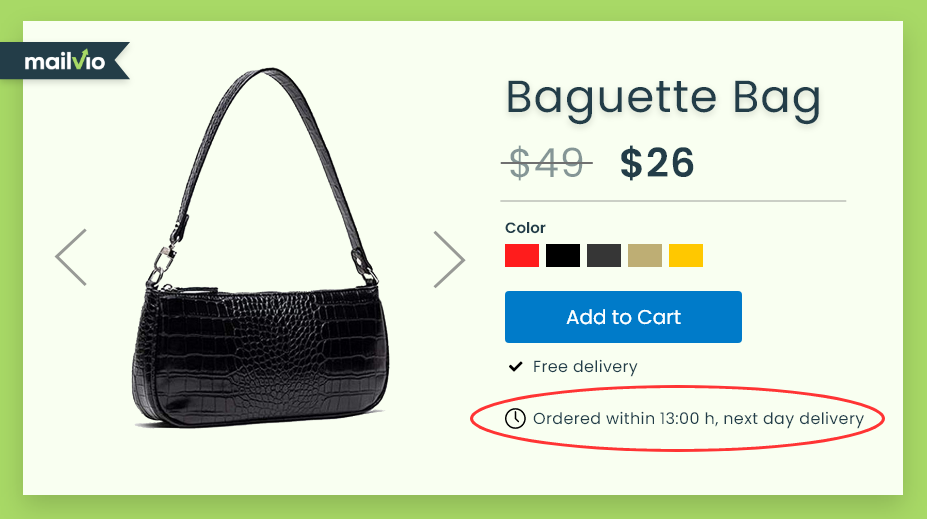 You can also keep your visitors engaged by offering them incentives via countdowns.
At the Checkout Page
Many consider this the last attempt to win a customer. This is why the demand for a free countdown clock checkout on Shopify has only increased in the last few years.
A cart abandonment rate of 80 percent can be reduced through this trick. It is possible to motivate your buyer to complete the transaction by putting a little pressure on them at this point.
What Is the Best Way to Use Countdown Clicks?
Countdown timers online are most effective when they are simple.
The thought of seeing '6 left' on every product page would be horrifying. The lack of inventory may give visitors the impression that you are about to close your business. This is the reason why countdown widgets should be placed strategically.
Always be honest and do not overdo it. However, urgency must be used honestly in order to work. You may end up irritating customers if you overuse this tactic.
Reminder
As we discussed, countdown timers online are very useful for businesses. Still, there are several important points to remember when using them:
You Don't Want to Overdo It
Customers lose trust in this information if this method is overused. Successful businesses rely on customers believing the information they receive.
The buyer will perceive it as normal if you always do it. When customers become used to seeing the clock ticking, the magic and urgency it has will disappear.
Deliver Useful Details
Rather than thinking of this as a sales technique, it should be about helping the customer. A customer will worry about Christmas delivery deadlines, for instance.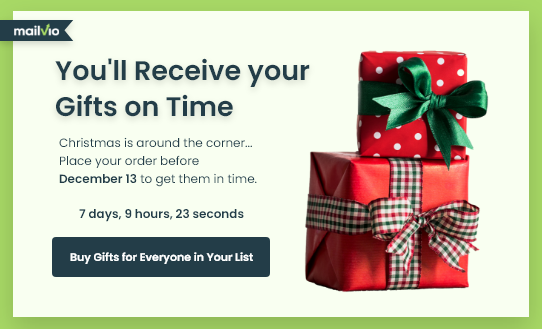 This is when countdown timers come in handy.
Honesty is Key
Countdowns create a sense of urgency. This may lead to a temptation to create fake deadlines in order to drive sales. 
Such an approach, however, could leave customers disappointed. This would also decrease the likelihood of them returning to the site in the future.
Conclusion
Using countdown timers is certainly an effective sales technique. But again, you must know how and when to use them to make your site more effective. You can improve your website's performance by placing a timer on it and following the tips in this article. 
While a countdown widget can work wonders for your business, it is important that you do not rely on it alone. You can't expect your business to skyrocket simply because you use one. 
Other factors still need to be taken into consideration. Analyze promotional activities, customer satisfaction, and feedback. 
Also, check how well your marketing strategy is performing. Check how much traffic you're driving to your website and a lot more.
Owning and operating a business is quite a challenge. Being knowledgeable and having the desire to succeed are important elements. And for that, we wish you the best of luck!