A responsive email list will help you get the most out of your email marketing campaigns. The more engaging your leads are, the high your open rates, conversions, and profits will be. 
The easiest way to make your business email lists responsive is to get your leads to know, like and trust you. People do business with people they know, like, and trust. 
There are two ways to go about doing this.
The first is by building your credibility through organic methods such as marketing on Facebook.
And, the second is to generate leads through paid campaigns then warm them up. 
Today, we'll look at how you can quickly establish a trusting relationship with your subscribers using both organic and paid traffic. 
Specifically, we'll dive into organic Facebook Marketing and take a brief look at making YouTube and Facebook ads work.
And, the most important thing we'll discuss today is – How to clean your lists. Cleaning your list is the very first thing to do before you ever send an email campaign.
You can jump to that or any section of this article by clicking the headline in the menu below.
By following along with this article you'll understand exactly how I've been able to consistently get open rates as high as 22%.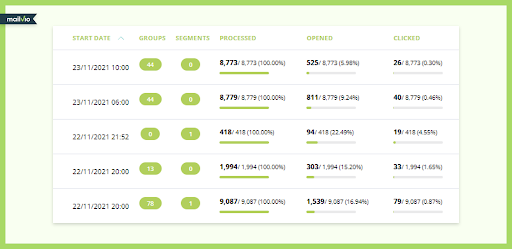 Now, let's take a quick look at exactly what an email list is.
Email List Defined
An email list is a group of people who have opted-in to receive emails from you.
It is an important asset for online marketers because it provides them with a platform to promote their products and services to a targeted audience.
With email marketing still reigning supreme as the most effective way to market online, getting people onto your email list is a must.
However, stacking up a bunch of email addresses just to have them isn't enough. You need to build a list that is responsive and has the potential of turning into sales.
But how do you go about building a responsive email list?
How To Make An Email List Responsive
Creating an email list is one thing, but creating a responsive email list is something entirely different.
There are two ways to build a responsive email list. You can try to grow your email list organically and/or through paid advertising on social media platforms such as YouTube and Facebook.
Each method is viable in its own right and does not exclude the other.
You can do both to build a responsive email list, or stick to one depending on your budget and how much time you have.
But the main key thing is to get your subscribers to know, like, and trust you/your brand. This is easier to do through organic methods but does take a bit more time. 
Paid ads are great at generating tons of leads but these leads will not have any clue who you are. So, you'll have to "warm them up" before you promote anything to them.
In the following section, we will give you a few tips on how to make your email list responsive organically.
Organic Email List building
Organic email list building is how you grow your list without spending any money.
It involves promoting your website or blog through social media and making it easy for users to subscribe.
If done correctly, it can be very effective at building a responsive email list of targeted prospects for free.
Let's take a look at what you can do to build a responsive B2B email list organically with Facebook.
Organic List Building With Facebook: 5 Tips For Beginners
Facebook is a great place to go "fishing" for email addresses.
With nearly three billion active users as of the third quarter of 2021, it is a social media platform that you cannot afford to ignore.
And if you don't know where to begin, here are some tips that will help you build a responsive email list with Facebook.
Create a Professional Business Profile
Your Facebook page is your online storefront. It is how people will come to know, like, and trust you.
It also shares with people exactly what your area of expertise is and how you can help them.
So it needs to be taken seriously as a marketing tool for your business.
To have success with organic list building using Facebook, you need to create an attractive page that is well-designed and engaging.
This means having an eye-catching profile picture, cover photo, and header image that represents your business.
Make sure you add relevant links to your profile to capture your leads.
Here's an example of sharing what you do and adding relevant links to your profile.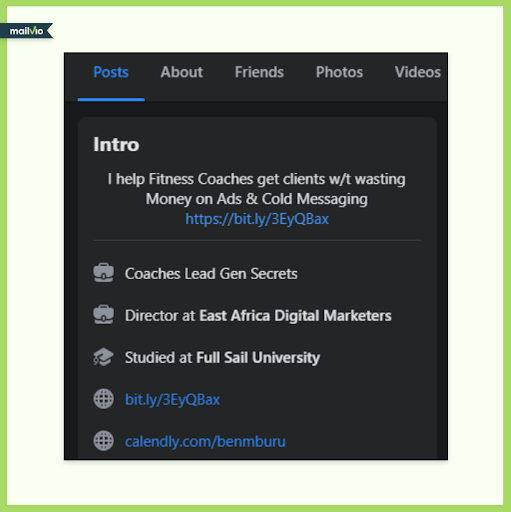 You should also post about your new Facebook page on other platforms like Google+ and Twitter to gain some momentum.
Share Valuable Content With Your Audience
Once you have created a professional profile, start sharing content related to your area of expertise.
Share articles, images, and videos that are valuable for your audience so they will want to follow your updates.
Your posts should explain to your audience what your goal is and how you can help them. They should also provide valuable tips and resources.
And lastly, your posts should have a call to action that gets your audience to engage. 
Here's how: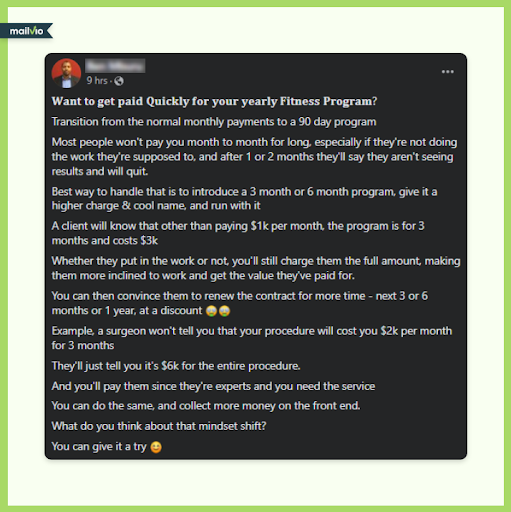 Engaging can mean commenting on your posts, clicking on a link or even messaging you directly.
The main thing to take away from this point is to provide value. If your Facebook page really helps your audience they will always come back to you as a reliable source of information.
This is how you get people to know, like and trust you.
Participating In Competitors' Groups
The easiest place to find your ideal audience on Facebook is inside your competitors' groups. 
After you have created your professional Facebook profile, it is a good idea to join a few of these groups and begin engaging.
The aim is to show the members of such groups that you are a valuable source of knowledge. In other words, establish yourself as an authority figure in your area of expertise.
To do this is simple. Be helpful.
Scroll through your competitors' groups at least once or twice a day to find questions from group members that you can answer.
Here's one group question that I am about to answer: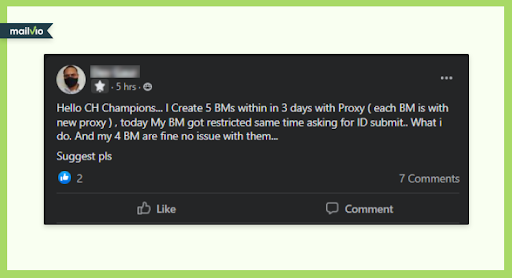 If your answers are helpful, soon people will start checking out your personal profile to see who you are.
And because your profile is already set up to capture leads, it will be easy to turn these prospects into paying customers.
This method works really well because you get leads coming to you instead of chasing them. A lot of strategic, high-ticket marketers build responsive email lists in this way. 
Just be sure not to overdo it. Only join groups that you can also benefit from. Groups that can answer your questions as well if you ever have any.
And lastly, before accepting any friend request from group members, be sure to send them a message asking why they reached out. The worst thing you could do is fill your profile with friends that are not good prospects for your business.
Create Your Own Groups and Invite People
One of the most powerful ways to build a responsive email list is to create your own Facebook group.
In some ways, a Facebook group is similar to an email list. You can market directly to the members of your group just the same as you would through an email campaign.
The idea of a group is to funnel people that visited your profile into one place where you can communicate more directly. Of course, these people will be really targeted and since they came to you, they'll likely be responsive.
Inside your groups, you can share content and links to resources that group members will benefit from.
And you can have them opt-in to different email lists in exchange for the content you share.
Additionally, you can collect leads through "approval questions" before accepting members into your group.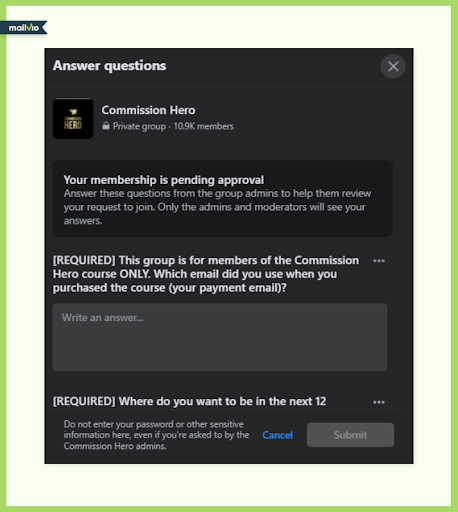 This is a very effective method to collect email addresses, phone numbers, job title, and more personal details.
Create A Responsive Email List With Referral Contests
The main ingredient needed for your list to be responsive is voluntary opt-ins. In others, people join your lists simply because they want to.
Not because they were incentivized to do so. They must see the benefit of being your subscriber. 
And a great way to show off the value you offer is by getting your Facebook followers and group members to share your content.
If they do, you'll reach a wider audience than you could on your own. Plus, people are more likely to engage with content shared by their friends and family. Through word-of-mouth referrals, you'll gain more sign-ups and business prospects reaching out to you. 
One way to get people to share your content is through referral contests and giveaways.
This works really well and, when done right, can lead to massive success. For contest ideas, you can check out some contests created by giant Facebook brands by clicking here.
Creating A Responsive Email List With Ads
Let's talk about how you can augment your efforts to grow your email list organically with a smart investment in social media ads. Running ads on Facebook and YouTube is a great way to seed your list and acquire new subscribers.
The following section will explain in simple terms how running ads on Facebook and YouTube can help you build a responsive email list quickly.
Create a Responsive Email List With Facebook Ads
Facebook ads allow you to reach a wider audience than you could organically. What makes Facebook ads really powerful is the depth of targeting it allow. 
It's scary but on this social media platform, there is no such thing as privacy. They literally know everything about everyone with an account. This includes:
Age
Gender
Location
Religious and Political Views
Hobbies
Entertainment Preferences
Interests
Shopping Habits
And even your body type
Facebook even knows what other websites you visit. By using these detailed personal data points, anyone can target their exact audience with extreme accuracy.
Admittedly though, Facebook is very picky with who they allow running ads on their platform. 
Even individuals with million-dollar budgets still complain about getting their accounts shut down. So, while lucrative, it does bear some risk and can become very expensive. 
But, if you manage to get past this hurdle, you could realistically funnel hundreds of people into your lists each day.
Make sure to also optimize how and when you run your ads and always track how well they are performing with Facebook's analytics tools.
To set up your Facebook ads, open your Facebook Business account, head over to the Facebook Ad Manager, and follow the instructions.
Create a Responsive Email List With YouTube Ads
YouTube is the second-largest search engine in the world. And because of the problems mentioned with Facebook ads, many people now see YouTube ads as a better option. 
There are two reasons for this. YouTube ads are much cheaper than Facebook. Even though YouTube has billions of users it's still really untapped with a lot of space to grow.
The second reason is because of how YouTube ads work.
YouTube ads show up in videos that people are watching about a specific topic, usually relating to that ad. Meaning, these ads are super, extremely targeted.
On top of that, YouTube ads show up the moment someone is watching ad-related content. This means you can target people at the exact same time they are interested in what you have to offer. 
An example of this is ads from Wix. These ads tend to show up whenever you are watching any content relating to website building.
Since Wix is a platform that facilitates website creation, this is an easy way for them to get in front of the perfect audience.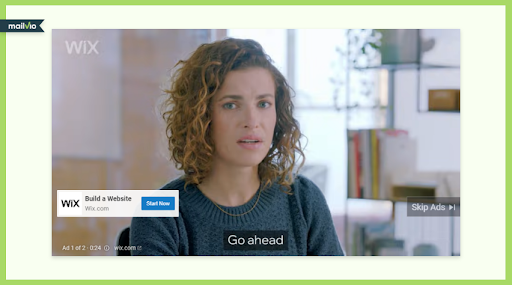 And since YouTube is a video-based platform, its users are more engaged and likely to respond to relevant content. It is an avenue to quickly generate targeted leads at a reasonable price. 
There is only one drawback.
You might have to spend a few minutes manually looking for videos to place your ads in. Not every piece of content on YouTube is monetized.
So you will have to choose carefully where you want your ads to show up. But other than that, this is a top-tier traffic source. 
You can create your YouTube ads campaign here.
The Problem With Ads
Of course, ads make it really easy to target your ideal customers, prospects, and clients. Even if they opt-in to your lists because of the relevancy of your offers, they still don't know who you are.
That means it will be very hard for them to do business with you.
You'll have to "warm up" your leads to get them to know, like, and trust you before doing any kind of promotion.
And yes, you can take a chance and skip this step but in time your list will become less responsive. If this happens, you'll always have to spend money to get new leads.
Worse than that, mailing to unresponsive subscribers will ruin your sender reputation and cause you to have a high bounce rate.
To avoid this, you'll need to send a series of emails introducing yourself and your business to your leads. You'll need a sophisticated autoresponder to do this.
Getting People To Know, Like, And Trust You
The more organic your leads are, the less you'll have to worry about gaining their trust. They already trust you because they got to know you before ever signing up for your lists. 
Running ads is a different case.
But thankfully, getting people to know, like, and trust you is not that hard.
This can normally be done by sending a sequence of 3-5 emails to your new leads.
Email #1 should explain who you are and your background. This email should be short and basically get people to know that you are a living breathing person. It should also explain quickly what value you intend to offer in your future emails.
Email #2 should go about explaining why your future emails will benefit your readers. By reading this email, subscribers should understand what it is you do and how it aligns with their goals.
Email 3-5 must provide proof that your content is worth your subscribers' time. You can do this by sharing testimonials, screenshots, etc. 
At the end of the day, some of your new subscribers will be interested and some won't. These sets of emails will help you differentiate between the two.
Once you do, be sure to add your responsive leads to a new list and begin marketing to them from there.
This is all possible with list segmentation and email personalization.
Segment and Personalize
If you want to create a responsive email list you'll need to segment your leads. This will ensure that your readers receive only relevant information.
At the same time, adding personalization features will make your content more relatable.
For example, the welcome sequence could be personalized by including something like:
"We're so glad to see you subscribed, Jane!"
This will make the subscriber feel special and more likely to open your emails in the future.
Clean Your Email Lists
Last but not least, clean your lists. 
Email list cleaning is an important part of building a responsive email list. This practice will help you to:
boost engagement rates
Boost conversion rates
improve your sender reputation
focus on your active customers
But most importantly, it removes spam traps and invalid emails that could ruin your sender reputation. If this happens, you'll need to start all over.
Creating a different sender's address and going through the trouble of warming up your leads from scratch.
So, this is probably the most important thing you need to do before ever sending an email.
To prevent this you must use a professional list cleaning service.
The best and most affordable tool to segment and clean your lists as well as personalize your emails is Mailvio.
You can learn more about Mailvio by going here.
Conclusion
Building a responsive email list depends greatly on your ability to get people to know, like, and trust you. 
The easiest way to do this is with organic traffic and marketing through social media platforms such as Facebook.
Paid traffic methods also work wonderfully but the leads they generate still need to be warmed up.
So be sure to send a series of "warm up" emails before you begin promoting. Also, practice good list management and try to send only relevant and personalized emails to your subscribers.
Last but not least, practice good list hygiene by cleaning your lists before sending a single email.
A great tool to bring all of this together is Mailvio. Take a look at it right here to see how it can help you create a responsive email list.
Steven is the co-founder of Mailvio and oversees the operations and technical strategy and implementations. Steven has been an online entrepreneur since he was 14 years old and has been running SaaS companies for the last 10 years.