Perhaps you are an online seller, thinking about using a promo code. If you're looking for reasons to use a promo code, we'll give you more than one. Further, you will discover what promo are codes and how they can increase campaign profits.
Your business can benefit greatly if you understand what are promo codes and how they work. For maximum effectiveness,you can integrate promotional codes into email campaigns.
What are promo codes?
A promotional code is a combination of letters and numbers. Promo codes are something you can find on the website of an online store.
To get a discount on a product, just enter the code on the store's website. Discount codes might even offer free shipping.
In some cases, customers may want to buy, but have doubts about doing so. A promo code often gives them the "go-ahead and hit the buy button" signal.
Marketing strategies such as this give customers another reason to buy. Using promo codes to drive conversions and increase revenue has long been a common practice. Having been used so extensively that they've become a standard part of the customer journey online.
Today, it is rare for visitors to complete the checkout process without seeing a promo code box. It is very common for people to open a new tab to search for difficult combinations of letters and numbers. Many of them do so in hopes of finding a way to save money.
How do Promo Codes Work?
Now that you have a good understanding of what are promo codes, let's talk about how they work. You can use promo codes in many ways to highlight your best offers. For example, you can highlight your best offers on your core website pages.
Adding promo codes to email campaigns is also an option. Promo codes encourage customers to make purchases.
Promo codes can be distributed throughout your marketing funnel. The promo code banners can be displayed in the headers and footers or even on side panels during the user journey.
You can, for instance, use public codes to attract customers. By including banners and overlays, you are attracting users' attention. In your basket abandonment emails, you can also include codes.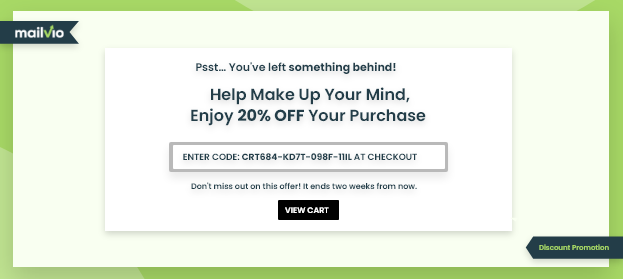 The price of an item is a contributing factor to more than 20% of cart abandonment. Using a promo code can help you increase the likelihood that your customers will return to your website. As a result, you are minimizing the likelihood that they'll abandon your site.
Because customers can get items for a cheaper price by using promo codes, this enhances their overall shopping experience. Due to their versatility, they are a good choice for new and returning clients alike.
Promo code can make customers complete their purchase when they abandon it due to price concerns. The code can also demonstrate to customers how important they are. And that makes them feel like they're getting better service.
The best way to use a promo code for your campaign
Customers today are more likely to respond to personalized offers. An all-encompassing campaign of promotion is less likely to attract their interest.
Coupon codes can be used for more than just acquiring new customers. In addition, they are an excellent way to show gratitude to your existing customers.
You can maximize your promo code strategy by following these eight tips we have. The ideas we are going to share throughout this post will allow you to dramatically increase your sales or profits. You can achieve this by providing promo codes that encourage customers to buy.
Customize your promotional codes for special occasions of your customers
As brands become more savvy in their use of data, birthday and anniversary emails are becoming more popular. These are moments that should be celebrated.
Birthday emails provide a great opportunity for highly personalized and targeted communication. By doing so, you can show your customers that you care about them.
Including a birthday promo code is a great way to get your customers to spend their extra money.
You can wish your customers a happy birthday by giving them exclusive promo codes. Giving customers enough time to redeem their offers on your birthday emails can increase conversion rates.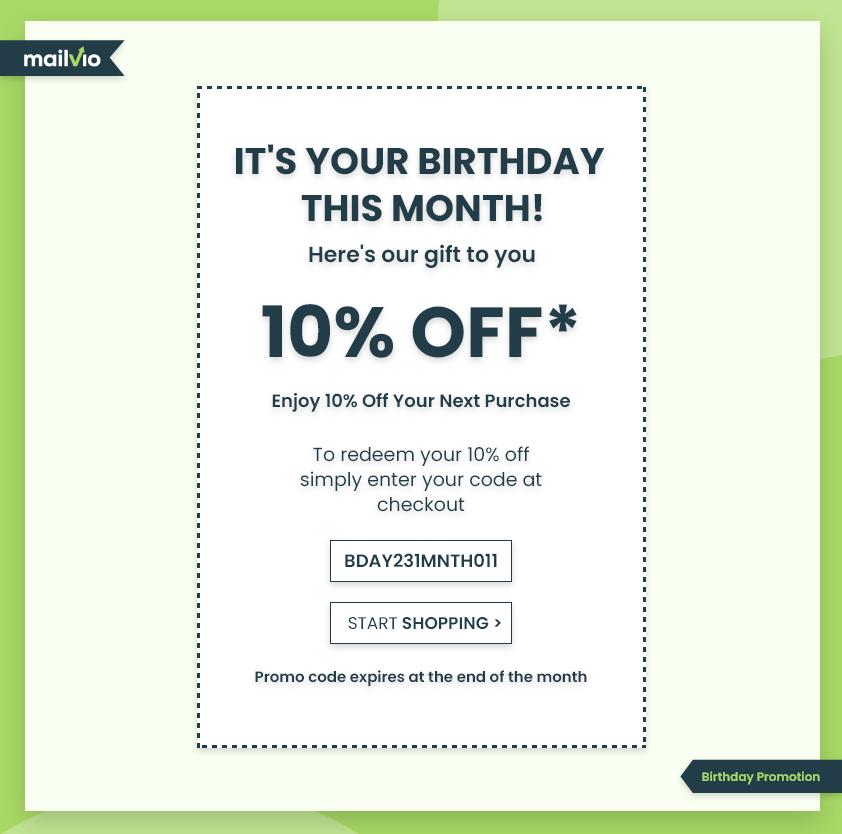 While these celebrations may seem small, they reinforce positive feelings among customers. Additionally, they encourage them to remain loyal to the company.
Existing customers can use promo codes
You cannot underestimate the value of loyal customers. A company's profitability could increase by 75% if just 5% more of its existing customers were retained.
Giving your loyal customers the VIP treatment is one way to keep them coming back. The strategy is a simple one: segmentation. A unique sense of loyalty is established when your most loyal customers receive exclusive promo codes.
This can give them the impression that they have gained an advantage. Use limited time loyalty promo codes to create urgency and to maximize results.
In this way you skip affiliate fees and show just how valuable your customers are. With a little extra effort, you can impress your loyal customers.
Avoid being too obvious
By lowering the visibility of promo codes on the checkout page, visitors who do not have promo codes won't feel left out. It's better to use a subtle link with less visibility along the checkout journey rather than a loud and colorful 'Promo Box'.
The subtler the promo box, the easier it is to proceed through checkout. This means users won't be second-guessing their decision to leave the site in search of a code.
The words 'gift cards' and 'vouchers' are synonyms for promo codes. Adding an understated call-to-action to the promo code is also a great way to make it stand out.
The slightly hidden promo box should be easy to find with good strategic placement. Shoppers without a code will not be alerted to the possibility of a discount.
Make your Promo Interesting
You can also keep customers loyal and interested in your business by making things fun.
Businesses can keep at the forefront of shoppers' minds by gamifying the loyalty experience.
Once they buy so many times, it makes sense to reward them with a promo code. This can often be the encouragement they need to complete the purchase they've been putting off.
As a leader in gamification, Starbucks Rewards has more than 12.1 million active users. The reward program encourages customers to accumulate points or stars. Whenever they use their card, they earn benefits such as a free drink or food item.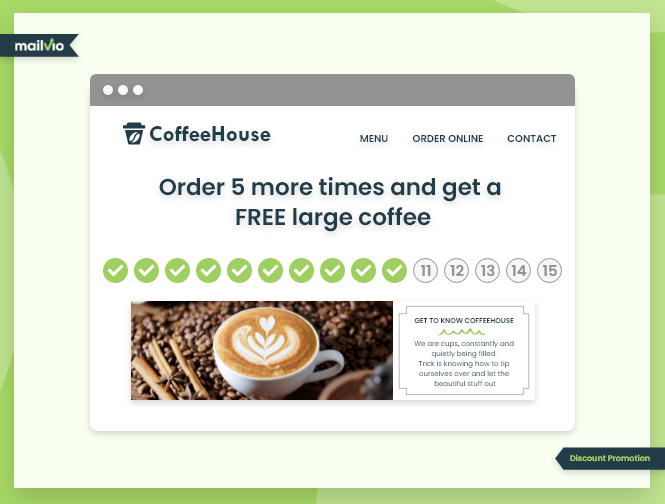 This can also be applied to your business. It is a way to keep your customers loyal.
Promos can be turned into a VIP-only events
By simply signing up for your email list, you can offer a 20% off coupon to casual visitors to your website. However, some promo codes have to be earned by customers shopping with your brand over and over again.
You should offer even greater discounts to loyal customers. Consider creating a VIP program that allows these individuals to enjoy exclusive promo code events.
Use a promo code to recover abandoned carts
About 70% of shoppers abandon their shopping carts. In most cases, people abandon their carts because they are not ready to make a purchase. A second reason why almost 60% of buyers do not purchase is that they are unhappy with the prices they find at the checkout page.
Promo codes can easily fix this problem and turn brands' losses into profits. If you send abandoned cart emails, you can include promo codes. This discount could be just what someone needs to change their mind and convert.
Offer a discount to new friends
Today's online shoppers pretty much expect the "welcome to our email list" discount offer when they abandon their carts.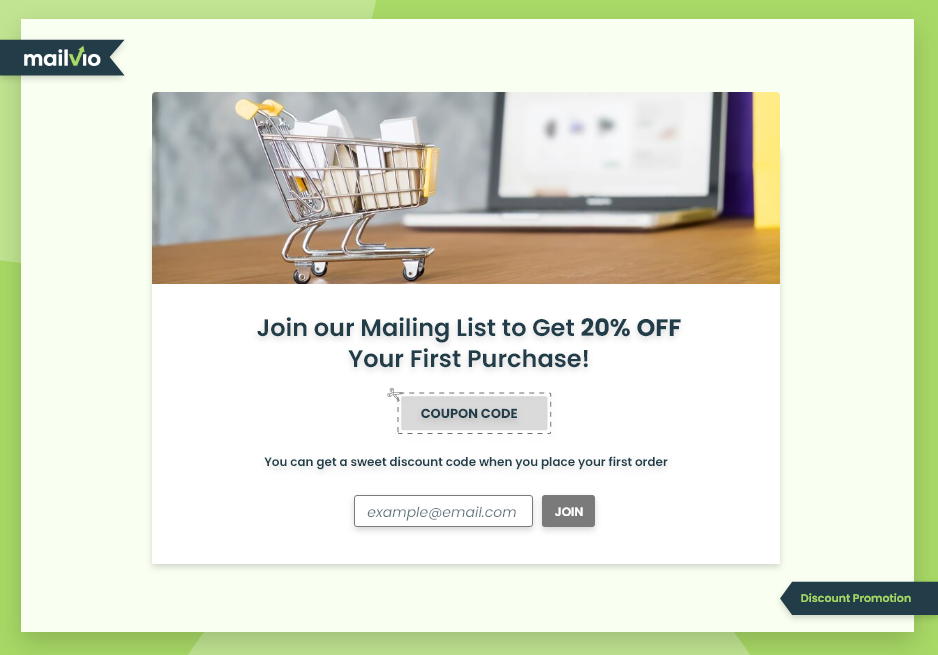 Get off to a good start with a welcome discount and meet new customers' expectations. Your subscribers deserve something in exchange for handing over their email addresses.
From email to checkout, make the discounts apply automatically
Are you looking for even greater convenience? When you include a promo code in your email, automatically apply the discount to the checkout process.
Many brands commit this error. Technology can make your brand stand out to shoppers if you invest in it.
If you are offering a promo code, redeeming it shouldn't be difficult. One click should be all it takes.
Integrate Promo Codes into email campaigns
Incorporating promo codes into your email campaigns is a good idea. But why did we say that?
Of course, there are other ways that you can connect with your customers. For example, you can use social media, live chat, and other communication methods.
Although there are so many new forms of communication, email still reigns supreme as a marketing channel with a user base of over 4 billion people.
It is also worth mentioning that emails have a return on investment of $40 for every dollar spent on them. In other words, email marketing is an essential tool which every marketer needs to have in their toolbox.
And did you know that there is a 15% increase in open rates, a 35% increase in click rates, and a 50% increase in revenue for emails that include promo codes?
Including promo code emails in your emails can boost your metrics, and your customers will also appreciate them. About 70% of consumers indicate that they have used an emailed discount.
Maximizing profits will be easier if you combine promo codes with email marketing.
Promo codes: optimize them, email campaigns: improve them
In an email marketing campaign, you include promo codes to encourage people to redeem them. It is important to optimize the visibility of your promo codes within your email campaigns.
Be sure to clearly display your promo codes and let your recipients know that there's a promo code they can redeem. Tell them when the code expires as well. Setting a deadline can motivate people to make a purchase more because it creates a sense of urgency.
Moreover, you should write your emails in a way that will attract readers' attention and encourage them to open it. If you send out a promo code in an email, you want to make sure that the email gets opened, otherwise it will be worthless.
Putting promo codes in your emails is not enough; it is just as important to make sure that they are opened. It's important to write catchy email subject lines that can attract your recipients' eyes and entice them to open the email.
Besides creating well-crafted emails, you would also want to send them at the right time and to the right people. Imagine sending a promotional code for Thanksgiving.
Imagine you're too busy to send out all your emails at the right time because you have many emails to send. Could it get any worse? Sending those emails to recipients who don't celebrate Thanksgiving.
If you do not send the promotional codes at the right time or to the wrong recipients, they are useless. Even a great promotion, if sent at the wrong time, will not generate profits for you.
Some advice to make life easier
To make things easier, we recommend that you use an autoresponder. This will take care of all the messy and tedious tasks. The messages are always delivered at exactly the right time.
Having an autoresponder not only simplifies your life but gives you the best return on your email campaigns. The tool helps you generate profit effortlessly. As a result, you can focus on other things instead of just sending out emails at the right time.
Congrats if you already own one; if not, you should consider getting one. Looking for an autoresponder that offers both high quality services and affordable prices? Look no further because Mailvio is the answer.
It's a full service autoresponder. Aside from that it can segment your emails and let you A/B Test your emails to see which performs the best. It also has detailed analytics, drag and drop editor, dynamic email personalizations and so much more.
When it comes to selling online, combining email campaigns and promotional codes is a powerful strategy. Promo codes are great for email marketing, but only if they are properly optimized.
Conclusion
The use of promo codes has become a vital part of customer journeys over the past decade. In order to be successful, promo codes need to be beneficial to brands as well as their customers.
You should analyze the buying behavior of your customers. Right promo codes will influence a customer's buying decision. The right discount at the right time will influence the right customer.
The brands will therefore be able to engage with customers at critical points. Promo codes will be provided based on what customers have already done. This includes browsing categories, visiting the site, and adding to the basket.
Using promo codes that are highly segmented can reduce brands' customer acquisition costs. Customer journeys will also be enhanced and lifetime value can increase.