What is the purpose of an email autoresponder and who are they for? Are there any advantages to be gained from automating your email marketing and is it worth the cost?
If you are new to online marketing you may have already asked the above questions.
We've all heard the saying "The money is on the list" but is that the full story?
Top digital marketers will tell you "The money is in the effectiveness of your email campaigns".
While the size of your list does matter, being able to send relevant emails at the right time to your subscribers is much more important. If you are unable to do so, making a penny from your email list will be like searching a desert for water.
For this reason, email autoresponders have become a fundamental asset for digital marketers everywhere.
Let's see why.
What Is An Email Autoresponder
An email autoresponder is a tool that allows you to send emails to all subscribers on your list based on preset conditions.
They allow you to automate all of your interactions with customers, leads, prospects, clients, and business interests.
These tools make it easy to customize and personalize email campaigns to match your subscribers' individual journeys.
Ensuring that your subscribers will have the best experience with your brand possible and you can better meet your campaign objectives.
Autoresponders are big-time and money savers. Without them, you would need to either hire staff or spend your days going back and forth with leads.
Who Needs Email Autoresponders
The simple answer is – everyone.
Autoresponders are needed in every niche and can be helpful to anyone offering products or services to people.
Email is one of the most important forms of communication today. According to research from The Relevance Group, over 65% of consumers check their emails throughout the day.
Making it one of the easiest, if not, the easiest ways to stay in contact with leads and create new customers.
But it's not enough to just send an email.
Your campaigns must be customized to match each of your subscribers' individual journeys with your brand.
Not only should your emails be highly relevant to recipients, but they should also be sent only at times they are most likely to be opened.
Otherwise, your open rates will be unusually low. Which will diminish your camping results and reduce any potential profits.
Open Rates Below 10% are on the low side.
Unlike traditional email services such as Gmail and Yahoo, email autoresponders make it easy to send relevant, perfectly timed emails to everyone on your list.
10 Incredible Benefits of Autoresponders
So now that we understand what is the purpose of an email autoresponder, let's analyze some of the most telling benefits of using one. 
Benefit #1: Time and Money Saving
Imagine running a business with thousands of customers, prospects, and clients. How would you effectively communicate with them individually?
Well, there are several options. These include:
Social Media;
Telephone;
Print Media;
Paid Advertisements and;
Website Publications.
These are all great options and each has its own benefits. But, the workload that comes with these communication channels may become overbearing.
For instance, there is no way one person can communicate with thousands of customers over the phone. You'll need to hire staff.
What about social media? It's easy to tap into millions of super-targeted leads on platforms like Facebook. You can create brand pages and groups to host your customers but…
Facebook limits your potential reach.
Meaning, only a fraction of your leads/customers will ever see your content on Facebook even if they are inside your groups or followers of your pages.
The only way for everyone interested in your business would then be through paid ads. And that's just a fraction of the cost you'll incur. 
Email Automation makes the whole process of communication much easier. Crate sophisticated workflows consisting of emails that will only be sent when your leads take a specific action.
For example, send a Thank You email to your customers after they complete a purchase automatically.
Picture having to type up a thousand thank you emails to all of your customers or, having to message them individually on Facebook.
Benefit #2: Passive Income
I'm a big fan of making money while I sleep and being paid for work I already did. Passive Income.
With autoresponders, earning passively becomes a real-life possibility.
Creating a series of emails to sell products and services or promote affiliate offers only needs to be done once.
From there, every new subscriber on your new list will be marketed automatically without the need for any further effort on your part.
The best thing is, you don't even need to write these emails yourself. You can outsource that task. Make your email marketing efforts completely hands-free. 
Affiliate marketers are often provided with email templates by product creators.
Clickbank is a great place to find offers that already provide email campaigns for affiliates. Simply copy and paste the templates into your email automation and you are set.
Benefit #3: Free Traffic
Who doesn't want free traffic?
Driving quality leads to products and services has been one of the biggest stumbling blocks in digital marketing circles. This is especially true for newcomers, especially affiliates.
Even more established brands and individuals find it time-consuming and/or expensive to bring in fresh leads.
But fresh leads are only half of the battle won. It's far easier to retain current customers than to get new ones.
So, if most of your marketing efforts go into getting new customers, a lot of your resources will be wasted.
An email list is an immediate and endless source of free leads that you can tap into with the power of autoresponders.
Email Automation allows you to visitors to your:
Offers
Blogs
Social Media Accounts
Youtube Channel
Online Store
Checkout Carts etc.
The best part is that, depending on your autoresponder, you can send unlimited emails for free. 
Benefit #4: Build Brand Awareness
If you sell any product or service with any measurable amount of demand, there's a big chance you aren't the only one.
Where ever there is huge demand there will be huge supply. Unless you have discovered an untapped niche.
What does this mean?
It means that you will have to compete with other individuals and brands for your customers' loyalty.
The only way to stay competitive and relevant is by differentiating yourself/your business from the competition. What separates you from the crowd and how will your offers benefit potential customers?
This is the essence of Brand Development.
Email Marketing is a crucial part of any successful brand development plan. Branded, personalized, and relevant email campaigns will:
Build Brand Awareness and Exposure
Create Customer Loyalty
Typical email service providers offer almost no branding ability. But email autoresponders make it easy to brand every single interaction with your subscribers.
This is especially possible with the use of customizable, mobile-friendly email templates.
In addition, autoresponders provide detailed campaign reports.
With these reports, you can instantly know what is working and what needs to be improved. Allowing you to adjust your brand strategy and better connect with your audience.
Benefit #5: Higher Deliverability Rates
Indeed, it is possible to send bulk emails from typical email service providers like Gmail. But other than:
The lack of branding
Unprofessionalism of mailing business leads from a personal email address
Daily email limits and;
The time it takes…
There is one more thing to consider, delivery rates.
If emails are not open or read, your campaigns will always have poor results.
To ensure that most of your emails are delivered to your subscribers' inboxes there are a few things you must do.
These include cleaning your list, proper list management, and using an email autoresponder.
These practices help you remove spam traps and invalid email addresses from your list. Reducing the chances of your emails bouncing.
In addition, emails sent from Business Addresses are more professional and have a higher chance of being delivered.
Your autoresponder should provide features such as pre-warmed-up IP addresses, that increase the chance of your emails landing in the inbox.
Choosing An Email Autoresponder
Now we have a better understanding of what is the purpose of an email autoresponder and some of the benefits of using one.
So, how do we pick the right one for our needs?
It all comes down to your needs, budget, and the size of your email lists.
But in general, a great email autoresponder should:
Be affordable
Feature Rich
Easy To Use
And Provide Good Deliverability Rates
Most autoresponders around provide a wide range of features that make it easy to automate your email marketing. But they can sometimes cost a lot. 
Even though there are a lot of options that offer free trials or low start-up fees, as your subscriber list grows, they become more expensive.
On top of that, many premium features are often withheld unless you upgrade to more expensive plans. This sometimes even includes support.
These are some of the reasons why we prefer to use Mailvio for all of our email marketing efforts. Along with these exceptionally high open rates we've experienced thus far: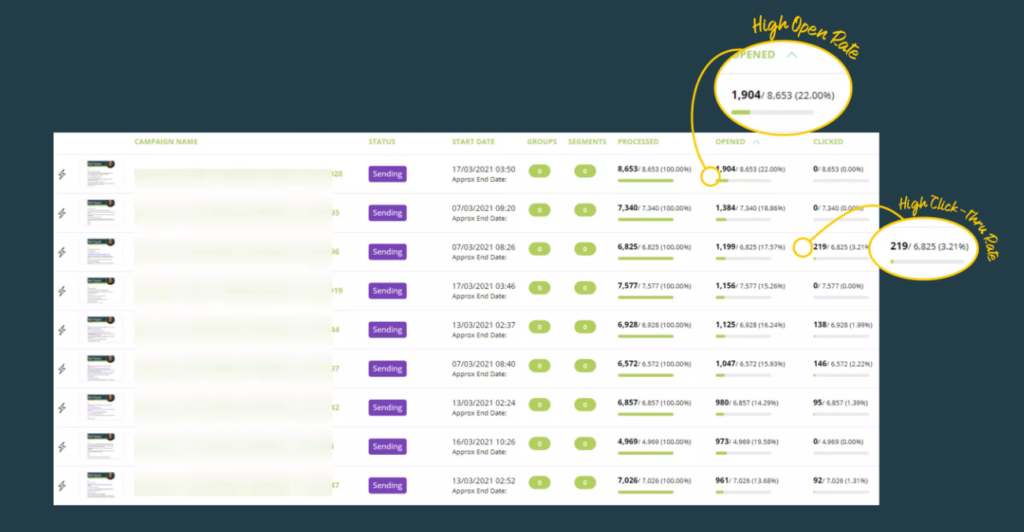 Not only is it one of the most affordable autoresponders around, but Mailvio also gives you full access to all premium features without charging more for upgrades.
Mailvio is one of the fastest-loading and easiest-to-use email automation tools as well. Designed by digital marketers for digital marketers with a focus on deliverability. 
Click here to check out Mailvio.
Conclusion
That's it. We've fleshed out exactly what is the purpose of an email autoresponder, its benefits, and how to choose one for your business.
It's worth noting that whatever autoresponder you choose, you should aim to create highly responsive email lists.
The best way to do this is by understanding who your ideal customers are and capturing leads with a permission-based opt-in page.
Also, try to pick an email autoresponder that fits your needs and your budget. If your emails will contain links to promotional offers it's wise to use a marketing platform that supports this.
In need of a recommendation? Mailvio is our top pick. You can get it here.
Steven is the co-founder of Mailvio and oversees the operations and technical strategy and implementations. Steven has been an online entrepreneur since he was 14 years old and has been running SaaS companies for the last 10 years.