In this digital age, every online marketer knows the importance of a powerful autoresponder.
The ability to send targeted, personalized, and relevant emails to a list of subscribers is crucial for success. And thanks to the sophistication of automation platforms like Mailvio and Active Campaign, this is now possible. 
With that said, there are dozens of autoresponders to choose from. So, how can we ensure that we get the best value for our money?
Well, normally you would have to spend hours comparing different brands and reading customer reviews.
But thankfully, in this series, we'll provide in-depth comparisons to make your life easier. 
Last week we looked at Mailerlite and today we'll do a comparison of Mailvio vs Active Campaign.
This comparison is special because, unlike other reviewers out there, I actually use both platforms in my business. Therefore, this review will be from an insider's perspective.
For today's topic, we will look at 5 key areas:
But first, let's take a look at Mailvio vs Active Campaign in terms of their target audience and focus.
Mailvio vs Active Campaign: Target Audience and Focus
Mailvio – Target and Focus
This email autoresponder was built by digital marketers for digital marketers.
It caters to everyone from product creators to digital store owners, affiliates, and even bloggers.
The main aim behind Mailvio is to provide a feature-rich autoresponder with superb deliverability at an unbeatable price. 
Now, let's take a closer look at one of the most popular email autoresponders out there – Active Campaign!
Active Campaign – Target Audience and Focus
Active campaign's target audience is fairly similar to Mailvio's except that they are not affiliate marketer-friendly. Meaning, if you plan on sending email promotions with affiliate links you may get banned on this platform.
Outside of that, they have a very diverse user base.
The main focus of Active Campaign is to enable users to create and send sophisticated email campaigns with relative ease and save time doing so.
Speaking of ease, let's see how user-friendly both platforms are.
Mailvio vs Active Campaign: Ease of Use
What I really like about Mailvio and Active Campaign is how easy they both are to use.
Their user interfaces are good-looking and easy to navigate as their menus are very clear and easy to understand.
Here's a look at Mailvio's Menu:
Here's an overview of Active Campaign's interface:
As you can see, finding what you need with these two software is pretty easy. But before we can get to the menus, we must log in, right? That's where you may find the most problems with Active Campaign.
To sign in to Active Campaign you'll need the URL of your hosted account as shown here:
Normally, this wouldn't be a problem. Unless you forgot your account name. 
In that case, you would have to contact support to gain access to your account.
If you do remember your account name, then you'll be taken to a regular login screen where things are much easier.
In all fairness, logging into Active Campaign shouldn't be a problem especially with autofill forms being available. But I've personally spent more than a good chunk of time unable to get into my account due to this setup.
Mailvio, on the other hand, only requires your email address and password to log in. So, fairly simple.
Apart from this, there is a very small learning curve involved when first using either of these platforms. 
If you are a first-time user, you'll be able to set up email campaigns of all sorts relatively quickly. You can do this by navigating around the dashboard, clicking on menus, and seeing how things work. 
And as you can expect, there are relevant resources such as tutorials to help you get over that learning curve.
Now, before we close out this section, there is one last thing to touch on, and that's organization. 
If you ever need to find a campaign you designed in the past with Active Campaign, it could take you a while. That's because their search feature doesn't work.
Even searching for specific keywords will not pull up accurate results. So, you may have to scroll for a while to find what you are looking for.
In this example, I'm searching for campaigns with the word "click" in the title. But only my most recent campaigns populate. So I may have to scroll a while to find what I need.
This isn't a problem with Mailvio, which makes it very easy to find any campaign. 
Verdict
The winner of this round will go to Mailvio simply because it is easier to log into and locate your campaigns. Score: 1/0 to Mailvio.
Let's take a look now at list management.
Mailvio vs Active Campaign: List Management
Two aspects of list management are crucial to email marketing success. Those are:
Segmentation and Grouping
List Hygiene
Segmentation
List segmentation and grouping allow you to send more targeted and relevant emails to your subscribers.
The worst thing you can do in email marketing is to send emails to people that they don't want and don't need. Doing this will get you blacklisted fast. And soon, your sender reputation will be in shambles.
To avoid that, you must be able to group your subscribers according to specific criteria. For example, their country, age, gender, and purchase history.
Thankfully, both Mailvio and Active Campaign take this seriously. These two autoresponders make it very easy to segment your lists according to a wide range of conditions.
With Mailvio, creating a list is pretty straightforward. Simply log into your account and navigate to your subscribers as shown in the menu below. 
From there you just need to head over to the Segments section of the menu and click add New. It should take you nor more than 3 minutes to create a new segment. Here are some conditions you can use:
While it is easy to segment your lists with Mailvio, the same can be said about Active Campaign. However, if it is your first time, you will need to follow the steps outlined in this article.
List Hygiene 
The money is on the list they say, but so too are the spam traps and invalid emails. 
These must be removed from your email lists before sending even a single email. Otherwise, you'll find yourself having a very high bounce rate. Most of your emails will also end up in the spam folders and your delivery rates will be pretty poor. 
This is why list cleaning is of absolute importance.
While most quality autoresponders allow you to remove inactive subscribers, I think they fall short in this department.
Especially when it comes to newer, low-budget marketers. This group of people is at greater risk of falling for spam traps and getting their sender's address blacklisted.
To prevent this, more autoresponders should follow in Mailvio's footsteps by providing their own list cleaning services.
Currently, marketers are forced to rely on third-party services that can be rather expensive.
Mailvio's list cleaning service makes it easy to remove spam traps and invalid emails from your lists. 
After that, you can mail with confidence knowing only real people will receive your content.
Note that this is a built-in feature that you can access right from your Mailvio Dashboard. That means you won't need to pay for a dedicated list-cleaning service which would cost more than a few dollars.
Verdict 
Mailvio takes this round comfortably. While both autoresponders offer great list segmentation features, Active Campaign lags behind when it comes to list cleaning. Score: 2/0 to Mailvio.
Mailvio vs Active Campaign: Deliverability 
The importance of email deliverability cannot be overstated. In fact, it's probably the most important part of email marketing.
That's because, if your emails are not getting to your recipients' inboxes, you won't get good results.
Meaning, your open rates, engagements, and conversions will be very low.
We already looked at the importance of list cleaning above and how it helps protect you from spam traps, etc.
Another factor that affects deliverability is your Sender Reputation.
Whenever you send an email, email services providers (Gmail, Yahoo, etc.) will look at your sender's address to see your history in terms of:
Your I.P. Address
How long have you been emailing
Your Bounce Rates
Spam Complaints
Etc.
This all helps to determine your sender's score. The higher your sender's score, the more trust email service providers will have for you. And the better your delivery rates will be.
The only issue is, if you are just starting, you will have to earn their trust first. Even worse than that, if you already have a poor sender's score, you will have to regain this trust. 
This could take months or even years to do.
So how does this feature in our Mailvio vs Active Campaign comparison? 
Well, of the two platforms, Mailvio is a bit more deliverability-minded.
It provides all users the option of using Mailvio's pre-warmed-up IP addresses as their own. 
By doing so, users can borrow Mailvio's credibility and trust with email service providers. This in turn helps to boost their senders' scores and cuts down on the time needed to get a good reputation.
This results in some pretty amazing deliverability rates as seen below.
This is one of the main reasons a lot of Digital marketers have jumped over to Mailvio.
Active Campaign's focus has never been on deliverability. Their primary aim is to provide users with the tools they need to create sophisticated campaigns. As a result, their inboxing rates have been more or less, average.
My most recent open rates with Active Campaign are a great indication of this.
At only 1.67%, this open rate is well below what I've experienced with Mailvio recently:
On the low end, my open rate was just under 6% but went as high as 22%. I have never seen such high open rates with any other platform.
Verdict
With a greater emphasis on deliverability, Mailvio takes this round comfortably. Score: 3/0 to Mailvio.
Mailvio vs Active Campaign: Email Design and Testing
Another big part of email marketing is the actual design of your emails.
There are two aspects to this that are worth considering. These are:
Ease of Design and;
Email Testing
Ease of Design
I have never had a problem designing emails with either of these platforms. The process is very similar for both platforms and I find the major difference is the user interface.
By that, I mean Active Campaign's email builder is better to look at, at least in my opinion. Take a look at these sample emails I am working on and judge for yourself. First up, Active Campaign:
Next, Mailvio:
Each software makes use of a sophisticated drag-and-drop email builder that anyone can use. And, even if you lack design skills, there are dozens of email templates to choose from. 
The one area that Active Campaign can improve on though is their "undo feature" – it doesn't exist. So, if you accidentally delete something important, you'll have to do it all over again. 
On Mailvio's side, from time to time you may need to adjust your font and color settings to keep all of your emails consistent. This can be annoying at times but it only takes a few seconds to do if required.
Something that users will really love about Mailvio's email builder is their "Link Check" option.
At a glance, you'll be able to see all of your links and make any adjustments required.
With Active Campaign, this option doesn't exist. You'll have to manually check your links one by one. And if you don't get it right, you could end up sending the wrong links to your subscribers. This could ruin your reputation and brand image. 
Email Testing
And finally, for this section, the emails built on both autoresponders are super mobile-friendly and responsive. They will look good on any device and email platform.
With Mailvio, you can readily see how your emails will look on different devices as well as send Test emails.
While Active Campaign doesn't display how your emails will look on different devices, their Spam Check feature is a big help.
It checks to ensure there is nothing spammy in your emails before sending.
You also have the option to make final changes to your emails such as scheduled time and subject lines.
Verdict
There is no clear winner in this round. Both platforms offer enough unique features and functionality. You will be able to design stunning emails with either. What it comes down to will be your personal preferences. So, I'll leave this as a draw. Score 3.5/0.5 to Mailvio.
Mailvio vs Active Campaign: Email Automation
If you were only in need of a tool to write and send emails you probably wouldn't be reading this article today. There are many free options out there such as Gmail, that allow you to send mass emails.
But email marketing is more than that. The true beauty lies in the ability to automate the whole process and tailor your campaigns to match a subscriber's journey.
That's why email autoresponders have gained so much popularity in recent years. Both Mailvio and Active Campaign have taken advantage of this rise in popularity.
Each platform offers extensive email automation capabilities. Allowing users to create detailed workflows that respond to every subscriber's action.
This gives email marketers the ability to send personalized, super-targeted, and relevant emails at the perfect time. But best of all, it saves hours of time and manual labor.
And when it comes to email automation, no other autoresponder can compete with these two.
From my experience, there is not much difference between Mailvio and Active Campaign's automation builder. They have the same range of functionalities and are equally easy to use.
What's most impressive about each automation builder is how detailed they can be.
Mailvio and Active Campaign make it possible to create automation that reacts to almost every action of your subscriber.
Combining this range of capabilities with proper list management will help you get the most out of your lists.
The only noticeable difference I can mention between Mailvio and Active Campaign is the speed at which I'm able to build workflows.
It takes me about 2 minutes more to load the same email in Active Campaign than it does with Mailvio. 
But if you don't mind spending a bit more time creating your automations then you may be able to live with this difference.
Other than that, I find everything to be pretty even.
Verdict
The automation capabilities of Mailvio and Active campaign are outstanding but even. I call this a draw. Score: 4/1 to Mailvio.
Mailvio vs Active Campaign: Support
Good support is the lifeblood of every successful business, whether online or offline.
It doesn't matter if you have the best product in the world. If you are unable to support your customers efficiently and professionally, you'll lose them fast. 
So, let's see how well these two marketing platforms fare in this department.
Mailvio Support
When I first started with Mailvio, around 4 years ago, I had a lot of questions. 
I was a newbie at the time and needed all the guidance I could get.
At first, I struggled with configuring my sender's address. After an email explaining my struggles, the support team basically went in and dealt with the configuration issue for me.
On top of that, I was able to book a 1-on-1 call with the head of the support department for absolutely free.
This was of immense help. I learned the fundamentals of list hygiene and list building thanks to this call.
I also, incorrectly purchased a product from Mailvio that I didn't actually need. My refund was issued quickly and without hassle. Needless to say, I was very pleased.
On top of that, Mailvio's knowledge base is second to none. Honestly, if I had just read it from the start I probably wouldn't have needed to contact support. 
Since that time, Mailvio's support has only grown in quality and has become a fan favorite across the industry.
So, from my perspective, Mailvio's support is top-tier. 
Active Campaign Support
I first started using Active Campaign a few years ago on behalf of a personal client.
At this time, I was already well versed in email marketing thanks to the help from Mailvio's support.
So I did not need much help. But when I did, due to a few technical glitches, I was pleased with the support I received.
Their email response was in a respectable time frame and they seemed eager to help.
I did have trouble getting a response when I inquired about moving an affiliate marketing list over to Active Campaign though.
Outside of that, the support team from Active Campaign works acidulously to help their customers.
Verdict
Mailvio wins this round. Live 1-on-1 support calls can truly transform your email marketing. Score: 5/1 to Mailvio.
Mailvio vs Active Campaign: Pricing
We've finally come to the elephant in the room, pricing.
An autoresponder must definitely be rich in functionalities and easy to use. They should also help improve delivery rates but most importantly…
Autoresponders should be affordable. And, I don't mean cheap. I'm speaking about value for money.
In this department, Mailvio and Active Campaign are at complete opposite ends of the spectrum.
Mailvio Pricing
Mailvio's pricing structure is straightforward. There are four pricing tiers based on the number of contacts on your lists, as well as a 7-day free trial period.
Starting at $39 at the Introductory Level (for catering to up to 5,000 contancts), each tier unlocks all of Mailvio's functionalities and allows you to send unlimited emails. 
Even at the highest pricing tier, dubbed 'Plus', it's still only $249/month to send unlimited emails to up to $50,000 contacts. 
All this makes Mailvio easily the most affordable autoresponder in the digital marketing space, especially when you consider the value for money.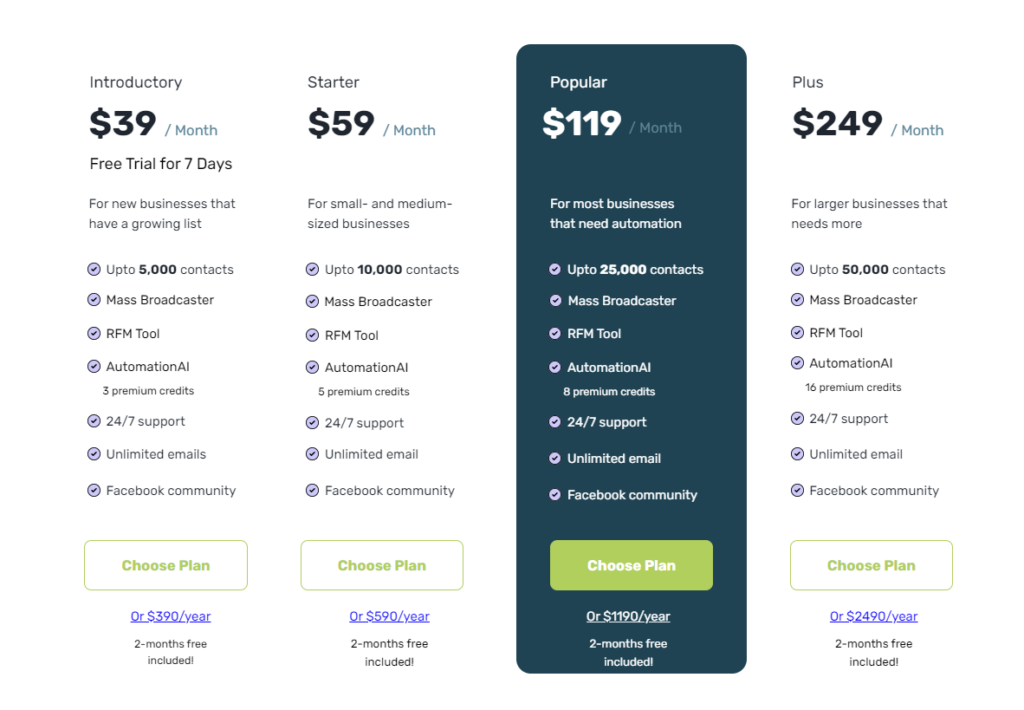 Active Campaign Pricing
Active campaign's pricing is similar to Mailvio's in that it's based on the number of contacts on your lists and has four pricing tiers.
On the lowest level, sending unlimited emails to 5,000 contacts will attract a price of $99/month. That's nearly three times more expensive then Mailvio. 

Also, it's worth noting the many functionalities are only unlocked at higher tiers.
All of this combined makes Active Campaign one of the most expensive autoresponders around. 
Especially when you consider that Mailvio has all the functionalities of Active Campaign.
Active Campaign does offer a free trial where users are allowed to test drive the platform for 14 days. With this trial, you can send emails to 100 contacts and use most of the features available.
Verdict
Active Campaign is definitely not an entry-level option. Lower-budget individuals may not be able to afford it. Mailvio takes the cake this time, not only because of its much lower price but also the value it provides. Score: 6/1 to Mailvio.
Conclusion
We've come to the end of this Mailvio vs Active Campaign comparison. This article was written from an insider's perspective so that you could understand exactly what to expect if you should purchase either.
So, to conclude, Mailvio is the better value for money and offers better options in terms of deliverability. In regards to functionality and ease of use, both platforms are on par.
With that said, Mailvio wins this comparison today and you can check it out by clicking here.
Steven is the co-founder of Mailvio and oversees the operations and technical strategy and implementations. Steven has been an online entrepreneur since he was 14 years old and has been running SaaS companies for the last 10 years.