An email service provider (ESP) is a company or platform that allows you to market to a list of subscribers.
There are dozens of ESPs, both free and paid, to choose from. But they all have the same aim. To allow businesses and individuals to communicate with email subscribers. And to establish a profitable relationship.
With so many options, it can be hard to know which email service provider to choose for your business.
So in this article, we will take a look at some of the most popular and best ESPs around.
We'll also take a deeper look at how these platforms can help your business and what to avoid. Pointing out some of their pros and cons along the way.
And last but not least, we will take a look at Mailvio, one of the most powerful ESPs available to digital marketers.
But first, here's a quick breakdown of the four (4) different types of email service providers.
Types of Email Service Providers
Email Service Providers vary based on the services they offer, niche, and general use.
SMTP Relay Provider. These ESPs use an SMTP Relay each time an email is sent. They are particularly useful in eliminating spam. This is done by the means of authentication, licensing, and their own networks.
Dedicated Email Service Provider. These email service providers have high reputations with email clients and are effective in the fight against spam. They use their own infrastructures only for the sending of emails. They make it easy to manage emails and deliver bulk campaigns to many servers such as PHP, ASP.NET, or Java.
Web-Based Email Service Provider. These platforms are mostly used for internal business communications and are very cost-effective. A good example of a web-based esp is Outlook.
Email Autoresponders. Autoresponders are designed specifically for digital marketing needs. They have robust features that allow users to communicate effectively with subscribers. They have many high-level features such as automated workflows and detailed reporting systems.
What Makes A Good Email Service Provider
Making any buy for your business requires detailed inspection and comparisons to get the best deal. When choosing an ESP you need to consider some specific aspects as listed below:
Ability To Customize And Personalize Emails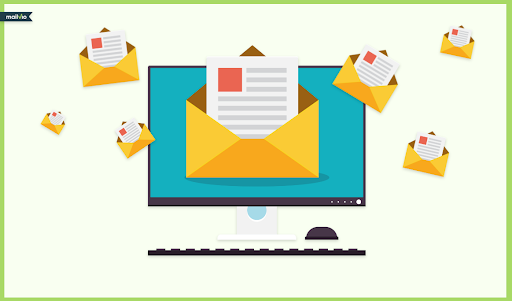 To stay relevant and competitive you need to have a brand development strategy as well as the ability to relate to your customers.
In email marketing, this is facilitated by customizable email templates and personalization features.
A good ESP will include these capabilities so that you can firmly establish your brand and gain your subscriber's trust.
Storage Space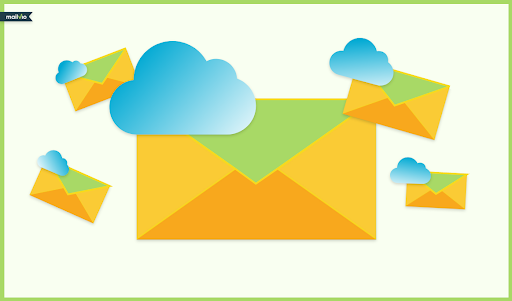 The number of emails in your inbox also determines how much storage space you have for messages.
More complex emails need more room than simple text ones.
Not only does sent items not store all your emails, but it's also possible that other folders like inbox and archive message.
Mobile-Friendly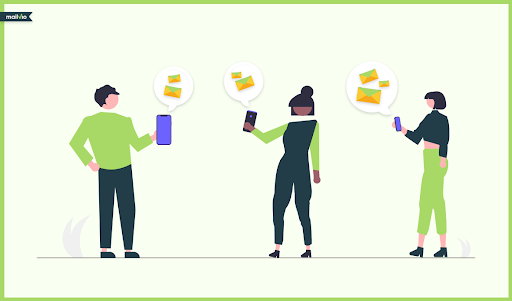 Since over 49% of all emails are opened on mobile phones, it is essential that your email service providers are mobile-friendly.
This will help in user experiences and ensure that all your email content can be delivered as intended.
Great Support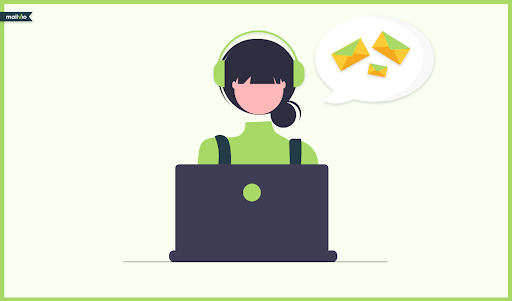 Without great support, you will stumble along your email marketing journey. Support is the backbone of any successful business. If a company overlooks the needs of its customers, it's likely that it will not provide quality products either. 
Custom Domain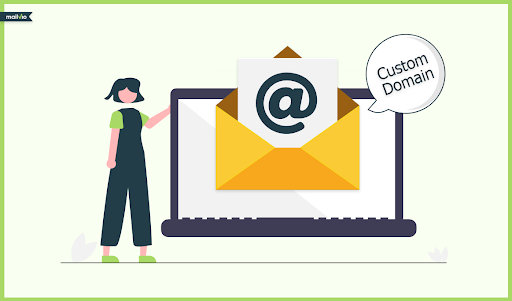 A professional-looking email address with the name of your business on top. You can customize your email address to be something simple like name@businessname.com.
If you have a business, use a custom domain for your email. It will make your company look more professional, and people will trust you more.
It is easy to remember too! Your ESP should allow you to add a custom domain to your sender's address.
Affordability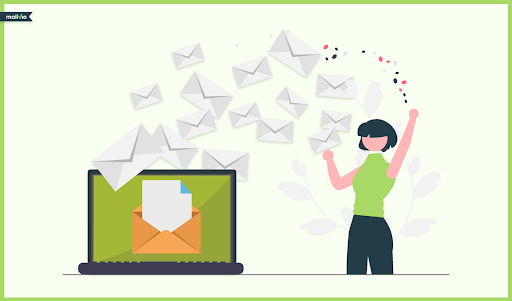 Needless to say, your ESP must provide value for money. Take into consideration all you are getting and decide if it's worth the price.
Many ESPs charge way more than a fair price for what they offer. Others will remove much-needed features in an attempt to lower the cost. Ideally, you want to use a service that is both affordable and rich in features.
Top Six (6) Email Service Providers
Gmail
Gmail is a free web-based email service from Google. It was first released on April 1, 2004, and now has over 1.5 billion active users.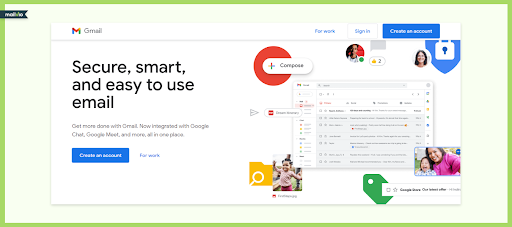 Gmail allows you to perform many basic tasks such as sending and receiving emails, bulk emailing, and marking messages as spam.
The platform uses secure encryption for all emails sent. And never uses customer data for personalized ads, unlike other platforms. Plus, Gmail blocks 99% of spam, malware, and other dangerous links from ever reaching your inbox.
Gmail treats potential Phishing emails with care, giving you full clarity and control over the situation.
And with Gmail, you have excellent control over the emails you send.
Gmail's confidential mode lets you set expiration dates. and Require recipients to verify by text before getting access to your emails. You can also remove the options to forward, copy, download, and even print your emails.
This is why Gmail is one of the top-rated email service providers around.
Zoho Mail
Zoho Mail is another powerful email service provider used by small and mid-sized companies.
It's a very efficient and time-saving tool that can be combined with Gmail for more efficiency, better storage, and protection against spam.
Zoho's unparalleled security, 99.9% uptime, and secure end-to-end email hosting make it a force to reckon with. 
You can also create business domains and set up custom email addresses for users. Giving your company the visibility and authenticity it deserves.
Combine that with an easy-to-use admin panel and you have an easy-to-use platform that can handle most of your needs.
Designed with the legality in mind, Zoho allows you to retain company emails for a specific period of time and access them easily.
And of course, Zoho Mail is mobile-friendly. It allows you to manage your business even if you are away from your desk.
It comes with a host of other much-needed features and is definitely worth checking out.
Outlook
Outlook is a popular email service provider offered by Microsoft and is very similar to Google's Gmail. It consists of webmail, calendaring, contacts, and tasks services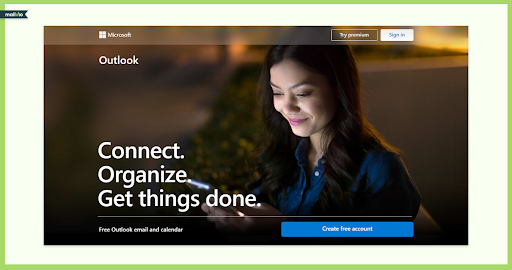 Features:
Connect all your inboxes into one place by adding other accounts such as Gmail or Yahoo Mail
Schedule emails to be sent later
Customize your inbox by creating folders and adding colors to different types of messages
Work together on Outlook by adding people to an email thread.
Search Outlook using keywords and filters
Create Outlook rules for handling incoming messages
Users of Outlook love the fact that it automatically detects potentially unsafe links and allows for the recovery of important files.
Outlook has the same level of security as other Microsoft business applications plus there is a big emphasis on privacy. All emails are encrypted after sending.
You can also easily integrate with Word, PowerPoint, and Excel. And, you can chat in real time with Skype—right from your inbox.
And as you might have guessed, Outlook is easily accessible on multiple devices.
Lastly, it's worth noting that Outlook is basically an upgrade of Hotmail so if you are wondering where the latter went, now you know.
ProtonMail
ProtonMail is a free, open-source, encrypted email service developed by Proton Technologies AG. In 2013, scientists working on similar projects online found each other and created this platform.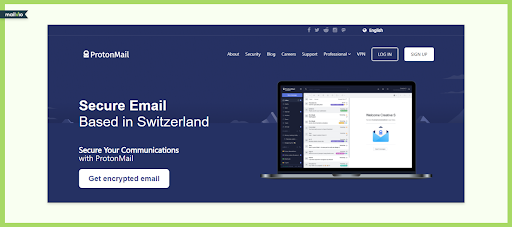 It offers extensive security features to protect your emails from unintended eyes. Only the recipient and sender can read the email content. They operate on open-source software and it's always free to create a ProtonMail account.
It is easy to use on any device without the need to install any software and is fully compatible with other email service providers.
Furthermore, their secure email service is fully equipped with an encrypted calendar, allowing you to keep both your emails and events private.
Protonmail is a highly sophisticated ESP and may just be what you need.
AOL Mail
AOL is one of the most popular and well-known email service providers in the world. It is a good service for managing email accounts, contact lists, and finding friends.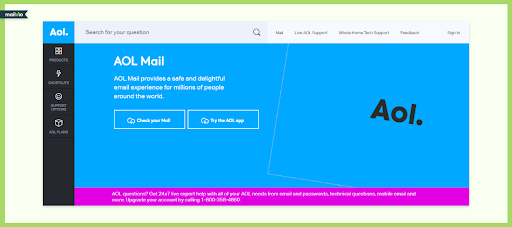 It offers effective spam filters that reduce junk emails by 95%. In addition, AOL has features such as encryption options to protect users from hackers and viruses when sending sensitive data.
One thing that AOL does really well is its focus on giving users a personalized email experience. Personalization is one of the key ingredients to staying competitive and relevant.
There are many other features worth checking out as well.
Yahoo! Mail
Last but not least, let's have a look at a popular brand, Yahoo! Mail.
Yahoo is an email service platform launched all the way back in 1987. It has four different email plans, 3 for personal use and one for business.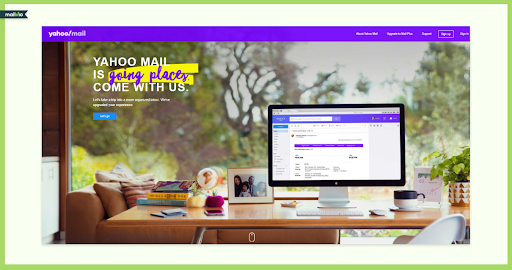 The platform currently has over 225 million active users worldwide.
It comes with many features like spam filters, photo mailboxes, automatic address book updates when receiving an email from someone new in your contacts list, etc.
Yahoo! offers a free version with basic features. You can also upgrade to Yahoo! Premium for $19,99/month, which includes more storage, enhanced spam protection, and parental controls.
It also consists of 90 minutes of audio/video calls each month through Yahoo Messenger.
Yahoo! Mail is indeed one of the cheapest service providers.
Yahoo! has a lot of options for organizing your emails, folders, and subfolders to make it easy to manage large inboxes.
It also comes with basic features like a spell checker, which makes writing easier.
In addition, Yahoo allows you to upload all kinds of files through its webmail service, and Yahoo provides 20 GB of free storage for its email users.
Yahoo! Mail is straightforward to use. It has a clean design that makes reading emails an enjoyable experience.
Now, while the above email service providers are great for personal and business use…
A completely different type of ESP is needed when it comes to digital marketing. To achieve worthwhile results, digital marketers need to make use of an email autoresponder.
Let's take a closer look at autoresponders and specifically, our very own Mailvio.
Email Autoresponders
An autoresponder is a tool that allows you to send marketing campaigns automatically to a mailing list based on specific rules at defined intervals.
They allow you to establish profitable and long-term relationships with customers through branded email interactions. Increasing brand awareness and customer loyalty.
One of the main reasons for using an autoresponder is that they help to improve deliverability rates. The more of your emails that get delivered, the better your results will be.
You'll have higher open rates, more engagements, and better conversion. Combine that with the ability to personalize each email interaction with your subscribers…
And you have a winning system that marketers cannot find with just any email service provider.
And most autoresponders provide detailed reporting systems so you can analyze your campaign's performance.
Email automation drives up to a 14.5% increase in sales on average and 80% of users see an increase in their leads.
A while back we interviewed some top marketers at various stages of their business and asked what they think makes a perfect autoresponder.
And we got the same three (3) answers over and over again:
It should have great deliverability
It should have world-class features like Active Campaign does
And most importantly, it should be affordable, especially in the current economic climate.
Based on these answers we went out and created the Perfect Autoresponder – Mailvio.
Mailvio

With built-in SMTP that can send unlimited emails, smart easy-to-use automation. All at a price that's 95% lower than its closest competitor, Active Campaign.
Mailvio truly changed the game by putting users first. These are some of the most compelling reasons to check out Mailvio: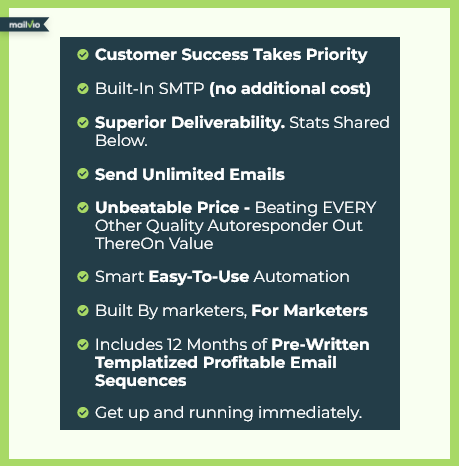 Mailvio is will support you as your business grows. It works right out of the box with no hidden features.
Plus it's template-driven, meaning, you have to put less effort in to get better results. And with the ability to send unlimited emails, you will never have to worry about extra bills. 
To see how easy Mailvio is to use and what it can do for your digital marketing business click on this link.
Conclusion
There are many email service providers that have grown to become household names today. In this article, we looked at six (6) of the most commonly used ESPs and their pros and cons.
We also took a look at email autoresponders which are more in line with the needs of digital marketers. Specifically, Mailvio is our own Email automation platform that you can try out here. 
Of course, I couldn't cover all the options that are available out there. So if you use an ESP that's not on this list I'm sure our readers would be happy to hear about it.
Let us know what ESPs you use and what you think about them in the comments section below.
Looking forward to hearing from you.
Steven is the co-founder of Mailvio and oversees the operations and technical strategy and implementations. Steven has been an online entrepreneur since he was 14 years old and has been running SaaS companies for the last 10 years.