In this article, we will outline how to advertise in Facebook with the intent of getting your brand going viral. Using our guide to Facebook ads.
You can create effective, scalable campaigns for your business through online advertising platforms like Facebook.
Whether you're starting a business or growing one, Facebook advertising is a cost-effective profit generator.
The use of social media advertising can be a great way for small businesses and online sellers to increase brand awareness. Announce a new product or service, sell more stuff, and most importantly, generate more revenue by targeting a targeted audience.
Although it may appear that the decision to advertise on social media is a simple one. Choosing how and where to advertise can be rather more complex.
Quite often, marketers end up casting a wide net of ads out into a large set of potential customers. And hoping for the best for them.
It has been proven that this method, while sometimes effective, isn't very efficient-especially if you have a limited advertising budget, to begin with.
On the other hand, Facebook advertising allows you to target highly specific audiences and utilize a variety of powerful tools. To contact them in a targeted manner.
Were you aware that, 39% of Facebook users follow business pages because they would like to receive promo codes and special offers.
You can achieve even better results by combining Facebook and email marketing. Check out these tips on how to advertise in facebook to increase your sales today.
How To Advertise In Facebook?
Target Audiences With Similar Interests
One of the main attractions of Facebook advertisements is their ability to target their ads to specific users.
Facebook ads can be targeted very broadly or very narrowly depending on the audience you are looking for. For instance, if you want to target women between the ages of 20-40 in Miami who enjoy tennis matches and high school movies.
Facebook enables you to do so. It makes Facebook an exceptionally efficient advertising platform.
This program creates lookalike audiences, one of its most valuable features. Lookalike audiences are groups of Facebook profiles that are similar to an existing audience. Facebook advertising and email marketing go hand in hand here.
If you upload a list of 5,000 email addresses to Facebook. It will automatically match the names to as many Facebook profiles as possible. Let's say it finds 3,500 exact matches.
We call this a custom audience. When it analyzes these 3,500 profiles, it looks for commonalities. As a result, you will build a new audience of matched profile customers who are not on your email list. Such customers are referred to as lookalikes.
Once you have created your lookalike audience, you will be able to target advertisements for everyone in it. You should have a good chance of attracting new customers with lookalike audiences.
It's likely they don't know you, but they share interests with people who know and like you. You can use your messaging to encourage them to become customers.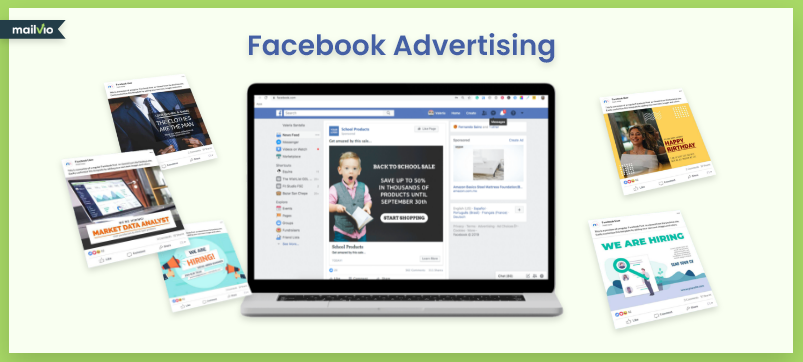 Discover Does Who Have Fallen Through The Cracks
In today's market, small to medium-sized businesses, as well as large corporations, need to build a long-term email list in order to prosper.
People who consent to be marketed to by email are willing to buy from you when they provide their email addresses.
Your emails can then include new product announcements, promotions, birthday offers, or news about new products. The cost and efficiency of emailing your list are remarkable.
You will not always receive an answer to every email that you send. Maybe you caught them at a busy time, or maybe they were on vacation.
According to the research, the average open rate for marketing emails stands at 20%. In other words, 80% of your emails will not be opened.
Are you looking for a way to reach that all-important 80%? Let Facebook advertising take care of that!
Generate the email addresses of people who did not read your email using your email marketing software (Mailvio). Upload those contacts to Facebook as custom audiences.
If you enter those email addresses into Facebook, Facebook will automatically match them with a Facebook profile.
Once you have their attention, you can begin communicating with them via Facebook, enhancing your brand awareness and driving engagement. This, in turn, will lead to more sales for your business.
Advertisers' Messages
Facebook Messenger sits between email and Facebook. Although on mobile, it lives in a separate app. The main advantage of Facebook Messenger is that your friends can send you private messages within the Facebook network.
For the first time in 2017, Facebook made Messenger available to brands. Companies can use this medium to reach out to their customers in a more personalized way, called Sponsored Messages.
Brands can send relevant promotional messages directly to Facebook profiles with whom they have already communicated. While you can't use it to reach out to new names. It can be a powerful tool for those with whom you already have a relationship.
Through Facebook Messenger, you can start a conversation with your prospective customers. In a truly personalized way, you can identify their pain points and position your product as the answer. This strategy has proven successful time and time again.
Link Facebook With Landing Pages
Utilizing a landing page for Facebook ads can assist you in building your mailing list. Landing page software, such as Funnelvio, can help you create a quick and easy landing page that will convert.
You should offer valuable content for your landing pages, such as e-books or guides. In order to receive the e-book or guide, the individual will need to send their email address to you. Which will automatically add them to your mailing list.
In this scenario, the customer will get something of value, and you'll get their email address. Which you can use to send valuable information to and then eventually market to.
Focus the landing page solely on the call-to-action so that the customer isn't distracted by links that lead off the page.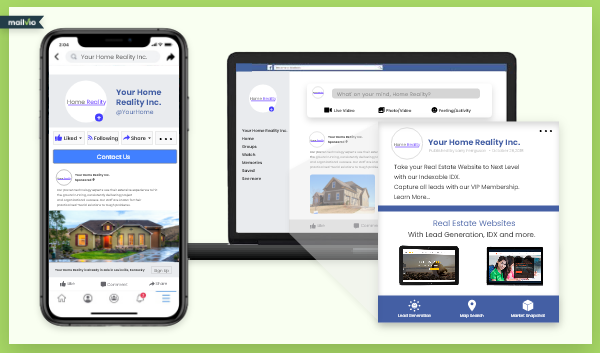 Using Facebook Ads Has Many Benefits
There's no doubt that Facebook ads are expensive in terms of time and money. So you want to be sure this is a tactic that makes sense for you. Advertisers can make some strong money by investing in Facebook advertising.
It's Where Your Audience Hangs Out
Despite the recent scandals that have brought Facebook into the news, people still use it in droves. Over 2 billion people use the platform on a regular basis, and many of them are on it every single day.
According to statistics, in the United States, most people spend an average of 40 minutes a day online.
In fact, Facebook has become such an integral part of our everyday lives at this point. Regardless of who your target audience actually is, you can trust that they are on Facebook. Understanding how to advertise in Facebook will aid any organization.
Reach People In Your Target Audience Instantly
The powerful targeting options available to you through Facebook can be greatly enhanced by paying for Facebook exposure.
If you use Facebook advertising, you won't have to worry about your ad showing up to all of Facebook's billions of users.
You can choose who you want to see it displayed to based on factors such as demographic categories, interests, and behaviors.
It's easiest to reach the right audience by building an audience of Facebook users. That lookalike your customers and subscribers based on your contact list.
You can gain insights from every segment of your contact list, even from those who have unsubscribed.
Using your subscriber activity and e-commerce data, you can now generate powerful segments that help you show relevant ads to the right people.
Accessibility At The Appropriate Time.
Marketing at its best means reaching the right person with the right message at the right time. Using Facebook's targeting options, you can set the timing for when you are able to reach individuals.
For example, if you are selling items that make great gifts. You might be able to target your ads to people who are about to celebrate an anniversary.
By offering travel tips on your business blog, you can target people who are currently planning a vacation.
In spite of the fact that the goal of an email list is to maintain a relationship with prospective customers over time. You can still increase sign-ups by making sure your promotion appears at a time when people will find you most useful.
A Form Of Remarketing
There are many individuals who will interact with your brand more than once. Before they decide if they want to subscribe to your email list.
In the event that someone visits your site and does not see any mention of you again. They are likely to forget about you altogether.
However, remarketing allows you to present ads to people who have already interacted with your brand in some way. So you increase the chance that they'll sign up for your email list before they forget about you?

Ad Types On Facebook
Facebook reports that carousel ads can drive a 40-60 percent lower cost per conversion.
A 30-40 percent lower cost per click than single-image ads. There are, however, some small differences in the use cases for the two options.
In order to please the viewer. It's best to use a carousel ad when you want to tell a story or feature multiple items from a collection. If you want to drive sales of a specific product or draw attention to a specific product, one-image ads are the perfect option.
Ensure that your images reflect your message and your brand in a compelling way. The imagery of your ad should be consistent with your other campaign channels and should complement the text elements of the ad. Make sure you choose images that help others visualize your business, your staff, the setting, and the benefits of the products offered.
Keep in mind the context of the News Feed before making any decisions.
You should use high-resolution images. A beautiful, high-quality image—taken from your phone, for instance—will draw the attention of your audience as they scroll through their Facebook feeds. Images with dimensions around 1200*628 will perform well in single-image ads. Use square images with a 1080*1080 resolution when creating carousel ads.
Don't put too much text in your document. Images with little to no text in Facebook ads tend to cost less and perform better than those with text.
Avoiding Ad Rejections
You'll still need to adhere to Facebook's policies, requirements, and restrictions in order to have your ad approved. It's important to make sure that all the necessary bases are covered before you submit your ad.
Facebook reviews all ads before they are published to make sure they meet their advertising standards.
They will review the images, text, targeting, positioning, and even the content on the page you linked to in your ad. Aside from Facebook's content restrictions, there are several requirements that are more closely related to your ad's design.
Ads that contain 20 percent or more text will be rejected by Facebook. That includes logos, slogans, and images with text overlays. Use Facebook's grid tool to check your text-to-image ratio before uploading to Mailvio.
Don't forget to keep your ad relevant. Each of the components of your advertisement (text, images, and links). Must be relevant to the product or service being advertised as well as to the audience viewing the advertisement. You should clearly represent your brand and the thing you are promoting.
Use fewer exclamation points and avoid all caps. If you use all capital letters, too many exclamation points, or any spammy language in your ad, Facebook may reject it.
Know Your Return On Investment
You can run reports, look at sales reports, track sales from your ads or emails at any time, even after the ad has ended.
You will always know which elements of your marketing are resonating with your audience. Because you can view your ad's performance, as well as ROI data.
As a Facebook advertiser, you will receive detailed reports which will help you determine what works well and what doesn't. So you can improve future campaigns.
You can quickly identify and measure the ROI of your advertising campaigns based on revenue, products sold, and new customers.
ROI isn't just about immediate sales; it's also about acquiring and retaining customers.
Using ROI
When your ad isn't performing as you would like, consider trying new images, messages, or calls to action to see how your audience responds. Run multiple ads testing different headlines, creative elements, or even different target audiences to see which combination gets the best results.
You can use your Mailvio emails to inform your Facebook ad campaigns. Performing an A/B test in your email can help you determine which headline to use. For your Facebook ad campaign based on the subject lines of the emails.
As a result of the performance of your ad, you can also learn a lot about the purchasing behavior of your customers. Use product content blocks to advertise similar items in your emails as well. If a certain type of item performs particularly well in Facebook ads.
Until you get started, you won't know what will work. Take time to look at your Facebook and email analytics to learn what's working and what isn't. Make sure you test out different images, copies, and CTAs to see what your audience responds to the best.
In the process, you will gain a deeper understanding of your target audience what they respond to and what they care about most.
Getting to know your customer's needs will help you to run better advertising campaigns. Improve your email marketing campaigns, and provide better service to your customers.
Conclusion
Combining Facebook advertising with effective email marketing. Will give your business a boost in sales and will have a significant impact on your bottom line.
We at Mailvio comprehend the importance of getting the most out of email marketing, Facebook advertising, and of course, the two combined.
We bring a problem-solving approach, flexibility, and a sense of affordability to what we do. It's the best platform to combine the two.
In that sense, we are the ideal partner to handle your marketing, no matter whether you have a small or medium business.
Facebook has the unique advantage of being able to target real people through its ads. Unlike most other ad platforms that typically impose limitations on show-times.
Facebook allows you to show your ad anywhere, and you are not limited to a specific browser or device. This enables you to track and target your audience no matter where they are.
People have become more accustomed to Facebook as a part of their daily routine. They have logged in on multiple devices, including their phone, computer, and even wearables. That's how to advertise in Facebook.