What are ads? What are the different kinds of ads? I'm sure many of you have a general idea of what are ads.
Advertising is always present in people's lives, even if they may not be aware of it. Advertisers use every media available to them so they can spread their messages. Among these are TV, print media, newspapers, magazines, journals, etc.
There are a lot of ways you can also convey your messages. Can be through radio, direct marketing, the internet, billboards, and posters. You can also see advertisements in contests, clothing, events, colors, sounds, and images.
Companies hire Ad agencies when they need to advertise themselves and their products. The company gives the agency instructions on how they want the ads to look.
The discussion includes the advertising imagery, the ideals. As well as the values behind it, the target segments, etc.
Base on the user's ideas and concepts, agencies create visuals, text, layouts, and themes. After the client approves the advertisement, it is then broadcasted.
The media buying units within the agencies make the bookings.
There are advertisements everywhere. They pop up as you browse the web, open applications, or search for something on Google. As you browse the internet or use social media, advertising shows up.
Advertisements convince, encourage and remind us to buy products and services. What are the different types of online advertising? Let's explore.
What Are Ads?
A brand's ads are a form of communication that promotes the product or service.
An advertisement's goal is to capture the audience's attention. After capturing their attention, the next step is to engage them and generate sales.
Advertisements come in many formats it can be
Advertising is a sure way of reaching your audience. Your ad will immediately affect business if you use the right channel and create an engaging ad.
Benefits of Advertising
As we explore further what are ads, let's also talk about its benefits. It is likely that you are aware of what are ads. You may be contemplating whether to create one for your brand.
It can be expensive to use one depending on what type of advertisement you intend to use. Here's how advertising can generate sales.
Increasing sales
Introducing new products to current and potential customers will help increase sales. Additionally, you can advertise special offers and improvements.
You can also use advertising to establish your company's unique brand. It also reminds current customers about your company.
Establishing a brand
Advertising helps you promote your brand. By promoting your brand, you are making your products visible to a large audience.
Establishing a brand or making people aware of your brand is crucial when you're a start-up. Adverts play a role in spreading the word about the brand and building its equity.
Influence people's perspective about the product
Sometimes advertising can change customers' attitudes towards a brand or service. It is thus crucial to create an effective and influential advertisement.
A good advertisement can influence people's opinion of your product. It can also make them consider purchasing your product.
Engage and expand your market
Advertising aims to build relationships with its target audience. A compelling advertisement often attracts customers. This may lead to them becoming curious and engaging with it.
Besides, you can expand your clientele. Because ads have a broader reach, they can reach and attract a wider audience. This will increase your brand's visibility and make it easier for you to sell more products.
Online Advertising: What Is It?
Online advertising involves delivering marketing messages via electronic means to potential customers. The term "digital marketing" also refers to internet marketing.
Ads can appear on web browsers, search engines, social networks, and mobile phones. This format is a smart way for advertisers to reach consumers for several reasons:
Compared to traditional advertising, it is less costly
With digital marketing you are able to reach a wider audience
The ads are easier to track and measure.
You can customize it better.
Across all media, global advertising expenditures have increased since 2010. Half of the advertisers choose the Internet as their top marketing channel in 2020.
In 2024, experts predict that online advertising will reach $700 billion.
Different Types of Ads
As the world becomes more digital, advertisements are becoming more complex. The following are some types of ads that you can run to reach more people.
Mobile Advertisement
A mobile advertisement is an advertisement that appears on a smartphone or tablet. They are available on social networks, websites, and apps. Ad networks usually provide mobile advertisements.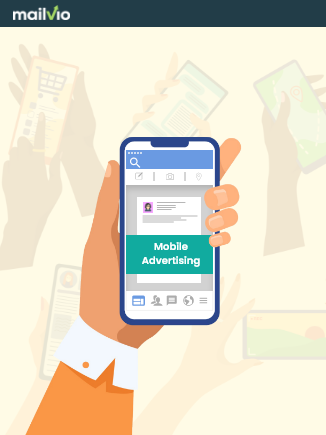 Text messaging or banner ads on mobile websites are examples of this type of advertising. Through mobile ads, you are more likely to reach new and existing customers.
Google search ads
A user conducting a Google search will see ads associated with their query on the results page. Ads in this category work under the pay-per-click model.
There are approximately 65,000 searches conducted on Google every second. The majority of the search results pages contain Google Ads.
Companies pay for these ads. Advertisers pay each time a unique user clicks on an advertisement.
Google Ads make it easy for people to find your products or services. Google can drive qualified traffic to your website.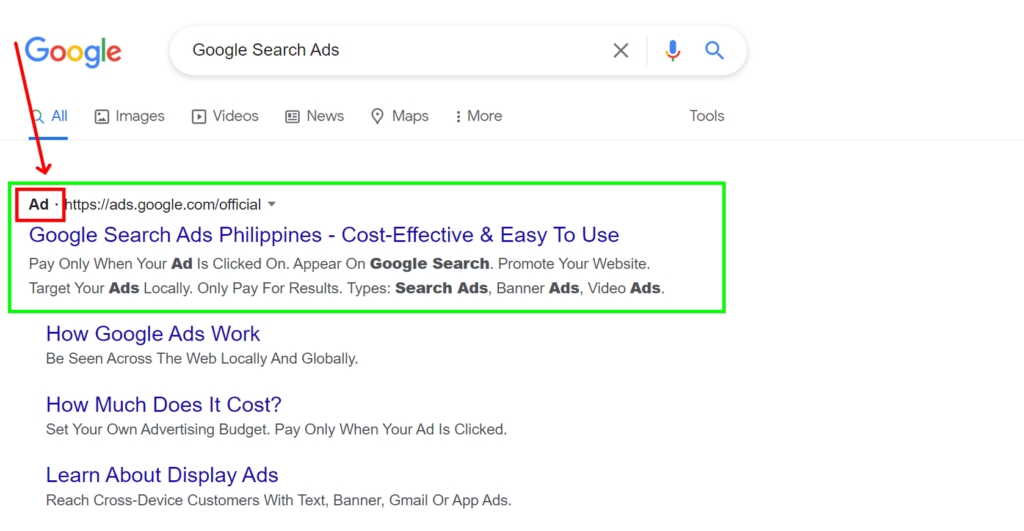 Creating a Google Ads account is the first step in getting started with Google search ads.
Pay-Per-Click ads (PPC)
Pay-per-click refers to advertising whose cost depends on how many clicks they receive. Pay per click advertisements involves an advertiser paying a fee for each click on their ads.
You can think of it as a way to buy visitors instead of spending time and energy earning them the natural way.
The most popular form of PPC is search engine advertising. Advertisers can place ads in search engines' sponsored links by bidding on them.
Your products will pop up during searches for keywords related to your business. Example, you bid for the keyword "autoresponder software", your ad will appear at the top of the result page.
In-game mobile advertising
The term "in-game advertising" describes a strategy for monetizing mobile games. It involves selling ad space within the game itself. Ad formats range from text ads to banner ads to video ads.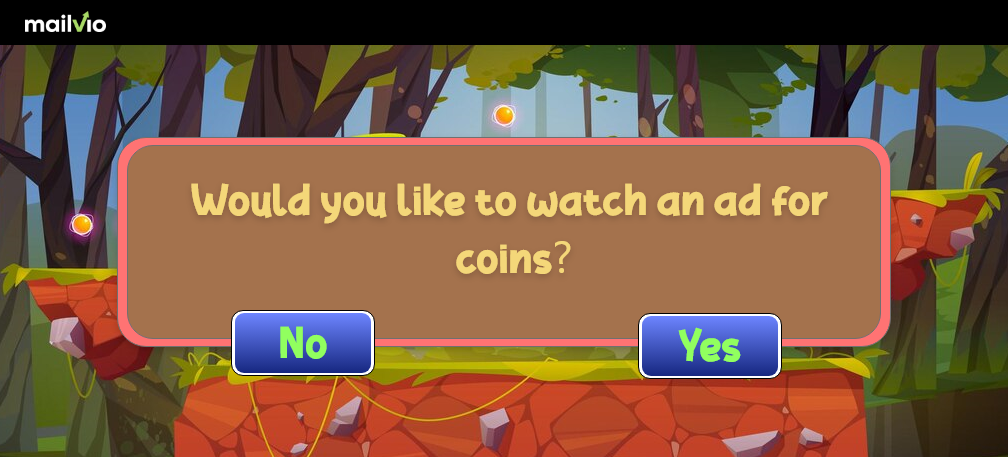 By watching video advertisements, users can earn reward points. They can redeem these points in the game.
Ads can also appear at the bottom of the screen, like traditional banners. In some video sports games, you can see promotional billboards.
Other forms of in-game advertising appear in the form of cars, clothing, or other perks.
Google Ad word
Search ads on Google are like Google Ads. The reason for this is that they're built using the Google AdWords platform.
AdWords and Google Ads both operate under the PPC model. Keyword targets and bids are set using Google Ads.
Other companies are also bidding for the same keywords. Advertisers make their bids based on the largest amount they will pay for their ads. In such a case, the advertiser gets the ad placement if the greatest bid exceeds the cost per click.
Retargeting ads
Using retargeting ads, you can show targeted ads to website visitors. Visitors who haven't executed conversions. Conversions such as completing a contact form, downloading a file, etc.
In retargeting, the history and interests of the viewer are also taken into account. For instance, one visitor came to the website looking for shoes, but did not make an order.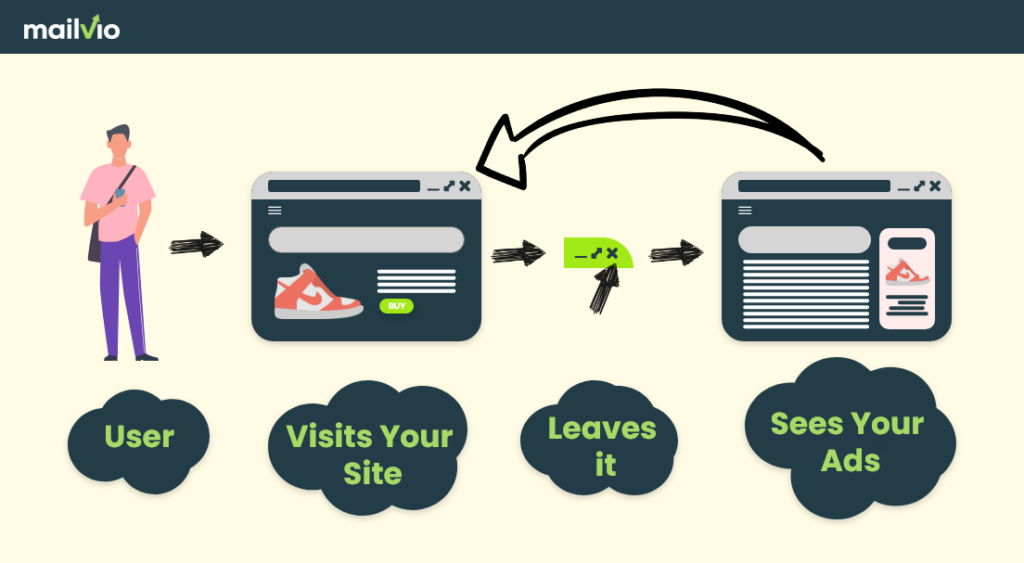 As they browse a new website, they will see an advertisement for the shoes they wanted. The goal is to nudge them into buying the product.
Using them is like turning casual window shoppers into paying customers online.
Banner ads
A banner ad is a visual advertisement that uses pictures or texts. This can either be an animated or static banner ad. They are available in a variety of sizes, formats, and functions.
Advertisement banners are rectangular displays of graphics. An online property or website may have this at the top, bottom, or on the sides of their page.
There are two types of banners. Leaderboards are horizontal banner advertisements. A skyscraper is a vertical banner positioned on the sidebar of a web page.
In contrast to text-based advertisement, banners use images to advertise online.
Video advertisements
Due to the ease of watching videos on the Internet, video ads are becoming more popular. Informational video ads are more effective than ads that are hard-sells.
The most popular formats are humor, education, and tutorials. Advertisement videos are videos that appear before, during, or after videos.
Email ads
By using webmail, you can receive email ads. Email strategies often include them as part of the email.
To increase conversions, email ads need to be both bold and appealing.
Using email newsletters to distribute promotional content is also known as email advertising. It's not the same as email marketing.
Email marketing is a tool for creating and distributing email content. With the purpose of informing, educating, nurturing or entertaining readers.
Email marketing's effectiveness depends on what recipients expect from you. A permission-based or opt-in system lets you achieve this goal.
Often, email marketing is as simple as sending out an email newsletter. Email advertising includes ads inserted into email newsletters. You can use either direct or programmatic channels.
Email marketing continues to be one of the most profitable marketing methods. This is despite the explosion in social media, SEO, and mobile marketing. The strategy is fast and affordable.
Segmenting your emails will help you reach out to targeted audiences. They are permission-based. The ROI is higher and there are other various benefits as well.
Due to the various software available on the market, email marketing has never been so easier. These products are helping to simplify your life and improve your productivity.
Through the email marketing software Mailvio, email marketing becomes more effective and efficient.
This platform offers automation tools. As well as a wide range of services. This includes email segmentation, unlimited email sending, and detailed analytics.
There's no doubt that this software will increase the delivery of your emails. Hence, there will be a greater return on investment.
Social media advertising
It is impossible to stop social media networks from growing. Facebook is the largest social network as of 2021. With almost 3 billion active users.
You can get the word out about your business by sharing posts on Facebook and other social media sites. Many of these sites also offer advertising tools.
With more than one billion active users each, Instagram and TikTok are catching up fast. Social media is a way to stay in touch with friends, read news, conduct business, and shop.
Due to its large user base, social media advertising is attractive to businesses. Social media advertising offers many benefits to businesses.
As far as social media platforms go, Facebook, Instagram, TikTok and YouTube take the lead. With their wide reach, almost any type of business can reach its target audience.
Traditional versus online advertising
Marketing through digital channels differs from traditional advertising. This is because marketers use a variety of mediums to reach audiences.
A traditional marketing campaign makes use of TV, newspaper, Radio, and paper. Online marketing involves the use of the Internet
Despite the digital revolution, traditional marketing is still important. Digital advertisement cannot replace them entirely.
Glossy magazines and television commercials have a unique feel that's difficult to duplicate.
Digital marketing offers the advantage of reaching users from many sources. By using digital marketing, marketers can reach users on their computers most of the time.
The importance of advertising
Both businesses and customers benefit from advertisements.
For The customers
Advertisements raise awareness. Advertising lets customers know what products are available on the market. In this way, they can pick the best product to meet their needs or solve their problems.
They make decision-making easy. The brand message and the offerings are often communicated throughout the advertising process.
As a result, customers are able to identify what best fits their budget and requirements. Making the decision-making process easier.
For The businesses
They generate sales. Advertising drives brand awareness. By increasing the entry of people into the brand's sales funnel, more sales occur.
Advertising can help differentiate the product to make them stand out. Advertisements aim to differentiate the brand and the product from the competition. As a result, the product becomes more distinguishable.
Another purpose of advertising is to raise awareness. Through advertising, brands are becoming more visible to potential customers. They become aware of the businesses' offer by seeing the advertisement.
It is possible to build a positive image of a brand through advertising. Using smart advertising, brands develop positive images that align with their identities. The results of this help businesses achieve marketing objectives faster.
Conclusion
There are a variety of objectives for advertising. The type of advertisement you use depends on your business or marketing campaign.
Regardless of what are ads or advertisement, you're going to use, they have the same objectives. The purpose is to inform the public about your brand.
The goal here is to encourage your audience to buy your products.
It's almost always necessary to advertise when starting a business. Many of these services are expensive and may not be within the budget of a small start-up business.
It is not necessary to use all types of advertising. A key element of promoting your business is choosing the right advertisement. The type of advertisement you use may depend on the type of business that you have.
It is as important to have a marketing plan for your business as it is to advertise your brand.
As with any venture, it is a good idea to always have a plan B, plan C and so on. One should always prepare for any unforeseen circumstances.