Are you interested in becoming an affiliate marketer? If so, you may want to learn how to start a affiliate marketing business.
Affiliate marketing is a good choice if you wish to gain control over your income. There are many options for earning revenue through this method.
Working alongside sellers can generate passive income for motivated affiliate marketers. And they don't even need to be concerned about producing their own products or services.
A successful job is dependent on the affiliate's marketing skills. A career in this field can allow you to reach your financial goals. It doesn't matter if it's your primary or secondary job.
So without further ado let's talk about how to start a affiliate marketing and what are its benefits
What Is Affiliate Marketing?
Let's first define what affiliate marketing is before we discuss how to start a affiliate marketing. Affiliate marketing involves promoting the products or services of others. This is in exchange for a commission.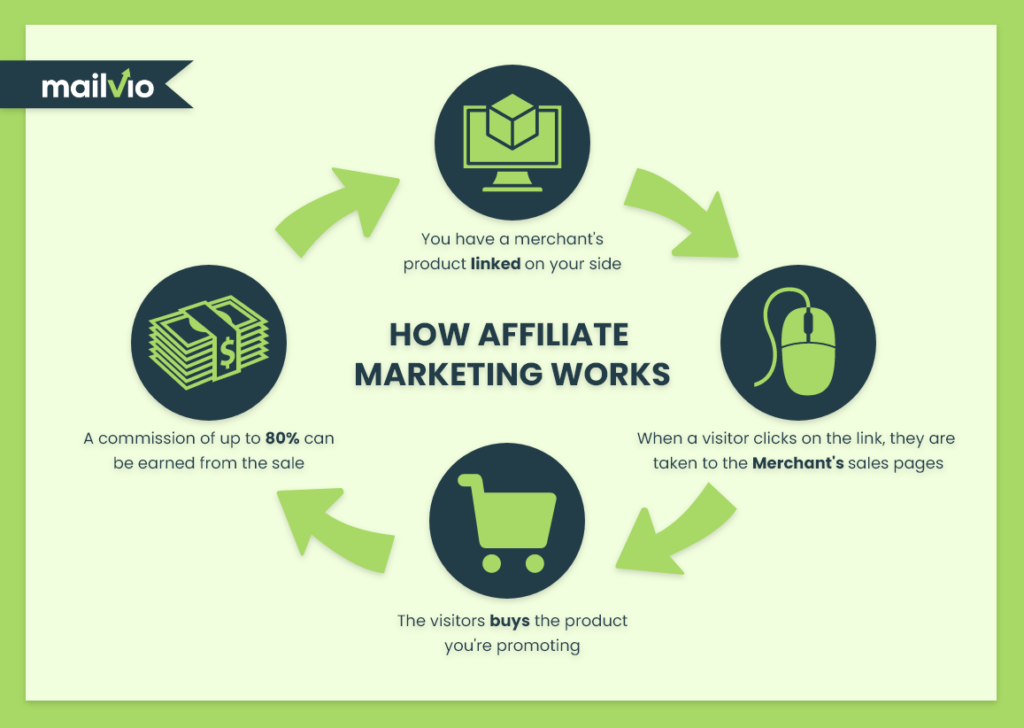 Affiliates find products they like. They then promote those products, and earn a portion of each sale. A share of sales from one site to another is tracked by affiliate links.
Affiliate marketing: How Does it Work?
Its purpose is to distribute the responsibility of product creation and marketing. It provides contributors with a share of the profits while leveraging the skills and abilities of a wide range of people.
Three parties need to be involved in order for this to work. They are the product creators and sellers. Affiliates and advertisers. Last but not least, the consumers.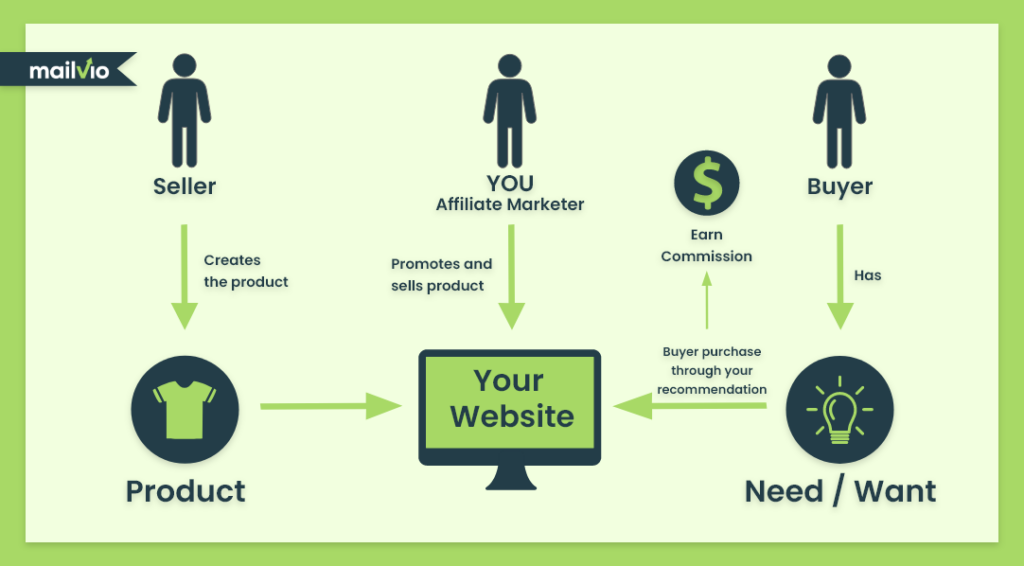 A good relationship should exist between these three parties. Only then can affiliate marketing be successful.
Product creators and sellers
Sellers can be either sole proprietors or large companies. Marketers, sellers, manufacturers, and retailers all have products to sell. It is possible to sell your product as a physical item, such as household goods, or a service, such as makeup tutorials.
There is no requirement for sellers to take part in marketing for their brand. However, affiliate marketers may also be advertisers and receive revenue from affiliate marketing.
A seller could, for instance, be an e-commerce merchant. Suppose they started a cosmetics company. As their business is just getting started, they wanted to reach a new audience.
To get their products noticed, they paid an affiliate website to promote them. Another possibility is a SaaS provider who uses affiliates to sell its marketing software.
Affiliates or publishers
Affiliates are also known as publishers and can either be individuals or companies. Essentially, they promote the seller's product to consumers in an attractive manner.
As a way of persuading consumers to buy, the affiliate describes the product as valuable or beneficial. Further, the affiliate convinces consumers to buy. Affiliates earn a commission from sales if the consumer purchases the product.
Marketers often target a very specific audience when marketing through affiliates. These marketers tend to focus on their audience's interests.
This creates a personal brand or niche. As a result, affiliates are able to attract consumers likely to make a purchase.
Buyers or consumers
Consumers and their purchases are the driving forces behind affiliate marketing, whether they are aware of it or not. Social media, blogs, and websites are used to spread these products.
A seller and an affiliate split the sales profits when consumers purchase the product.
When an affiliate receives commission for sales they make, they may choose to tell the consumer upfront. Sometimes the consumer assumes that affiliate marketing has nothing to do with their purchase.
Regardless of how the product is purchased, affiliate marketers rarely charge more. In addition to the retail price, affiliates share a portion of the profit.
Yes, affiliate marketing can influence consumers' buying decisions. Customers can still complete the purchase process and receive the products normally.
What are the ways affiliate marketers get paid?
It's important to know how to start a affiliate marketing, but it's also important to know how you can earn money.
Affiliate marketing is a simple and inexpensive way for people looking to increase their income online to earn money. They don't even have to deal with products directly. But how do affiliates earn money after they link sellers to consumers?
Answers to these questions can be complex.
Affiliates do not always need the consumer to buy the product in order to earn a commission. Contribution of an affiliate to the sale of a seller will be determined by the program.
There are several ways affiliates can get paid:
PPC or Pay per click
Affiliates are incentivized to redirect consumers from their marketing platforms to merchants' websites under this program. They need to engage consumers such that they move from their site to the merchant's site. Affiliates are paid per visit to the merchant's site.
Pay per sale
Affiliate marketing follows this standard structure. Affiliates earn a percentage of sales after the affiliate's marketing strategies lead to consumer purchases. Before the affiliate gets compensated, the investor must actually invest in the product.
Pay per lead
An affiliate program that pays based on lead conversions is a pay-per-lead affiliate program. Increasing consumer visitation to the merchant's website and completing the desired action is the affiliate's responsibility.
Among these actions are:
The act of downloading software
Signing up for a product trial
Completing a contact form
Signing up for a newsletter
What are the benefits of being an affiliate marketer?
One of the perks of knowing how to start a affiliate marketing is that it has many benefits.
You now understand the basics of affiliate marketing and know how it works. What are some reasons you might want to consider becoming an affiliate?
Earn passive income
In some "regular" jobs, earning money is contingent upon being at work. But affiliate marketing provides a means to earn income while you sleep. To do this, you must invest a significant amount of time in your campaign.
During the following weeks and days, you will see continuous consumers purchasing the product. This will result in you receiving money after you have finished the project. You will earn money using your marketing skills even when you are not in front of your computer.
Use SEO to your advantage
When you do SEO properly, you can receive a lot of organic traffic from search engines.
The purpose of SEO is to make your website more appealing to visitors. Search engines provide information that people naturally seek. That's why it's important to know the basic concepts of on-page SEO. You should also perform keyword research as well as link building so that you become the first source of information they find. There's no doubt you'd want to rank #1 for any search related to you.
Work Remotely
For people who hate going to work, affiliate marketing is the perfect solution. It will be possible for you to create campaigns and to profit from the products created by sellers. And all of this will be possible while working at your own home.
Provides convenience and flexibility
As a freelancer, you have complete freedom to accomplish your own goals. When necessary, you can redirect your path. Your choice of products, as well as your working hours, are entirely at your discretion.
This enables you to diversify your portfolio with ease. You can choose whether to focus solely on straightforward and simple campaigns or a combination of both. You won't have to worry about underperforming teams or company restrictions.
Effective and cost-efficient
For businesses to finance their products, startup fees and cash flow are essential. A low cost affiliate marketing program makes it possible to start quickly and without too much effort.
A product doesn't need to be created, and you don't have to worry about affiliate fees. Launching this type of business is very easy.
No need for customer support
Whether you are a seller or a service provider, you have to deal with your customers. You need to make sure you are satisfied with your product.
Affiliate marketing eliminates any customer support and satisfaction concerns. As an affiliate marketer, your sole role is to link sellers and consumers. Upon receiving your commission, the seller handles any customer complaints.
Rewards based on performance
While working other jobs, you can still earn the same salary if you work 80 hours a week. Performance is the only factor that determines your affiliate marketing salary. If you work hard, you'll reap the rewards.
You will see an immediate improvement in your revenue by learning to review and write engaging campaigns. The hard work you put into your campaigns will finally be rewarded!
How to start a affiliate marketing
You now know affiliate marketing. You also have an insight to why being an affiliate marketer is a good venture. Now let's discuss how to start a affiliate marketing.
Getting started as an affiliate marketer can be challenging if you don't know where to begin.
It's important to find high-commission affiliate programs, merchant partners, and affiliate marketing jobs. Prior to reaching out to a merchant, it's imperative to find a partnership that pays well and is consistent.
The following checklist can help you find the right niche and build your online audience. Having a solid foundation before you begin as an affiliate can be very important.
Decide on a niche
It is the goal of every affiliate marketer to influence a specific market. When you try to cater to too many niches, you risk overextending. If you do this, your efforts are likely to be ineffective.
It's essential to discover who you are going to target before you do anything else. Even so, finding your target market isn't easy.
It is crucial to choose your niche before beginning your affiliate marketing campaign. Niche selection is key to selling, as the wrong niche will make it more difficult.
The first step to starting affiliate marketing is to find your niche. A wrong niche will hinder your sales, and a right niche will facilitate them.
Some people may already know what their niche is. Other people may still have trouble identifying their niche. So how do you decide which niche is most appropriate for you?
You can start by taking a self-assessment. An affiliate marketer should be a dependable advocate for a brand. Be sure that you are working within the correct parameters.
Ask questions such as:
What is the competition like in my niche?
Is there anything I am passionate about?
How long will my niche remain in demand?
Does my niche attract people?
The following questions will help you determine whether you will be promoting the product consistently. The questions you answer here will make or break your affiliate marketing strategy, no matter what type you choose.
While selling affiliate products can be fun, it isn't always the case. Likewise, one shouldn't make affiliate marketing their sole focus due to passion alone. Affiliate marketing is also about profit.
Assess the market's demand
A market demand evaluation is also vital to choosing an affiliate niche. By doing so, you can determine which items consumers want to buy.
By understanding this, you can develop products that convert shoppers, thus generating commissions.
For an initial assessment of a product's demand, Google Trends is usually the best place to go.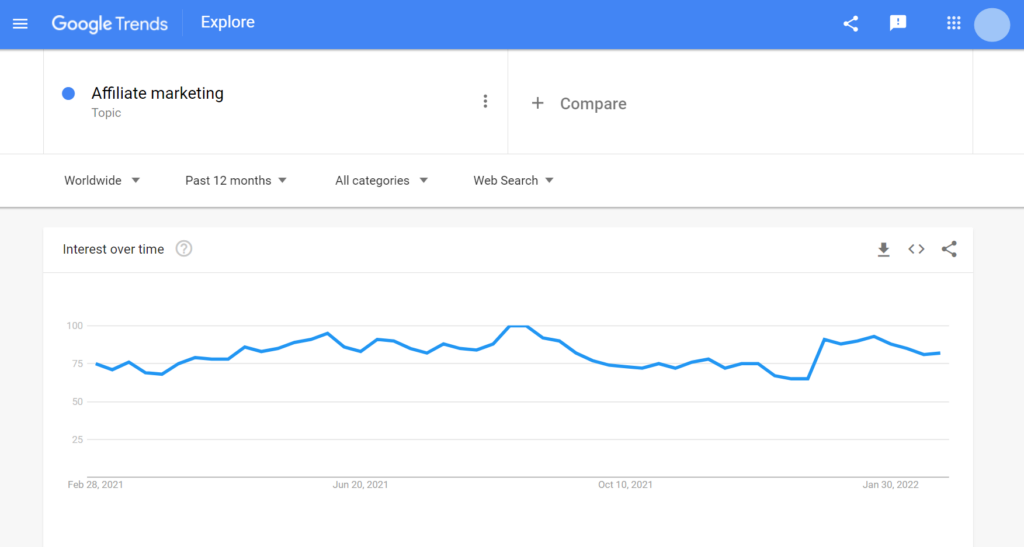 Based on a 0-100 scale, you can see how often a particular topic is searched for by Google users. Also, it offers you some suggested topics, as well as a regional breakdown.
If you are considering a niche, plug it in and see if there is a constant demand. You should use this method of testing affiliate products when deciding on which ones to sell. During the holidays, affiliate marketing items tend to spike, but are generally consistent.
Look for Affiliate Programs
Choosing a niche is the first step to selecting which program will help you promote products in that niche. The next step in learning how to start a affiliate marketing is taking a deeper look at it.
An affiliate program acts as a channel between a merchant and an affiliate. Due to the difficulty of finding merchants and affiliates, these sites serve as a link to start the relationship.
Prior to implementing any particular program, consider asking these questions to yourself.
What kinds of support will you receive from the program?
Which program will generate the most commission for you?
Are there any merchants that use the affiliate program you're considering?
These are just a few questions you can ask yourself. A successful affiliate marketing campaign depends on this step.
The program acts as the bridge to help you find profitable partnerships. So don't miss this opportunity.
Select the Affiliate Marketing Method That Is Right For You
Affiliate marketers commonly use two methods:
Creating websites such as blogs or marketplaces.
Although these are a few options to do affiliate marketing, they're the best.
Some affiliates argue that websites aren't necessary for them. When you're learning how to start a affiliate marketing, creating an affiliate account is almost a must.
A website can be an effective marketing tool for affiliate programs.
Having your own affiliate site is also a perfect resume builder. Especially if you are planning on searching for affiliate marketing jobs in the future.
There's going to be lots of opinions when looking for ways to build a website. You'll want to find a hosting company with a high level of reliability and a great overall experience.
A software you can use is Kyvio. Kyvio is an online marketing software solution designed to simplify online business management. Everything you need is under one roof, including web hosting, page builder, and affiliate programs.
Kyvio has 5 programs or services you can use. These are their Smart Funnels, Smart Memberships, Smart Mailer. Aside from that they also have Smart Affiliates (built-in affiliate program) and Smart Academy.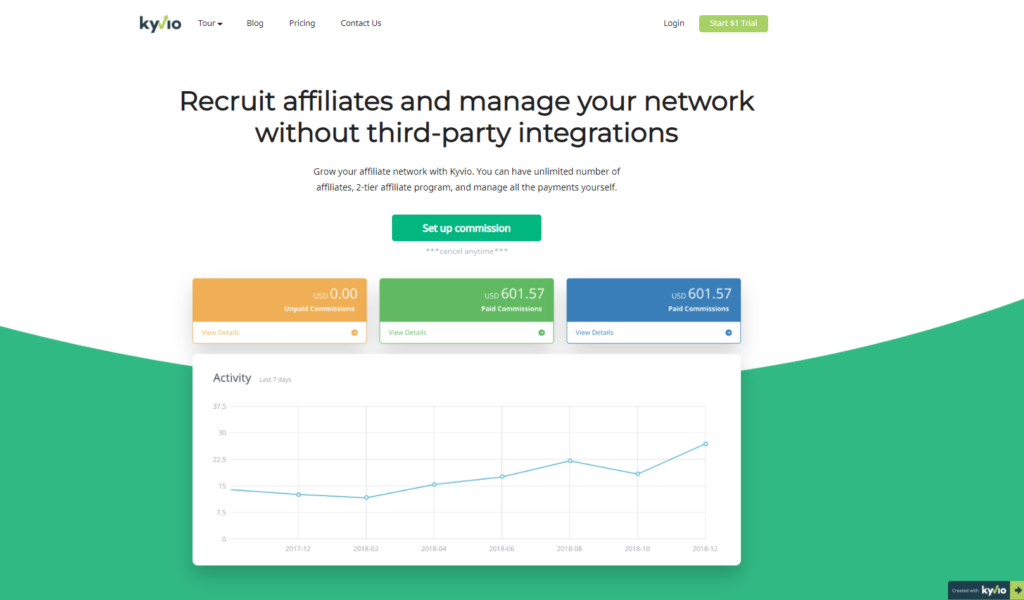 Yup, Kyvio includes an affiliate program system where users can recruit people to assist them in marketing their products. Kyvio Smart Affiliates offers services such as.
Promotional tools
Affiliate link tracker
2-tier affiliate system
Your best bet if you're planning to start a blog is to select a template theme that makes your blog easier to use. Choose a theme that suits your style from thousands of options available.
After picking a theme and hosting your site, all you have to do is customize it. Make sure your site clearly explains what your audience can expect.
Now all you have to do is create your content and share it.
Examine your competition
It's then time to look into whether or not your chosen niche is highly competitive. This can be done in a couple of different ways.
Using a keyword research tool such as Ubersuggest is a simple way to begin. Such tools help you determine what particular Google searches are competitive.
In Ubersuggest, there is an indicator ranging from 0 to 1. 1 means that there is a high competition.
You can now determine who your competitors are with just a few clicks. A variety of queries related to your niche can also be seen along with their competitiveness.
Publish content of the highest quality
It can be said that the Internet is in many ways simply a collection of content. When people know that you don't contribute to the community, they have no reason to reach out to you.
You have a lot of options when it comes to creating content. Now that there are so many options, where do you begin? The choices you make here will depend to some extent on your interests.
Affiliate Marketing Channel Types
To engage and entice online buyers, affiliates follow common practices. Yet not all affiliate marketers advertise their products the same way. Affiliate marketers may use a variety of marketing channels.
Email Marketing
Despite email marketing's age, affiliate email marketing offers lucrative opportunities. To promote a seller's products, affiliates may use email lists that they have.
They may also include hyperlinks in emails they send. Once the consumer buys the product, they earn a commission.
It is also possible for affiliates to build an email list over time. Affiliates can collect bulk email addresses through various campaigns. For example, lead magnets or opt-in forms.
These are then used to send email messages that promote the product.
An email marketing campaign can be used for almost anything. The effectiveness of email marketing surpasses that of all other marketing methods online. Every marketing plan should include a marketing email campaign.
Email marketing offers the best return on investment. This will help you reach your marketing objectives and communicate with your customers.
Using an autoresponder will help you increase the effectiveness of your email marketing. Autoresponders automate email responses.
In the market, Mailvio is one of the best software that has an autoresponder service. The autoresponder comes with integrated SMTP and automation workflow. With this, your Email Marketing will reach an entirely new level.
Email marketing is going to be changed forever with this software's amazing features. It offers:
Automation and Powerful workflows
Detailed analytics
A/B Split Testing
Email Segmentation
Drag and drop editor
And a lot more!
Artists and Influencers
Influencers are those who have the power to affect the purchasing decisions of large segments of society. Affiliate marketing is a great option for someone in this position.
Their large following enables them to easily refer customers to a seller's products. Posting online, blogging, or interacting with their followers are ways to accomplish this. Influencers then earn a share in the profit generated by their actions.
Instagram is a great platform for influencer marketing campaigns. Influencer marketing involves partnering with influencers, who are deemed experts in their niches.
Depending on the campaign, product reviews may be accompanied by photos. It may also take the form of live videos or account takeovers.
Various influencers have different branding and aesthetics. The key is to add parts that represent your brand. You want people to remember and recognize your brand.
Bloggers or Writers
Bloggers excel at increasing conversions for sellers. Why? Because they rank higher in search engine results.
Bloggers sample products or services. They can write an in-depth review and promote the brand convincingly. By doing so, they can drive traffic back to the seller's website.
Affiliate Marketing Tips to Help You Succeed
Affiliate marketing benefits were discussed. You also learned how to start a affiliate marketing. Now let's talk about some tips you can use to make this journey as smooth as possible.
Keep up with the latest trends
Affiliate marketing is highly competitive. Keep an eye out for any new trends to stay on top of your game. In doing so you'll be able to ensure the highest conversion rate and resulting revenue.
Give it a personal touch
You can promote a wide array of products. Depending on your personal beliefs, you can select products to promote.
Make sure you focus your marketing campaigns on products that consumers will appreciate. While establishing your personal brand, you'll achieve an impressive conversion rate.
Make use of several sources
Aside from email marketing, consider creating a blog as well. Taking advantage of social media is also a great idea.
Test different marketing strategies to determine which ones work best for your audience. Repeat this process often.
As a final note
I hope that this article gave you some insight and clarification about how to start an affiliate marketing. What it is, what are the benefits, etc.
Any endeavor can feel overwhelming when you are just starting out. Be persistent and don't give up.
Getting started is always the hardest. You will eventually reap the rewards of all the hard work and time you put into it.
Finding the right job for you is also important, so you don't feel burdened by the work. Don't be afraid to cast your net wide and try different things. Many courses, articles, and software programs are available online to help you.