Are you a fan of writing? Would you like to know how is a blog created? Or how can you start creating your own blog?
Besides these things, you should also think about how you can market your blog to a wider audience. Sounds hard, right? But don't worry, because in this article we'll explain how is a blog created.
Additionally, we'll discuss how email marketing can help promote your blogs. Why use email marketing? The most powerful way for bloggers to promote their content is by using email marketing.
Your marketing strategy can help you expand your audience and keep them returning. Blog traffic is not as important to bloggers as their email list.
Content is the foundation of your blog. You can get noticed online, build authority, and rank high in search results by blogging. 
In order for it to work, email marketing is a crucial component. Use email marketing to spice up your blog.
Sending emails to your visitors builds relationships and keeps them coming back for more. This leads to increased traffic, more sales, and more relationship-building.
But before we tackle how email marketing is vital for blogging, let's first discuss blogging and how is a blog created.
What is a Blog?
Blogs can be part of a website or be their own space. In a blog, you can share content about a topic you are interested in, whether it is an entire website or just a section.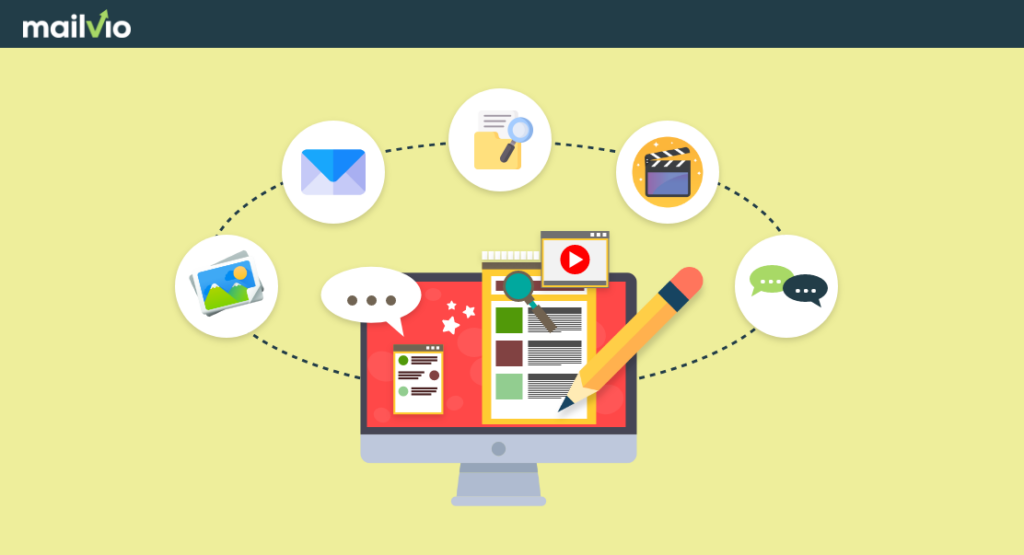 There are blogs for everything, from quick guides to baking to starting a business from home. The United States alone has over 500 million blogs. When you build an audience, the options are truly limitless.
Why Should You Start a Blog?
Blogging is a choice we make of our own volition. Our reasons for blogging vary from person to person. And these reasons lead to our curiosity as to how is a blog created.
Blogs are popular for some of the following reasons:
People Want to Share Their Ideas With Others
Some people just want their ideas to be heard. Blogs are a great tool for this, as it's a way for you to communicate and manage your own space.
Create a space that is perfect for you by using your creativity and passion. It's a place where you can share ideas, experiences, and expertise.
You Can Establish a Community Online
The Internet enables us to stay connected even from different states, cities, and countries. Starting a blog allows you to connect with people around the world who share the same interests.
Your blog's comments section allows you to interact with readers and build relationships.
Increase Your Revenue
It is possible to make money from blogging with time and dedication. Regularly posting quality content will reap the financial rewards of your labor.
Your website will receive more traffic when you post quality content regularly. You can also use this to establish yourself as an online influencer and to attract advertisers to your blog. In turn, this can lead to affiliate marketing opportunities.
Market a Product or Service
A blog can often be used as a content marketing tool by small business owners. It is an excellent tool for engaging customers through written content. By giving them more information about a product or service, they can feel more apt to buy it.
How is a Blog Created? 
Blogging seems like such a simple task when you think about it. In Fact, it is easy.
You will, however, need to have a blog hosting site as well. We will discuss all of that along the way.
Find a Passion or a Niche
The reason why you want to start a blog is closely aligned with your passion.
Keeping an eye on this will help you stay on track. It will also keep you motivated. You'll stay motivated even if the work seems impossible.
What are your hobbies? Are there any topics that inspire and allow you to write easily? In order to sustain a blog over the long run, you must find your passion.
You'll be able to find people who share your enthusiasm for the same things. As things get more difficult, it will motivate you to push a little harder to make progress.
Your mission or mantra should serve as a constant reminder of why you chose this path. Post it somewhere prominent. Look at it every day to stay motivated.
Find Your People
It doesn't matter how many shares, clicks, or traffic you have if you can't connect with people on the other side of the screen.
A successful blogger connects with their audience on a very personal level. Finding the people you are connected to can help you achieve this.
Your people are the ones who are always looking forward to the next blog post of yours.
It doesn't cost anything for them to show up. Instead, they turn up because they are passionate about the same things that you are. You want your tribe members to feel a sense of belonging and association.
It will be difficult for your blog to thrive without your people.
Create a Brand that is Unique
How will you be different from the rest? Your brand and name are more than just your URL. Branding conveys what your business stands for and what you're passionate about.
Finding a catchy and memorable slogan is key. You should also ensure your slogan is meaningful and resonates with your target audience.
To make your brand memorable, follow these tips:
With a tool such as Canva, you can create consistent and memorable images.
Design your own logo
Ensure that they are suitable for your intended audience by testing them
Buy and create your domain name
Develop a wide variety of ideas
Ensure that they are suitable for your intended audience by testing them
Look and Choose for a Website Host
Creating your blog is the next step. We're going to simplify as much of the technical information for you as possible.
Web hosts are essential to every website on the internet. Your blog posts, content, and data are all stored there for safety.
Self-hosting a website used to be costly and reserved for web developers. However, Bluehost has made it accessible and affordable for everyone.
Aside from Bluehost, there are also other blog hosting sites available in the market. 
Create an Account With Your Hosting Provider
After choosing a host for your blog, you can now start blogging. Setting up an account differs depending on the hosting service you choose.
Many options are available, including Tumblr, Squarespace, and Blogger.
The most recommended platform to use to get started is WordPress.org, as most people are using it.
The WordPress platform is used by over 455 million websites. Designed specifically for bloggers, it is a powerful blogging platform.
Log in to your Bluehost account to get started with WordPress. On the home dashboard, click the "Install WordPress" icon.
There are other further steps that you'll need to follow. You need to complete several simple steps before you can start posting on your blog.
Publish Engaging Content
As soon as your website is set up, you're ready for business. You're ready to begin blogging.
In this noisy world, the best bloggers are those who can make an impact. They are the bloggers who build an audience of loyal followers.
These are the ones who are making a living writing about what they love. One thing they all have in common is their love for writing.
What's their secret? They consistently publish high-quality content.
Content Is Key to a Successful Blog
I congratulate you! The time has come to start blogging on your blog. It's time to enjoy yourself. Start creating and sharing your content.
Here are a few things to keep in mind when creating your blog. Make it more effective by adding some of these elements.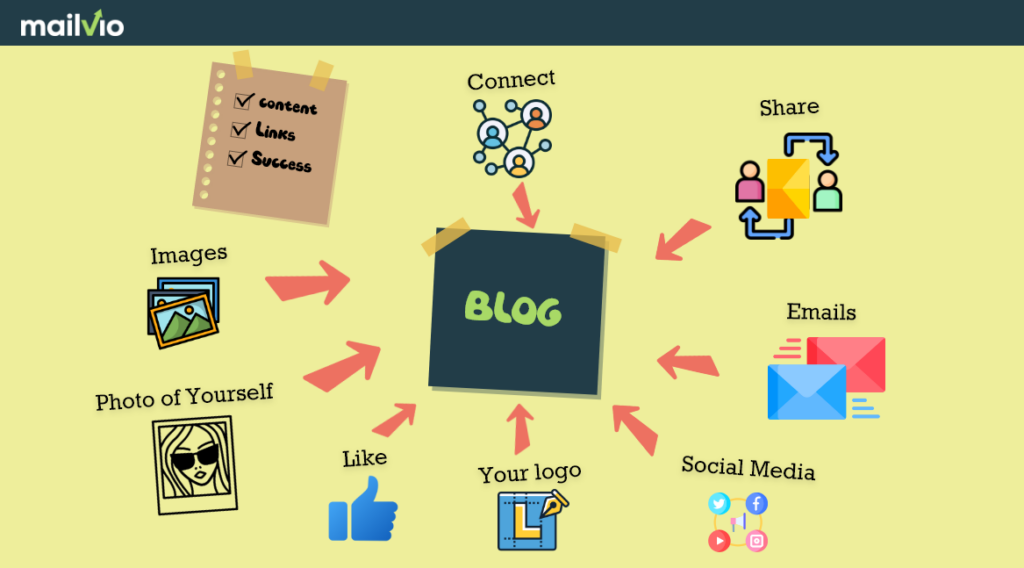 Consider adding a photo of yourself. Visitors will be better able to recognize you. In addition, you might want to include a logo.
It is not necessary to have a very complicated logo. It is sufficient to have a simple, unique, and easily recognizable logo. You can create a logo using a variety of applications.
It is also a good idea to include images in blog posts. This isn't a requirement, but it would definitely enhance the quality of your blog posts.
It's up to you whether you want to open your comment section to your blog. However, it would be better to have it opened. By doing so, you'll be able to build relationships and interact more with people. Through this, you'll be able to earn their loyalty.
Take advantage of social media to promote yourself. Let people know about your blog on different social media platforms. Several platforms exist to help you.
The process of creating a blog doesn't end with creating a website. The process continues by publishing regular blog posts. If you are just starting out, you should publish once a week at the very least. This will help you build an audience.
In addition to these things, you should also utilize email marketing in conjunction with blogging. We have now covered the process of how is a blog created. Let's move on to the promotion of your blog.
What Are the Benefits of Email Marketing for Bloggers?
You won't find this kind of information online very often. It's more important to have a solid email list than traffic to your blog if you're a blogger.
For bloggers, email subscribers are valuable. Email marketing goes hand in hand with blogging.
Content is the foundation of your blog. Blogging can help you gain online attention, build authority, and improve search engine rankings.
In order for it to work even better, email marketing is a crucial component. If you already have a blog, use email marketing as a flavoring.
Sending emails to your visitors helps you build relationships and keep them coming back for more. Your site will get more attention, traffic, and sales due to the emails you send.
If you are serious about content, you cannot ignore email marketing. We've decided to add this guide to this article about how is a blog created. With this guide, you will be able to enhance and expand the opportunities of your blog.
Pull and Push Marketing
The push marketing process involves reaching out to readers and customers in a proactive way. To accomplish this, you run pay-per-click campaigns.
Customers are pulled towards you via pull marketing tactics, i.e. you pull them towards you. Email marketing and SEO are part of this process, along with content creation.
Long-term success is built on building relationships. By using push/pull and email, you can nurture prospects and find collaboration opportunities. It is also a great way to receive feedback for your blog.
By signing up for your email list, your visitors are encouraging you to build a fruitful and profitable relationship with them.
You can have the following benefits as you build relationships:
Higher Click-Through Rate
An email campaign is 5x more likely to result in a click-through than a tweet.
More Content Views and Shares
You're three times more likely to get social shares from email subscribers than from any other source. Hence, you'll acquire paying customers more effectively. You can acquire more customers with email than with social media.
Greater Brand Awareness
This allows you to stand out among other bloggers and build your brand. The more your blog attracts attention, the more people will talk about it.
Personalized Messaging for Each Recipient
With email, you can deliver a personalized message unlike with billboards or social media posts. With targeted email messages, you can send emails to specific subscribers.
Personalized emails tend to deliver 6x higher transaction rates if you're selling something.
Easily Customizable and Measurable Marketing Channel
Measurement, customization, and scaling are easy with email marketing. You can monitor your email's performance in real-time with stats like open and click rates thanks to most email marketing software.
With this information, you can tailor and improve future messages. In addition, you won't need to worry about complex updates as your email list grows. 
The Best Way to Use Email Marketing for Your Blog
Email is the most powerful way to market your blog, now we know why. Here's how to take advantage of these benefits.
Be sure to handle your email appropriately. In this guide, we'll cover everything you need to know about email marketing.
Create a Well-Crafted Email Message
You need to keep your email messages concise when creating a well-crafted email message. It should be as concise as possible.
Organize information in a hierarchy, starting with the most important information. Don't forget that recipients have limited attention spans. In case you have a great deal to say, you can break it up into sections with their own headlines.
Use bullet points and paragraphs to make your email easy to read. This will help people absorb your message more quickly.
Subject Lines Should be Attention-Grabbing and Catchy
One of the most important things is making a good first impression. A subject line is the first thing people see when they open an email.
The subject line is the primary reason 47 percent of emails are opened. Writing catchy email subject lines will make your emails much more likely to be opened and read.
That said, you should keep your subject lines simple, short, and straight to the point. If available, make sure to include the recipients' names.
Ideally, a subject line should be no longer than 65 characters. Make headlines that are attractive but specific to the bulk of your email.
Utilize a Call-to-Action Button That Grabs the Reader's Attention
A Call-to-Action (CTA) is usually a button that directs visitors to an offer page on your website or to a link.
You can consider CTAs as the gateway between the inbox of a recipient and your blog. Marketing through email increases traffic to your blog.
In other words, the effectiveness of the email rests on whether the reader clicks on that CTA button.
Develop a High-Quality Email List
Great content is the first step toward building an email list. People will sign up for updates on your blog if you consistently publish quality content.
By offering to keep them updated, you can capture their email addresses. You should do this in various places on your blog.
If you want to grow your email list and boost your opt-ins, use lead magnets. Among the opt-in content that you could use are:
E-Books
Webinars
Coaching sessions
Recipes
Tutorials
Discount Coupons
Email courses
Although building an email list takes time, it is far better and more effective than buying an email list.
Email Marketing Software for Bloggers
Simply collecting emails is not enough. You need email marketing software for your blog. A software that is both affordable and outstanding if you want to make the most out of email marketing.
We advise you to purchase software, as this will make your life easier. Managing a blog and an email can be very time-consuming. That's why an autoresponder comes in handy.
If you are on a tight budget, you might feel that this is yet another expense, aside from starting a blog. That's the reason why we will recommend software that is both efficient and affordable.
This software is Mailvio. SMTP and automation workflow are built-in to this full-service autoresponder.
You don't need any technical skills to use it. You will find that Mailvio comes with some incredible features that will assist you in making money online.
Some of their features are:
A drag & drop email editor
Unlimited Contacts and Unlimited Lists
Built-in SMTP (no extra charge). Other software will charge extra for SMTP.
A/B Campaign Testing
Deep Email Segmentation. You can better target and personalize your emails with this feature.
Built-In Opt-in Forms
Wrapping up
While this was a lengthy article, we hope it sheds some light on a lot of important topics. When you started reading, you were looking for information on how to start a blog. Or how is a blog created? Well, you now know.
You have the tools, tips, and tactics you need. You now know how is a blog created.
All you need to do is take action. Make it happen despite your fears of failure.
Life is filled with failures and fears, but you shouldn't dwell on them. Take action and start a blog. Take a risk. And if you do start your blog, we hope your blog gives you a lot of excitement.
During the coming months, we believe it will be a tremendous growth and opportunity for you. Start blogging and sharing your ideas now. And whatever you do, make sure you enjoy yourself along the way.