Learn how to write a business plan with this step-by-step guide. By following these steps, you can launch your startup, apply for financing, and thrive.
Business plans go beyond mere documents. Business plans provide a framework for defining and reaching your goals.
Furthermore, it's a management tool that will help you assess your performance. Your business plan allows you to strategize for the future and make strategic decisions.
Writing a business plan can increase your chances of success. Whether you're starting up a business or pitching your business to investors.
It's not difficult to write a business plan. To put together a viable business plan, you don't need a degree in business or accounting. Here are some tips that will help you accomplish your goals without any of the stress or hassle.
First, let's define what a business plan is so we can discuss how to write a business plan.
What is a business plan?
In order for your small business to grow and develop, you will need a business plan. Business plans tell what you intend to do, who you are, and how you plan to do it. They are also used for recruiting talent and attracting investors.
An idea for a business or a concept for a business is not the same thing as a business plan.
Investors are looking for a business with product-market fit. Are you conducting market research to determine whether your products or services are in demand?
A strong team is also a key factor for investors. Do your people have the skills and experience necessary to support your goals and objectives?
What about scalability for your business? Can sales volume increase without increasing fixed costs or headcount?
These are just some of the things you need to consider when creating a business plan.
Is a Business Plan Necessary?
Most venture capitalists (VCs) and banks will only invest in a company that has a solid, written business plan. You can use business plans to clarify your goals and reassure others that you are planning ahead.
Business plans enable businesses to grow 30% faster. Plans help owners grow their businesses, attract investments, and secure loans.
An entrepreneur with a business plan has a high probability of growing past the startup phase.
Business plans are indeed crucial to a business's success. Depending on how well they are written, they can make or break the company.
It is the backbone of your company. Make sure you take your time creating it to make sure you have a smooth path ahead of you.
How to Write a Business Plan
In writing a business plan here are some of the things you need to include.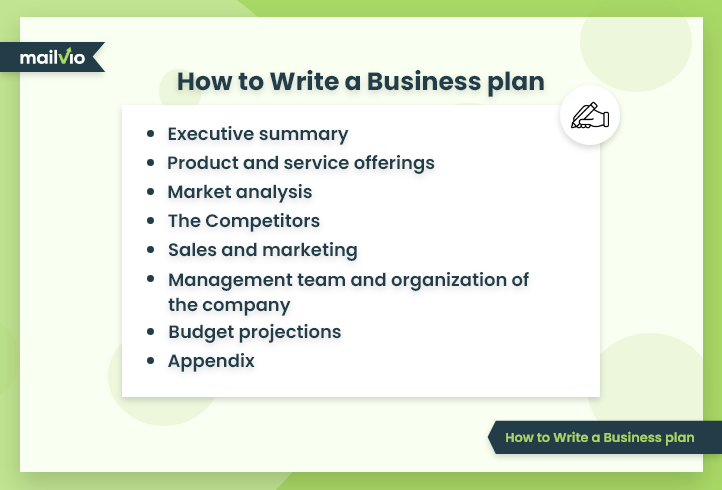 Listed below is a summary of each section:
Executive summary
An executive summary is a snapshot of your company and your plans. Ideally, it is one to two pages long and comes first in your plan. But many people do it before the conclusion.
Your executive summary should summarize the highlights of your detailed plan. Investors frequently ask only for the executive summary when evaluating your business.
If they like the executive summary, they may ask for a complete outline. Not only that but also a presentation, and further financial information.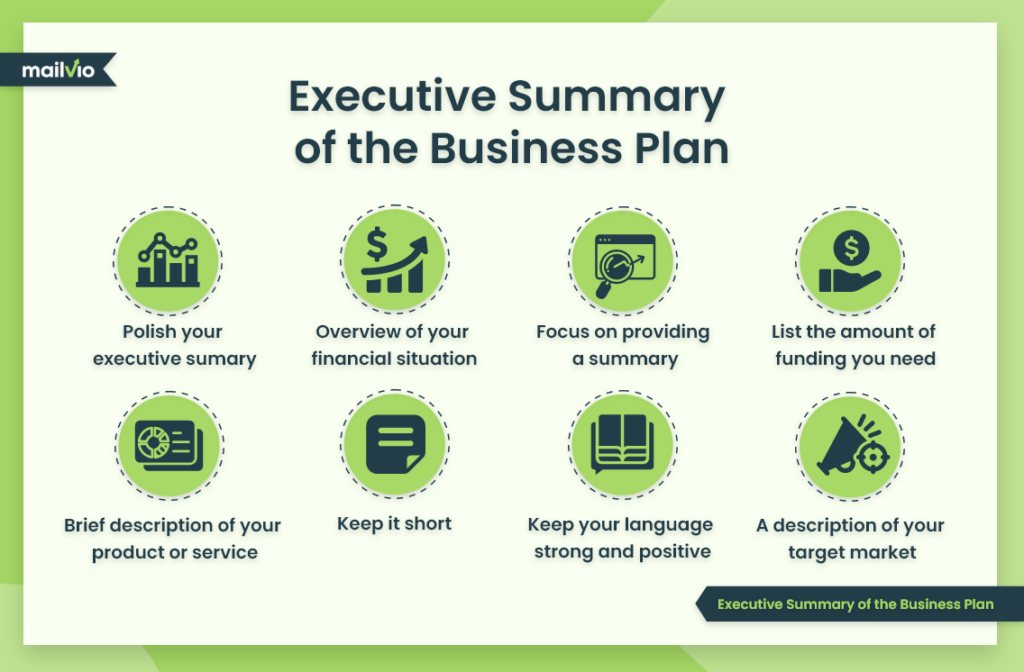 Include the following in your executive summary:
You need to describe the issue you are trying to resolve.
The amount of funding you need (if you plan on raising money).
An overview of your financial situation
A description of your target market
Provide a brief description of your product or service
Describe your team in a few words
Product and service offerings
You should invest the bulk of your time and effort into the product and service parts of your business plan. Those sections address the problem you're trying to solve and the solution you plan to provide. Also, mention where your product or service fits within the competition.
Describe the problem you are solving for your clients in the products & services chapter. Be sure to specify how you plan to solve the problem.
Market analysis
The information about your potential customers will be displayed in this section. The presentation will cover the target market as well as your growth in the industry.
Start by describing your target market. These are the people to whom you want to sell your product. Describe them as precisely as possible.
Your sales and marketing plans will be easier to develop if you have a clear target market.
After that, provide any market research and analysis that you have. You should also explain how your market has grown over time. In addition, describe how your business is positioned to capitalize on upcoming industry changes.
The Competitors
Next, outline who your competitors are. Which other companies provide similar solutions to yours? What makes you stand out from the competition?
Give an overview of your competitive advantages. This can include any patents you have or intellectual property you own. You can discuss these topics in this chapter.
In addition, reviewing milestones and statistics is a good idea. With this page you can see your next steps to preparing your product or service for sale, along with a timeline.
You can discuss your achievements here, such as landing a significant customer or securing pre-orders.
Sales and marketing
How you plan to reach out to your target market segments is discussed in your marketing and sales plan. It is also known as target marketing.
You should explain how you intend to sell to those target markets and what your pricing strategy is. In order to make your business a success, you need to plan what activities to perform and what partnerships to form.
Distributing their products through companies like Amazon.com, Walmart, Target, grocery stores, and other retail outlets can make their businesses more efficient.
Plans ought to address how the goods will get onto store shelves at what cost. The business should also anticipate possible obstacles along the way.
A SWOT analysis can also be included in the marketing and sales chapter of your business plan. Using such a tool can be quite useful for explaining how your products and services address competitive threats. Moreover, it will also allow you to tap into new opportunities.
Management team and organization of the company
Great teams are just as important as great ideas to investors. Indicate the kind of team you have and who you need to hire. In case your company is already up and running, you will also describe your legal structure, location, and history.
Each member of the team should have a brief bio which highlights his or her relevant experience. To turn an idea into a reality, you need to demonstrate why the team is the right one for the job.
Is their experience and background relevant to the industry? Has any member of the team been successful as an entrepreneur?
It is also important to describe the current organizational structure of your firm. Typical organizational structures are:
There is a type of business known as a sole proprietorship in which a company is owned by only one person. That person is fully in charge of all aspects of the business.
Partnerships are businesses in which two or more people share ownership. Additionally, they are responsible for the company's operations and the profits or losses that result.
A Limited Liability Company is a legal form of business entity limited by shares. A LLC is a legal entity whose owners are not personally liable for its debts or obligations.
In a C corporation or C-corp, the shareholders or owners pay their taxes separately from the corporation.
S corporations are corporations that pay less tax than other types of corporations. Using the company's income and losses as their own, the shareholders file their taxes.
You should also review the business' ownership structure. Is there an equal share of ownership among the partners? Prior to considering a loan or investment, lenders and investors want to understand the business structure.
Budget projections
Entrepreneurs find this to be their most difficult task. But it doesn't have to be as difficult as it appears.
To assist you, you can find a variety of tools and resources that are available online. A typical financial plan will include:
Statement of profit and loss
An income statement or your profit and loss statement, or P&L, is where your figures are put together. This will show you whether you are making a profit or losing money.
Balance sheet
You can find your company's assets, liabilities, and equity on the balance sheet.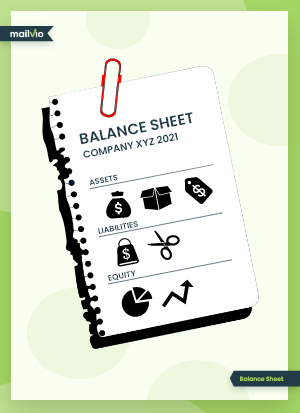 This report provides a snapshot of your company's financial health.
Sales and revenue projections
Forecasts for the next three to five years of revenue and sales, followed by 12-month forecasts. Most investors require 3-year projections, but some will request 5-year forecasts.
Cash flow statement
Profits and losses are calculated on the income statement. You can find out at any given time how much money you have in your bank account on the cash flow statement.
What to include in a funding application
A brief section of your business plan should be included if you are raising money from investors. Your plan should articulate exactly how your investors' money will be used. The use of funds is commonly referred to as this.
Your exit strategy will also be of interest to investors. The exit strategy describes how you will sell your company in the future. Either to another company or to the general public in an IPO.
You should share your thoughts on this with any investors you have. You can skip the exit strategy section if you're not seeking investment or VC funding.
The final step is to discuss assumptions and potential risks. Starting a business with correct assumptions can help you avoid business failure.
Appendix
The appendix is the final piece of information you need to know about how to write a business plan. Appendices to business plans are by no means required. It does provide a good place for charts, graphs, definitions, legal notes, etc.
Appendices can contain sections that are too lengthy or inappropriate for the body of your plan.
Tips on How to Write a Business plan
To simplify the writing process, here are some tips and questions you should answer. It will help you remain on track and avoid common mistakes.
Identify the purpose of your business plan
Business planning is determined by understanding why you're doing it in the first place. It is fine to skip the section about the team and organizational structure if you are writing a business plan just for yourself.
When you are raising money, thoroughly explain why the money is being raised. It will also be necessary to explain exactly what you intend to do with the money.
Think about why you are writing your plan before you begin to write it. Be clear about your goals.
Keep things simple
A simple and short business plan is probably the most important tip. Longer plans aren't necessarily better.
Plans that are longer are less likely to be read. Reduce the content down to the essential details that your readers need to know.
Plan your business carefully and have someone review it
Take a step back and make sure you have a logical and sensible plan from time to time. Be sure that the text is both readable and understandable. It's a good idea to get a second opinion before your plan is finalized.
Ask your reader if there are any questions your plan does not resolve. Staying on track will be easier with these early reviews. Consider hiring a professional plan writer to give it an in-depth review.
Next steps After Writing Your Business Plan
After completing your business plan, think about the software and programs you'll use when you're ready to start your business. You should also consider how to market it.
It is vital that you thoroughly research and become knowledgeable about the things you will be using. If you plan to start a blog, read articles and watch videos about how to properly craft one. Discover ways to enhance your blog.
Research how to advertise and use social media effectively if you intend to make use of it. You can create an engaging YouTube video that features your brand and brings people to your website. Find out the secrets and algorithms of Instagram and other social media platforms.
You can also use email marketing in addition to social media. One of the best ways for companies to promote their products is to use email marketing. This is an easy and reliable means of obtaining traffic to your website.
Among all online marketing strategies, email marketing performs the best. Utilize email campaigns – if you think it's time-consuming, you can use a software.
Using software like Mailvio is a great way to manage your email campaigns. It is an autoresponder with a built-in SMTP server.
The purpose of using it is to be able to get higher ROI, a high conversion rate, and a high email sending rate. Your email marketing venture will be more successful and effective with their extensive list of services.
Your business plan should include information about how you will promote your business. Yes, knowing how to write a business plan is a very important thing you need to know.
In addition, you should choose the right marketing strategies and platforms to promote your business. This can help your business to grow and become more established.
Conclusion
A good business plan will help you reach your goals, no matter what they might be. If you're pursuing a new business idea, you should write a plan. If you're seeking money from investors or seeking a loan, you should have a business plan.
Even simply trying to better run your business, a plan is important. That's why it is important to know how to write a business plan.
A business plan with one page is a great place to start if you aren't ready to work on a detailed business plan. It will take you less than 30 minutes to create an initial plan.
Getting started with this model is a great option for many startup businesses. Depending on whether you're raising funds from investors or not, this can be all you'll need.
There is a lot of work to be done, but it is necessary for building a stronger business. This will lead to a smoother journey and greater success.