What is KPI in Marketing? KPI (key performance indicators) in marketing, are specific, numerical marketing metrics. Organizations track this to check their progress in reaching a defined goal.

Most marketers focus only on the usual suspects when it comes to tracking marketing KPIs:
To be able to put in place a successful digital marketing strategy. And identify which campaigns and tactics are having the most impact. You should also track a few more KPIs aside from these three.

Most people would refuse to support an activity that is costing their company money.

By monitoring the right KPI in marketing. Your company is able to adjust its budgets and strategies.

In the absence of the right ones, your company may report and make decisions based on incomplete data.
13 Most Important KPI In Marketing You Should Track
How should you track your marketing KPIs? The following are the 13 most important ones in our experience.
1. Customer Retention
Measures how well a business retains customers over time. Engaging new customers costs more than engaging current customers. Thus, you should focus on this KPI in marketing.

This will help ensure your business's reputation, customer service process, and customer experience. How are you losing repeat business during the pre-and post-sales process? What can you do to improve?
2. Marketing revenue attribution
What revenue has your company generated from digital marketing campaigns? In what proportion does content marketing generate revenue for your company?

It is important to know how much revenue you can get in digital marketing. It will help to gauge how effective your campaigns are. Companies don't want to spend their money on projects that don't produce results.

A marketing effect like this can be attributed to all your efforts, not as a whole. For example, social media and blogging contributed to sales.

Various methods are available for tracking revenue attribution. This includes single-touch models that look at your most recent interaction. Also, multi-touch models divide credit over some touchpoints.

By measuring marketing revenue attribution. You go beyond counting the number of leads you closed. This will help to determine the percentage of revenue that comes from marketing. Keeping this information handy is a great way to show the worth of your team's efforts.

3. Customer Acquisition Cost (CAC)
Is calculated based on the sales and marketing costs necessary to gain a new customer. It includes all program and marketing costs, salaries, and commissions. As well as the technology, software, and any overhead associated with the lead becoming a customer.

It is also important to calculate your customer acquisition costs for outbound marketing. How much does it cost you to get a customer through outbound marketing versus digital marketing?

Besides calculating this metric, is important to determine the time frame (month, quarter, year). And then you are going to evaluate this cost.

After narrowing down your time frame, You can figure out your total sales and marketing costs associated with digital and outbound marketing. Below are the examples you can use.

Consider the following costs when determining CAC for digital marketing:
Outbound marketing costs that are relevant when calculating CAC are:
To calculate your CAC from digital or outbound marketing, use the following formula.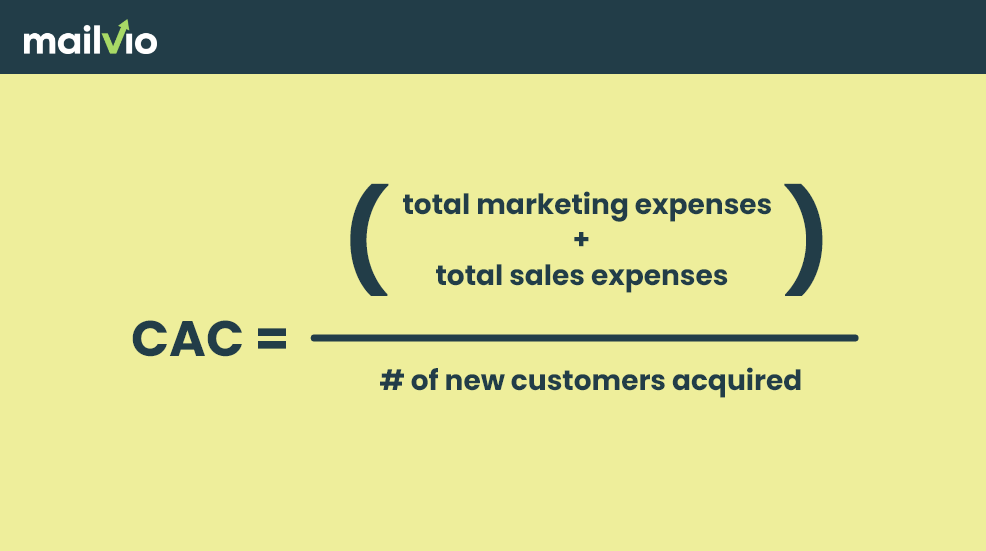 With the cost of the digital and outbound marketing campaigns, you can allot specific budgets and calculate new sales.

Digital marketing is mostly used by businesses today. You can break down that component by the types of campaigns. Then analyze the success and profitability of each one. Then you can start implementing activities to help you improve over time.
4. Cost Per Lead (CPL)
You can use cost per lead, or CPL, to measure how well your marketing campaigns generate new sales leads. You can assign a dollar amount to each lead your campaign generates. The method is especially useful for analyzing the effectiveness of online advertising options. This includes AdWords and social ads. A successful cost per lead (CPL) will be as low as possible for individuals (leads) with a large number of viable opportunities. To further assess and go into details, make sure to also check out your CTR calculation.
5. Customer Lifetime Value (LTV)
Customer lifetime value is a measure of revenue a company can expect from a single customer.

Digital marketing does not offer a better way to measure customer value. This is by talking to your existing clients to determine what they value most and what you can do to improve.

Thus, you not only maintain relationships with your principal contact points. But also ensure customer happiness as well as increase your customers' lifetime value.

Use the following calculation to determine the lifetime value of a customer: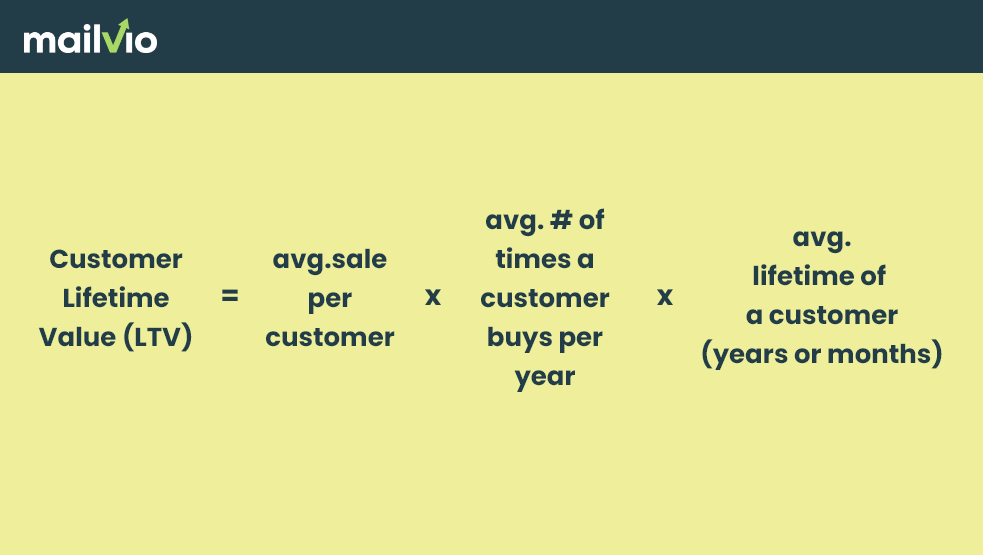 It is possible to increase the lifetime value of existing customers by developing lead nurturing campaigns. Communicate with them about new services, products, and resources. You and your team will be able to improve their experience.

Automated messages can at times appear impersonal. Knowing your customers on a personal level is as important as knowing your family or friends. Such a message from the CEO could be very persuasive.

Each quarter, our CEO touches base with a few clients. The purpose of this time is to see how they are doing. And to determine if there are any areas for improvement, and to learn about their impression of working with us.
6. Marketing ROI
An ROI, or return on investment, is the revenue generated by a particular marketing campaign. Revenue is then compared with how much it costs. Monitoring and evaluating ROI is crucial for business success.

To measure this KPI, you divide the number of leads your marketing campaign generates by the value of the opportunity. Another way is your average value per win by your average lead-to-win ratio. ROI is a valuable and important KPI in marketing, but it does pose some challenges at times. Therefore, to start, some research is required to identify the ways to measure ROI in your company's marketing campaigns.

The following formula will help you calculate your digital marketing ROI:



7. Number Of New Contacts (traffic-to-lead ratio)
The key to increasing your website traffic is to understand where it comes from. Website traffic can come from organic, direct, social media, or referrals.

The traffic-to-lead ratio is low or decreasing, but your traffic is steady or increasing. In this case, it's obvious that something is missing on the page.

Many factors could explain this problem. But the major factor is misalignment between what users thought they were clicking on and what was displayed. Adding content that's not relevant to them may also be discouraging. Also, you may not have answered their question causing them to find another resource.

It's important to identify the pages with the highest bounce rates and lowest view-to-contact rates before optimizing your content. It will be easier for you to identify which pages to optimize first if you have this information.

In addition to your marketing report, consider adding heatmaps. Especially for your landing pages and top-performing blog posts. Several heatmap tools are available, such as Cazy Egg and HotJar. You can use this information to determine if viewers are scrolling all the way through your content. It would be better if you added CTAs throughout your content rather than at the end. If you are answering searchers' questions, why not add CTAs throughout as well?

Keeping track of your traffic to lead ratio can help you decide when to change your website's copy, design, and CTA.
8. Opportunity-to-Win Ratio
With this ratio, you can determine how effective you are at converting qualified leads into closed sales. By using this information, you will know which members of your team do a great job creating opportunities, but who fails to close sales? A salesperson who can close a sale to anybody, but doesn't count initial contact as one of their strengths?

Data like this can assist you in training your salespeople on both an individual and collective basis in the areas they may need the most.
9. Lead-to-customer ratio
Your sales team needs to know how many leads it is able to close after all your marketing efforts. You should calculate both your sales qualified lead conversion rate and sales accepted lead.

How are they different?

A sales qualified lead (SQL) is a lead that is considered to be sales-ready, based on their score or the activities they have completed.

Sales accepted leads are leads your sales team considers as potential customers and has made contact or scheduled a call with.

The two types of leads can also overlap.

Take a look at your lead-to-customer ratio for sales qualified and sales accepted leads and ask yourself these questions:
Do I capture leads with my campaign?
Are we passing qualified leads to sales at the right time from our CRM?
How high is our close rate?
If you answer no to any of these questions, meet with your sales team. Discover what's missing and how you can improve your numbers.

To help encourage sales enablement and advance the conversation, we make the following questions:
What does the sales process look like?
How does a lead become a sales qualified lead?
Leads often have what types of objections?
The use of assignment selling is another method of increasing your lead-to-customer ratio. Using content to educate prospects is the basis of assignment selling, which is intended to help close deals faster. Consider the sales team a valuable resource whether your prospects decide to work with you or not.
10. The conversion rate of a landing page
Your landing page has gone live. Even though it's beautifully designed and follows all the best practices, does it convert?

If your landing page doesn't generate leads, it's useless, no matter how much traffic it gets or how gorgeous it looks. So track its conversion rate.

A low conversion rate on your landing page is a sign that something needs to be changed. If your landing page receives a lot of traffic but does not generate leads.

Consider A/B testing some of the following changes to determine which ones are converting the best:
11. Your Top 5 Entry Pages Based On Organic Traffic
Any business using digital marketing wants to have its website traffic derived from organic search results.

The majority of your organic traffic comes from people finding your website on their own.

The organic traffic that you receive correlates to your SEO strategy. So watch this number (along with your keywords) and adjust your SEO plan.

Besides having a targeted keyword on each page, make sure to optimize your website and content pages. And it actually answers the question your prospects are asking.

Discover your top five landing pages and blog posts that bring visitors to your site. Those are the pages that visitors will experience first when visiting your company and website. You should not only know what those entries pages are. But also ensure they are updated and optimized for conversions.

Particularly true if your website visitors find content that was published more than a year ago.

Optimizing your content can not only generate leads. Also, it increases the number of pages your visitors and leads are reading. Reading more pages will likely make them more informed, thus lessening the time it takes to close a deal.
12. Traffic On Social Networks (And Conversion Rates)
Most clients are wary of social media's importance in digital marketing. In some cases, it's not perceived as a way to generate leads or engage with your audience. Also, we have found that social media is integral to every campaign's success.

Your social media platforms are excellent for educating your audience. Also, good for generating buzz and building awareness.

There are several metrics you can use to show social media's importance and impact on your marketing efforts. This includes:
Although you may not have the time to use every platform like Twitter, Facebook, LinkedIn, Instagram, Pinterest, and TikTok. Breaking them down by the number of leads, customers, and traffic coming from each will help you determine where to focus your efforts.

There are some social media KPIs you can track. But remember that the level of engagement you're seeing on social media is a reflection of how well your content is. And also how your brand resonates with your audience on that platform. And how much trust you've generated with them.
13. Sales Revenue
You can use this KPI in marketing to measure your business' progress in generating sales revenue. You can see trends in your business' growth and make projections based on several points of data. It's useful from several vantage points. From a business-level view, where you are measuring your business's success. And to an individual level, where you can set individual goals for your team members. By increasing your company's growth and revenue, you'll continue to be successful.

You can keep a better pulse on the health of your company if you track the right KPIs. The ROI created by your sales and marketing teams is measurable if you identify KPIs that match the tactics they use.
‍Conclusion
Are you interested in expanding your digital marketing efforts?

It's important to check the important KPI in marketing regularly, not once.

You should monitor these on a weekly or monthly basis. Knowing these numbers from time to time will provide you with the information you need to do your job better. This allows you to adjust if a marketing campaign fails.

These metrics should be made available to everyone on your sales and marketing team. It will help give them a better understanding of how well your efforts are being received.

Customer acquisition and increased revenue are the goals of marketing. It is possible for your team to do that goal by tracking, reviewing, and improving those metrics.

Your sales team can use these metrics to have an in-depth conversation with you. It helps you identify any gaps in your digital marketing strategy.