In this article, we'll share some examples of sales pitches that are effective at driving results. We'll provide all the information you'll need to create a powerful and effective sales pitch.
It is not necessary to convince a prospective customer to buy something during a sales pitch. Instead, you can use a sales pitch to encourage the buyer to take the next step in the selling process.
To increase sales and revenue for a company, a great sales pitch is essential. Email pitches are an effective sales method.
You may want to consider creating an email pitch in order to boost sales and attract new customers.
Sales pitches are crucial in securing the deal. Read on to discover how to build an effective sales pitch. We'll also show you an example of sales pitch that you can use as an inspiration.
What Is A Sales Pitch?
Effective sales pitches provide value to prospects and are concise. Instead of trying to sell them your products right away, use it to start conversations.
Sales pitches are basically scripts or messages intended to influence your audience to act. These actions might include requesting a demo or availing your products.
Sales pitches are shorter versions of sales presentation speeches. Prospective clients are informed of the products or services being offered by the salesperson. You can use this tool alongside your selling techniques.
The most important thing is to get it right, no matter what the format. Customer relationships are also shaped by the sales pitch.
It may not be long, but the reader should not spend more than 2-3 minutes reading it. Your sales pitch needs to convince the customer to buy, or at the very least to be interested in what you're selling.
To develop an effective sales pitch, you should first study your target audience. Studying them will help you get to know them better. In this way, you'll be able to leave a good impression. 
The Best Way To Write A Sales Pitch Email
As the saying goes, timing is everything. Especially when trying to pitch your products and services.
It is just as important to pick the right audience as to choose the right timing. How you present your pitch will be determined by your prospects. You want to establish some sort of connection with them, and work together, even though you are just emailing them.
This is why it is crucial to customize your message in order to gain their trust and build a connection. To do this, you must know who you are catering to and what sets you apart from the competition. Make sure you are assertive, and you understand what you are talking about.
It's important to keep the email template concise when writing it. In order to sell effectively, customers and targets need to immediately understand what you are offering.
What is one of the most effective methods of grabbing their attention? You can tell a story. Storytelling seems to have a greater effect on our brains.
Whether you communicate with them via phone, email, or social media does not matter. What you need is a compelling narrative that will make your audience interested.
Here are a few tips on how to write a good email sales pitch:
1. Connect With the Right Person and Reach Out at the Right Time
A successful sales pitch is all about timing. That's why there are many articles talking about the best time to post or the best time to send emails.
It is important to remember that sometimes the success of your sales pitch depends on the timing. Moreover, you must know if the product you are selling is appropriate for the audience you are trying to reach.
There is no point in sending your emails to many people if they are not interested in what you are offering. It is also important to be familiar with your market, so you can tailor the right time to send your emails.
This will also allow you to craft the ideal sales pitch to get their attention. 
2. Be Familiar With Your Audience
It is not possible to send an email without a recipient. Every email sent should be specifically addressed to the right person. Not everyone likes to be addressed in the same way, so it's also important to keep the language and tone in mind.
You should therefore understand their needs and personalities as well as the similarities between your brand and theirs.
3. Have a Thorough Understanding of Your Product
Obviously, the first thing you need to do is know what you're marketing or selling. This is emphasized since this is the primary reason for creating and mailing the email. Your email's core and idea are what will go into building the sales structure for it.
Being familiar with your product will allow you to easily identify its main features and benefits. It'll be easier for you to convey your message clearly in a single sentence. The reason why it's important to keep your email short is that sometimes any more than that might result in them losing interest.
4. State What Makes You Unique
What makes your company different from others? The reader should be able to understand why your product or service is so valuable. Specifically, how will your product or service benefit them?
It is common that prospects are not entirely aware of what you sell when they see your brand.
Even if a customer signed up for your company's newsletter. Some of the products you are trying to sell or speak about may not be familiar to your leads or customers.
It is your job to introduce the brand when you encounter people who don't know it. In your sales pitch email, explain what makes your brand unique and disregard any ambiguity.
Your product or service should always address a need that the prospect or customer has. They should also be given examples of the advantages they'll gain from it, even if it involves describing the features of your product.
5. Create Strong Subject Lines for Your Email Pitches
In an email pitch, a good subject line is what draws the lead prospects into learning more about your product.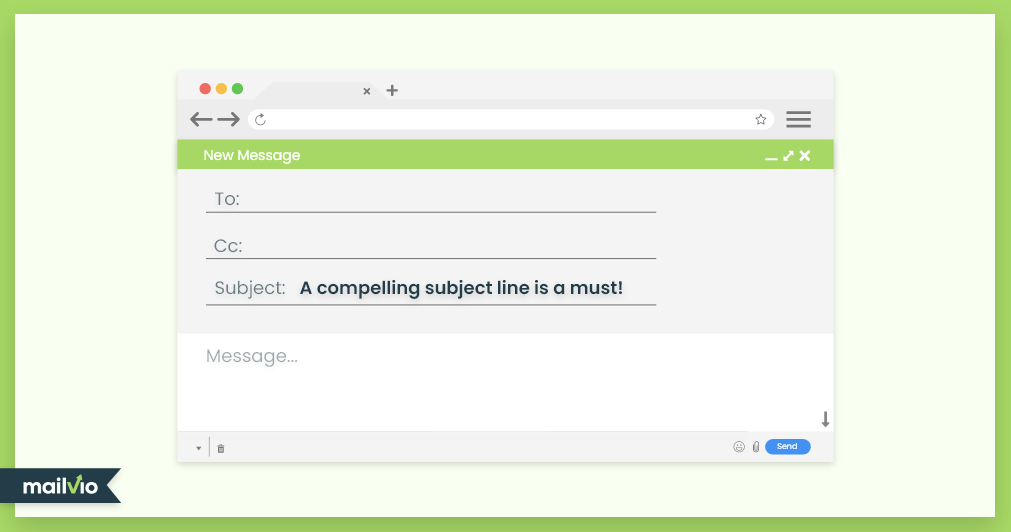 Not only that but a good subject line can help boost open rates. You can persuade prospects to read your message by using an intriguing subject line.
The following examples show how to write effective sales subject lines:
Put the contact's name in the subject line, along with the word "you". Subject lines with generic content are easily ignored and discarded.
Make your story or content meaningful to capture the prospect's attention. Add a compelling statistic. You may also include a statement that is controversial or informative.
Find out what your customer's pain points are, and target them.
Practice makes perfect when it comes to crafting subject lines that are relevant to your prospects. You can learn more about what works and what doesn't by consistently A/B testing your emails.
6. Pay Attention to Pitch Length
Consumers often care about their problems, not their products or services. Sending them an email that just mentions you or your company will probably not convince them you are actually interested in helping them. 
In order to engage your listeners, keep your sales pitches concise. By keeping it short, you can refine your pitch and focus on your value proposition. A short length makes it less likely that you'll mention irrelevant features.
Your sales email should be 300 words long. According to an email study of cold sales emails, emails that had approximately 300 words had a significantly higher response rate. Those with only 100 words and more than 300 words tend to have a lower response rate.
If you find this limitation difficult then it might be that you do not fully understand the value of your product. Your pitch will be much easier to deliver once you're knowledgeable and confident about the benefits your business can offer. 
7. Make It Clear
The previous point is connected to this one. In short, you don't have much time to ramble on and to tell unrelated topics. Your pitch needs to be straight to the point.
The listener needs to understand it right away. You need to express yourself clearly and effectively.
It's important to communicate clearly how your product will solve the prospects' pain points when you're pitching a product. Showing them how buying the product will improve their day-to-day life can help them make a purchase.
8. Describe How Your Products Will Benefit Them
Show the benefits of your product on a broader scale. For example:
Your Email Marketing venture will be easier when you use an autoresponder with built-in SMTP such as Mailvio. This software is packed with a lot of email services you can use to take your Email Marketing to the next level. There are a lot of amazing features in it that will transform the way you do email marketing for good.
Describe how your product improves your customers' lives in general. Your pitch should summarize what it does, how it does it, and for whom it is.
What Should Be Included In A Sales Pitch?
Pitching can be one of the most difficult things to do. First, you have to catch the prospect's attention. That way, they will actually want to hear what you have to offer and how it can help their business.
However, what makes up an effective sales pitch? Listed below are the things you need to include in a sales pitch.
A Subject Line
The email should be direct, short, compelling, and free of spam words if you want the prospect to open it. Spam filter software looks at the subject line. Try to avoid using words such as "sales", "guarantee", "70% discount" etc. 
Instead, try to use something like this.
"I have a few suggestions for you…"
"I noticed that you might need this…"
" Hey, we have something that will make your life easier"
Opening Line
Avoid mentioning yourself or using your name. They are the focus, not you. Be sure to refer to the person by name.
As a result, emails no longer have that cold, robotic, business feel.
Email's Core
Never refer to the customer in general terms, or of the accomplishments you have had with them in the past. This is all about convincing the prospect that you are here to assist them. You need to show them that you have the things they need and that you are exactly what they have been looking for.
For example, you could say: "Good day Jane, here are some of the new…" Or it could be "Hey there John…" It gives it a more personal touch.
An Offer Line
By now, you should know what pain points your prospect or customer has. They should benefit from the offer. It is aimed at providing an attractive offer or deal to the client.
What makes you special? Why should the prospect choose you over anybody else?
Closing Remarks
The email should be concluded with a call-to-action or something that encourages the recipient to respond.
Here are some examples: "What are your thoughts on the offer I sent over?". "Are you still interested in our newly launched product?"
The Signature Line
Include your name, company, and contact information. You should always include a link to your social media account and your websites. This way they have another way to contact you.
Be Sure to Schedule Follow-Ups 
In most cases, these emails go unread or are moved straight to the junk folder without even reaching the inbox. Some people, however, forget to reply once the message has been read.
The purpose of follow-up emails should be to remind the prospect of why he clicked on the email.
Consider Rejection as a Possibility
Remember that some prospects will reject your offer. Thank them anyway and remain professional. The only thing you need to do is to keep moving forward.
Despite their initial rejection, you should keep in mind that there is still a possibility that they may become interested in you later on.
A response from them would indicate that there might be business soon. Don't remove them from your email list right away.
Email Sales Pitch Mistakes To Avoid
You need to include certain things in a sales pitch. On the other hand, there are some things that you should avoid.
Do Not Attach Files to Your Email
Choosing this method will result in your email going into the spam folder. Logos attached to your signature also fall under this category.
Irrelevant and Boring Content
Again your email shouldn't be about you or your business. It should be about the recipient. The main focus should be on the recipient.
Try to imagine the way they'll read that email, and what they'll take away from it. As well as if it will make an impression on them.
Excessive Promotion
Please refrain from mentioning too much promotion. A product is not just about what it does, but about what it can do for them as well. Instead of describing everything about the product, explain how it is beneficial to the reader.
Ideas For Sales Pitches
What are some tips for creating the best possible sales pitch? These are some examples of sales pitch ideas.
1. Create an Unforgettable Experience
Make your pitch unforgettable by blowing their minds with what you are saying. A counter-intuitive fact might be a good way to do this. By showcasing the product's strongest points, telling an eccentric story, or emphasizing its uniqueness, can also do the job.
2. Tell a Story
Tell a brief story to keep your listeners engaged. Your story could either be about your business or how your product or service helped a customer succeed.
3. Provide Facts to Support Your Claims
The buying behavior of some consumers is impulsive or based on their emotional state. Some consumers rationalize before they make a purchase.
Providing statistics or case studies will increase your credibility. Furthermore, you'll make them feel like they're making the right choice.
4. Present a Value Proposition
In what way will you make this person or their company's life better? Regardless of how short and sweet your pitch is, your value proposition should be the focus of your sales pitch.
5. Educate Them
You don't want to just be a popular figure in your space, you want to be seen as an authority.
You can grab your customers' attention with some interesting, relevant facts. Your pitch will also feel more legitimate and trustworthy.
6. Try a different pitch
From time to time, you can switch up your pitch depending on your customers. Here are some other types of sales pitches you can utilize. Use a different pitch for different potential customers and situations.
Social Media Pitch
Subject Line Sales Pitch
7. Use Their Fear of Missing Out to Your Advantage
There is nothing more powerful than the fear of missing out (FOMO) to make people take action. When they are captivated by your sales pitch, the last thing you want is for that feeling to fade.
When they procrastinate for too long they may forget or lose that feeling. Encourage them to act immediately.
Example Of Sales Pitch
It is possible to write a sales pitch email in many different ways. Prospects are actual people with real preferences, and the business should take these into account when making a sales pitch.
Here are some examples of sales pitches that can be useful:
1st Example of Sales Pitch:
Hello [Customer's Name],
I saw your review video about this product. I've actually used some of those products before, and I totally agree with your feedback about it.
Here's a little information that you may find interesting. You mentioned in the video that you're interested in trying [this product]. And it just so happens that we are actually selling some of the products you're looking for.
Would you be interested to see what we have? We have a line of [products] which we think will be perfect for you.
Feel free to contact me if you're interested! We'd be happy to send you a free sample.
Here's a [link] to our website you can visit. You can read some reviews and see the story of our success. You'll be awed and swayed!
Regards,
[Your Name/ Company Name] [Job/ Position in the company] [Contact information]
2nd Example of Sales Pitch:
Hi [Customer's Name]
I read the article you published. In your article, you mentioned how hard it is to start an online marketing business today. You also said that there are a lot of technical things you need to do and learn. 
I think that our company's software "kyvio" will be of great service to you. An all-in-one marketing platform, it provides all the tools you need to build an online business. And the best thing is that it's affordable.
You can contact me if you're interested and if you want to know more simply click the link below.
[link]
Thanks,
[Your Name] [Job/ Position in the company] [Contact information]
3rd Example of Sales Pitch:
Hey [Name of Customer]
In my last email to you, I mentioned our company's new product. I just wanted to remind you because I think that our new product can be very useful for your business.
You can reply to this email if you're interested. Or if possible, can you put me in touch with your company's project manager?
Thank you!
[Your Name] [Job/ Position in the company] [Contact information]
In Conclusion
An effective sales pitch leaves the audience wanting more information about the product or service you are offering. You can use some of the approaches and example of sales pitch described above in your own sales pitch.
Good sales pitch emails can help you raise awareness of your brand. It may seem a lot to do, but eventually, you'll get the hang of it. You just need to practice and use this information and example of sales pitch for guidance and inspiration.
Having patience, enough practice, and a good understanding of the field you are planning to pursue will help you succeed.