What are backlinks for SEO? When you're venturing into digital marketing, you may have come across the word backlinks. Backlinks play an essential role in helping you rank higher in search results.
It is important that you know and understand what are backlinks for SEO. They are important recipe to improve your results and have better engagement
Google's first recognition of backlinks' importance led to its success. It is Google's revolutionary algorithm to rank web pages based on link popularity. It means a website that has more links to it ranks higher.
What are Backlinks for SEO
The term "backlink" may also be used to refer to "inbound links", "incoming links", or "one way links". In other words, they are hyperlinks that point to another site from one website.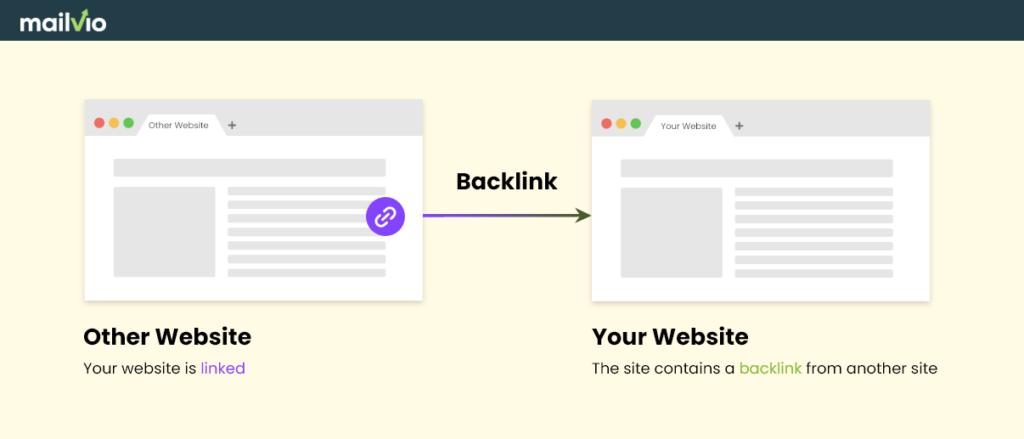 Backlinks are considered an endorsement by major search engines such as Google and Bing. Organic search engine rankings tend to be higher for pages with a high number of backlinks.
It is more likely that your backlink profile consists of links coming from external sources. These are known as referring domains. Your website's backlink profile is influenced by links with strength, relevance, and diversity.
Sometimes, there are many links originating from the same referring domain. Adding links back to your content is a common practice for referring domains.
It may happen if it is relevant, authoritative or useful for their own domain in some way. The ideal way of accumulating backlinks is to provide unique content that other sites would be eager to associate with.
What is the Significance of Backlinks?
In addition to Search Engines, backlinks are important to users as well. A backlink allows a user to get access to other sources of information related to a topic they're reviewing.
For instance, the consumer might find links to other carriers when visiting a page about "the best gaming PCs.". Consumers can click on these links to access PC parts websites. The use of links enables consumers to access more desirable information if necessary.
Backlinks provide Search Engines with information about the value, authority, and importance of a page. In the past, the number of backlinks was an indicator of a page's popularity.
In today's market, backlinks are evaluated by various factors related to a given industry. It is less quantity focused and more about the quality of sites from which the links are coming.
However, too many backlinks from unreliable domains can result in a negative influence on the authority of your site.
In simple terms, backlinks are the votes of other websites. Search engines read each vote as "This content is helpful, credible, and valuable".
Therefore, the more "votes" your website has, the higher its ranking in Google and other search engines.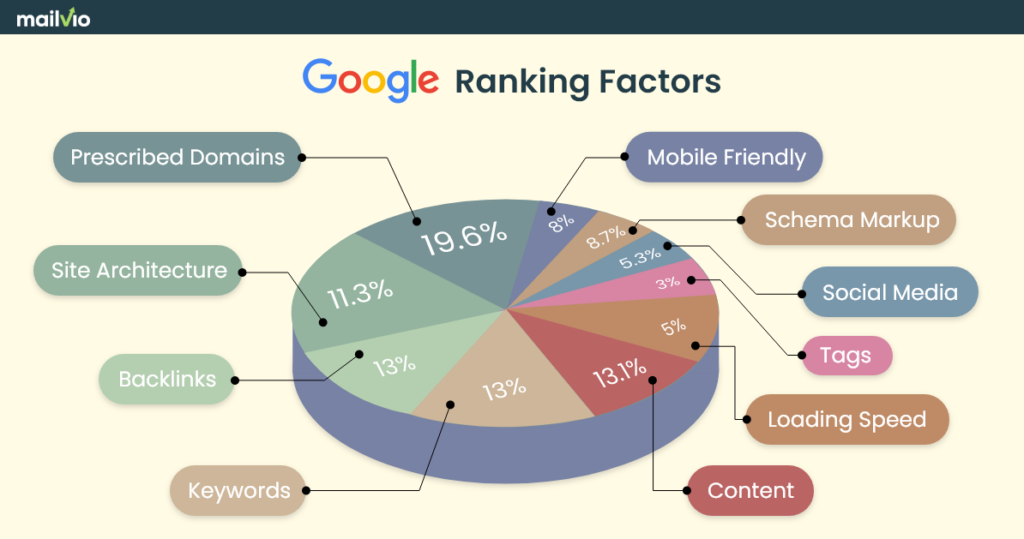 Google has modified its algorithm many times since then. Yet backlinks continue to be a major factor in rankings.
What are the Characteristics of a Good Backlink Profile?
The link profile of a natural site is diverse. Each link will come from a different domain, and the strength of each link will vary.
Ideally, you should look at some top-level KPIs when analyzing your backlink profile, such as
Backlink's country of origin.
A TLD or top-level domain.
Referring domains and IP's.
There are certain domains that are better for receiving links than others. There are domains that have a higher domain authority and are considered "trusted" sources.
Example of some trusted links
Organization (.org )
educational institutions (.edu)
government entities (.gov)
Their authority and significance indicates to search engines that the content or site is "trusted".
Some rules in Backlink
It is not a good idea to request specific anchor text for webmasters to link to your page. Search engines are likely to notice patterns created by this haphazard process.
In addition, you may suffer a linking penalty. You shouldn't also create backlinks in an unnatural or shady way. An example would be to ask a site to put your link in the footer of all its pages.
Never offer someone a payment for links. Sponsored content must be explicitly labeled as "Sponsored" if you're trying to build backlinks. The FCC requires it.
These backlinks will typically be marked as "nofollow " by publishers, but they still have link value and can help drive traffic to your site.
Some large web directories are no longer relevant but you can try to find them. You can build a relationship with webmasters. In doing so you can obtain a backlink from these types of sites if you find them online.
Due to their exclusive nature, .GOV domains are quite valuable. This inherently makes them more valuable.
How to build Backlinks?
Communicating with webmasters needs to be personalized. It would be nice to send them a list of reasons why you like their brand.
You can be citing articles and other content they've published. Consider partnering with them if you think your brand will benefit them.
Search on professional sites like LinkedIn for an actual point-of-contact. It's nothing more than spam to send "Dear Webmaster…" emails to every website owner.
What type of links are valuable?
The quality of backlinks varies. You should focus on quality backlinks if you want to rank higher in the search engine results.
In other words, quality backlinks can outperform a thousand low-quality ones. Backlinks of high quality tend to exhibit many of the same characteristics.
Link from a new domain
Consider a scenario where you get a link from a website. Awesome! However, what if you get a link from the same website again?
It keeps happening over and over. Is the next link as effective as the first one? The effectiveness of links from the same website diminishes over time.
Generally, it is better to gain 10 links from 10 different websites than 100 links from the same website.
Links From A Site That Is Closely Related To Yours
Google looks for links connecting two websites to determine if they are related. Upon reflection, this makes sense.
For instance, I wrote an article on autoresponders.
" I used an autoresponder for an email marketing campaign and it worked wonders for me. My software of choice was Mailvio.
I find Mailvio to be one of the most useful tools for a start-up business like mine. This tool is easy to use and very cost-effective, you don't need any technical expertise to use it.
My marketing campaigns provide wonderful results thanks to its complete suite of services. And their customer service is a cherry on top. "
Within the "article" you can see that I linked the website of Mailvio. This makes it easy for people to find and access their website.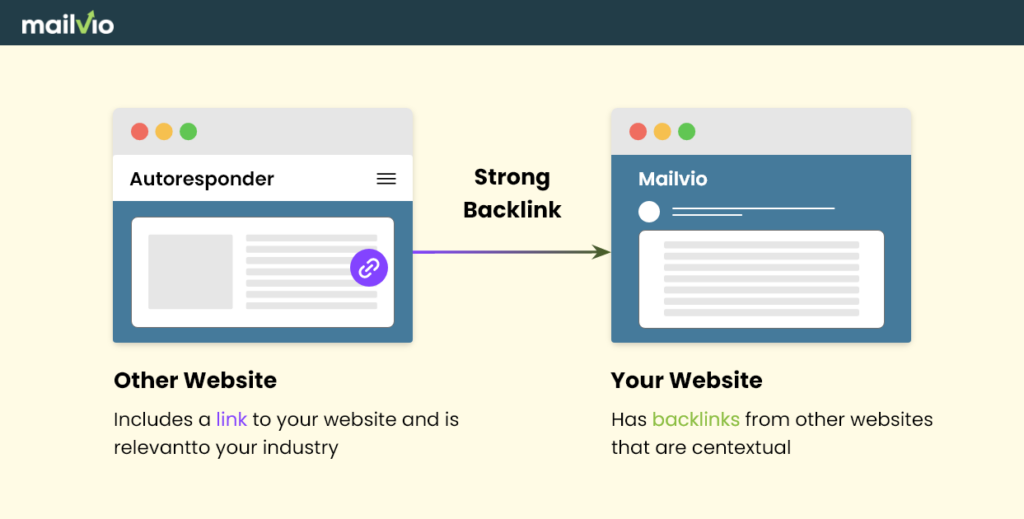 This is called a backlink since I inserted a link from another website on my website.
Google will place much greater emphasis on links to sites about email marketing, marketing software, versus sites that deal with make-up, handbags, etc.
Links to this page are "Dofollow" links
Links with the "nofollow" tag are ignored by Google and other search engines. Therefore, nofollow links are not taken into account by search engines when ranking.
It is a good thing that the vast majority of links on the web are dofollow links.
In addition, nofollow links aren't very valuable in the first place. Some examples include, paid advertisements, blog comments, etc.
There's nothing wrong with these links being nofollow since they're not particularly beneficial for SEO.
Credible and Authoritative
Sites from which they originate are trusted and authoritative. It is better to get a backlink from Stanfordrather than a site of a random guy. Well, Google thinks so too.
It's called "Domain Authority". In general, the higher an authority site's authority, the more authority your site can pass along.
Google gives a lot of weight to links coming from authority websites.
The anchor text includes your target keyword.
Remember that anchor text is the visible text portion of a link. Anchor text for your links should include your target keyword.
Avoid using too many keywords in your anchor text. There is a Google algorithm filter called " Google Penguin ".
Using black hat strategies to build links is detected by Google Penguin. Lastly, it targets sites that use exact match anchor text for backlink building.
Final thoughts on What are Backlinks for SEO
Understanding what are backlinks for SEO is an easy topic to grasp. At first glance, it may seem overwhelming, but it is actually quite simple. You'll stumble across a lot of terms in digital marketing, email marketing and internet marketing that may sound unfamiliar to you.
There's a lot to learn, and it can be overwhelming. However, do not be discouraged. The web is full of articles, courses, and videos you can use to help you understand these concepts.
We hope this article gave you some insights on what are backlinks for seo. For more insight into different kinds of marketing, visit our Mailvio blog for interesting articles.