This article will provide you with result-driven introduction email examples and how to create the best introduction emails.
In order to make the right first impression. You need to pay attention and put effort into writing a nice introductory email whenever you need to meet someone.
Because we live in the messaging age, people would rather send an email or text message than make a call.
This actually speeds things up when making the first contact it's important to know how to craft good introduction messages.
We enjoy messages so much because technology has made everything easier and faster. A study shows that 75% of people think calls are time-consuming.
In some places, people connect constantly throughout the day: via email, WhatsApp, LinkedIn, Facebook, or any other social network.
Additionally, email and LinkedIn are the best channels for introductions. So make sure you have the right tools to extract, organize, and send the emails.
Our recommendation would be to use Mailvio to schedule and send emails in a timely manner.
The typical professional gets so many messages on a daily basis it's a feat if they even open yours let alone reply.
Fortunately, at Mailvio we have a lot of experience writing effective emails. Here we will look at what's an introduction email, our best tips for introducing yourself over email, and introduction email examples.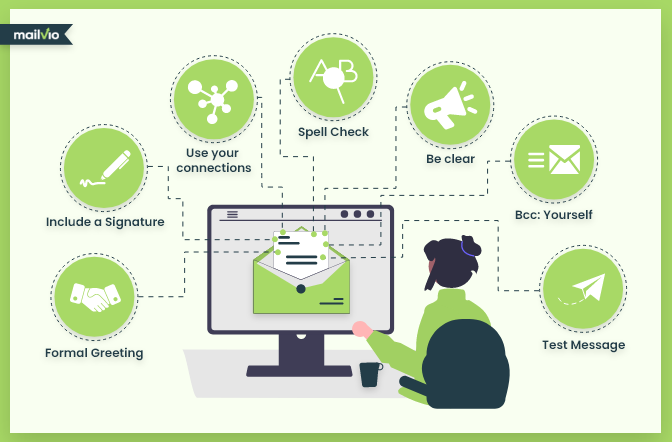 Introduction Emails: What Are They?
As the name implies, an introduction email is a message that introduces you, your company, or someone else you want to introduce to others.
In general, there are a few introduction email best practices you can follow and different types of introduction email templates. That you can send to an individual or group of individuals. But it depends on the situation whether it is business-related or personal.
Particularly for sales, an introductory email sent to prospects must follow an effective follow-up strategy. You should also segment the mailing list and make it as personal as possible since trust is built by relating to the prospect. Customer satisfaction is key to having success.
Email Introduction Tips
You can write an engaging introduction email by following these steps:
Identify a mutual contact
Consider creating an informative subject line for your e-mail
Personalized greetings help you stand out from the crowd
Described the recipient in detail
Please explain the reasons for your outreach
Incorporate a call to action
Thank you and closing
Editing and proofreading
Now let's get into the details of these crucial steps:
Identify A Mutual Contact
You should never introduce yourself in an email before checking if you have any common relations with the recipient. The best thing to do is contact someone who works at the company where the person works, or who went to college with them. Ask them if they can introduce you or let you mention their name in your email.
Consider Creating An Informative Subject Line
Talking about first impressions. A recipient will likely be influenced by the subject line of an email in deciding whether to open and read the message.
Write your subject line in a professional manner, and be sure it is brief and informative.
As an example, a subject line such as "Marketing Analyst Position Inquiry" is appropriate if you are inquiring about an open job position.
If you want information, indicate what you are looking for, such as "Information on industry developments."
Personalized Greetings Help You Stand Out From The Crowd
Give the recipient a personalized greeting at the start of your email. When emailing someone in a traditionally formal industry, such as banking or consulting, use "Dear Ms." and the person's last name.
You could say "Hello" and use their first name if you are introducing yourself to someone in a more informal industry.
Such as music or television. Before writing your email, research the recipient and the company online to determine what greeting is appropriate.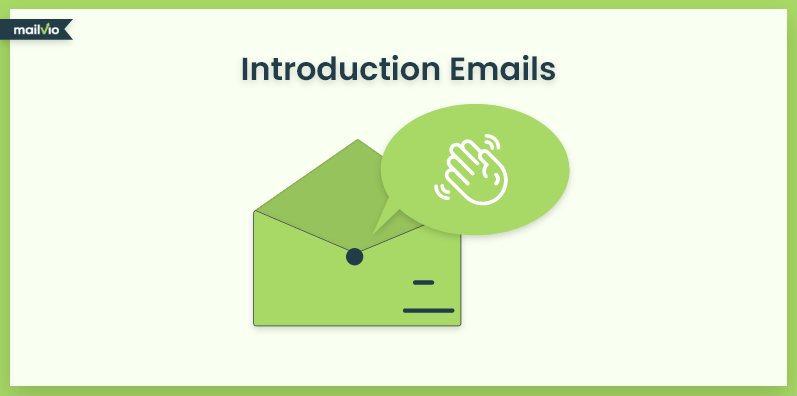 Described The Recipient In Detail
In addition to stating your name and position near the beginning of your email, your opening paragraph should focus on the recipient. If you open your message with a compliment, you're more likely to capture their attention.
Perhaps you would like to mention something specific about their work that you admire or that you appreciate about their company. A common interest, such as attending the same institution or growing up in the same location, can be a good way to engage someone.
Explain Why You Are Reaching Out
Give a short explanation of why you are emailing the recipient. Make sure you explain how you obtained the recipient's email address.
If you were to explain to them that a mutual contact gave you their email address. And you were wondering if they had any openings at their company.
Incorporate A Call To Action
Include a final request or call to action in the last section of the message to the recipient.
Ensure that your request is brief and specific. Such as requesting a meeting to discuss a certain topic, obtain information about an open position, or discuss a job application.
When you ask for action, make sure to phrase it in a polite manner instead of approaching it as a demand.
Thank You And Closing
Please take a moment to thank the recipient for their time before concluding your email. You appreciate their time and acknowledge that they probably have a busy schedule.
Close with a professional sentence, such as: "Sincerely," and include your contact information under your signature. Also, you might want to include a link to your professional website or work profile.
Editing & Proofreading
Proofread the email for spelling and grammatical errors before you send them. Emails with no spelling or grammatical errors will make a better impression on the recipient.
A new reader may be able to identify any errors in the document, so ask a trusted friend to read it over. To test how the email will appear when the recipient opens it, you could also send it to yourself first.
Formal Introduction Email Template
If you want to write an email introducing yourself to a new person, consider using the following template:
Subject: Main point
Dear John Bills,
My name is George Orwell, and I [include a compliment about the recipient]. I am reaching out to you today because [provide a brief but specific explanation of your reason]. I hope to [include your call to action here].
Please accept my sincere thanks and appreciation for your consideration and time.
Sincerely,
George Orwell
923 5467 234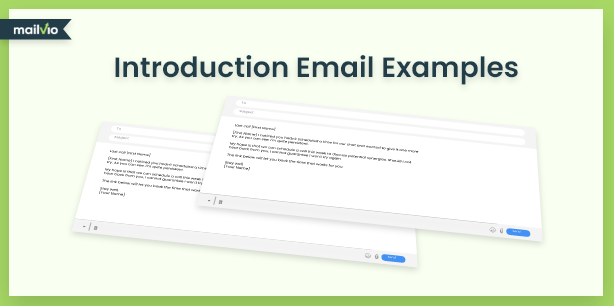 Introduction Email Examples
The following are five sample self-introduction emails that you may find useful in writing your own:
Application email for a job
Inquiry for an open position
Request for information
Introduction To The Company
Sales-related self-introduction
Application Email For A job
Subject: Web developer application
Dear Mrs. Williams,
My name is Diana Mills, and I am impressed with the work on new software applications that Nex Gen Technology is doing. You are listed as the contact person for the open position of web developer posted online. Therefore, I am reaching out to you today. My resume and cover letter are attached to this email, and I hope that you will consider me for this position.
Thank you for taking the time to consider my request.
Sincerely,
Diana Mills
dmills@email.com
(876) 797-9454
dmills@professionalprofile.com
Inquiry For An Open Position
Subject: English teacher position inquiry
Dear Mr. Hill,
As Principal of Forest Blue Junior High, I am pleased to congratulate you on your success with learning disabilities students. As reported in the news recently. I am Lisa Bernard, and I am interested in the English teacher position listed on your website.
I'm contacting you to learn more about this position. Are there part-time or full-time options, and what courses do you offer? Your response to this email, or a phone call to the number below.
I appreciate the time you have taken to read this.
Sincerely,
Lisa Bernard
lisabernard@email.com
(342) 823-7986
Request For Information
Subject: Business study interview
Dear Mrs. Berry,
My congratulations on your recent success as an entrepreneur. I read the recent profile posted in The Sun newspaper on you.
Greetings, my name is Tom Arnold, and I am a graduate student conducting a survey of new business market trends. As I am reaching out to you, I am hoping to conduct an interview with you for my project. In order to better understand your job and its connection to market research. I am willing to meet with you at a time and place that suits you.
I would like to thank you for your time, and I hope to hear from you soon.
Sincerely,
Tom Arnold
tarnold@email.com
(876) 765-9876
Introduction To The Company
In this case, we are introducing a service or product. It might take a little longer because you need to introduce yourself as well as the company.
The company introduction email template emphasizes selling the company itself and making yourself available for further inquiries. Here are a few business introduction email examples:
Hello Mr. Smith,
I'm contacting you from New INKS as I've been talking to other managers. I believe our new software can be of great help to increase your results.
New INKS has been in the market since 2013. We work with over 984 clients on a daily basis to improve the speed at which work is carried out.
As a software developer. I can share a few data points with you that were collected over the years. Let me know if you're interested.
Feel free to check our portfolio at newinks@gmail.com
[John Black]
Business introduction email Examples 2
Dear Mrs. Scott,
My name is Kevin Wells from GRT, and I'm reaching out to you to introduce our latest product to you, the ZTR500.
GRT has been in the industry for over 12 years, and we have already generated value for companies by:
[address a pain point].
If you would like to learn more about us and best practices, please contact grtnow@gmail.com.
Please do not hesitate to contact me if you would like more information.
Kind regards,
K. Wells
Sales-related Self-introduction
In addition, self-introduction emails are an excellent choice for sales development representatives and represented companies. As they are typically the first point of contact throughout the sales process.
Hey, Jane Donald
I'm Bill Bridges, and we met at Garvey Hall after you gave that brilliant speech.
I would love to connect to continue our conversation about that [add some details about your face-to-face chat to create rapport]. If you are interested.
Forgot to share my business card with you, so here are my contact details:
vyries@gmail.com
567-786-7896
Looking forward to talking to you.
Kind regards,
Bill Bridges
Conclusion
Email introductions do not have to be intimidating or awkward. When you follow these formulas given in this article.
You'll have the capabilities to send introduction emails that are very well-received by your recipients. You are sure to get the desired results.
You should keep track of every message you send if you want to do business or network. Identify ways of improving communication so that you receive responses from people.
The practice and use of tested methods by the market allow good writing to flourish, just as with everything else in life.
Don't forget to follow up on your introduction message. Since some people are usually busy all the time and get a lot of emails every day.
I hope you enjoy the content we have presented for introduction email examples.