When sending marketing emails, do you know that you should send them at the right time in order to achieve the desired effect? Knowing when is the best time to post or send an email-or even what are the best days-is important. It's important especially if you wish to boost your click-throughs and open rates.
Having more interaction generates more traffic to your website.
Good timing can impact social media campaigns for the following reasons.
First, it gives you a higher engagement rate. By posting at the ideal time during the day, you can have more open rate, click rate and conversion rate.
In addition, it boosts the number of visitors to your website. You can think of it this way: Your subscribers received your email. Now your subscribers are reading your email and engaging with your content. Perhaps the email you sent sparked some curiosity. Now they are more likely to visit your site to learn more about the products and services that you offer/sell.
Timing plays an important role for the success of your digital campaign. Aside from email marketing, you may also have Instagram and Facebook or other social media sites where you promote your product. You should keep in mind that the best time to post on other social media sites may not be applicable to email marketing.
In addition to discussing the best time to send emails, we will also discuss the best time to post on some social media sites. Additionally, we will also help you create an ideal schedule based on your audience.
The Best Time To Post Or Send an Email
To find the best answer to this question, you must first know how your audience behaves. If you want to capture their attention and motivate them to act, your best timing is when they'll be most active, attentive and motivated.
Take, for instance, your medical equipment company's email list, which consists of nurses who work 9am-5pm. You probably don't want to email them on a Wednesday at 1pm. Since many of them will only check their e-mail during the evenings and weekends.
Instead of sending the email when your customers are at work, send it when they are free or on their break. You might get a better opportunity this way.
You can identify the best day and time to send an email by learning more about the personas of your target audience.
The best time to send emails is up to your market. There's no one size fits all when it comes to businesses, which is why you need to gather data, test, then repeat the process. In this way you'll be able to know what time will work well for your business.
For reference, here are the email send times, as well as the engagement they generated.
Starting from 6 a.m. to 11 a.m. is when emails have the highest open rates.
The hours between 8 a.m. and 11 a.m. lead to higher open rates, but lower ratios of clicks to opens. Emails get opened, but fewer people click.
More than any other hour, the 1 p.m. block stood out. Open-to-click-through ratio is one of the highest this time.
It appears that people click on emails more between 7 p.m. and 4 a.m. compared to other times of day.
Which day is best for sending emails?
We've talked about the best time to post, now let's look at the best day to post or send an email.
For a successful marketing campaign, you can find out the best information about your audience by inspecting them.
Ten studies analyzed the data and concluded that Tuesday is the best day to send marketing emails.
Tuesday's emails have a higher open rate, so it's more likely to have a better click-through rate. You can also maximize your open rates on Thursday. This two-day period would be a compelling time to send out your marketing emails.
May it be the weekends or the weekdays you should make sure that you are not flooding your subscribers' inboxes. Your audience may become irritated or disappointed if you do that.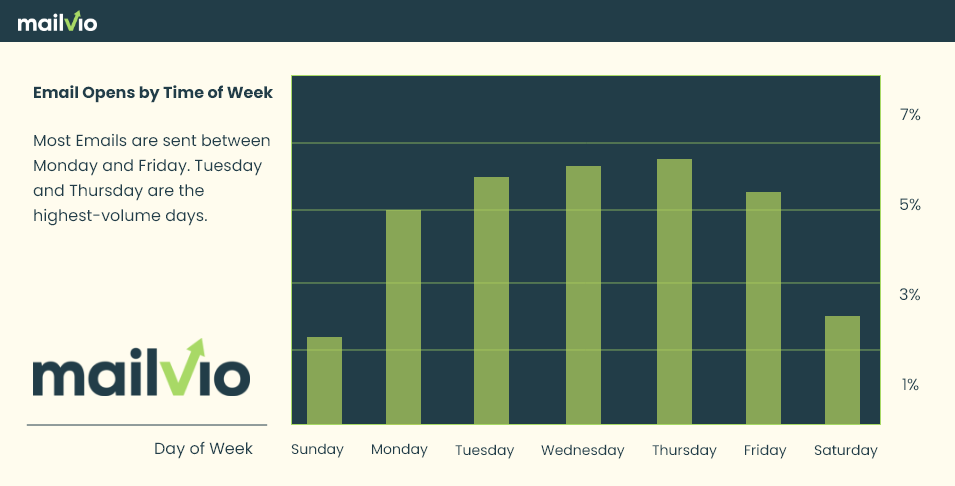 Now that you know when to send your emails, let's talk about the best time to post on Facebook.
When Is The Best Time To Post On Facebook?
The best time of the day to post on Facebook is between 9am to 10am. People tend to get online during this time, since they are just starting their day.
Traffic on Facebook is highest between 1 P.M. and 3 P.M. probably because people are on their lunch break.
If you post at 1 P.M. you can expect the most shares, while posting at 3 P.M. is more likely to garner clicks.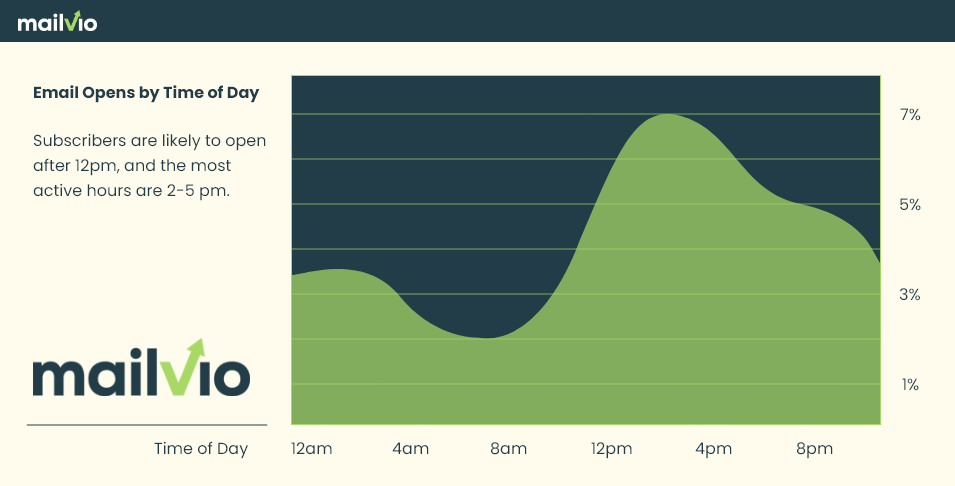 You can take this as an advantage to promote your business and your website.
When To Post On Facebook
The most active times on Sunday are 9am and 10am. Things gradually slow down from there, remaining very low from 2pm onwards.
As Monday morning approaches, Facebook activity gradually begins to increase. This starts from 2am until it peaks around 9am until 11am
On Tuesday, Facebook's peak posting hours are not much different from Monday, extending from 9am up to 1pm
For Facebook posts, the most effective time to do so is on Wednesday as the audience are mostly active from 9am to 5pm.
Facebook audience becomes most active between 11am and 4pm on Thursday, so posting on Thursday is a good idea. It is likely that most people will engage between 8am to 4pm
Friday's Facebook activity is similar to that on Tuesday and Wednesday. The best time is around 9am and 1pm
Around 8am and 10am on Saturdays, is the time where audiences are somewhat active. At these times, you will still have a low chance of reaching your target audience. Therefore, it's best not to release any important updates or launch important products on Saturday.
The Best Time To Post On Instagram
Instagram has become more than a hobby with its complex algorithm and hashtag secrets. In order to reach a bigger audience there are a lot of things to consider. A few of the things you need to remember are the usage of the right captions and posting at the right time.
You should post on Instagram between 10am and 3pm. It also depends on the day of the week on which you post on how much engagement you receive.
Instagram's posts are generally best made before work, during lunch, and after work. You should be aware that the user engagement graph changes every day.
When To Post On Instagram
It is best to post on Instagram between 9am and 3pm on Sundays. The engagement rate tends to be lower on these days however.
Monday's peak posting hours are around 11am to 1pm. With moderate engagement.
In terms of posting on Instagram, Tuesday is the best day since the peak hours are from 1am until 3pm. Engagement rates drop after 3pm.
Tuesday is the best day to post on Instagram, followed by Wednesday. It is also the time of day when the most engagement occurs, starting at 8am to 9pm.
On Thursday, you can start posting at 7am, but the engagement rates are only during 11am to 12nn.
On Friday you can post between 11am to 1pm. There is a good amount of engagement within those hours.
Oftentimes people don't post on Instagram on Saturday. Most people are taking a break on social media on Saturday. From 10am to 1pm is when most users visit Instagram. This explains the low engagement rate.
This information can help you market your business effectively. Social media platforms can also be useful in building an audience for your business. After that, you can direct them to your website, where they can subscribe to your email list.
Building your email list is important. Having them on your email lists, creates a stronger and more professional bond. You will become more memorable and have a long-term relationship with your customers when you are in their inbox.
General Advice for Sending Emails
The email marketing community generally acknowledges these tips about email sending time. You can use them when you're just getting started, but be sure to read on to understand why they may not be 100% effective.
A comparison of daytime and nighttime
Sending your email campaigns during the day is usually recommended than sending them at night. It's for the reason that most people are active and awake during the day. It's preferable to send your emails to your audience on their break or lunchtime rather than when they're asleep.
Sending emails when they are asleep may result in a new batch of emails pushing back your message when the morning comes.
Weekends
The weekend is traditionally a time for going on adventures and running errands. Typically, Saturdays and Sundays are not the best times to send emails. Due to this, most marketers avoid these days because of their low open rates.
Busy Mondays
It is generally advised to avoid sending out email blasts on Mondays. What's the reason? The weekend is already over and people are already bummed out.
After arriving at the office, they discover that they have received a flood of emails over the past few days. What would be their first response? Remove those emails without a second thought.
Because of this, Mondays can also be one of the worst days to send an email. Aside from Saturday and Sunday.
Provide a heads-up to an upcoming event
Almost one-third of emails are opened within one hour of being sent. Others, however, may not open your email for a few days or even longer. It is best to send out event-related emails 3-5 days before an event.
Preferred days of the week
Traditionally, weekdays or Tuesday, Wednesday, and Thursday have been the most popular days for sending out email campaigns. Email marketers often avoid Mondays because many people tend to be grumpy during this day.
Mid-Week and Mid-day
One of the best posting times or send out time for campaigns are during the middle of the week. And during the middle of the day. Another ideal time for sending email campaigns is between 9-11am or 1-3pm.
Some Tips on When to Post or Send an Email
Determining a schedule that is suitable for your audience is one of your primary goals as an email marketer. The following tips may help:
Data gathering
Data collection is important in any platform. Data gathering is easy and can help you figure out who you're aiming for. Analyze your audience demographics, locations, likes and interests using apps or tools such as Google Analytics and Facebook Insights.
You'll be able to track and make more informed assumptions about their lifestyle once you have this information. You'll know when they are active and most likely to open your emails.
Analyze the open rate of emails
You should also be reviewing open rates from previous email campaigns if you have done email marketing before. There is no standard open rate, but the average is 20.94%.
You don't need to alter anything if you've already achieved an open rate you like. You should send your upcoming emails at the same time as those emails.
If your open rate is low, you need to change the time you send your emails. Open rates aren't everything. Take into account click-through rates, conversion rates, and bounce rates.
You should run an A/B test to determine when to send your email
You should acknowledge that once you create a schedule, it doesn't mean that it's permanent. A/B testing your email send times is vital for determining the best time for your audience.
Sending your emails at different times will allow you to test which time is most effective. You should also compare open rates, conversion rates, and other metrics.
Make sure you do this regularly, since the ideal time may vary from time to time.
Study Your Competitors
Investigate the e-mail marketing strategies of your competition. By subscribing to their emails and visiting their websites, you can accomplish this detective work. In most cases, your competitors will send their email at a specific time or within a specific range of time for a particular reason.
They are already familiar and have done their research on the industry and the target market. They are knowledgeable on the algorithm and the best time to send an email.
Still, it's an exceptional idea to test and do your own scheduling, but you can consider using their email schedule as a guide.
Be Familiar with Your Audience
The most important thing you can do to increase your email marketing success is to understand your demographics. Become familiar with your customers' habits and likes, so you can cater to their needs.
If you are targeting teenagers as your audience. The general rule about not sending emails at night is probably not applicable for this kind of audience. Emails sent in the evening might work just fine for younger audiences.
If you're in the entertainment industry, Friday could be a great choice to send your emails. Over the weekend, some people may be looking for fun activities, so the timing would be ideal.
It isn't necessary to stay away from the weekends either. Even though Saturdays and Sundays are deemed as the worst days to send emails. Do you want to offer your services in a cold-weather climate to tech-savvy audiences? It's likely that they check their emails on Saturdays and Sundays.
Make sure you take into account the time zone of your target demographic. It's a great idea to sync to send time with the recipient's time zone.
Feel Confident Sending Email Campaigns
There is no one-size-fits-all solution for maximizing email open rates. You are responsible as an email marketer for doing your research and testing different dates and times. What works and what doesn't rely on what you decide for yourself.
With Mailvio, you can optimize your email marketing campaigns and measure their success. It has SMTP and automation workflow built into a full-service autoresponder.
Using it requires no technical expertise at all. You will see how easy it is to make money online with Mailvio's incredible features. They have A/B Campaign Testing, Detailed reporting and analytics, Advanced Segmentation and a lot more.
Take Advantage Of The Golden Hours
The term golden hours refers to the period of time when most people are in a research or buying mood. On most days, people are busy handling work-related tasks, taking care of family matters, or dealing with their businesses.
According to various research, it shows that people usually enter the researching, educating and buying mindsets later in the evenings and on weekends.
For example: you send your prospect an email in the morning that has a compelling subject lines that gets their attention. When they start reading the email they think to themselves, "This is exactly what I need to know. But as of now I don't have time to focus on this. I'll read it later."
Your potential client reviews their emails once the children are in bed and the chaos of the day has subsided.
Now that they have more free time to themselves, they recalled your email. With their free time, they opened and read your email once more. In other words, the golden hours.
They will devote these hours to learning more about your products or services. They are pondering whether this is a suitable fit for them. It doesn't stop there – they are even looking for reasons to buy from you.
You'll increase your chances of them checking out your offer. As well as maybe even buying, your product or service if you can get a fresh email in their inbox during the golden hours.
In Conclusion
When is the best time to post and the best day to send marketing emails?
This is a great question, but there isn't a simple answer. The answer depends on the situation.
One of the biggest marketing desires is to find the "secret" formula that will make their business an instant moneymaker. Numerous articles will even claim to have a formula for determining the best time to post and best time to send an email. However, It is important to note that you cannot treat social media platforms as one size fits all instrument.
Each social media platforms are unique and different. The best time to post on Instagram may not be the best time to post on Facebook.
As a result, it would be fair to say that the perfect posting time is different for every platform and for everyone.
The business approach should be specifically tailored to the target clients. The majority of your potential clients cannot be sorted into just one place or one time throughout the day or week.
Yes, some suggested "best time to post" or "best time to send an email" can work for you. But again this is not set for a long time. What once worked well for you may not work the second time around.
The success of your business will not solely rely on your ability to send out an email at the perfect time. It's also about the quality of the email. The quality of your products.
As well as knowing what marketing strategy is best for your business. It is also essential to use an email marketing tool. The key to a successful business is improving and updating these factors. As well as having a well-developed marketing plan.