What is a CRM software? Customer relationship management (CRM) refers to the practices and technologies that companies use to better understand their customers while making positive interactions with them.
In CRM email marketing, CRM tools are used to make direct marketing to prospective clients more effective and personalized.
Staying at the top of the customer's mind is always the objective. B2B customers, a much bigger segment now than ever before, are among them. B2B automated platforms saw usage increase by a factor of 11 between 2011 and 2014, increasing revenue by 60%.
Consequently, CRM email marketing focuses on the individual or individual company receiving it, rather than the larger, ambiguous audience once heavily targeted. Because it's the individual who determines the success of the organization.
Keep scrolling for a more in-depth look at what is a CRM Software.
There are currently over 3.9 billion active users of email marketing around the world, one of the most popular forms of marketing today. It's a great way of interacting with your customers, as it provides a variety of ways in which you can publish information.
Use a customer relationship management (CRM) solution in conjunction with your email marketing software. Could well be one of the most effective methods to ensure that you are sending the right content to the right people.
Read on to learn about what is a CRM software used for in email marketing. Also, how CRM can benefit your email marketing efforts.
There is a wide range of benefits that a CRM-enabled email marketing tool can offer your small business. This leads us to Mailvio the best all-in-one email marketing platform which has CRM-enabled features.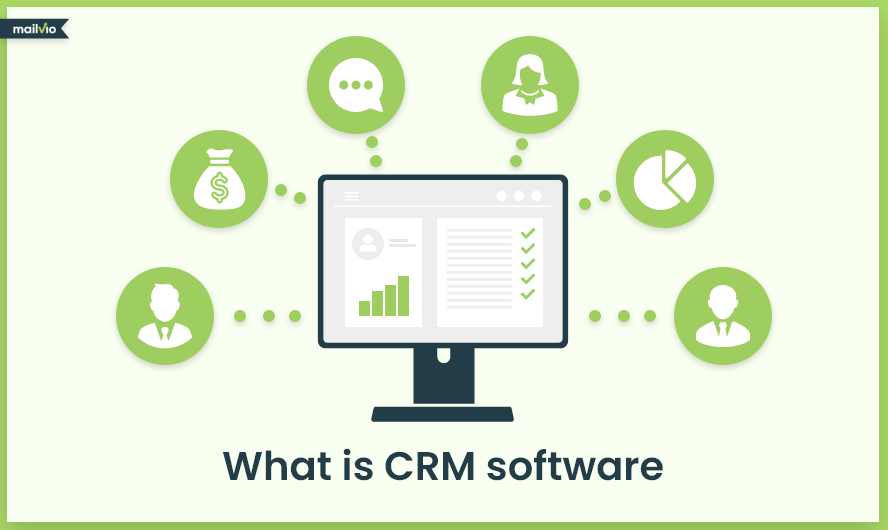 What Is A CRM Software?
CRM refers to all methods and software that are aimed at managing the relationship between a company and its contacts whether they are leads or customers. An approach to management that aims to satisfy and make these contacts loyal to the company.
As you can see, a CRM is not only a tool. It also involves creating a business strategy to enable you to understand your customers, anticipate their needs, and achieve your company's objectives. The software is of course what makes it possible for you to examine all this data and to act on it.
You can create effective marketing strategies by using CRM tools, which allow you to manage the information you receive from your customers. But also to manage the internal information of those actions that your team carries out to achieve it. A CRM system will help you integrate sales strategies, online marketing, and advertising with your contact's data in an organized way.
Benefits Of Using CRM Software
Any successful online business knows its customers. This should be obvious by now, you cannot develop a long-term strategy that meets your goals unless you know the purchase cycle of your potential consumers.
As a result, your CRM can be viewed as the vital important core of your organization. If you have all the data you need to know your contacts' needs. As well as a record of your team's sales and marketing activities. Then you will be able to measure how your strategy works and how it actually evolves.
Segmentation remains key to a successful customer relationship management program for your company. With a CRM, you can segment your database to personalize and focus your strategies, ensuring they are always appropriate for the situation.
Features Of An Efficient CRM
It must keep an updated record of the historical data of the online route, the purchase behaviors, and the preferences of your customers. These data are essential to know their profiles, as well as the sociodemographic data.
Furthermore, it should include a feature that allows you to create segmented lists of your audiences. So that it is easy to identify different sales opportunities based on their behavior.
You need to remember that CRM software needs to be adaptable to the needs of your team. This means that your team should be able to work with a quick and intuitive tool. That allows them to analyze your contacts' behavior as well as record their actions.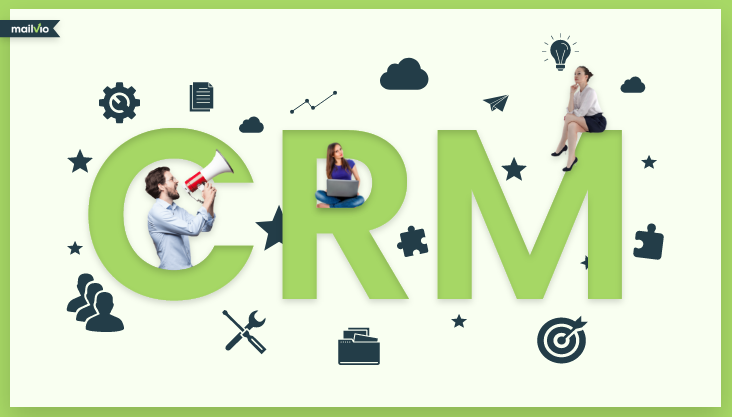 Email Marketing Software
First, let's talk about what email marketing means. This strategy sits at the core of any successful online marketing strategy.
In the Inbound methodology, the emailing actions work to convert your database contacts into qualified leads (sales opportunities). Also, it helps to improve your relationship with them.
In summary, email marketing is one of the most effective ways to increase conversions of contacts into customers.
What is a CRM software value as it relates to email marketing? Keep reading on, answers to all your questions are outlined in this article.
If you carry out marketing campaigns aimed at satisfying your potential customers, you're not using an outdated marketing method. The end justifies the means.
There are, however, many campaigns that are conducted based on a specific strategy. Therefore, you need software that helps you manage these campaigns.
An email marketing tool like Mailvio will allow you to create contact lists for sending emails, which follow a specific design. That's consistent with your brand value and your objectives.
This will make it easier to perform lead nurturing, which is basically sending relevant content to your contacts. Based on where they are in the customer journey.
Produce content that will help them become final customers and trust in the relationship, they have with your brand as they advance in this life cycle as consumers.
Organize, segment, automate, and customize. These are the four keys to email marketing, which your tool should assist you with. Unless you include them, then an email marketing campaign will not make any sense.
Marketers Need Email And CRM In Order To Be Successful
Although it was thought that social media marketing would take the place of email marketing, email marketing remains a mainstay of the marketing world.
Email marketing has steadily grown; by 2023, there are predicted to be 5 billion global email users.
As the largest software market in the world, CRM has also experienced significant growth.
Marketers must incorporate CRM as well as email marketing into their overall marketing strategies. By working together, they help you reach the right audiences with your content and message.
It's the primary purpose of a CRM to manage and improve your company's relationship with your customers. As we have outlined above in answering what is a CRM software.
Also, a successful customer relationship boosts your business's success.
CRMs record information about each customer and lead. Such as what products they buy, how often they contact the company, whom they call, what they click on, and more.
This detailed information can then be used to send a targeted email campaign showing the customer a related product they might be interested in. Or reminding them about something they left behind in their cart. In addition, this information can give you a clearer picture of where you may have gaps in your sales process.
Five of The Best CRM Software
1. Kyvio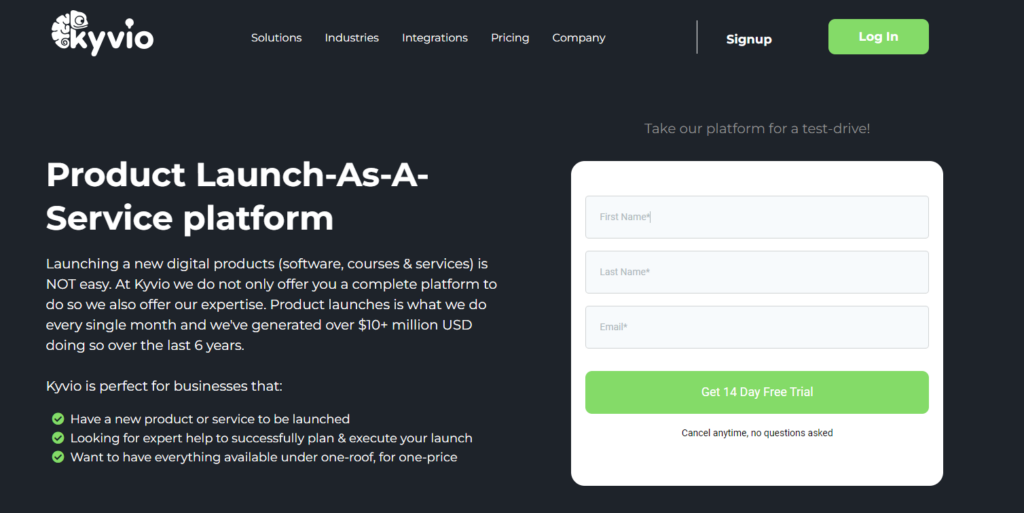 With Kyvio, online marketers can build customer journeys that maximize conversions and lifetime value by creating adaptive online experiences that delight their customers.
Customers can design and implement their online customer journeys quickly and easily with Kyvio – Smart Journeys.
Additionally to the customer journey builder, we help companies build their sales funnels, sell their products, build (mini) websites, and optionally their membership websites.
Kyvio achieves this by providing the following products:
Build and implement adaptive customer journeys that serve your customers the funnel they need at the moment they need it, with Smart Journeys.
Create your very own funnels using Smart Funnels, Kyvio's own drag-and-drop funnel builder. A Smart Funnel page loads super fast because of the latest Warp engine technology.
You can create fast-loading membership sites even if you have limited design skills with Smart Memberships.
Over 10 payment gateways and secure delivery options make Smart Products easy to sell any digital product.
In spite of the fact that they are often overlooked, (online) customer journeys are an essential concept that helps businesses serve customers better. It also increases customer lifetime value and loyalty.
2. Zendesk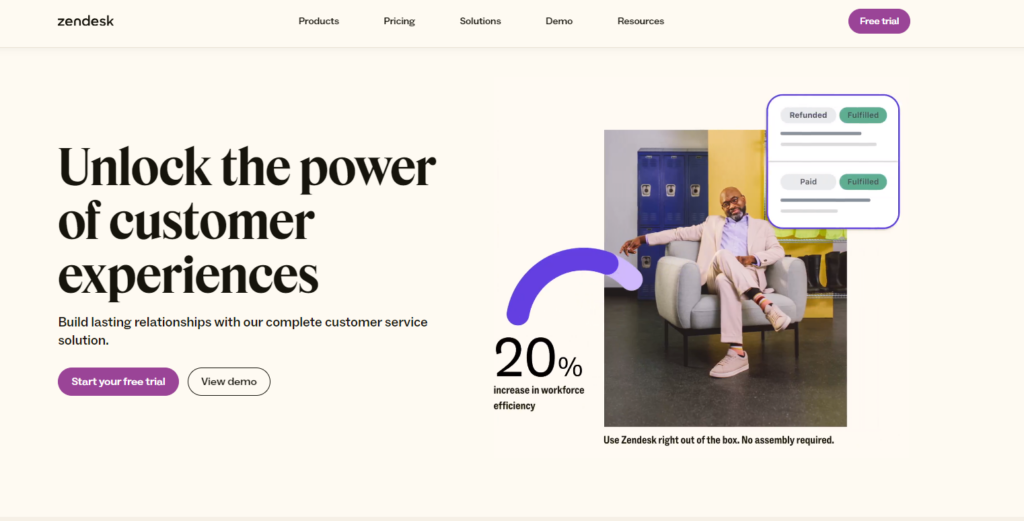 With Zendesk, small businesses can provide enhanced customer service and increase collaboration among team members.
Its key CRM features include task/project management, a sales pipeline, a team document repository, and comprehensive reporting & analytics.
By using Zendesk, you can gather customer data from multiple channels and store it in a centralized location in order to prevent confusion or task duplication. Due to the integration of Zendesk Support with the CRM tool, your customer support team can stay informed throughout a customer's purchase journey.
Lead scoring, custom lead forms, communication templates, funnel tracking, customizable lists, and conversion rate monitoring enable you to gain an insight into the nature and potential of your leads quickly.
You can reduce your team's administrative workload and increase productivity using the sales automation tool.
You can filter and segment leads using smart lists and track customer engagement with email tracking.
In addition to bulk emailing, Zendesk also offers email templates, forecasting, prospecting, analytics, channel optimization, and deal-making tools to increase conversions and boost customer retention.
3. Bitrix24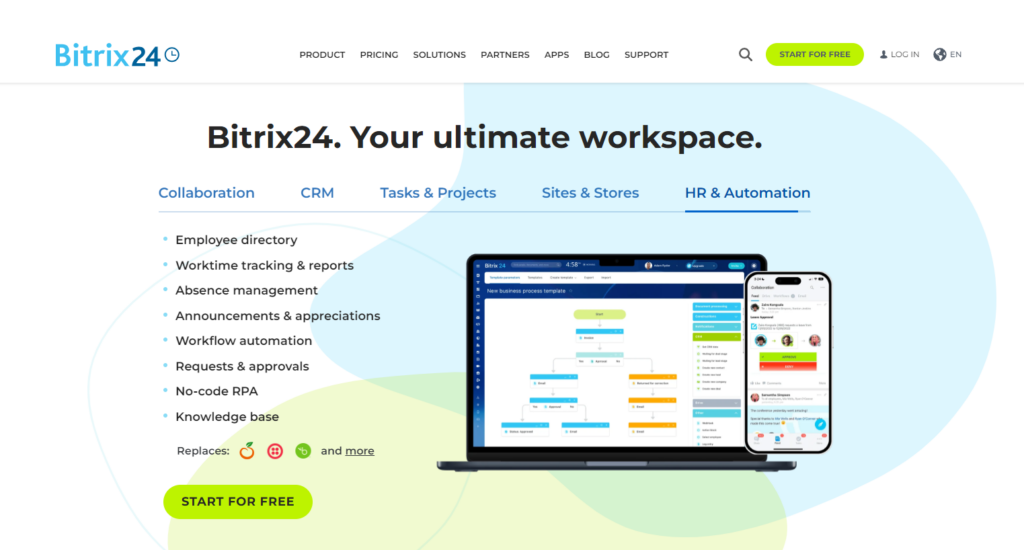 Small businesses and large companies with complex workflows can both benefit from this powerful CRM software. The features offered by Bitrix24 are many, including a built-in contact center, lead management, pipeline management, and email marketing.
This application provides high-grade time management, task, and project management tools to help you increase productivity. A detailed report can also help you refine your workflow by providing insight into how to improve.
Depending on your data confidentiality and security needs, you can purchase Bitrix24 as an on-premise solution or a cloud-based solution. As a result, the software system can be installed on your local server or in the cloud.
4. Keap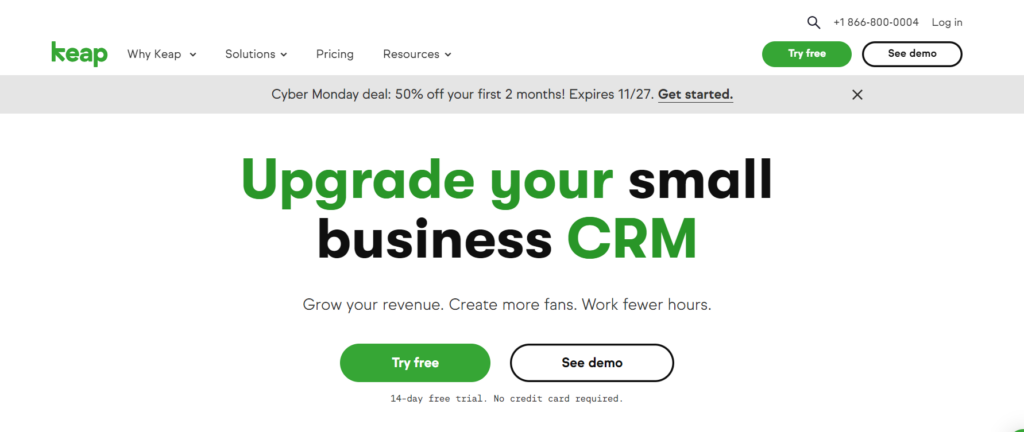 A CRM solution that combines marketing and sales automation, Keap helps companies of all sizes achieve set goals, grow, and enhance customer service.
Using Keap, you can refine your sales pipeline, score leads, conduct AB tests, create high-converting landing pages, and increase conversions. You can automate sales follow-up emails with Keap to generate leads and convert them.
You can segment your contacts in Keap to make sure your targeted messages are reaching the right people. Making faster decisions will result in keeping your contact/customer information and other relevant sales and marketing information together.
As well as offering sales campaigns, tracking ROIs, management of product pages, shopping carts, discount codes, and other e-commerce functions, Keap also offers a number of other e-commerce services.
It integrates well with all the tools and technologies you use for your business and features a fully customizable and intuitive platform.
5. Oracle Netsuite CRM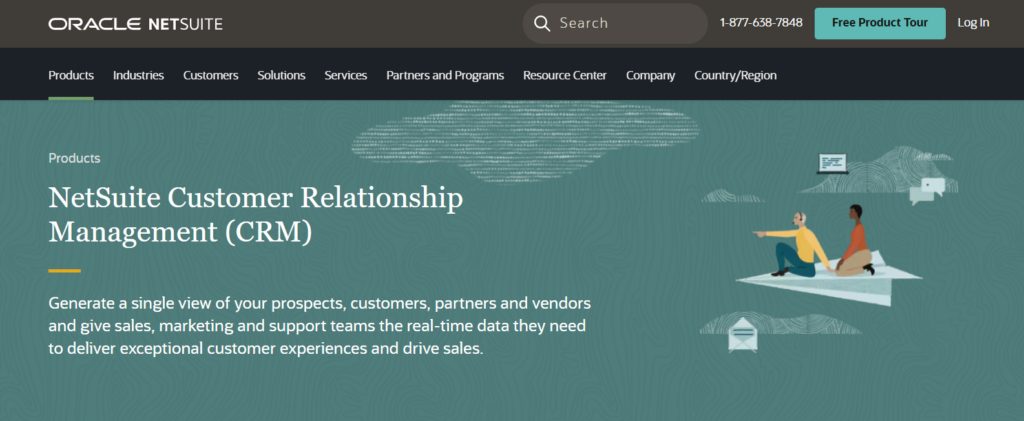 It offers traditional CRM capabilities, as well as sales forecasting, order management, quote delivery, commission management, and eCommerce tools.
Think about giving this CRM software a try if you wish to gain a deeper understanding of your buyers' shopping and purchasing behaviors.
The software gives you a bird's eye view of opportunities and your customer interactions by using real-time sales insights.
In Netsuite CRM, all the customer data you've collected across various channels is organized and analyzed to predict future purchases.
Besides sales pipeline monitoring, website search engine optimization, customer support case management, and contact management, this CRM platform also offers other customer relationship management features.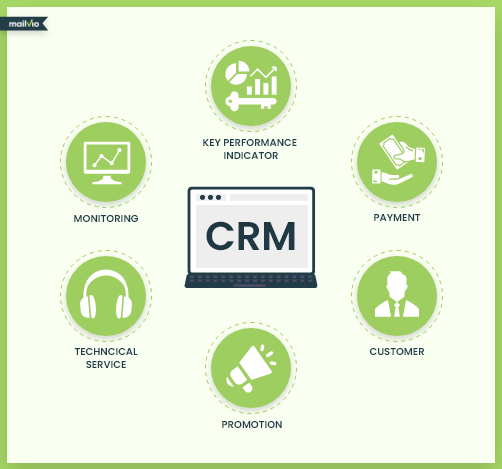 What Does CRM Email Marketing Offer?
CRM and/or email marketing platforms have a number of key features, but there are seven you should specifically scrutinize:
A Complete Evaluation And Analysis
CRM-enabled email marketing platforms provide you with a constant stream of up-to-date customer information. As well as the tools to analyze data, test different campaigns, and adapt as needed.
Analytical tools can help you determine how successful your last email campaign was. For example, by telling you how many recipients clicked on the link in your email.
An organization's lead nurturing program involves developing and growing relationships with customers at each stage of the sales funnel or buying process. You can save time and money by automating parts of this process with CRM-enabled email marketing platforms.
Amalgamation
Make sure your all-in-one tool integrates with other programs and services, such as Outlook, Zoho, or other marketing platforms. Through integrations, you can broaden your capabilities and better serve your audience.
You can, for example, integrate Outlook to enable automated email campaigns to segmented contact lists, all in one system.
Automated Campaigns
By automating marketing tasks, tasks that would otherwise be done manually can be completed automatically. The automation of your employees' tasks allows them to devote their time to other, more important tasks. With automation, you can automate drip campaigns, lead scoring, and task alerts.
Sending Mass Emails
Sometimes, you have to send an email in bulk to a large group of people. If you need to get your content out to your entire audience at one time. You need to look for a company that provides this as an option. So you can carry out these tasks quickly and efficiently.
Tracking The Engagement Of Recipients
In order to succeed at email marketing, marketers need to adapt their strategy quickly and radically if their current one isn't working. CRM email marketing lets you see who opened your email, who clicked links, who did not open it at all, and so on.
As a result, you can modify your strategy until you find something that works. Choose a tool that offers conversion tracking, so you can better understand your customers' behavior.
Automatically Generated Responses
You will want to create drip campaigns, which are emails that are automatically sent to appropriate customers based on triggers. Such as abandoned cart reminders or order updates.
An automated email response may include notifying a customer that their order has been shipped. As mentioned above autoresponders like Mailvio will cover all of this plus more with its all-in-one feature.
Advantages Of CRM Email Marketing
Email marketing offers two main advantages. It allows recipients to gauge their interest at a glance without having to invest valuable time. A low-cost distribution channel allowed the sender to reach a large number of prospects and clients at once.
Because marketers were able to cast a wide net, they identified a large number of interesting leads. Despite the percentage of interested leads being a relatively small percentage of the total individuals reached. Understanding leads will aid with your campaigns.
In spite of the fact that this was a great solution for marketers and interested leads. Most recipients of these marketing efforts found themselves swamped with "spray and pray" messages being shot into their inboxes on a daily basis.
Anti-Spam Capabilities
Many spam-blocking solutions were created as a response to these unsolicited offers. Marketers realized courtesy would be a selling point when complaints increased and cooperated – as mandated by the FTC. An option to "unsubscribe" from these marketing campaigns became commonplace.
Using CRM email marketing, you can prevent customers from exercising that option by appealing to them in a way that's less intrusive. A customized approach to email marketing is used to target needs, be useful, and nurture relationships, eventually resulting in lifelong, mutually beneficial relationships.
By using CRM email marketing, companies can personalize each contact, learn customer names and shopping habits, and even anticipate customer interests. Essentially, it turns every marketing interaction into something customized to meet the individual needs of the recipient.
Instead of being an unwanted nuisance, marketing emails are valuable notifications to those who have already expressed interest. Through the use of imagery that's flexible and immediate.
CRM email marketing is helping firms and companies reach out more directly and further than ever before, enabling more accurate lead targeting.
Automating marketing campaigns should include drip campaigns, highly integrated datasets, and report generation that is easy to integrate. By automating marketing campaigns, your team will have more time for other areas of your business.
Email Marketing For Modern Businesses
Since the introduction of email to the general public, the digital world has changed significantly. The days of clients being happy to fit into the crowd are long gone.
Customers today need assurance that their own interests are being considered. In order to remain competitive, businesses must adapt to this new, personal marketing world.
CRM email marketing allows you to establish direct relationships with clients through personalized, valuable emails that don't get classified as spam.
A tool designed to create and manage campaigns that stand out from the competition is definitely worth a second look. Since there are so many marketing campaigns battling for customers' attention.
Is Mailvio A CRM?
Mailvio provides marketers with all the CRM tools they need to aggregate, organize, and manage audience data in one place. Numerous Mailvio customers utilize the platform as their CRM.
Mailvio users may have more complex CRM needs (there are integrations for standalone CRM solutions). But for many marketers, collecting and interpreting customer reports is the main function of CRM.
With Mailvio, you'll get to organize and put your customer information to work for you without adding unnecessary complexity to your workflows.
How Mailvio Can Help With Your Marketing CRM Needs
In addition to providing valuable data reports, Mailvio provides tools for organizing and interpreting that info on a higher level. These tools are a great choice for businesses that are just starting out.
Take a look at how Mailvio can help you use reports to improve your campaigns and build stronger relationships with your customers.
Organize Customer Data In A Central Location
All of your audience data in one place makes it easier to identify patterns: You can spot trends, you can decide what to send when to send it, and who to send it. And with Mailvio as your central hub, you can quickly turn that knowledge into action.
It's easy to organize your audience with Mailvio, whether you're starting from scratch or have existing information to organize. If you have an e-commerce store, connecting it to Mailvio automatically imports all of your custom reports.
This information will help you get a better understanding of your customers, how they interact with your marketing efforts, and how they become customers.
Based on data points like their age and geography, the last time they clicked on one of your campaigns. And when they buy something, you provide insights to your analytics.
Conclusion
As you can see, Mailvio offers many tools and strategies that fall into the category of building and managing customer relationships as a marketer.
We have looked at how using competent email marketing software provides the features of CRM software. Therefore, choose wisely and utilize the number one all-in-one email marketing tool, Mailvio.
To boost your customer relations which in return will enhance your customer list and skyrocket sales. 
We hope this article has left you with a complete understanding of what is a CRM software and have a clear choice on which one you want to make use of.