If you are an aspiring businessman looking to build a business from scratch, you can start by learning how to create a logo first.
A logo is a visual representation of your brand identity. It is the most visible part of your business and plays a huge part in how your business will be perceived.
You can think of it as a visual shorthand that represents the essence of your business.
Your logo should be easy to read and pronounce, in addition to being unique and instantly recognizable.
It should also be consistent throughout all your marketing materials, such as the website, your social media pages, and emails.
Speaking of marketing, it can certainly be costly to advertise your business, especially if you are a small business. And if you are just starting out, affordability is even more of a concern.
That means you'll need something cheap and effective, and email marketing ticks both boxes. After all, the average ROI of email marketing is a whopping $36 for every $1 spent.
So, when you're pondering a new logo design, think about how it will fit into your email marketing strategy.
Why You Should Include Your Logo In Every Email
While many business owners use their logos prominently across social media profiles and websites, email marketing is often left out of the mix. And that's a mistake for many reasons.
It is a well-known fact that humans are capable of processing images faster than words.
As a result, a lot of the information in your email can be communicated through a logo.
For example, a company's logo can provide a visual cue for the type of product or service you sell.
It can also help you build trust with your audience by creating a sense of familiarity and transparency.
In addition, the logo is a great opportunity to do a little bit of email copywriting in it. For instance, you can include a tagline or other key points of your message.
And lastly, your logo can act as a powerful call-to-action (CTA). It can be used as a clickable button that leads to a page with more information about your business.
Speaking of CTAs, here are a bunch of call to action examples you can draw inspiration from.
How to Create a Logo That Works for Email Marketing?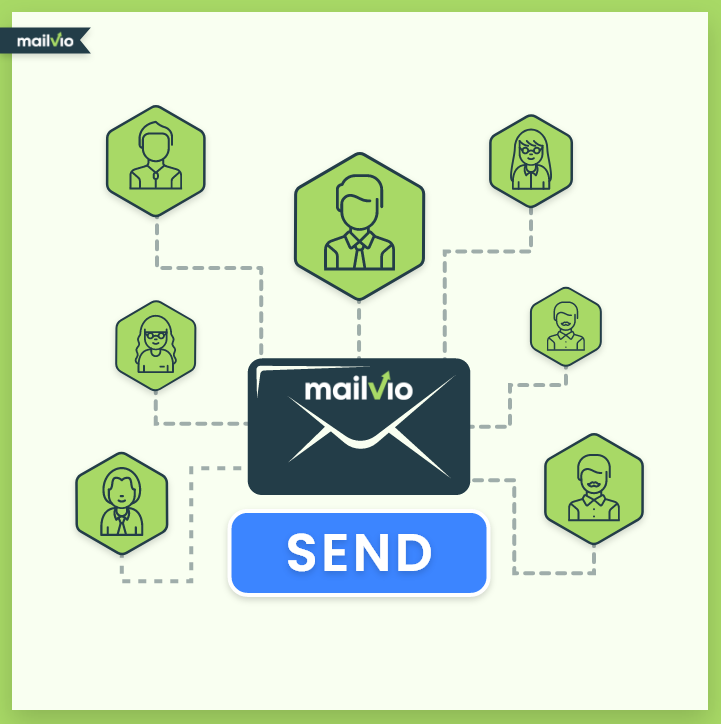 There are a lot of things you should consider when designing a logo with email marketing in mind. Here are some tips to get you started.
Keep it Simple
The main goal of a logo is to convey your brand's message. And that message should be clear and concise.
That means you don't want a lot of visual clutter in your logo.
In addition, you want to avoid using too many colors. That can make it hard for people to identify your brand.
You should also avoid using any fancy designs or clip art that might distract your audience.
This is not to say you should go for a generic, boring logo. Instead, try to come up with a design that is both simple and memorable.
Choose a Suitable Color Scheme
Your logo will determine a lot of the color scheme for all subsequent campaigns.
Keep in mind when choosing your color palette, as you'll be using it throughout all your future emails and newsletters.
As mentioned above, you shouldn't use too many colors. Instead, stick to two or three colors that work well together.
There's complex psychology behind color and each color evokes a certain emotion in people.
So, you want to make sure you're picking colors that are complementary to your overall brand message.
For example, if you are selling a product that is environmentally friendly, you might want to choose a green color.
Or, if you are selling a home security system, you could choose a red color. That color has a strong emotional connection to home security and would appeal to your target audience.
Use Transparent Background
This one might be a bit obvious, but it's a mistake many inexperienced designers make.
When it comes to emails, we recommend that you go for a transparent background.
Why?
Because it removes the need for optimizing the entire email template each time you create new campaigns.
That said, it's perfectly fine to use designs with color backgrounds for other marketing channels.
For email marketing though, it's best to stick with a transparent background.
Optimize for Mobile Viewing
Seeing as 40% of all emails are opened on mobile devices, you should make sure your logo looks spectacular on a phone or tablet.
And if you are using email automation, which you really should, there are a few things you can do to ensure this.
A tool like Mailvio, for instance, will allow you to:
Choose from a variety of responsive email templates,
Create your own designs with a simple drag-and-drop editor,
Test the design on different devices, and much more.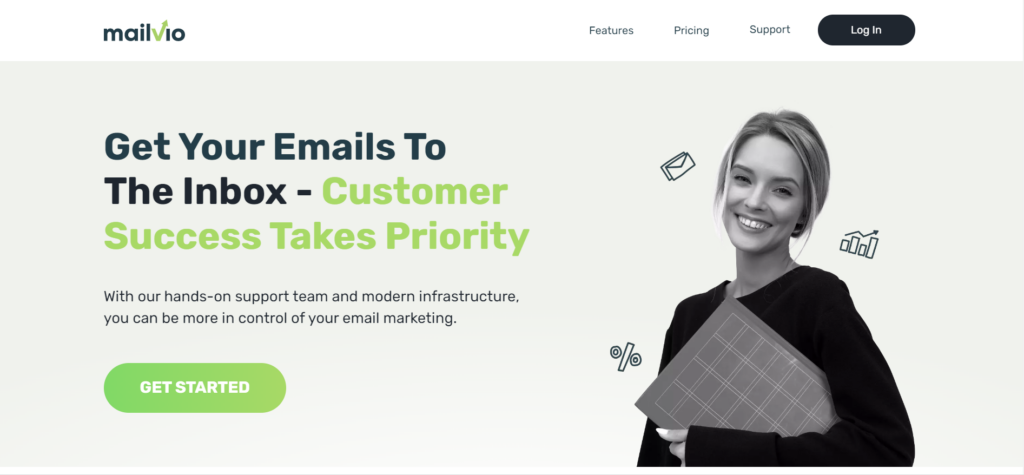 That will ensure both your email template and the imagery in it display correctly on mobile devices.
You don't want a gigantic version of your logo staring your audience in the face when they open your email.
Choose the Right Font for Your Logo
The font you use in your logo also conveys an "unconscious" message to your audience, similar to the colors you choose.
Choosing the right font for your logo is very important if you intend to include your business name in it, which many companies do.
For example, serif fonts are more formal and tend to look more elegant and professional than sans serif fonts.
So, if you want your brand to be associated with attributes like "traditional" and "reliable", use fonts such as Arial and Times New Roman.
Again, whichever font you choose, make sure it looks good in any medium and at any size.
Also, note that a certain font can work well for a logo, but feel difficult to read if used for the copy itself.
For that reason, you should choose two or three fonts that you'll use consistently in all your headlines, body text, and subheads.
Make Sure to Include Alt Text
Sometimes, internet connection issues can prevent images from loading properly. And because the logo is basically an image, your subscribers will see a default placeholder image instead.
In order to avoid this, you should always add alt text to your logo. This is the text your audience will see in place of the logo if it fails to load.
It will appear in the image's description box when the image is not available.
Find the Right Placement
Finding the right placement for your logo is essential for a good email design.
The top left corner is the preferred choice for many designers, as most people seem to scan emails from left to right.
By placing the logo on the top left side, the logo will be the first thing they see.
If you are using image-based icons or big letters, the top-middle location is also a good option.
A top-centered location is an effective option as well, especially if you use big letters or image-based icons.
Depending on the length of your email, you may place your logo twice – at the top and the bottom.
The logo at the bottom of the email can serve as a secondary call-to-action button.
To make the template appear more diverse to your audience, choose different variations of the logo:
Image only,
Image with text,
Image inside the text, etc.
A simple AB split testing with Mailvio will tell you which logo variation and which logo placement works best.

Conclusion
Now you know how to create a logo that's visually appealing and aligns with your brand and messaging.
To start, always keep the following guidelines in mind:
Keep the size of the logo consistent and at the same scale as all other elements in the design.
Ensure that the logo is easy to recognize. If it's too hard to read, it won't be memorable.
Use an appropriate font and color scheme. Make sure the colors are consistent throughout the design and match your brand development principles.
The most important part of creating an effective logo is that it should be unique.
This doesn't mean that it has to be completely different from any other logos you've seen before. It means, however, that it should be something that stands out and creates interest.
Once you've created your logo, don't forget to add it to your email marketing campaigns.
Use a tool like Mailvio to split/test your logo placement, design variations, and font colors. Then, make sure to optimize the design for mobile.
If you get everything right, your logo will work for you and your audience will love it.
Thank you for reading!
If you liked this article, make sure to subscribe to our blog and drop a comment below.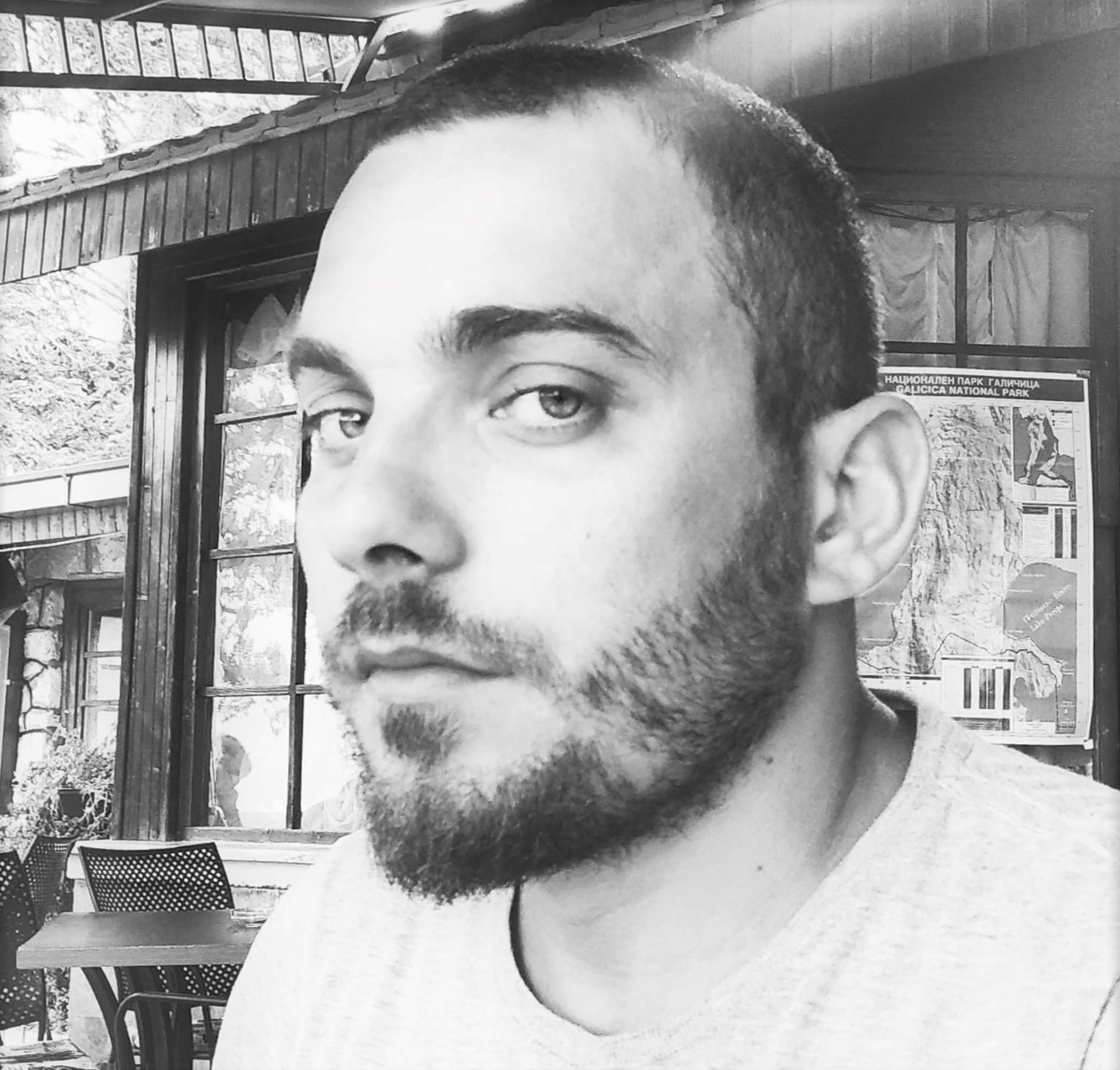 Vladimir is a passionate content writer and digital marketing enthusiast. With over 3 years of experience in the field, he loves sharing his insights on topics ranging from content marketing and SEO to social media strategy. When he's not writing, you can find Vladimir exploring the great outdoors or experimenting with new recipes in the kitchen. Connect with him on LinkedIn to stay updated on his latest articles and adventures.