Do you need an email marketing services provider that meets your needs? Email marketing companies can have a substantial impact on your marketing campaign.
An email has become one of the most effective and powerful marketing tools available to businesses. Email marketing is a powerful marketing tool that can increase engagement. It leads to higher ROI and better relationships than other marketing tactics.
Your marketing campaigns can be easier with the help of an email marketing provider services provider. You will get a lot better results in a short period of time.
Best Email Marketing Services Provider
A small business's best marketing strategy when it comes to cost-effectiveness is email marketing. The ROI of email marketing can reach up to almost $40 for every $1 spent.
Email marketing is easy to manage, which is why it is so popular. Direct communication with customers is possible because you are in control of the system.
The email marketing software you select makes all the difference in your email marketing success. Email marketing services provider assures your email marketing messages are delivered.
A poor choice of service provider can result in more money spent on fewer marketing features. You will then lose even more money due to the poor email deliverability rates.
How Do You Pick an Email Marketing Tool?
There are certainly a lot of options available on the market for email marketing services provider. It is important to pick a provider you feel is the best option for you. Here is what you should expect from your service provider.
Creating engaging email newsletters should be possible with a good email marketing service.
Provide an easy-to-user interface.
Sending bulk emails which are actually targeted and personalized should be an easy task. Using an autoresponder makes this possible.
Managing your email list should be easy.
Track the performance of your email marketing campaigns
Ideally, the provider should ensure that your emails are not filtered as spam.
The purpose of this article is to present a few of the best email marketing services provider.
Mailvio
Perhaps this is the first time you've heard of Mailvio. So far, it hasn't gained the same fame as its competitors. But despite that, it offers a remarkable service that is comparable to well-known services.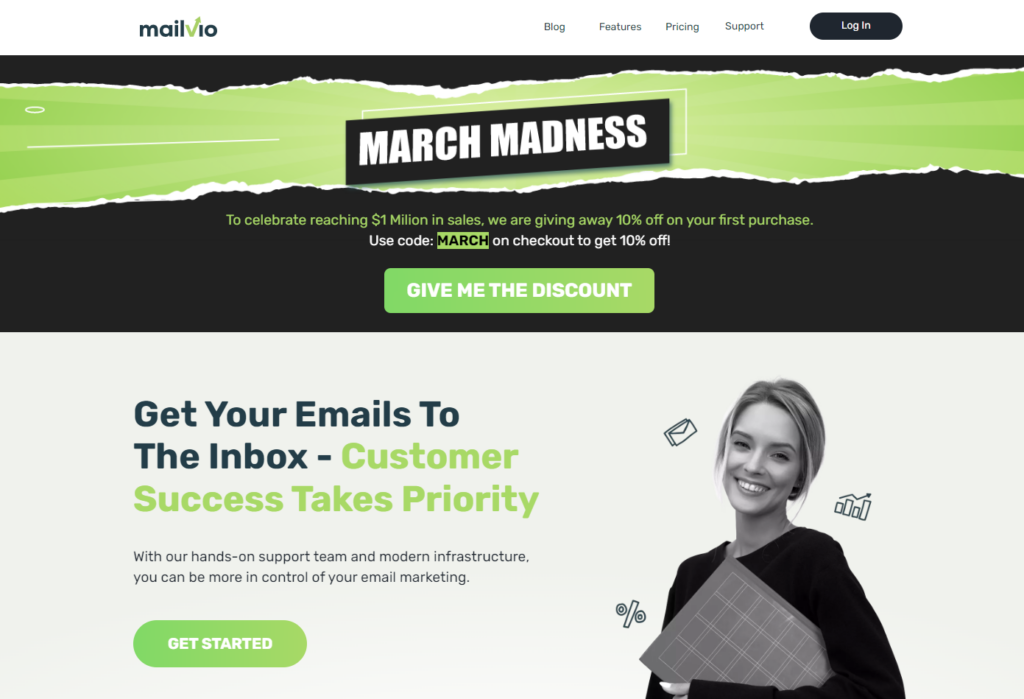 Digital marketers built this email autoresponder specifically for digital marketers.
This platform is accessible to a wide array of users. From online merchants to affiliates, to bloggers.
Its primary goal is to provide users with an autoresponder that is easy to use. In addition to its impressive list of features, it helps to increase delivery rates.
It makes sure your emails land in the inboxes of your recipients. At a budget-friendly price. The perfect solution for companies on a budget.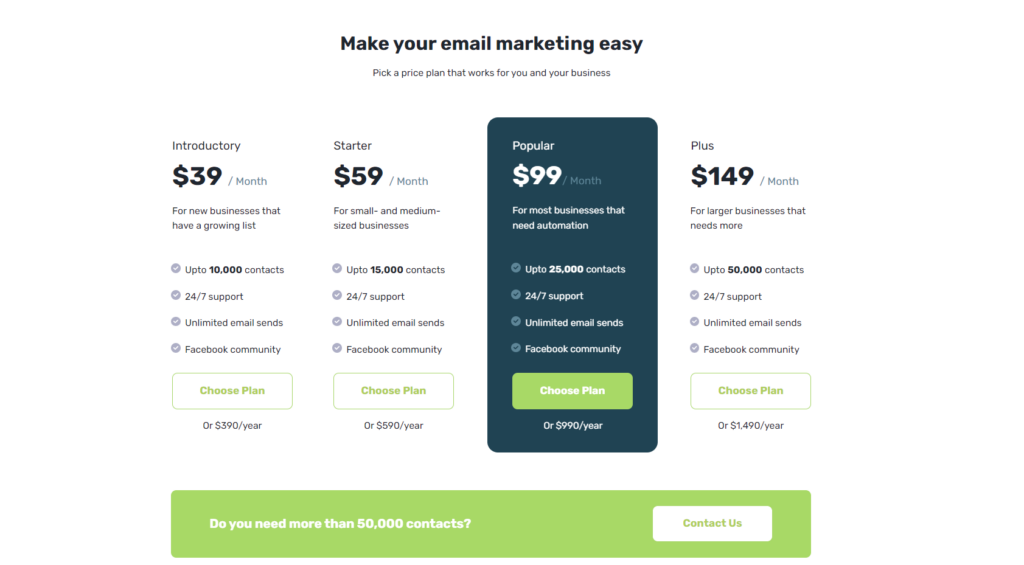 The following are some of its key features: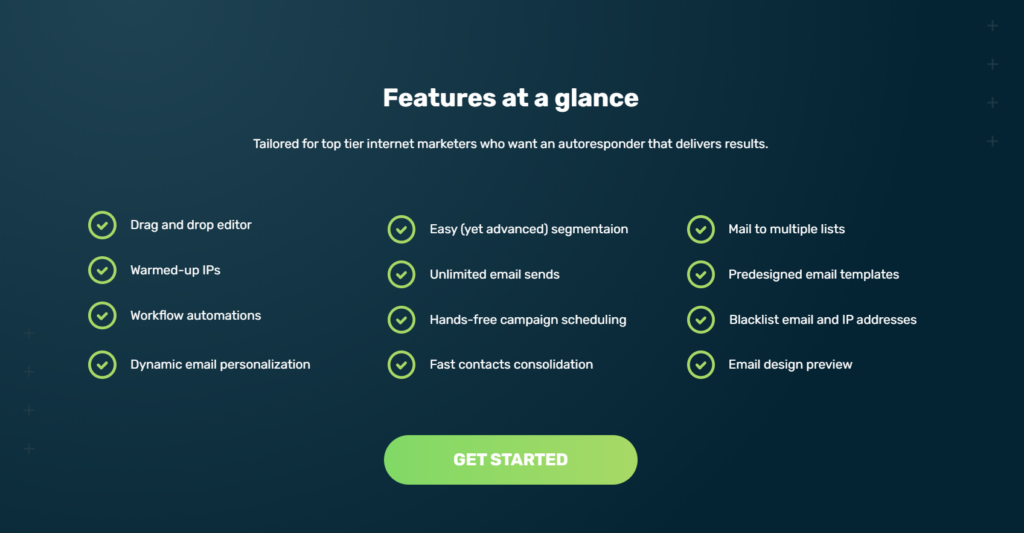 The higher the deliverability rate, the more profits. It's easy to use Mailvio, which is another reason to like it.
The user interface of their applications is visually pleasing. They have very clear and easy to understand menus that make navigation easy.
Deliverability is more of a priority for Mailvio. Mailvio allows all users to use pre-warm-up IP addresses for personal use.
As a result, users can take advantage of Mailvio's reputation as a trusted email service provider. As a result, they are able to achieve higher sender scores and also reduce the time it takes to get a good reputation.
The customer support that Mailvio provides is one of the best and most favored services that customers appreciate.

It has round-the-clock services that can assist you with any issue you're dealing with. Though Mailvio has not quite established itself as a very popular service provider yet, it has proven to be capable of catching up to other service providers.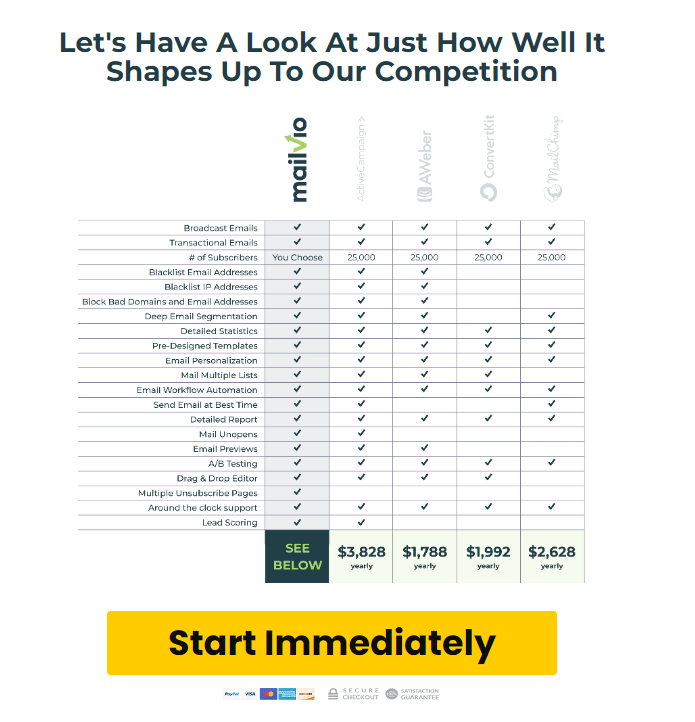 Mailchimp
One of the most widely used by email marketers is Mailchimp. The company offers an email marketing service that is forever free.

In today's market, there are better options available, so it is no longer well recommended. Since Mailchimp takes up a large portion of any best email marketing software list, we can't omit it from the list.
Mailchimp comes with:
Simple drag-and-drop email builder
Contacts are segmented into groups
Autoresponders
Analytics tracking
Set up geolocation-based segmentation
The Mailchimp platform is quite limited in its marketing automation functions. In particular when you compare it with Mailvio, ConvertKit, and Drip.
In addition to live chat, Mailchimp offers email support as well as a large knowledge base of tutorials. They often have slow support and their quality of service is not up to Mailvio and Constant Contact.
With Mailchimp's free forever plan, you can email 12,000 contacts for as many as 2,000 subscribers per year. It does not include advanced segmentation or send-time optimization, so it's fairly limited.
In addition, you must include their branding in your emails. Additionally, support can be obtained only by email. You need reliable, dependable support if you are serious about your business.
The following are Mailchimp's plans.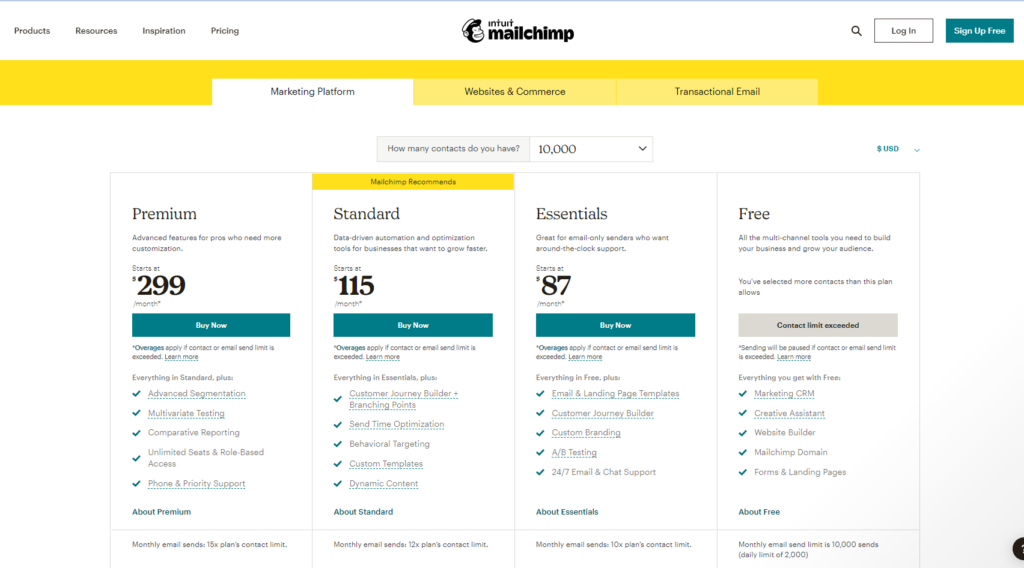 Remember that the higher your contacts are, the higher the rate will be.
MailerLite
For those seeking an email marketing solution that is simple and straightforward, this is a great choice. Your newsletter or campaign can easily be started with the right tools.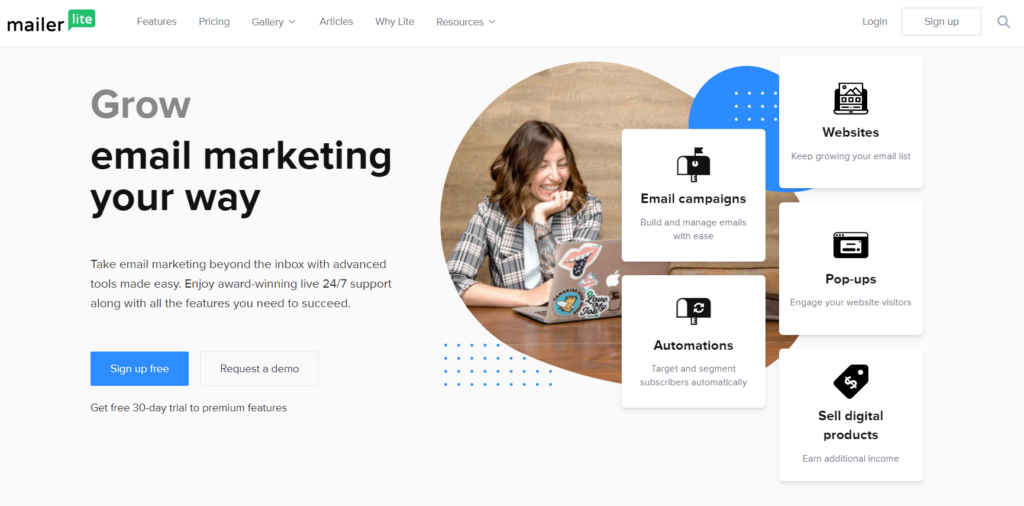 The platform is not intimidating, so everyone will be able to take advantage of its core features.
MailerLite has:
Drag-and-drop editor (allowing users to easily create compelling messages)
Contact Segmentation (improving personalization)
Campaign optimization
A/B testing
If you want a simple email program at a reasonable price, MailerLite is recommended for you.
Here is a brief overview of MailerLite's price ranges: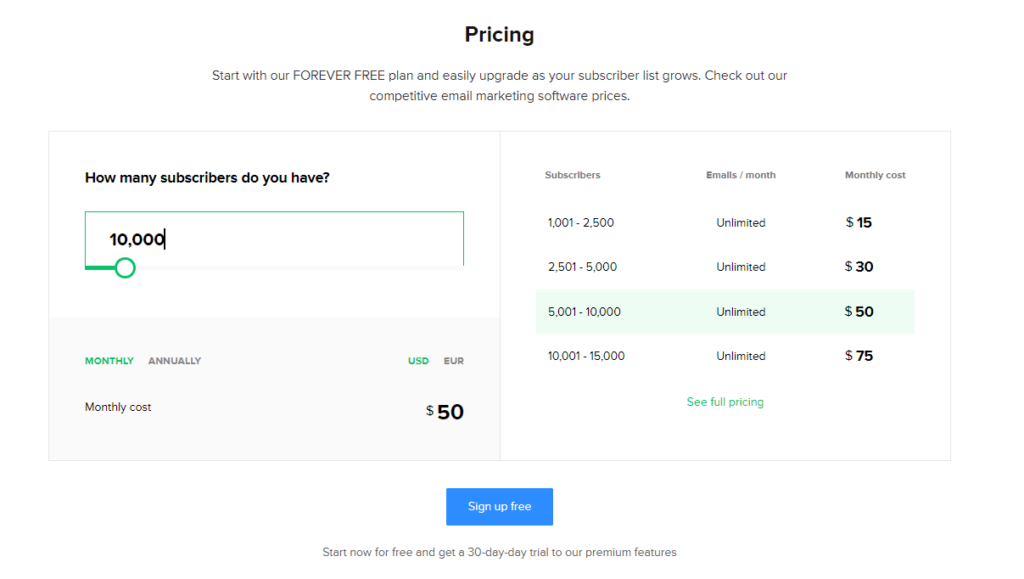 Remember that the higher your contacts are, the higher the rate will be.
As the subscriber base grows to 10,000 pricing tiers increase between $20 and $40.
It is one of the most affordable options on this list thanks to its 30% discount if you sign up for an annual subscription.
ConvertKit
Bloggers, authors, and marketers use ConvertKit to optimize their email marketing campaigns. The software is easy to use yet very powerful.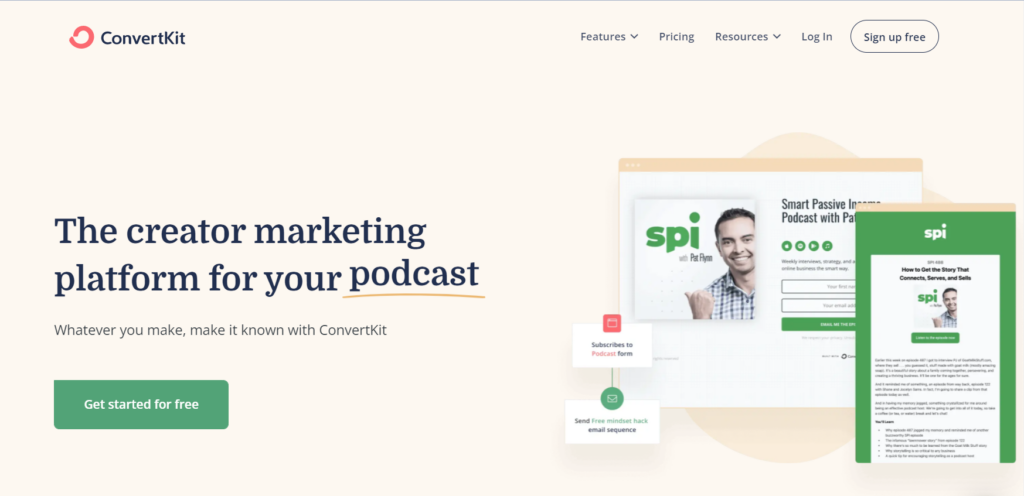 One of the most unique features of ConvertKit is that it gives you easy access to incentives and content upgrades.
The emailing service includes an easy-to-use autoresponder feature that enables you to send automated emails.
Segmenting subscribers is easy with ConvertKit. Sort subscribers based on their interests and purchases. By using personalized automated emails, you can increase conversions.
You can expect all the features of a quality email marketing service, some of them are:
Great email templates
A smart workflow
Building landing pages
A/B testing
ConvertKit provides email based support with an extensive knowledge base.
Even subscriptions and digital products can now be sold from the same platform.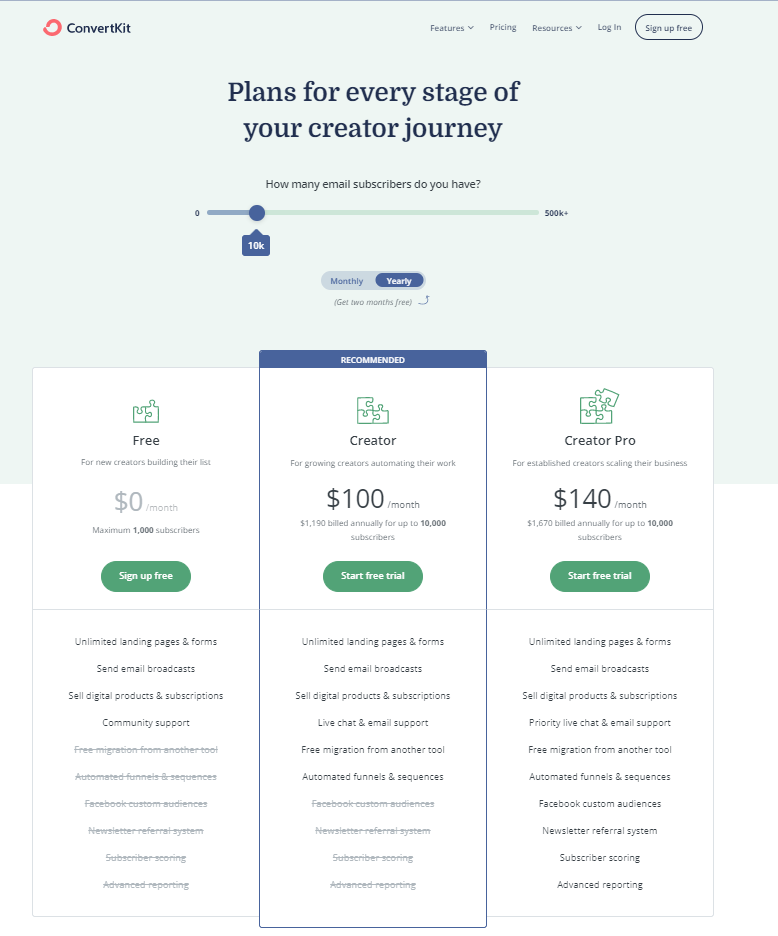 Their pricing starts at $29/month for a 14-day free trial. Their refund policy lasts 30 days.
SendinBlue
Business owners can use SendinBlue for SMS and email marketing. One of the fastest growing email marketing services in Europe is SendinBlue.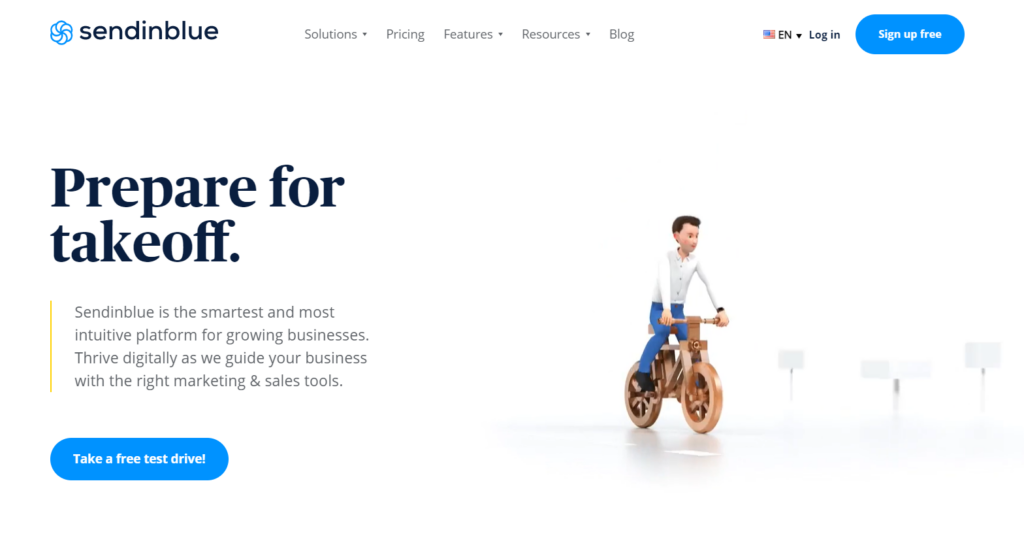 Easily create beautiful and highly engaging emails with this easy to use platform. Beginners with no marketing experience can use their simple drag and drop email editor.
The features of SendinBlue include
Automated marketing tools for beginners
Creating workflows
Sending follow-up emails automatically
User Segmentation
It can also choose the most optimal time to send bulk emails based on its AI algorithms.
With SendinBlue's free email marketing plan, you can send email marketing campaigns to unlimited contacts. You can send up to 300 email messages a day on their free plan, but every one of these emails is branded.
The Lite plan starts at $25 per month. SMS can also be added to your account, but the price will vary depending on how frequently you send.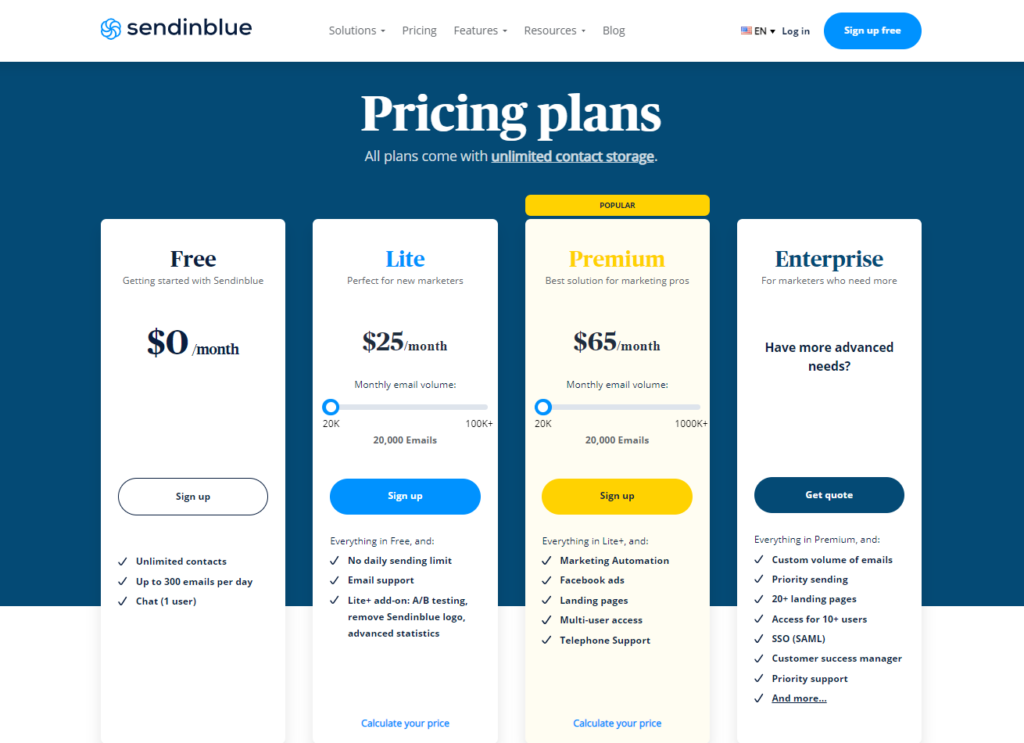 More advanced features have been added to the premium plan recently. With this, users will get more value for their money.
GetResponse
GetResponse does a bit more than just send emails. In fact, it is more of an all-in-one automation solution.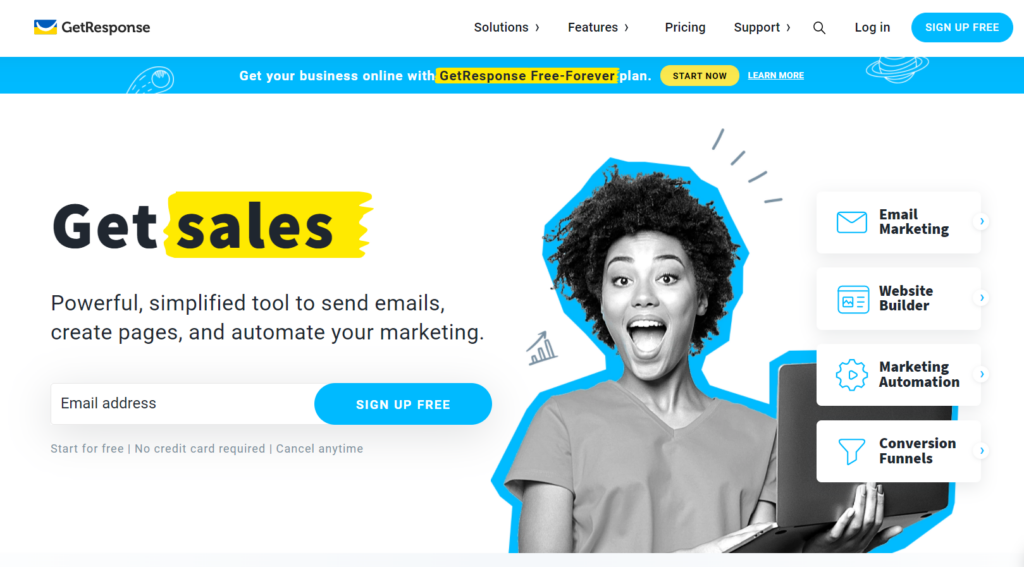 Among its features are:
Sending automated emails
Autoresponders
Webinar Software
Building landing pages
Advanced analytics
Audience segmentation
One of GetResponse's most powerful tools is Autofunnel. In addition to creating sales funnels, you can also generate leads, conduct webinars, and more with it. This tool is fully automated and easy to use.
With GetResponse, you'll get all the tools for growing your list and monetizing those subscribers.
GetResponse automates everything as soon as a user enters your funnel. Using multiple digital touchpoints to guide customers through conversion processes is the perfect solution.
GetResponse has lots of plans and pricing that you can check out.
Monthly fees start at $15 for basic service. Some of its features are:
Unlimited lead funnels
Autoresponders
Sales funnel
Sell e-products
Automation builder with unlimited workflows
As your list grows, your rate will increase.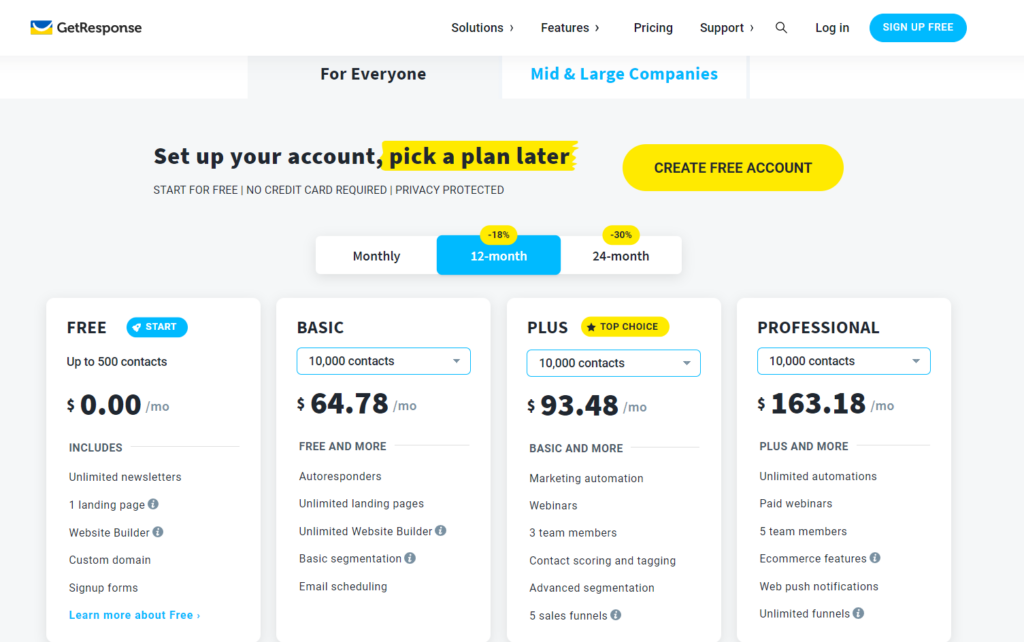 However, if you really want to benefit from this software, you should get the Plus plan. That is especially true if your company doesn't have a CRM program yet.
Compared to other services we have seen, the base rate is definitely higher. Nevertheless, the plan has so many benefits.
AWeber
Email service provider Aweber is one of the oldest and most popular on the internet.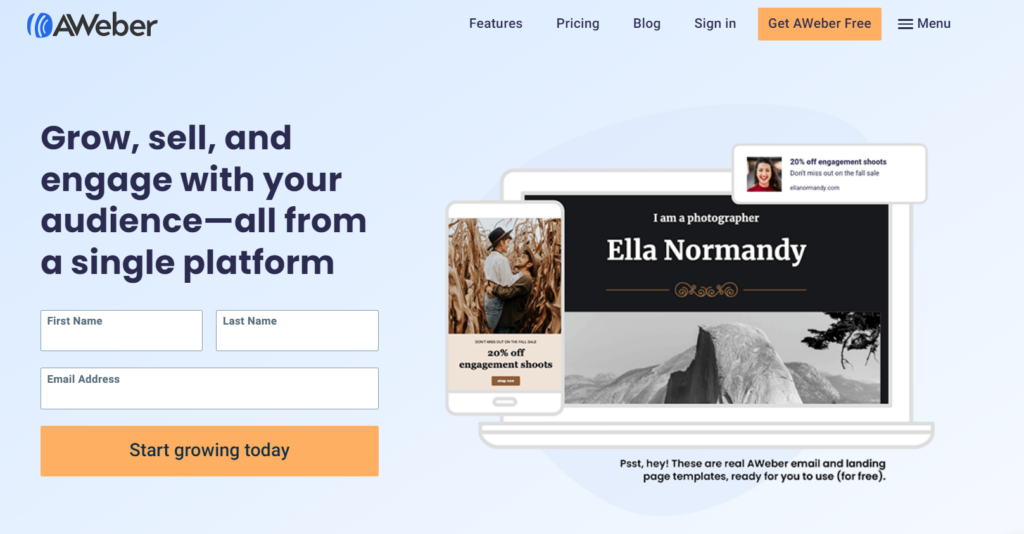 The company provides tools for managing your email marketing campaigns. It is suitable for both small and large businesses.
AWeber is simple to use. There are many features available
Detailed insight into email tracking.
A/B testing
List management
HTML email templates you can use
Autoresponders
Bloggers can automatically convert RSS to email with AMP emails
Segmenting subscribers based on tags.
You can receive support via phone, email, webinar or live chat. A wide array of how-tos and tutorials is also available,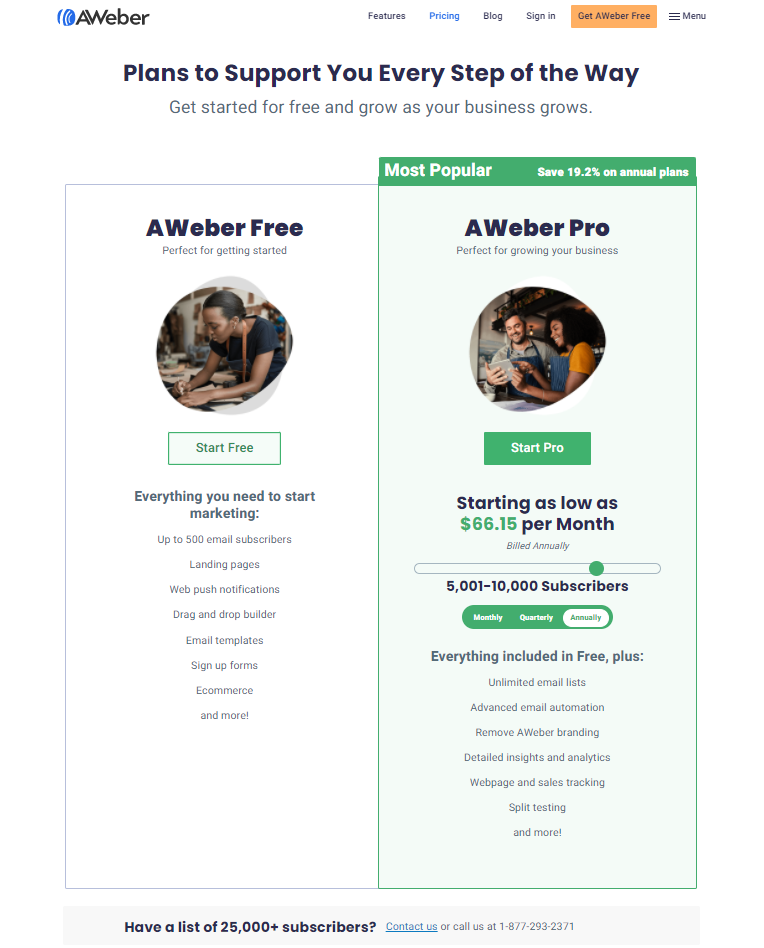 Up to 500 subscribers can use AWeber for free.
ActiveCampaign
In addition to email marketing, ActiveCampaign offers several other marketing services.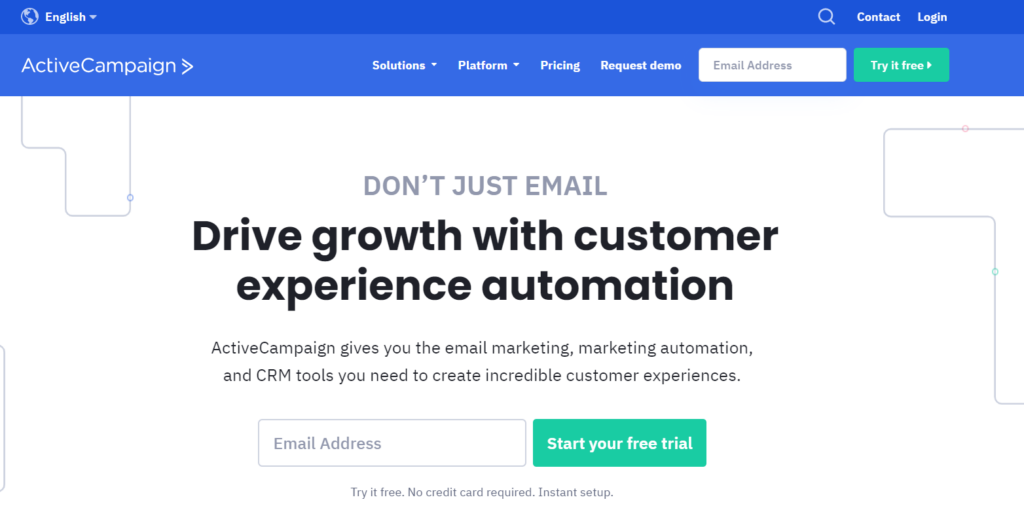 Emails can be personalized using contact information provided by the software. A spam tester is also included to check whether emails are likely to end up in the spam folder.
Use insights such as contacts' email activity to segment your audience. A website tracking feature also collects data on contacts' on site actions and page visits.
There are a large number of premade workflows available to get you started with email automation. Additionally, thanks to the tracking features, you can build custom automations from scratch.
Enhanced automation features are available when you upgrade from the Lite to Plus plan. In addition, you will have access to multiple marketing channels with the Plus package. You can send SMS messages and develop landing pages.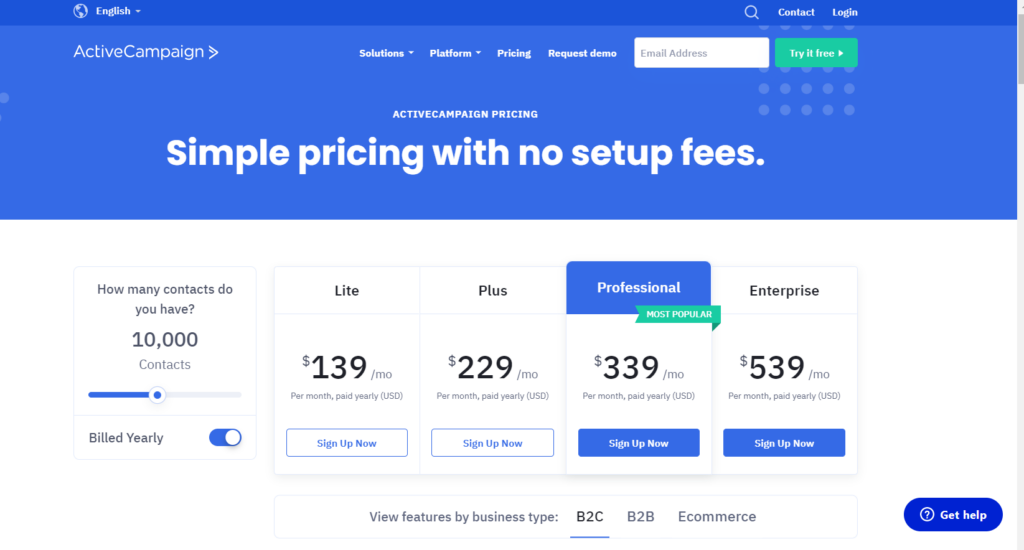 You can test out the platform for 14 days with a limited number of contacts and emails. Email and live chat support are included in all plans.
HubSpot
One of the best-known CRM platforms and email marketing applications is HubSpot.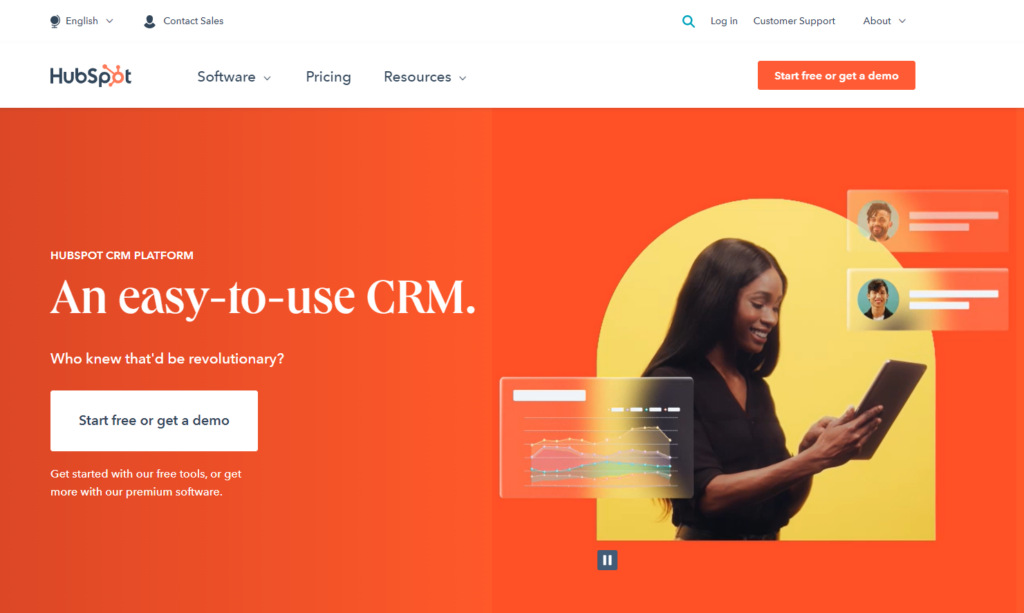 You can get started for free with their email marketing service. You can automate lots of business processes with this platform and grow your business.
Their email builder is easy to use. The newsletter can be customized to match the brand's style.
Each HubSPot subscriber can receive personalized emails. You might be able to use custom information you have on the subscriber, such as device type, country, list membership, etc.
HubSpot comes with all the powerful feature you'd expect from an enterprise level email marketing software such as
A/B testing
Drip campaigns
Operation hub
A high delivery rate for emails
Analyzing detailed performance
Send time optimization
Website builder
Email marketing
CRM
Automation workflows
Sales tools
Marketing automation
Plus much more. It is the all-in-one marketing platform that makes HubSpot so popular with small and medium companies.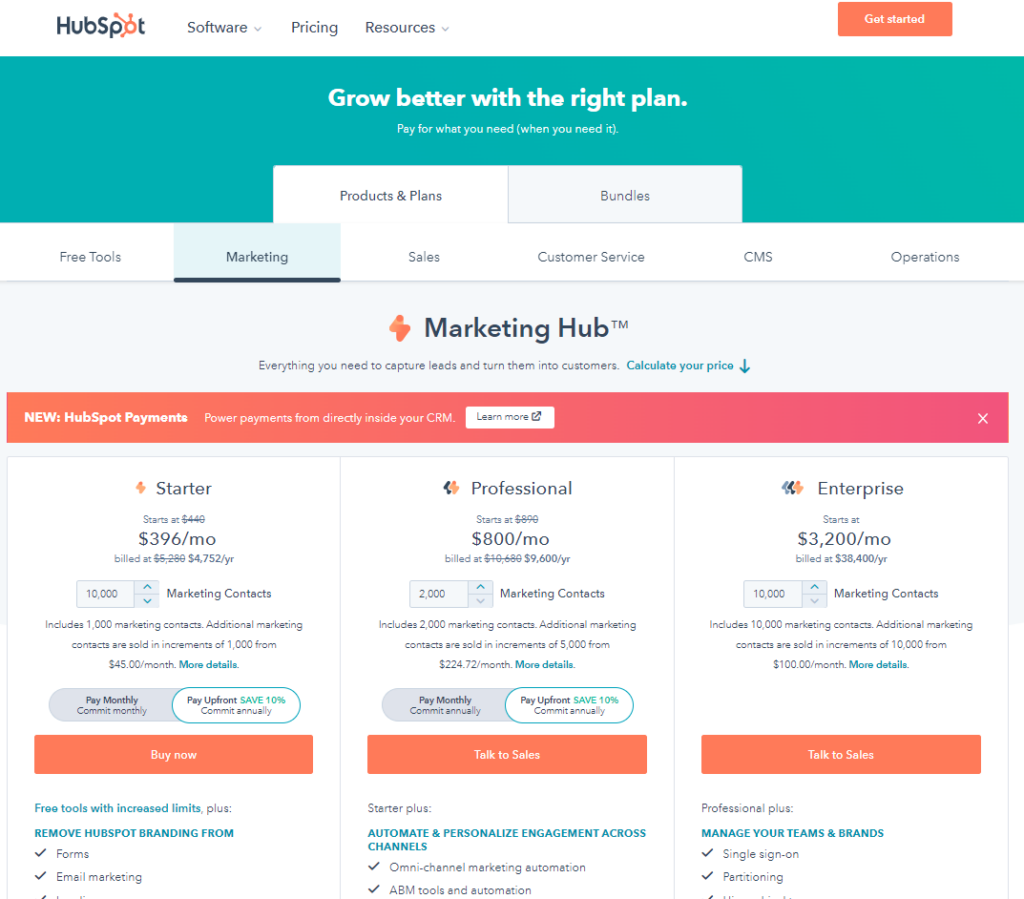 There is a free version of Hubspot Email Marketing. Free users can send up to 2,000 emails and store as many subscribers as they need.
Constant Contact
Constant Contact is an email marketing service that is prominent and growing rapidly. Users also appreciate Constant Contact due to its user-friendly interface.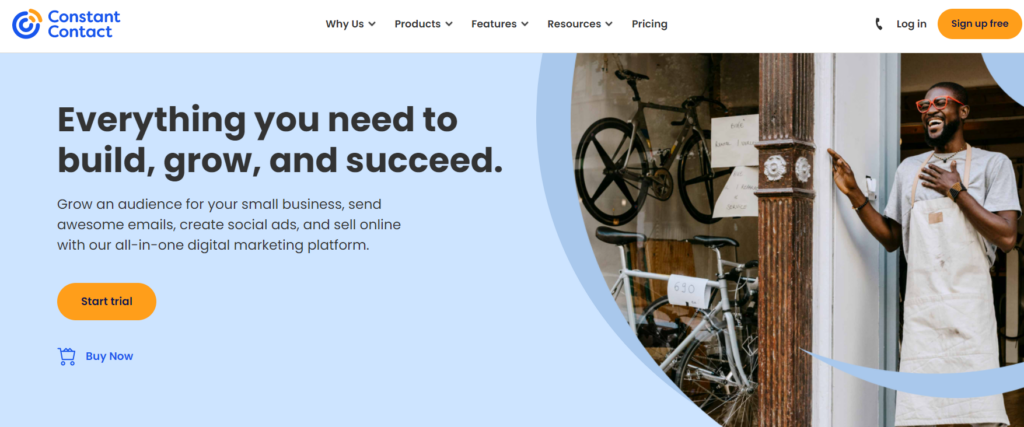 Managing your mailing lists, contacts, email templates, etc., is easy. Each account offers the following features:
Shopify's integration for E-Commerce.
List segmentation
Unlimited emails
Built-in sharing tools for social networks
A simple tracking and reporting system
Free image library
Facebook ads integration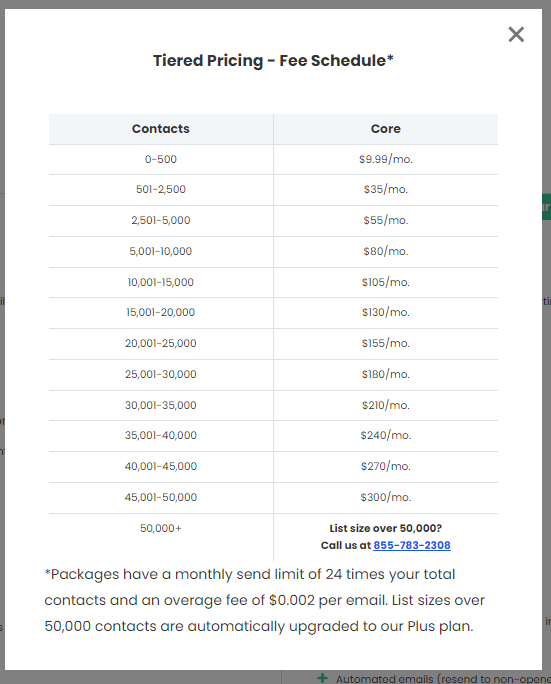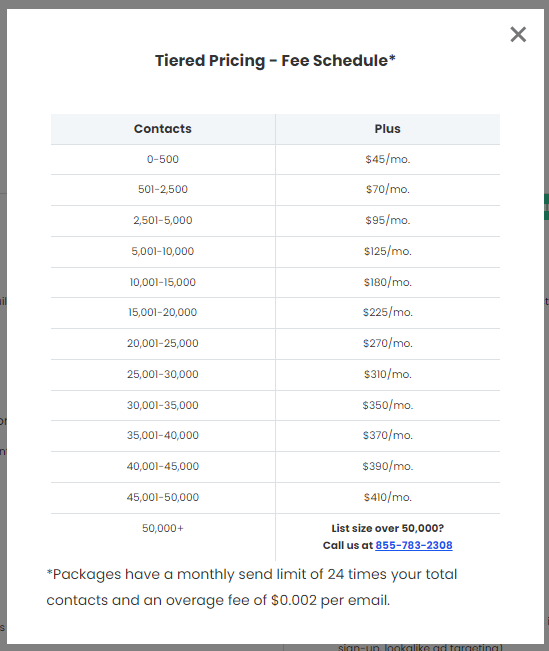 They also offer powerful features with their Email Plus accounts, such as
Using this tool, you can send targeted emails to increase your open rates.
It offers live chat support, telephone support, email support and community support. There is also a library of useful resources available.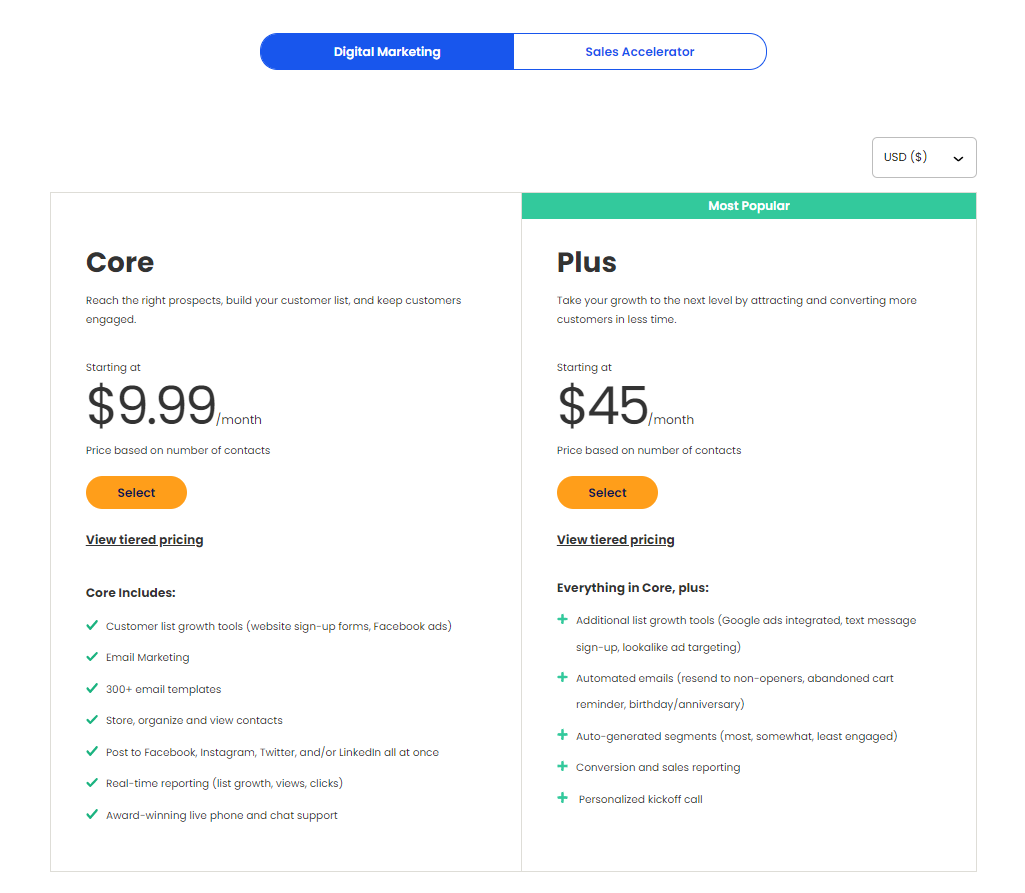 Constant Contact offers a free 60-day trial without requiring a credit card. Monthly prices begin at $9.99. Rates can increase depending on how many contacts you have.
Moosend
Small businesses can use Moosend's email marketing service at an affordable rate. You can build email lists, create landing pages, and more with it.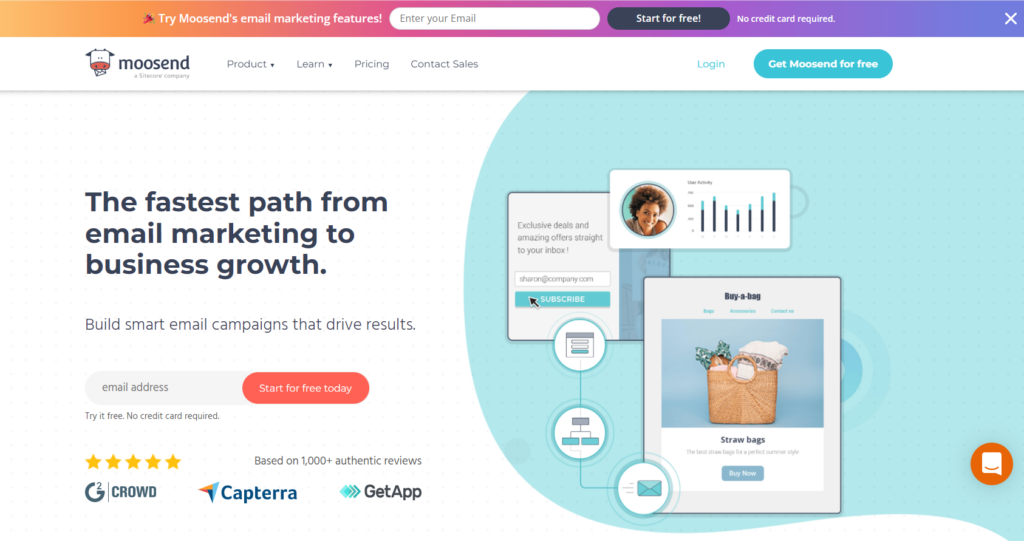 Within minutes, you can create a custom designed email newsletter that matches your brand. Either select one of their dozens of readily available templates or create a template from scratch.
In Moosend, all plans, including the free plan, come with marketing automation features. Automated workflows allow you to offer subscribers a personalized subscriber journey.
You can view detailed email analytics with Moosend. You can monitor open rates, click-throughs, bounce rates, purchases, and much more.
All plans come with powerful conversion optimization features such as
Floating bars
Conditional content
Recommendations engine powered by AI
Registration for the newsletter
Heatmap analytics for email
A countdown timer
A/B testing
Pop-up forms
A subscription form
And other things as well.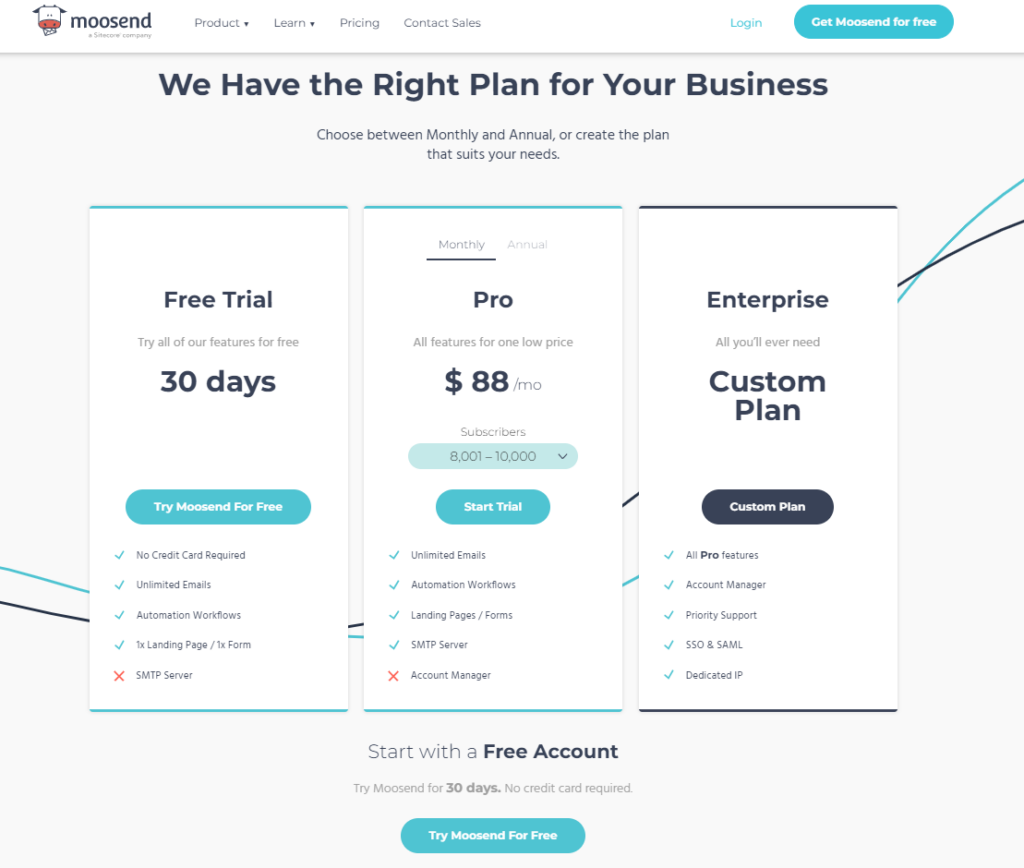 Moosend's free plan is available forever to up to 1,000 email subscribers. It offers unlimited email delivery without the need for a credit card.
Drip
Digital marketers, e-commerce sites, bloggers, and other businesses can use Drip to send emails.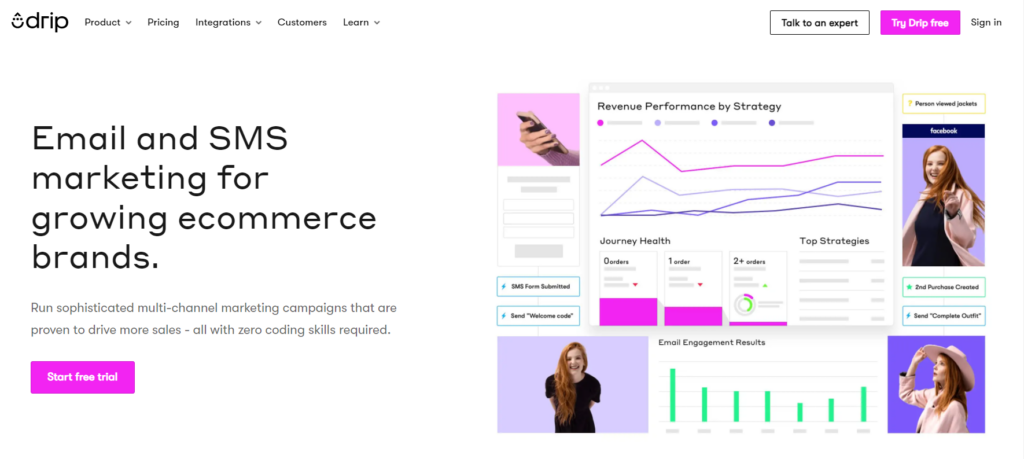 They offer a diverse range of tools to help you automate marketing, create sales funnels, and personalize your messages.
Here are some of the features of Drip
List Groups
A drag-and-drop builder for automating workflows
Email segmentation made smarter
Split testing
Automation tools for marketing
With these features, you can target specific customers and increase sales.
With Drip, you can access live chat, webinars, automated training, and detailed courses. You can also find guides and documentation.
A revenue attribution tool is available for e-commerce. It calculates an exact amount of revenue generated by each email campaign.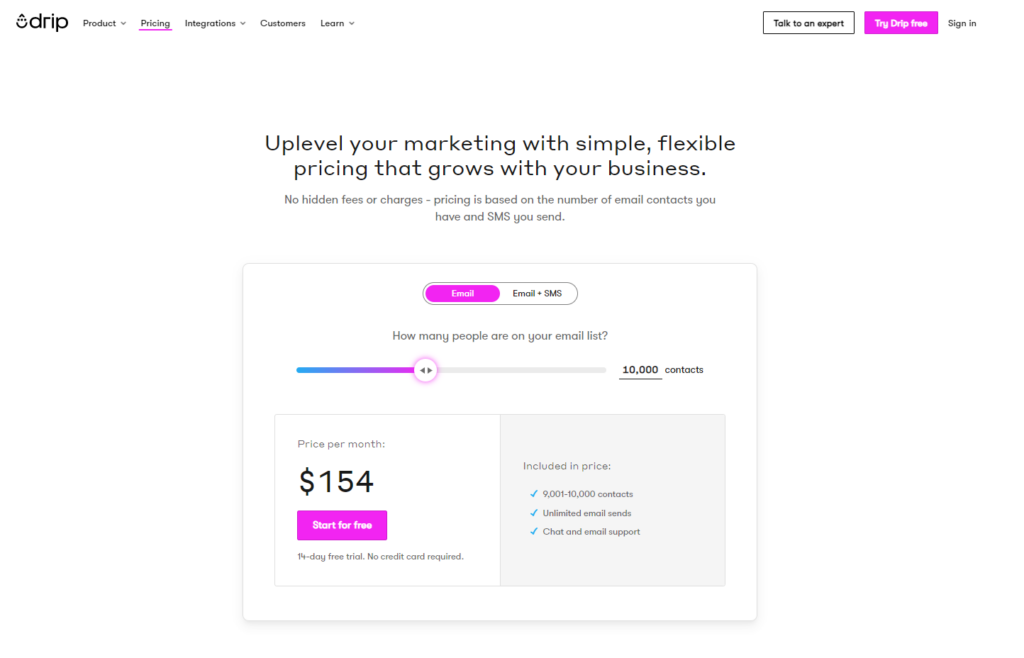 There is a free trial with Drip, and their premium plans start at $49 a month that include all of their features.
Finally, let's wrap it up
A good deal of email marketing services provider are available in the market. Our job is to assist you in selecting the right one that's most suitable for you.
We hope that this article was able to provide you with an overview of these providers. We hope that you are able to pick out which is suitable for your businesses' needs.
Having the right email marketing services provider can help you achieve 60% success in your business. The rest? It lies on:
Your marketing strategy
The business plan you have created
The quality of your products
Your Subject lines for emails. The subject line gets the recipient's attention. Possibly, you can send them messages, but unless the subject lines for emails are catchy, they won't open them.
The business world is not easy. There is a lot of competition, and you certainly want your business to do well. Make sure you plan and implement your strategies well.
You'll need a lot of patience since this journey can take a long time. We have more interesting articles about email marketing on our blog website if you wish to learn more.