We've put together a guide to help you write better webinar reminder emails. The guide may be used for webinar reminder emails or just for sending reminder emails.
What is the purpose of sending reminder emails? Sending a follow-up email is by far the most effective email type. Yet they're the least commonly sent as well.
All converted leads are usually reached and converted by resending the email a few more times. Follow-up is crucial to securing sales. If you don't follow up, you're losing out!
If you want your follow-up emails to be effective, your recipients must open them. The problem is that many people don't click on all of them. Other people ignore them, while others consider them spam.
So, how can you make sure your reminder emails are opened more often? Subject lines for emails are the key to getting users to open emails.
As much as 50% of open rates can be increased by personalizing email subject lines.
If you are going to send out webinar reminders emails, or just reminder emails you might as well tailor them to be personalized. You should include compelling subject lines in your emails to entice recipients to click through.
This article shows you how to create webinar reminder emails that are optimized for search engine results. This article includes examples of effective subject lines for emails that you can use to get started.
These examples will help you grow your business, build relationships, and close more deals.
Webinars – What Are They?
Webinars are live online conferences, seminars, or workshops that are broadcast over the internet. You, as the host, are responsible for organizing the event and inviting attendees.
What's so great about virtual events? Everyone can participate regardless of their location.
Sending Event/ Webinar Reminder Emails: Why Is It Important?
A successful event isn't just about having people register at it. Having people register for your event doesn't mean you've met your goal.
Let's say your prospects registered today, but the event is scheduled for one month from now. What will happen in that time between now and the event?
Despite the fact that they have registered for your event, they will forget it. To remind your registrants about your event, send them email updates.
Throughout the whole period, including the event day, you must keep in touch with your registrants. Let them know who will be speaking, what's the agenda, and the host for your event.
And last but not least, make sure you send out reminder emails before your event. Your prospective attendees need to be kept up-to-date on the event date.
Your event management can be easier with Mailvio since you can automate communication with your registrants. It is a great idea to use autoresponders in order to stay in touch with your subscribers.
In addition to having an autoresponder, Mailvio also has an SMTP server. Moreover, Mailvio allows you to segment emails. It also provides detailed analytics, A/B split testing, preheated IP addresses, and many more features. You can test all these features for free by signing up for a 7-day free trial.
The registrants of your event will appreciate your reminders.
How to Write an Event/ Webinar Reminder Emails
To improve open rates for reminder emails, you should follow these 8 practices.
Remind Recipients With a Plain-Text Email
Basically, a plain-text message looks like an email you sent yourself from your own account.
When you send a plain-text event reminder email, it appears as if the email was personally written by you. You are showing your registrants that you are looking forward to meeting them by sending them this kind of message.
Instill a Sense of Urgency
The rate of open emails is 25% higher if the subject line expresses a sense of urgency and exclusivity.
Sending reminder emails that convey urgency and exclusivity can encourage subscribers to click on their emails. Be creative and strategic in how you phrase them.
If you want them to act now, you must convey this message without sounding aggressive.
Here are some phrases you can use: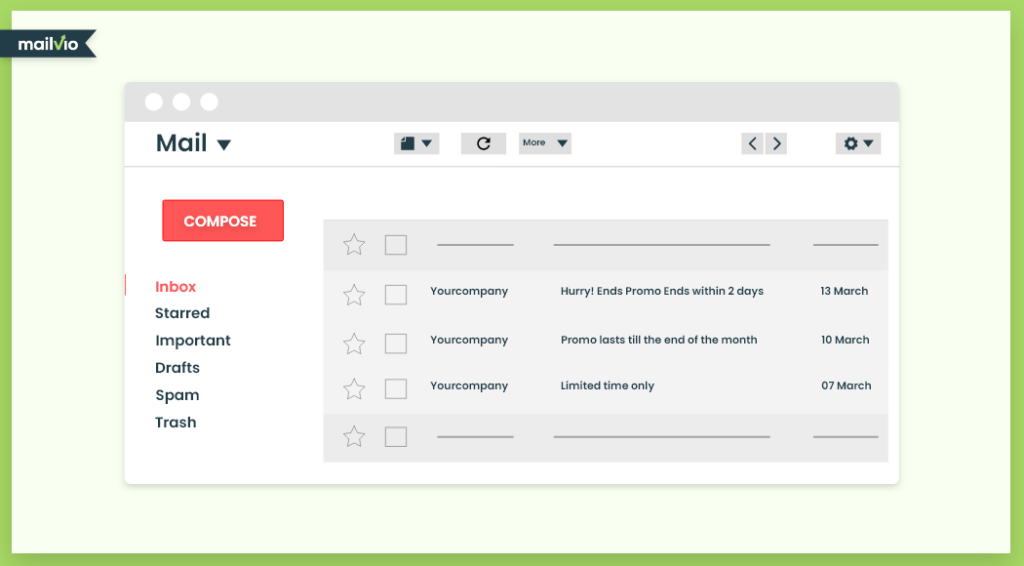 Creating a sense of urgency can also be achieved through exclusivity. Rare items are naturally sought after. When something is hard to come by, it becomes valuable.
Use them only for situations in which immediate action is truly required.
Utilize an Active Voice
Your emails will flow better if you use an active voice in your reminders. It is more straightforward and concise to use active voice to emphasize the subject of the sentence. Active voice seems more human since it seems as if it was written by you.
The following examples illustrate active vs. passive voices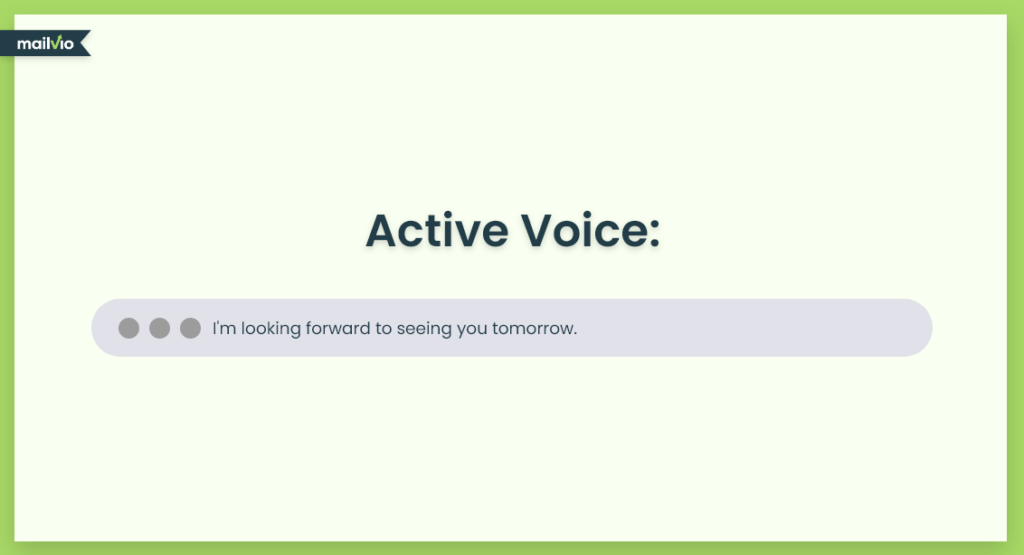 VS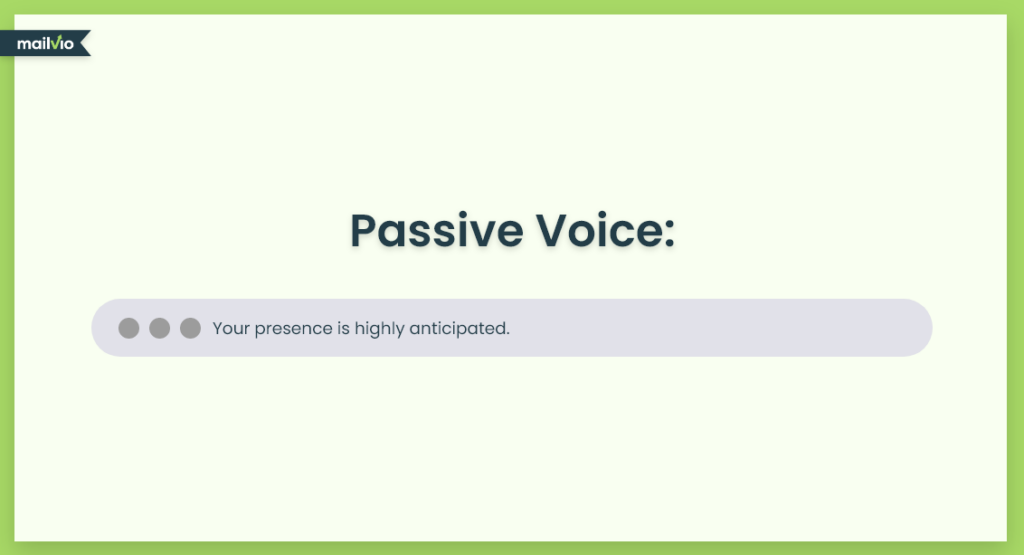 Can you tell the difference?
Your emails sound and feel robotic when they have passive voices. Robotic emails do not appeal to anyone.
Offer Freebies
There is nothing better than getting free stuff! Make sure the subject line of your email tells them they will receive something for free. That's sure to encourage them to click!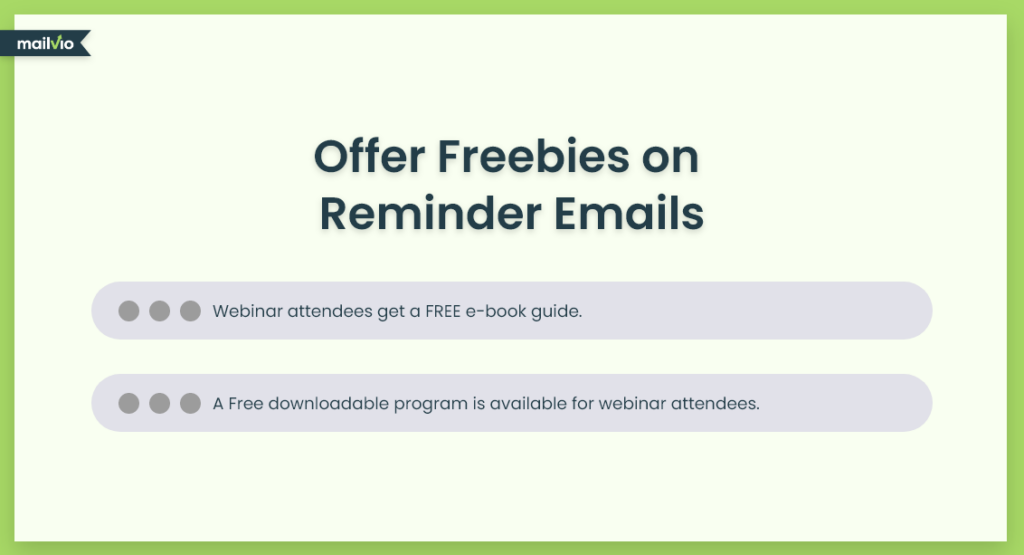 Create a Sense of Curiosity
Your subscribers will know that something is going on when you use the phrase "only for you.". But they don't know what it is exactly. Therefore, they will be inclined to open it.
It is natural for people to be curious. Hence, people often take action out of curiosity. Emails get clicked by curious recipients who want to know what they contain.
Be clear but not too cryptic. Otherwise, it will be regarded as spam.
Personalize Your Emails
Subject lines with a personal touch tend to be opened more frequently. Customized emails generate six times more conversions.
You increase conversion by sending personalized emails to your subscribers. You will surely get their attention if you put their names in your subject lines for emails.
Make Use of Trending Topics and Current Headlines
Combining relevant, timely, and SEO-friendly subject lines can increase your subscribers' interest. They are more likely to click through to your email.
Consider incorporating trending topics into your article. Perhaps you can even include relevant headlines in your subject lines. They will be more appealing to subscribers.
Simple and Short Emails Work Best
Inviting your audience to an event is the purpose of an invitation/ webinar reminder email. Simply reminding.
In your reminder message, only include information relevant to the event. Avoid pitching.
Around half of email subscribers access their emails via their mobile devices. Emails that are too long are not friendly to mobile users.
Make sure your reminder message starts with the essential information.
Include These Elements in Your Event/ Webinar Reminder Email
Below are the important details you should include in your reminder emails.
Topic and Title of the Event
You must include the event title as the first element of your message.
The event title can be used as the subject line in your email. Your subject line should be the first thing a reader sees when they open your email.
Writing long copy and details does not make sense when your audience is unsure what it is.
The Event's Date and Time
The date and time are the most important and that is what you should emphasize to attendees.
It's not enough to highlight the time and date of a webinar reminder emails.
Incorporate the time zone to allow everyone to tune in at a time that corresponds to theirs.
The Venue of the Event
It is important to add the building or street number. The best way is to include a link to Google Maps in the reminder email. This will make finding the location easier for your participants.
An image of the area can also be included.
In case participants cannot find the location, please include your phone number in your reminder email.
Let Them Know What Materials They Need to Bring
Ensure that registrants come prepared by providing them with all the details of your event.
Some people may be required to download apps as part of the preparation for events. Some people may be required to join networking groups, read documents, or follow housekeeping rules.
If attendees need to print a QR code to enter the venue, include it in your reminder email.
Don't Forget to Thank Them
Your event registrants deserve your appreciation, and there is nothing wrong with showing them.
Your reminder email can also serve as a thank-you email. Once they register for your event, you can simply thank them for their engagement.
If you're sending a reminder email, you can start the message with a thank-you note. And once you include a thank-you in your event reminder email, your readers may be more inclined to engage with it.
Include Other Information
Your event reminder email can contain a section for additional information, similar to a 'freestyle' section.
This is a useful tool for sharing further details about:
In case you'd like to incorporate your social media channels, etc.
Name of the speakers and even the agenda
Details about the venue. Parking information. Transportation options, nearby restaurants, etc.
Guidelines for the event
Examples of Subject Lines for Event/ Webinar Reminder Emails
These are some examples of event and webinar reminder email subject lines:
Events Reminders
It is common for people to forget their anniversary or kid's birthday. So why are you so certain they will remember your event?
You should send your subscribers a reminder email with a catchy subject line to make sure they don't miss your event.
Some examples are as follows: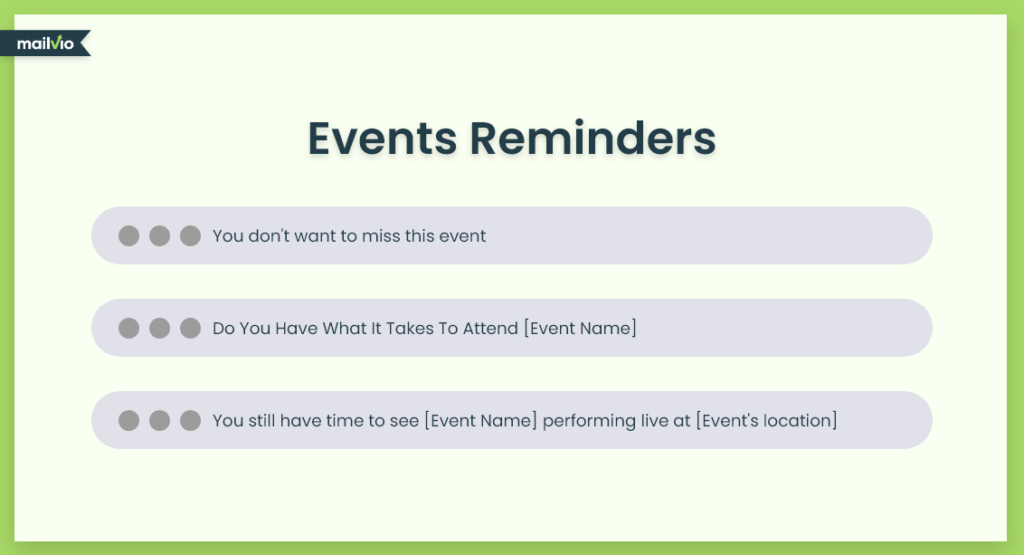 Reminder About Event Invitations
Email invitations work well for reminding subscribers of an upcoming event they should attend. Additionally, letting them know that not everybody will be invited can make them feel special. The following strategies could encourage them to join:
We've prepared a special place for you in [event name]
We saved a special seat for you in [event name]
Webinar Reminder Emails
If you want people to sign up for an upcoming webinar, send them an email. If you want participants to remember to attend the event, you could remind them about it. As a matter of fact, you should create an entire webinar email sequence. Just make sure the subject lines for emails are compelling and entice the reader to click!
You can use the following examples as a reference for effective and compelling subject lines:
Subject Lines for Emails: Business Reminders
The following are examples of emails with business-related subject lines.
Reminders for Meetings and Submission of Projects
Reminding people to attend meetings through emails is important. To determine if rescheduling should be done and what time and date would be suitable for them.
If you feel your subordinates or colleagues need reminding about their project due date, you can do so.
Examples of persuasive email subject lines include: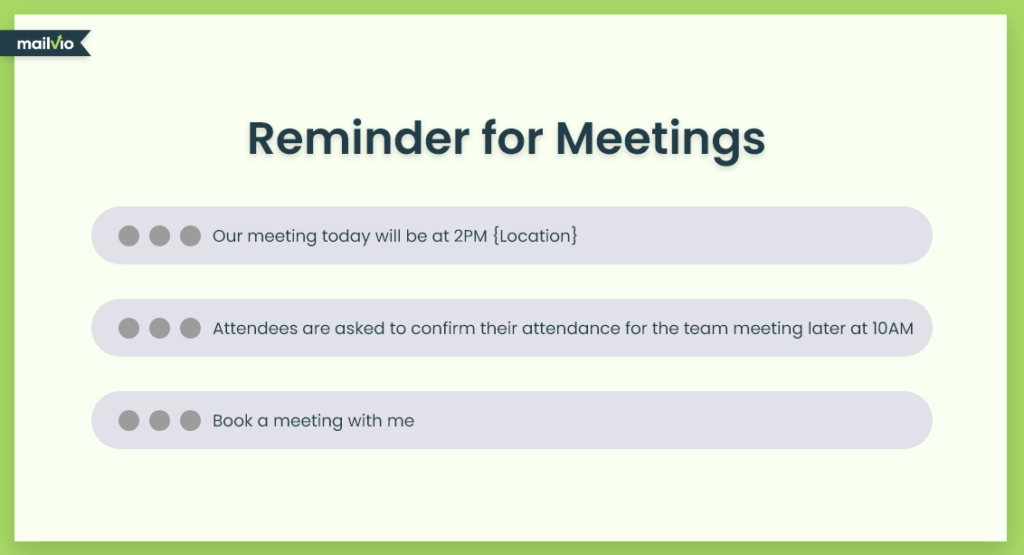 Here's a suggestion on how you can remind them to complete their project: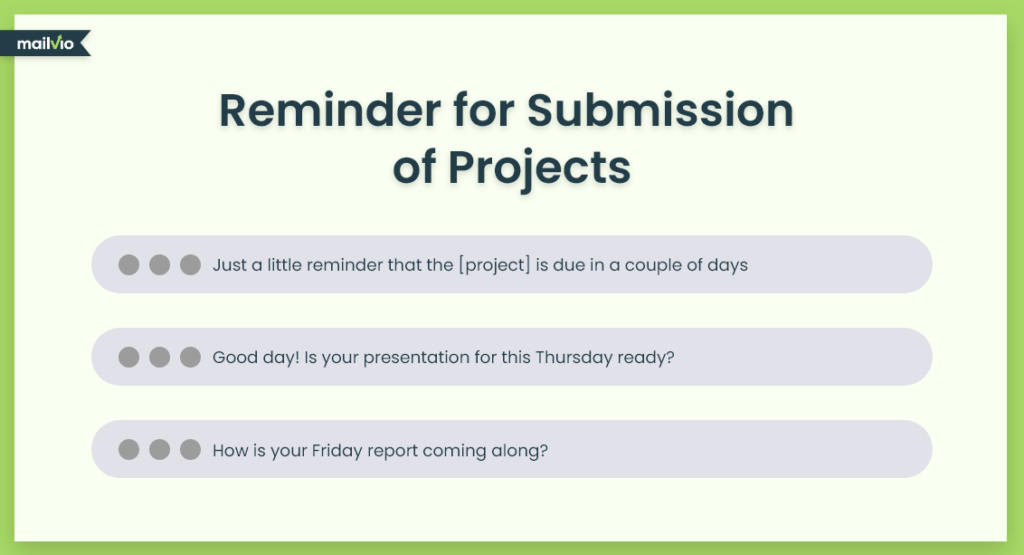 Subject Lines for Follow-up Emails
The majority of leads convert within the sixth attempt. By not following up, you are losing out on a lot of sales opportunities.
Using this example, you can create the subject line for your reminder email: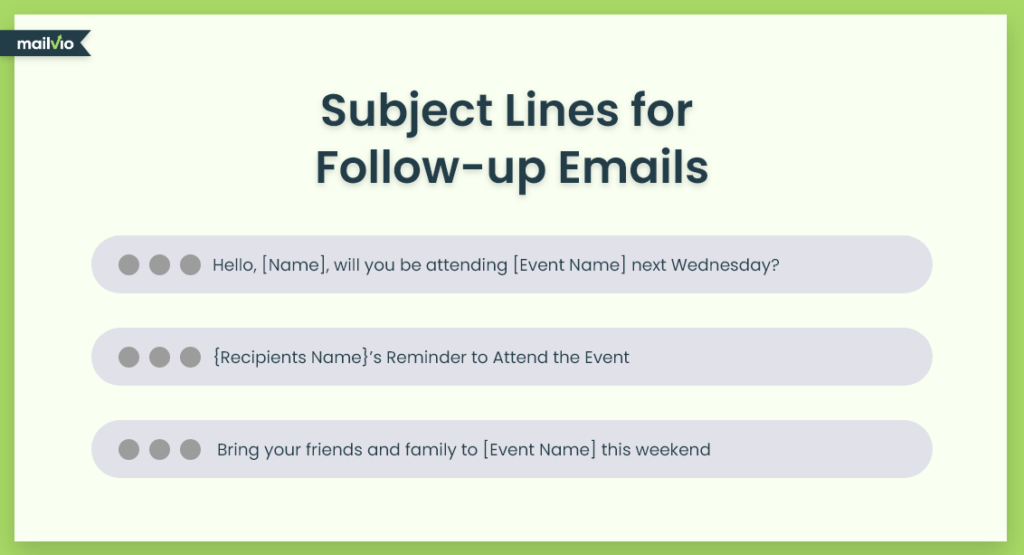 Reminder About Birthday Deals
Your subscribers will feel special when you send them a birthday email reminder. These emails also tend to generate more conversions and clicks.
Compared to other types of promotional emails, birthday emails provide a higher transaction rate.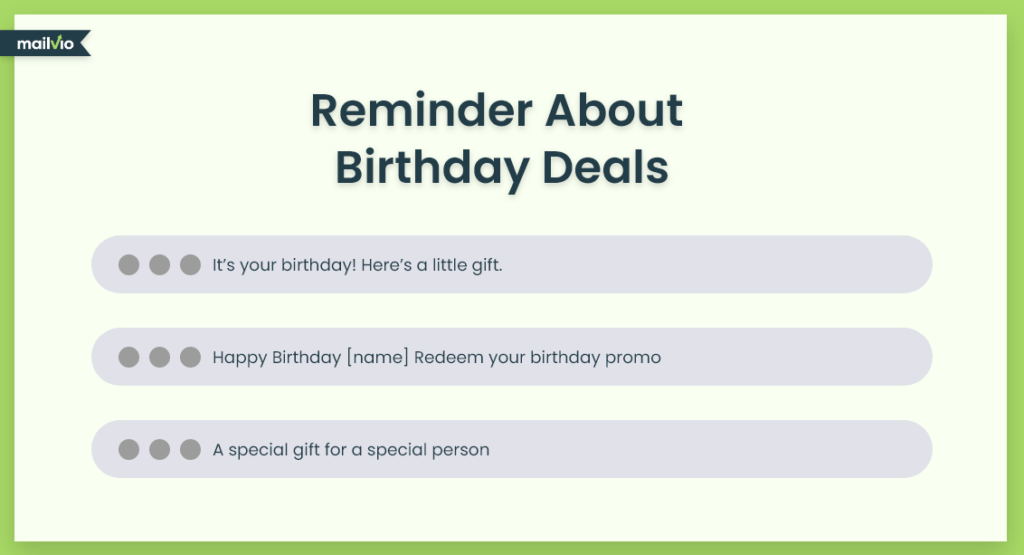 Increase Your Event Reminder Email Open Rate With These Tips
Now that you have some ideas on how to write your subject line, here are some tips for making sure that it gets opened.
Test Subject Lines With Subject Line Tester
Prior to sending emails, check the subject lines to ensure they will stand out in crowded mailboxes.
A/B Test Your Email Subject Lines for Event Reminders
One event reminder subject line might make you feel optimistic. That is, however, only a subjective opinion, and it may lead to low open rates.
You can try out different variations of your subject lines using A/B testing. The system will automatically choose the most successful one.
A simple A/B test can generate hundreds of thousands of opened emails in less than 2 minutes.
If an Email Hasn't Been Opened, Resend It With a New Subject Line
Subscribers who have not opened your email means that your subject line did not capture their attention.
Resend emails that are not opened automatically. Afterward, you can send your follow-up message again with a new subject line. New subject lines can increase open rates.
You can increase the open rate of your campaigns by resending unopened emails.
You may have fewer participants if your emails go unopened. A fewer number of participants is equivalent to less revenue.
Sending Event Reminder Emails at the Right Time
You can increase your email open rate and event participation by sending your invitation reminders at the right time.
It is NOT possible to send invitation reminder emails only one time. You should send 3 reminder emails at least.
You might want to consider sending a reminder email for events based on some general email tips. The first reminder should go out at least one week prior to the event. Then the second email can be sent the day before the event. The third needs to be sent on the day of the event.
The best time to post or send emails can be dependent on your email list. You should remember that the perfect time to send emails is not a one-size-fits-all. Study your email list and tailor the sending time to their active hours.
For example, if your subscribers are nurses who work from 7-5, you wouldn't want to send them emails during that time period. It's likely they won't have time to read emails during that time period. Your email will likely be buried in a pile of other messages once they have time to read it. 
Finally, a Few Thoughts
We hope this article provided you with some ideas on how to create follow-up/ event/ webinar reminder emails.
A lot of your time and money goes into organizing an event, so you wouldn't want to waste any of it. Inform your audience about your events by sending reminder emails.
Automate your email campaigns as well. Sending a reminder email on time is simply too important to risk forgetting.
At the end of the day, these are just some tips we have for you. How you implement them is still up to you. After all, you know your subscribers very well. Depending on their preferences, you can tailor your emails and subject lines accordingly.