Here are some tips for writing an email, so you can confidently send friendly yet effective professional emails. Today, email ranks among the fastest ways to communicate. That's why it's important to know the proper way to craft an email, so you can send an appropriate one for your recipient.
The average email reaches its intended recipients in a few seconds. Relevant information is continuously flowing, making employees and executives more efficient. It ensures both productivity and quick troubleshooting of problems.
What's in an email? It's more than words on a screen. It's an opportunity for conversations, a way to build relationships, a tool for selling.
Tips for Writing an Email
Email marketing offers a lot of opportunities for you to connect with your prospects and customers. Following these 16 simple steps when crafting an email isn't as difficult as you'd think.
Though it may seem a bit daunting, it is quite simple to implement and comprehend. Don't feel overwhelmed or scared with the 16 tips for writing an email that we've prepared for you.
Having that said, let's jump right into giving you a breakdown of these tips.
Identify the topic of your Email
The first tips for writing an email is to identify what your topic will be. You may only be able to reach the recipient once. Therefore, it's imperative that your message and intent are clear.
You probably want to tell the story of your company. Maybe you want to show off all the experts you have at your company. You might want to highlight all the positive reviews you have received from previous clients.
All of that information can be saved as a blog post or on your website. In any case, it should never be in your email. That's just too many pieces of information and way too much clutter for them.
Customers or potential customers may find it distracting and overwhelming. Additionally, the person drafting your emails has a lot of work on their hands.
Make your life easier by carefully outlining what your topic or goal is. In this way, you are able to compose an email easily, while being able to add and highlight the most relevant information.
To illustrate, if you are promoting a webinar series that your company holds, don't give too much information about it. Avoid sharing too many details about your company. Be sure not to pitch in other solutions you have available in the email. If you wish to share these details, please do so at the webinar, not via email.
Rather, describe the webinar series concisely in the email. Let them know why they should participate.
Keep the Recipient in Mind
Take a moment to imagine yourself receiving the email. Does a 700-word essay sound appealing to you? Probably not. When you need to provide people with tons of information, email usually isn't the place to do it.
You may want to include a number of details that you think will interest the recipient. It's best if you put the content into your website instead of including it in your email.
You can just paste the link to your website into an email, and the recipient can go to your site from there. This is a win-win situation for you. The email you created is well crafted, and it can drive traffic to your website.
An added bonus is that those "learn more" links allow you to track customer activity. Your sales team can use these links to identify potential customers to contact. As you are writing the email, consider the questions the recipient has and how your email responds to them.
Subject line for Emails are Important
Emails with a subject line that is a tease or doesn't relate to the content can be extremely annoying. Subject lines for emails are crucial to the success of an email. This often determines whether a person will open your email.
This is one of the most difficult parts for many people.
Take a look at this example that you should avoid: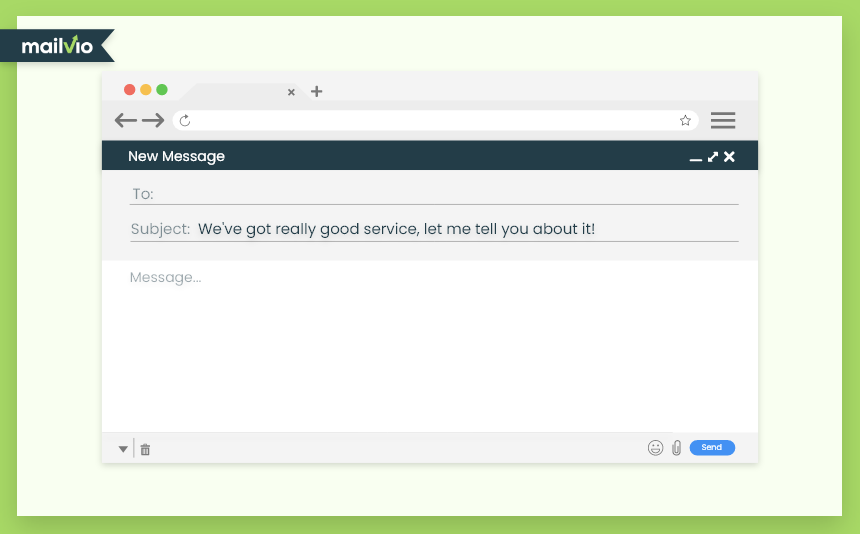 In your subject line for emails, do you always refer to yourself? This is a terrible thing, since you're causing a virtual rift between you and your readers. Focusing too much on "You" doesn't help your potential or existing customers connect with your product or service.
In the end, these kinds of subject lines for emails may end up getting deleted or ignored.
If it's your first time contacting someone, your subject line is especially important. Your subject line is all the recipient knows about you, and that is all the recipient can judge about you.
It's important to write great subject lines even if you're sending emails internally. Every day, your coworkers are inundated with emails. If you could add a descriptive subject line, they would certainly appreciate it.
When writing the subject lines for emails, be direct, clear, and descriptive in your email. You should feel comfortable using the entire subject line.
You do not need clickbait titles or sneaky tricks to get people to open your emails. Instead of anger or disappointment, you want your email to make people feel good.
Begin by extending a friendly greeting.
It's important to start your email with a proper greeting. The greeting should contain two parts. An introduction and a salutation.
Depending on the situation, the appropriate salutation varies. To begin a formal email, you should begin by addressing the recipient as "Dear (Recipient's Name)."
When you're writing to a friend or working in a relaxed environment, you can be slightly informal. You can greet them with "Hello (recipient's name)" or "Hi (recipient's name)."
If you're unsure who will read your email in a group setting, write it as : "To Whomever It May Concern".
The use of gendered and noninclusive terms should be avoided. Try to avoid salutations such as "Hello there guys" and "Mr./Sir./Ms./ Ma'am/Mrs".
Instead, you can try and use these:
Refer to them in their first name (Dear: Recipient's name)
You can also start by their name right away (John, …)
Good morning or Good Afternoon
You can also say "Hi Team". "Hello there"
Engage your audience with an attention-grabbing statement
Let's get started with your email once you've addressed the salutation.
Subject lines determine whether your email is opened. If you write a great opening sentence, you'll be able to hook the reader to read all the way through.
Include something interesting in your introductions when you're writing them. Social media profiles can provide you with this information. Perhaps something they tweeted or posted on LinkedIn recently can be cited.
Rather than sending a generic email, you can send a personalized one.
Don't jumble up your content
Keep each email focused on one content area. For example, if it is a follow-up email, you should just mention following up. Be sure not to talk about anything other than the previous email you sent.
If you muddle content, the recipient will have a difficult time finding the email in search. If the subject line doesn't match the content, the recipient will not find the email.
Short and concise messages are best
Every day, approximately 333 billion emails are sent and received worldwide.
A clear conclusion can be drawn from this statistic: We read a lot of emails. It is common practice for people to quickly scan email messages for the essence of the message before moving on.
Your email should therefore be easy to read and scan. The format should be as follows:
Paragraphs should be kept short.
Incorporating bullet points.
Using graphics to simplify and illustrate the text.
It is not necessary to tell them all in one email. The arrival of a three-page essay won't excite anyone.
Let's put it this way. Is there anything you want your recipient to take away from your email? Is there anything you want them to do?
When you draft your email, check to see if every line helps you reach this goal. Remove any that are not helpful.
Please don't send a 10-paragraph email, as no one has the time to read it. You are probably including unrelated content if you have 10, or even four, paragraphs.
Be careful what tone you use
A tone of voice can be difficult to discern in an email. Nevertheless, the reader most likely will assign a tone to the piece, even when no tone was intended. You should avoid writing an email with inflammatory language, exclamation marks, etc.
Keep your font consistent.
The way this email is written is very off-putting. It gives the impression that it might be a scam.
The person will surely think that no professional company would send an email like that. After all, it is very poorly written, and it can appear to be a joke. Here's an example of what you should avoid doing: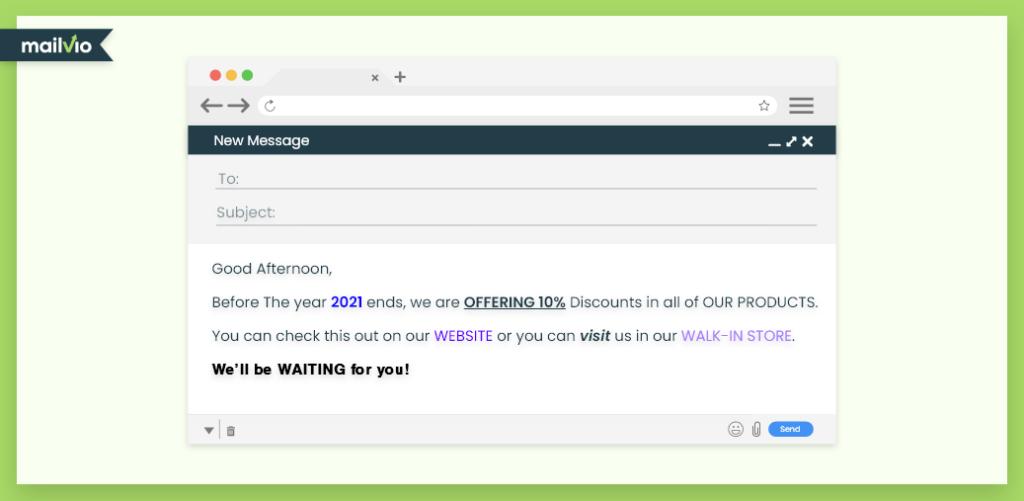 You can have fun sending emails. Images, GIFs, and colors are welcome. The trick is to do it in a way that's not distracting or too extreme.
Using this example, we can see what not to do. This email uses a variety of fonts, font sizes, and colors. It's confusing and a bit overwhelming as a result.
This is a general rule of thumb. Use the same font throughout. Using a secondary one should be done in moderation. This applies to color as well.
You may not see your fonts properly on another person's device if you're using a non-English keyboard. If you want to send email, you should use web-safe fonts like the following: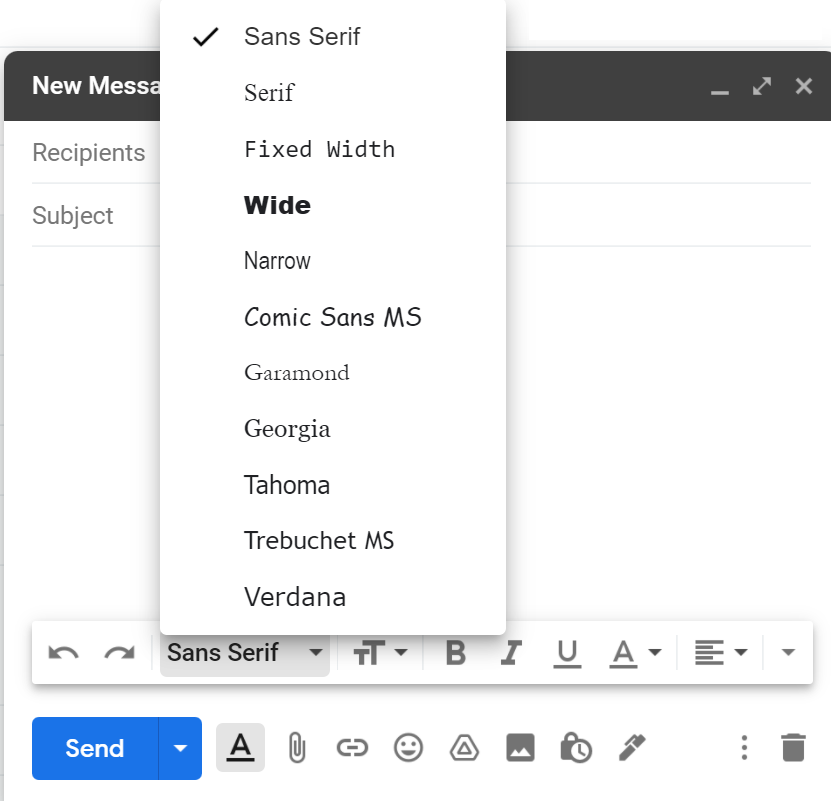 Gmail actually offers these options.
The recipient will see an ordinary font no matter which device or operating system they use.
Don't include remarks or quotes that are offensive.
Emails are more and more often ending with quotes. Some inspirational quotes are encouraging and optimistic, such as "Believe you can, and you're halfway there". Quotes with religious meaning should be avoided.
Quotations that may be viewed as exclusive, etc., should also be avoided.
You might unintentionally offend your recipient. Your relationship may be damaged, and you might cause misunderstanding.
Plan Your Call-to-Action
There should be a clear call-to-action in every email, whether personal or business-related. Your audience will lose interest if it's hard to identify. Think about what your content is designed to accomplish once your audience has read it.
"Pre-register for the event"
"Sign up for our new service"
"Get in touch with me."
Calls to action should be concise, clear, and action oriented whenever possible.
Finish with a simple closing.
When you have finished writing your email, it is time for you to close it.
Simple and straightforward is all you need – don't get hung up on fancy.
You should be able to close by following these safe, proven lines.
Sincerely
Sincerely Yours
Respectfully
Best regards
All the best
Thank You
Prepare a schedule for your emails
Did you know that a majority of email readers read their emails in the morning? Opening rates typically begin around 6 a.m.
Peak activity usually occurs between 9 a.m. and noon. You should know when's the best time to post or send emails. By doing so you can maximize your open rates.
The best way to communicate with your team via email is through trial and error.
Emails sent to foreign countries and states also need to take time zones into account. What you consider noon may be 9 p.m. to others.
Therefore, keep in mind who the recipient is and when they are likely to accept your email.
You might think, should I be awake at those hours just to send an email? It's not worth it and time-consuming. Here's where using an autoresponder comes in-handy.
Simple, yet very effective, autoresponders enable email marketing. Follow-up emails can then be sent to your shoppers based on the schedule you choose. Each email is tailored to fit the parameters that you set up for your store.
If you're interested in availing one for yourself you can check out Mailvio. It offers a variety of other email marketing tools, aside from its full-service autoresponder feature.
Make sure to spell and grammatical check your final draft.
Typographical errors, misspelled words, etc., make you appear unprofessional. Be sure to proofread your emails thoroughly.
Imagine spending hours perfecting a message, only to have it ignored. That's the result of grammatically and spelling errors in the email.
What can you do to prevent this? Copy and paste your email into MS Word or Google Docs after you have finished writing it. Gmail may even highlight typos for you.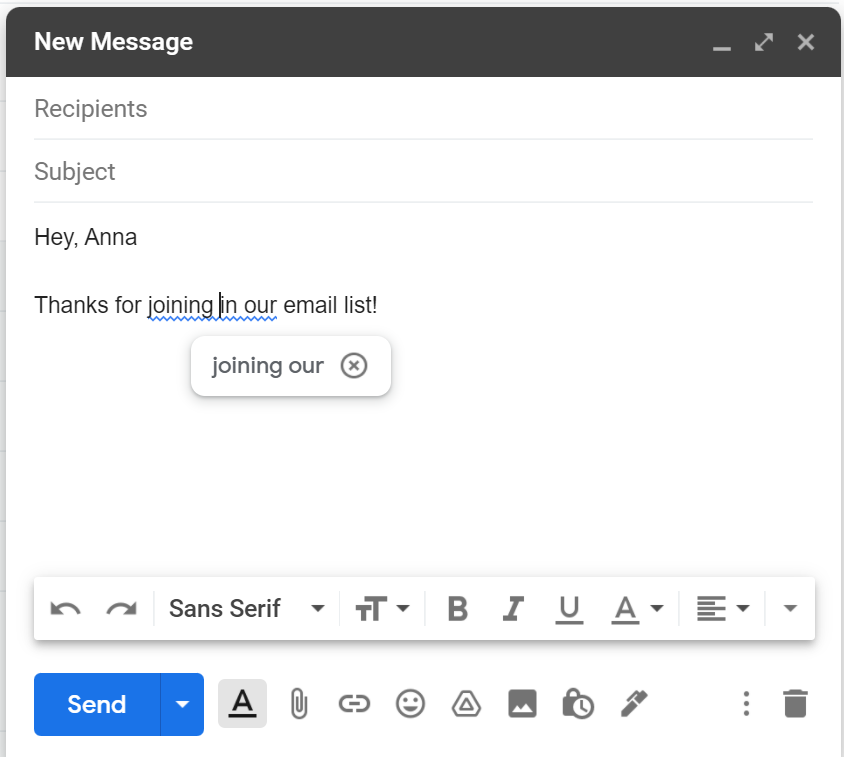 The software provides a quick grammar, spelling, and phrasing check.
To ensure that your message isn't too long, clunky, or robotic, you can also read the message aloud. This helps ensure the email is human-sounding.
Additional Tips for Writing an Email
Hold on! It's been a long process, but hang on, we're almost done. I have a few more tips for writing an email.
Avoid sending an Email if you are angry or infuriated
Write the email in a Word document, where you can't accidentally press send.
The best emails begin even before the first word is written. Many people don't realize that. You need the right attitude.
If you approach email writing with the right mindset, you will be able to persuade and communicate effectively.
That seems logical, but how do you start thinking in the right frame of mind? Let me explain. Imagine you are the person receiving the message and compose the letter as though you are talking to them.
Writing an email can be difficult when there is no empathy for the recipient. Here are some questions to ask yourself:
What is the purpose of my email?
Am I reaching out to the right prospects?
Are my points clear and concise?
Does every line contribute to the effectiveness of my message?
It is okay to feel as though you should write your emails in a more formal manner if you don't speak native English.
Try not to make yourself sound robotic by overly formalizing your message.
You can always sound more native by following this grammar tip. Make sure you're writing in active voice, not passive voice. In Hemingway, you can copy and paste your message to see if you are using an active or passive voice.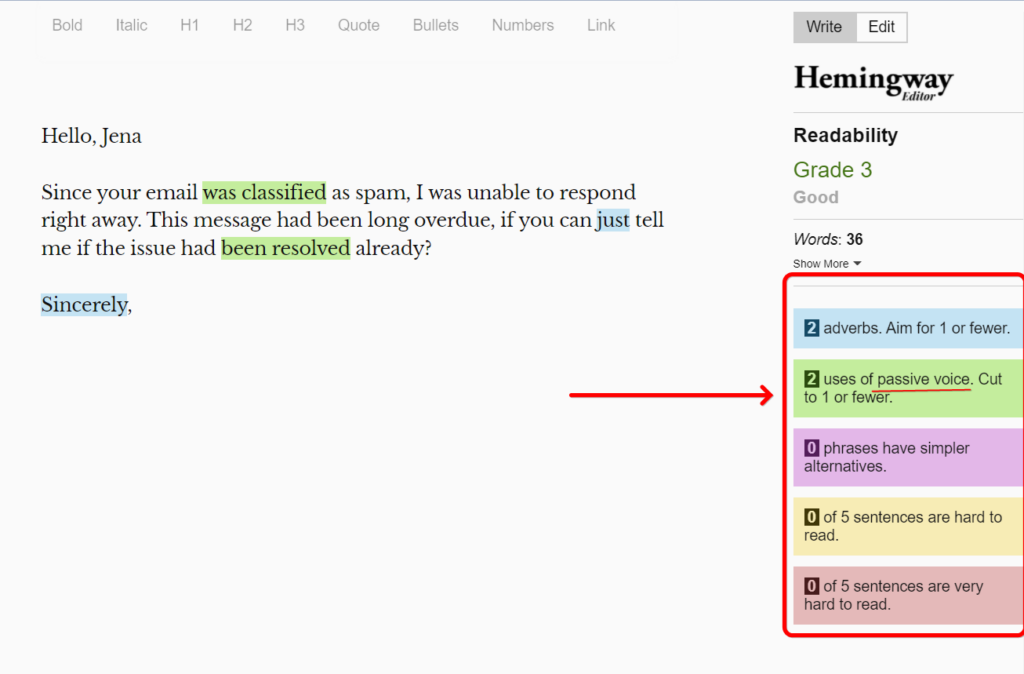 You can then edit your message and make any necessary changes.
Legal Implications
You, your colleagues, and even vendors' emails can be subject to a warrant if illegal activity occurs or a lawsuit is filed. Further, all e-mails sent and received via your work email are owned by your employer.
In other words, NEVER include any information in your emails that might place the company or you at risk. This applies both personally and professionally.
Examples of this include, but are not limited to:
Defamatory statements
Harassment / Bullying
Confession of wrongdoing
Accusing someone of wrongdoing or criminal activity
Final thoughts
It shouldn't be difficult to write an email. You'll always be sure your emails are effective by following these simple tips for writing an email.
Once again, even though it seems there is a lot here, when you do it consistently, you'll be writing emails effortlessly. As the saying goes, practice makes perfect. Feel free to revisit this article from time to time if you need to refresh your memory about it.
It would be great if you would pay attention to these rules. Following these instructions will assist you in constructing effective and well crafted messages.
Messages that sound professional, friendly and not robotic-sounding messages. By doing so, you save time and can focus on other important matters.