If you're wondering how to clear cookies and cache in chrome, we'll teach you how to do it, step by step. Aside from that, did you also know that you can use cookies to improve your small business?
Discussing how to clear cookies and cache in Chrome is not the only thing we'll discuss. Furthermore, this article will explain how Internet cookies work. As well as a brief look at how cookies can benefit small businesses, demonstrating some of their common uses.
A cookie is integral to the functionality of a website, but often collects personal information about users. We'll also speak about cookie-related security issues before the end of this article.
In addition, we will discuss how to comply with government regulations designed for the protection of online consumers.
Website Cookies and Caches – What are They, and How Do They Work?
Almost every site we visit has a cookie banner that appears immediately. Our habit of clicking 'accept' and moving on quickly becomes second nature to us. However, what are cookies, and how do they work?
Websites generate cookies in response to requests from web browsers. Your system will store these cookies. Among the information contained in them is the contents of your shopping cart or your login information.
Website cookies (also known as HTTP cookies) are bits of information that are stored in the web browser when a user visits a website. In addition, the creators of the code may stipulate the period of time for the code to remain in the user's browser. There is also an option for the user to delete it themselves.
This could also happen if it changes how certain pages interact with the browser. It's used for a variety of purposes, including:
Setting up retargeting ads
Data storage. For instance: Products you have added to your online shopping cart on an e-commerce site.
Keeping data from previous forms. Useful for auto-complete.
It saves user preferences. That's why they are also keeping track of user's activity.
Digital marketing functions are enabled in one way or another by these web cookie functions.
Caches on the other hand contains text and images from a website. In this way, the web page will load faster the next time you access it. Cache keeps track of portions of pages, such as images, in order to make them faster to open in the future.
Typically, your browser saves these types of files. Regardless of how small they may be, they will accumulate over time. This could then slow down your browser.
Thus, clearing out the cache and cookies periodically will help your browser run more smoothly.
Why You Should Know How To Clear Cookies and Cache in Chrome
Cookies are most often used by websites to develop a user profile. Whenever you visit a site, the cookies will remember you.
They'll remember what you're searching for, what you previously bought. This provides a detailed view of the customer's online activities.
By setting cookies, the website provides a more tailored and relevant experience for the user. There is still a great deal of skepticism about how this information is used and how easily some people can hack into it.
However, it is not unreasonable to have these concerns. In 2014, hackers got their hands on a big chunk of Yahoo's database, affecting about 500 million people.
Cybercriminals obtained account information. The information includes names, email addresses, passwords, phone numbers, and birthdays.
Years later, the aftermath of that event continued. The result was a significant increase in public awareness of these breaches as well as laws and regulations pertaining to cybersecurity. Despite an incident going on in 2014, Yahoo's shell company did not disclose its $35 million fine until 2018.
Privacy laws relating to cookies have undergone significant changes since the attack. In accordance with GDPR, all companies within the EU are now legally required to inform us about the use of cookies on their sites. Furthermore, the use of this data requires our consent.
Hence, clearing your cookies and cache on a regular basis is vital. A hacker can breach even the most secure website.
Make sure to clear your cookies and caches at least once a day to be safe. It is not too difficult to do and won't take much of your time.
The Importance of Deleting Cookies
There are a number of reasons why you should clear your browser's cookies:
Using public or shared computer
In some cases, you might use a public computer to check your email or do online shopping. It is however possible for someone else to gain access to your entire history. Not unless you delete your cookies at the end of every session.
The worst-case scenario is logging in to your online banking or shopping account in your name.
Slow Browser
Your hard drive automatically saves the pages of a website when you visit it for the first time. After your first visit, the pages will load much faster instead of re-downloading them. As you accumulate cookies, your system may become slower over time.
Their presence poses a security risk
Hackers can potentially hijack cookies, as demonstrated by previous cyberattacks. This gives them access to browser sessions and allows them to steal personal information.
Stores personal information
Cookies keep track of what sites you visit and what purchases you make. That allows websites to track your movements on the internet. In this way, they can build a more detailed picture of your online habits or target you with further advertisements.
Types of Cookies
A website will use different kinds of cookies to keep track of different types of activity. The following are some examples of the most common cookies:
Session Cookie
The session cookie is saved for the duration of your web browsing session only. After your visit is over, the cookies are automatically deleted.
Your browser stores them in the temporary memory folder. It also does not collect any personal information. The most common use of these cookies is in online shopping sites where information is passed between pages.
Permanent Cookies
The term "permanent cookie" also refers to a persistent cookie. A persistent cookie tracks your online preferences.
A persistent cookie records personal information, such as your user name and password. If you store these details, they will automatically appear when you visit the site again.
The purpose of this cookie is to enhance user experience. Cookies expire after a certain period of time.
Third-Party Cookies
These third-party cookies collect data about your online behavior and track it. These cookies are created by websites that pass on or sell the information they collect to third parties.
There is a reason why certain ads follow you around the web. There are times when you may have searched for a particular product on one site. After that, ads for the same brand or product appear on many other sites.
Browsers have settings that allow you to disable third-party cookies. This prevents third-party advertisers from accessing your search history or browsing habits.
Is it Safe to Use Cookies?
A cookie is simply a text file that contains data on your computer. Cookies help websites identify your device. Due to the fact that these files are plain-text files, they cannot transfer viruses or malware.
It is nevertheless important to keep an eye out for cookies that could pose a security risk. Super cookies, for example, are designed to be permanently stored on the user's device. You cannot remove these cookies like regular cookies.
Some third-party cookies, also known as Zombie Cookies are difficult to detect and can prove to be a security threat. Upon deleting these cookies, they instantly reappear again.
How To Clear Cookies And Cache In Chrome?
The process of viewing and deleting cookies is relatively straightforward in most browsers. Every browser uses a different method.
You can usually find the privacy or security section in your browser's settings. Next, you need to view the cookies the browser has stored and choose which ones you wish to delete. The process is really simple.
It is clear that cookies have revolutionized the way we access the web. Most of the time, they enhance browsing efficiency and personalize experiences.
Nevertheless, it's important to be aware of the risks and to determine whether you should be regularly deleting your cookies. In addition to explaining how to clear cookies and cache in chrome, we'll walk you through a step-by-step process.
First step
The first thing you need to do is open Google Chrome.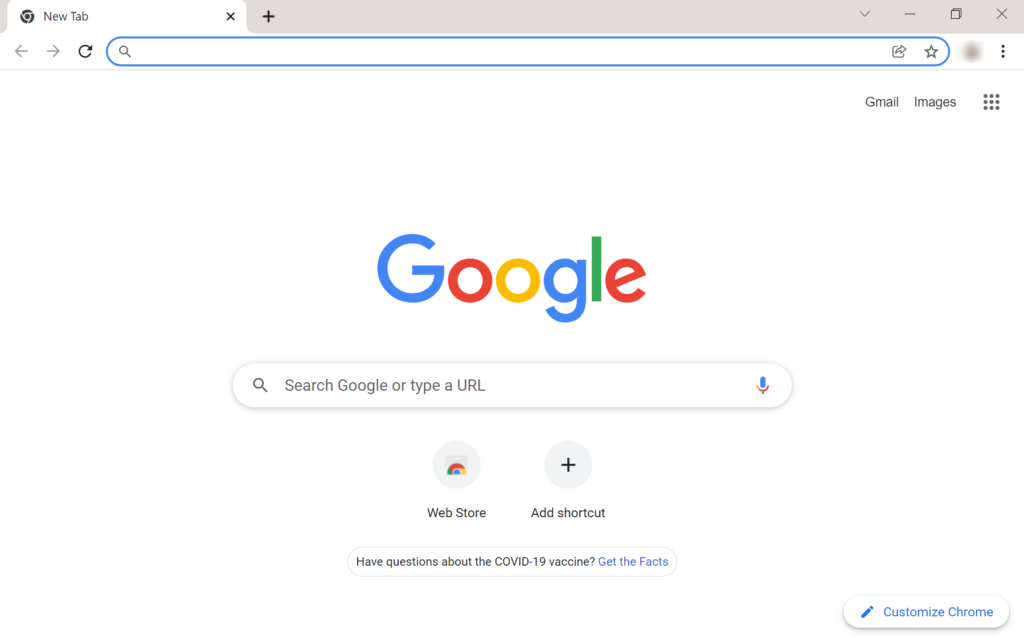 Second Step
In order to continue, click on the three dots or the menu button in the top right corner of your browser. The 3 dots below the (X) or the close button.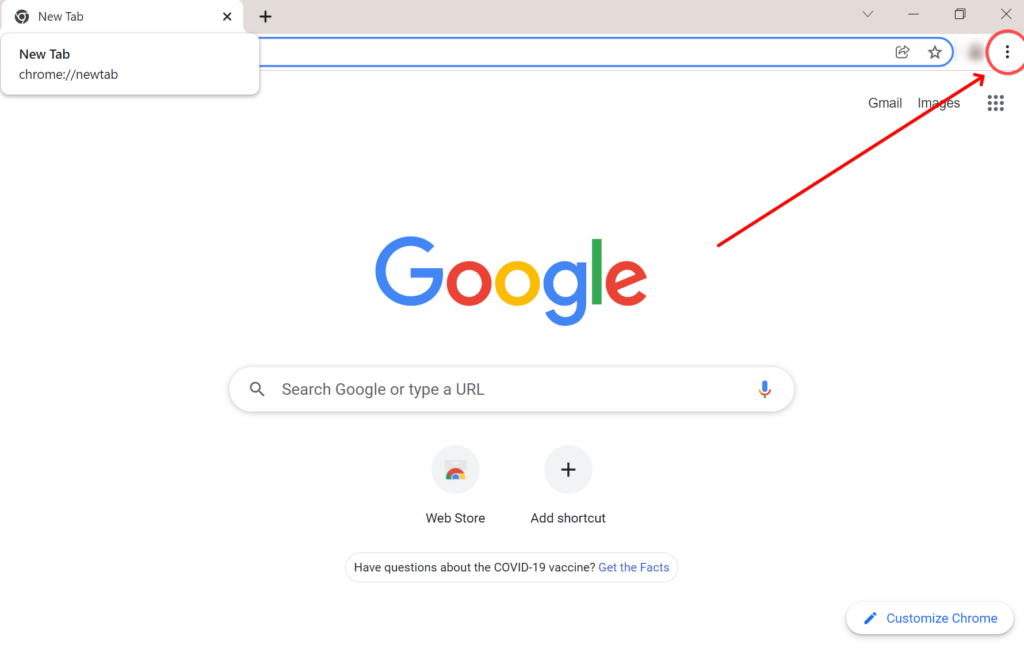 Third Step
You'll see "more tools" after clicking the three dots. Once you click it, another dialogue box will appear. You will then see the option "Clear browsing data…" or the shortcut key CTRL + shift + Del ".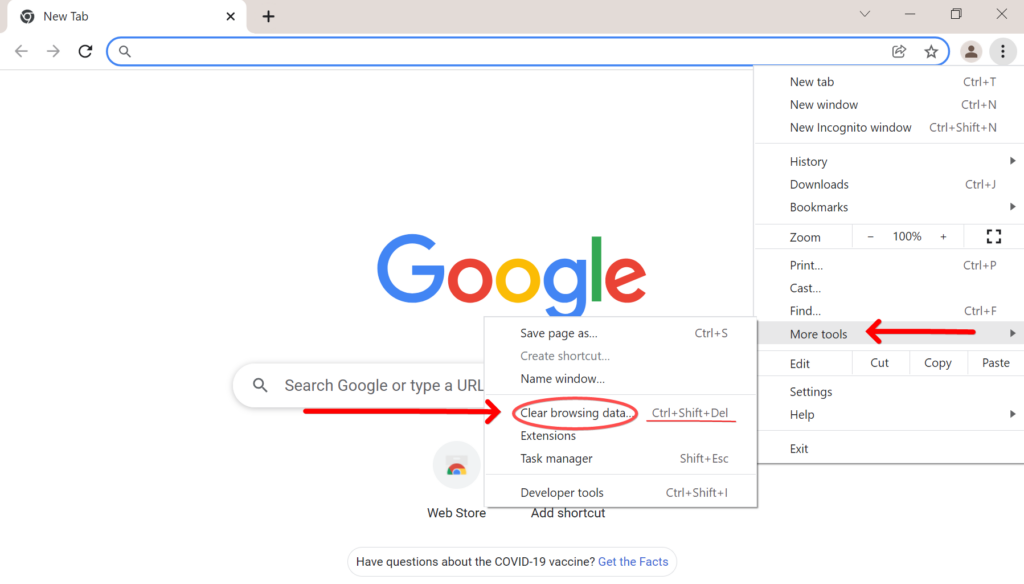 It will direct you to another page, where you will see the window for clearing browsing data.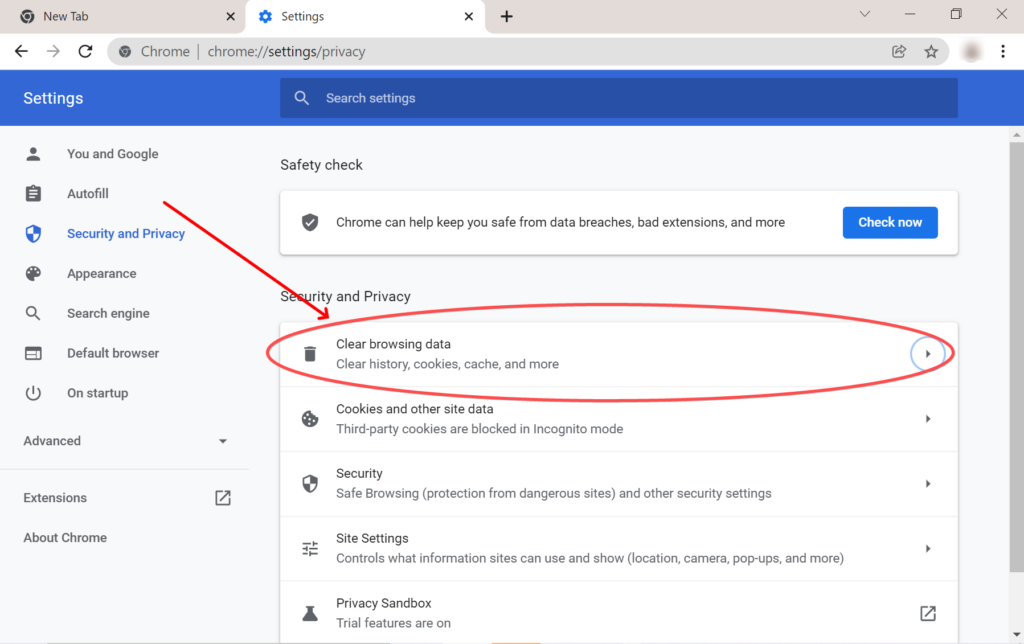 Fourth Step
After clicking the browsing data you can select which time range you want to clear.
You can select on the cookies and other site data. If you wish, you can also clear your history and cached images and files by clicking the other checkboxes. Once you've done this, click "clear data" at the bottom.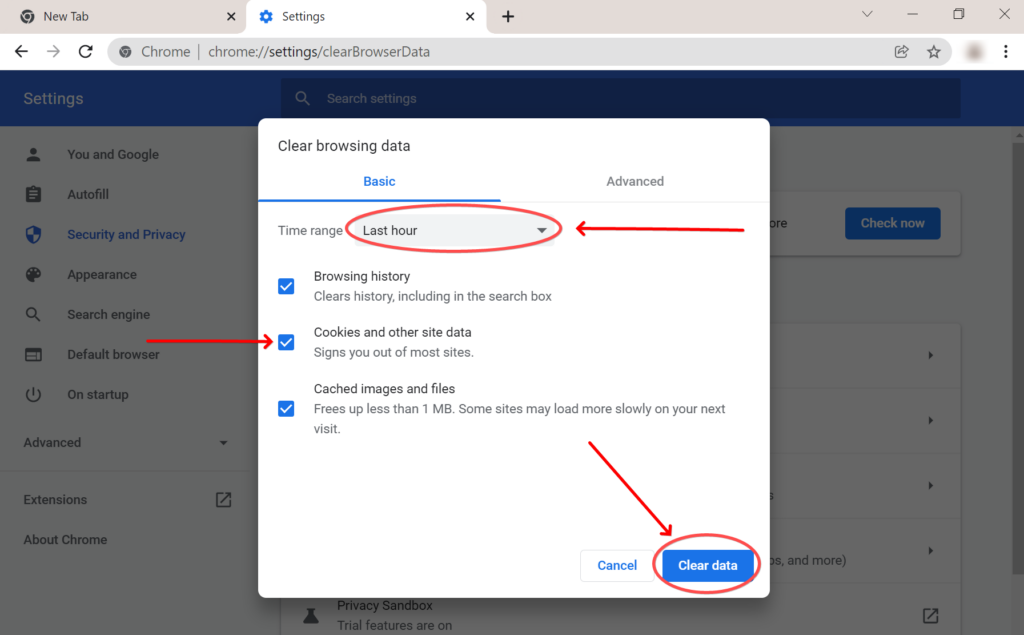 You have now successfully cleared your cookies and cache. Aside from the clear browsing data, you'll also see the cookies and other site data.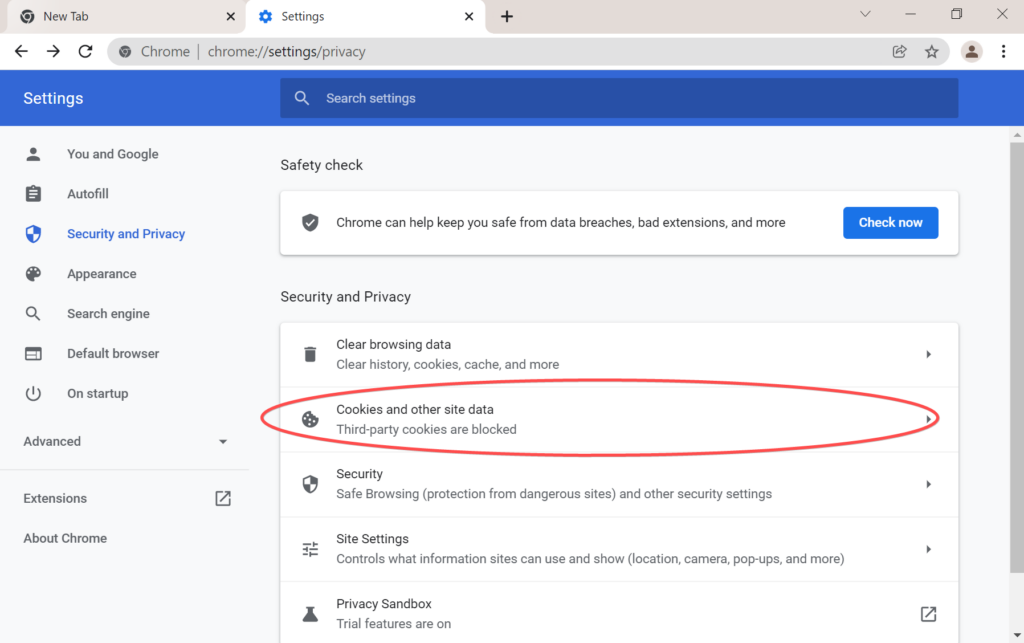 Clicking that will also disable third-party cookies. The same as what was mentioned before.
How are Cookies Used in Marketing?
Whether you like them or not, web cookies are integral to the machinery of digital marketing. Web cookies help us to find the right customers and understand their preferences.
Various forms of digital marketing use web cookies. They do this to personalize their digital marketing campaigns. These cookies collect and store information about the user.
Most likely, your small business website uses cookies already. Most websites that use ad platforms like Google Ads, CMS like WordPress, are already using cookies.
Let's say you abandon your shopping cart. A cookie keeps track of what you put in the cart. An e-commerce site can help to return visitors remember what they were looking for.
Even during the current browsing session, cookies may be used to tailor the user's experience. Content can be personalized based on page views during the session.
Cookies can also be used to gather analytics data. Assuming you want to calculate performance analytics you can use website analytics. An example is Google Analytics, it relies on raw data gathered by cookies.
Owners of websites can learn how visitors found their sites by using this tool. They can also see how often users visit their sites. Additionally, it can include how many pages a user viewed and what they did while on the page.
How are users finding your site: through pay-per-click ads, links, or search? What do they do all day on one product page?
To increase the number of visitors to your site, site owners must have these details. With these, they can focus on the most important traffic sources. The information can help them improve their marketing approach.
Cookies and Security Issues
Website owners should protect visitors' data.
In order to meet that responsibility, site owners must implement security safeguards, and how they do that is up to them.
Site owners might also be required to comply with GDPR, which may be less optional depending on whom they sell to.
This section will provide a discussion of these two cookie-related security issues.
Security Safeguards
To prevent unauthorized access to cookie-collected personal information, you'll need to take standard security measures.
A hacker may try many methods to break into your site's security. Therefore, security monitoring software and firewalls are extremely important. You can use it to detect and remove malware from your website as well as guard it against attacks from hackers.
Further, your site shouldn't collect any information you don't intend to use. Users need to be aware of and be able to access a strong privacy policy.
GDPR Compliance
Any company that offers online services to European Union residents needs to be GDPR-compliant. This applies regardless of your company's location.
The General Data Protection Regulation (GDPR) regulates data protection policies for websites serving the EU and requires them to be secure. This includes providing follow-up procedures for data breaches.
It is designed to protect all EU residents whose personal data is shared online by companies operating within the EU.
Before using certain cookies, a website is required to get its users' consent according to the specific GDPR cookie rules. You need to provide a detailed explanation of what a cookie is and what data it collects.
You'll need to document this along with every user's consent. Additionally, even if a user denies the use of certain cookies, website owners are required to provide access to their websites. A user must be able to withdraw his or her consent at any time.
To Wrap It Up
Cookies enable you to provide your users with a more personalized experience on your website.
Keeping track of your users' activity can be key to improving your marketing strategy. This is also useful if you are looking to completely engage your customers.
Using internet cookies will make your website perform better if you follow privacy rules and use them correctly. In addition, it will provide valuable business insight.
If you feel like using cookies for your business is a bit complex, you can always use other options. For example, you can use social media sites to promote or sell your products. Aside from that you can venture into email marketing.
Communication with customers can be highly effective through an email marketing campaign. Email marketing is an important part of most marketing strategies for small businesses. It is very effective and cost-efficient.
You can use an email marketing platform to make your life even easier. Your email marketing campaigns won't have to start from square one if you use an autoresponder like Mailvio. It has all the services you need to have a successful email marketing campaign.
Starting a new business and planning a marketing strategy can be overwhelming, especially if you have no experience. The hard part is only at the beginning.
In order to succeed in any field, you need to educate yourself about it. You can't do everything hence why choosing the right platform for you is also a must.