Ever wonder why motivational email is one key to the success of your business? Well, Email marketing continues to be the most ideal and effective way to market your company. Alive and well, the industry continues to evolve at an ever-changing pace.

You need some inspiration to keep moving forward. And for this, motivational email quotes are what you need. Here are 10 inspiring motivational email marketing quotes to get you started.
"Make the customer the hero of your story." – Ann Handley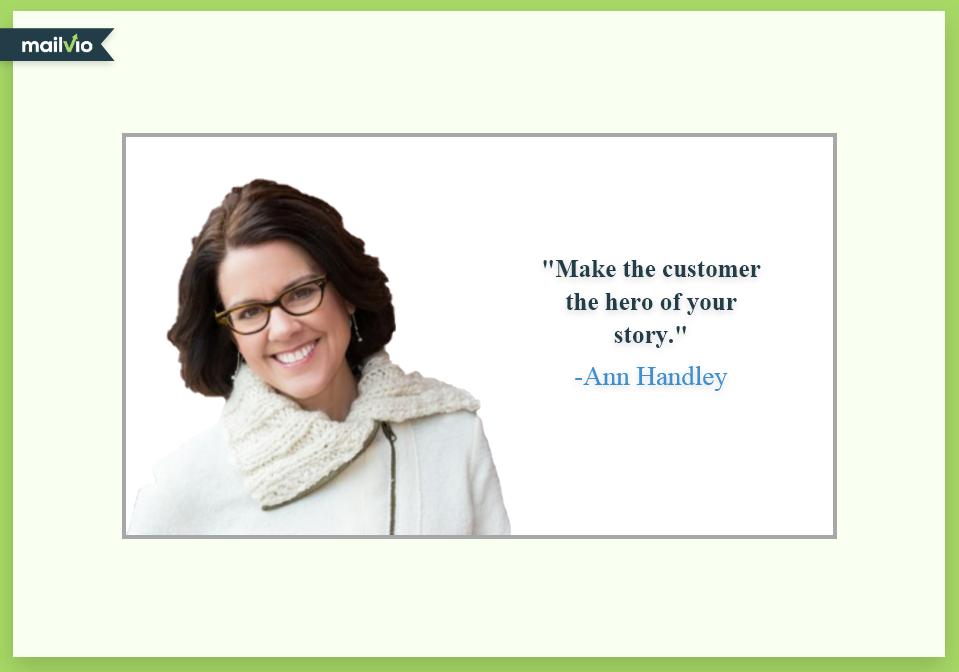 This motivational email quote tells that marketing mistakes made by businesses include positioning their product or business as the hero of the story. It may be tempting to wear the cape, but be mindful of the interests of the customers.

Customers are interested in how your offerings will meet their needs. Your marketing needs to focus on your customers and their challenges if you want them to buy your products.

Your customers will feel appreciated if you put them at the center of your marketing efforts. This results in boosting the chance that they will follow you on social media, download your content, and even make a purchase. According to research, customer-centric businesses generate 60% more profits than those that don't.

Remember that changing your mindset to one that's customer-centric takes time. So focus on learning what it means to run a customer-centric business. So you can keep your current customers.

Among the best examples of customer-centric companies are Amazon and Netflix. Throughout the years, the company has pleased its customers by making decisions based on their needs and wants. Many businesses do this now, but Amazon was the first to display customer reviews on their site.
"Signing up is a powerful signal of intent to buy. Send them email until they do." – Jordie Van In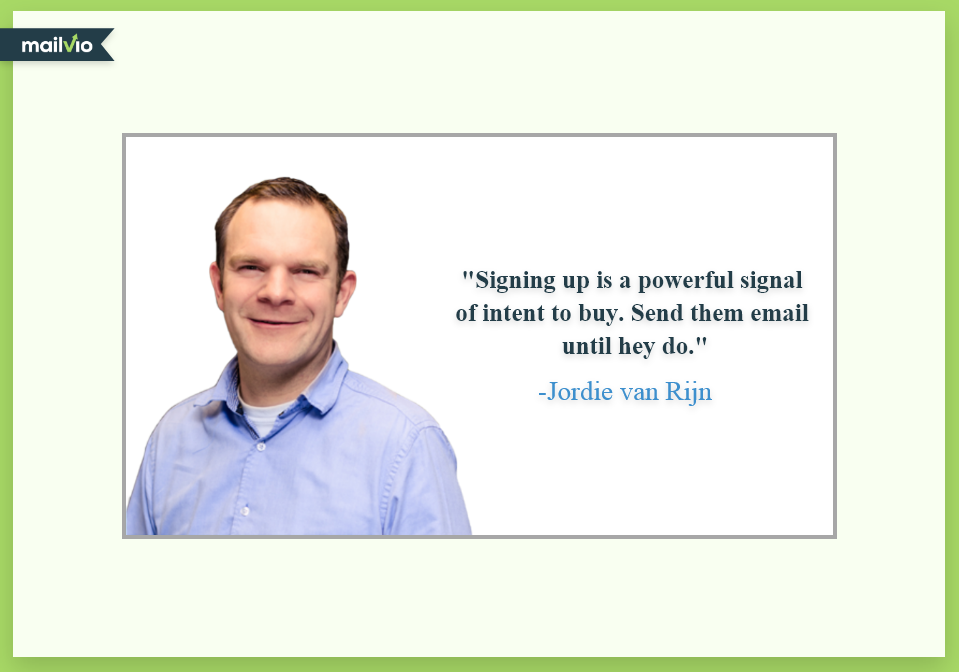 You have customers who are ready to purchase if they can sign up for your email newsletter. Additionally, you can personalize messages by incorporating the data in the message. Using data in email messages is a very powerful approach to lead generation.

It is never a bad idea to continue to send email updates to your customers about your new product and service developments. Additionally, make sure that your email contains an unsubscribed (removed) link. 

The sole purpose of this is to offer them the option to opt out. Focus on getting customers by offering them the service that they want.
"That which is measured improves." – Karl Pearson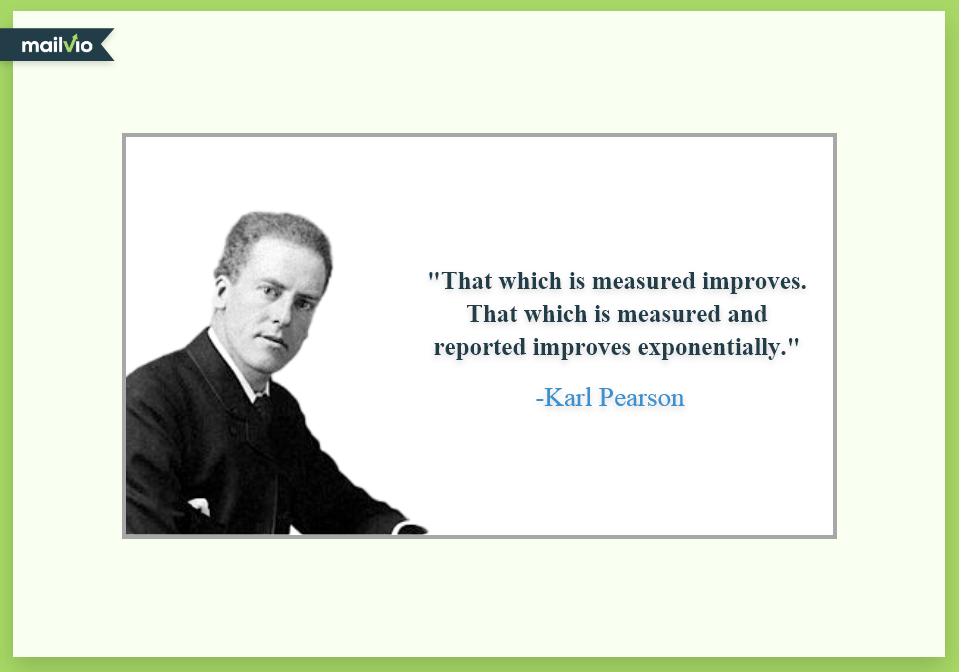 There is no question that email marketing is the most trusted form of communication, that's why this motivational email quote has been proven. 77% of consumers prefer email to other online channels. Measuring what works is the best way to increase the effectiveness of any marketing strategy.

An email analytics tool can provide marketers with the email metrics they need to know. If you want to improve your email marketing tactics, you need to understand important metrics. These are click-through, conversion, bounce, list growth, email forwarding, and ROI.

Ensure that you align business goals with measurable metrics as well. To grow your top of the sales funnel, you will need to include strong calls-to-action in your emails.

That's if you are looking to attract more visitors to your website. Think of something straightforward, such as "Subscribe to Our Blog." Simple and straightforward, this call-to-action will work.
"A small list that wants exactly what you're offering is better than a bigger list that isn't committed." – Ramsay Leimenstoll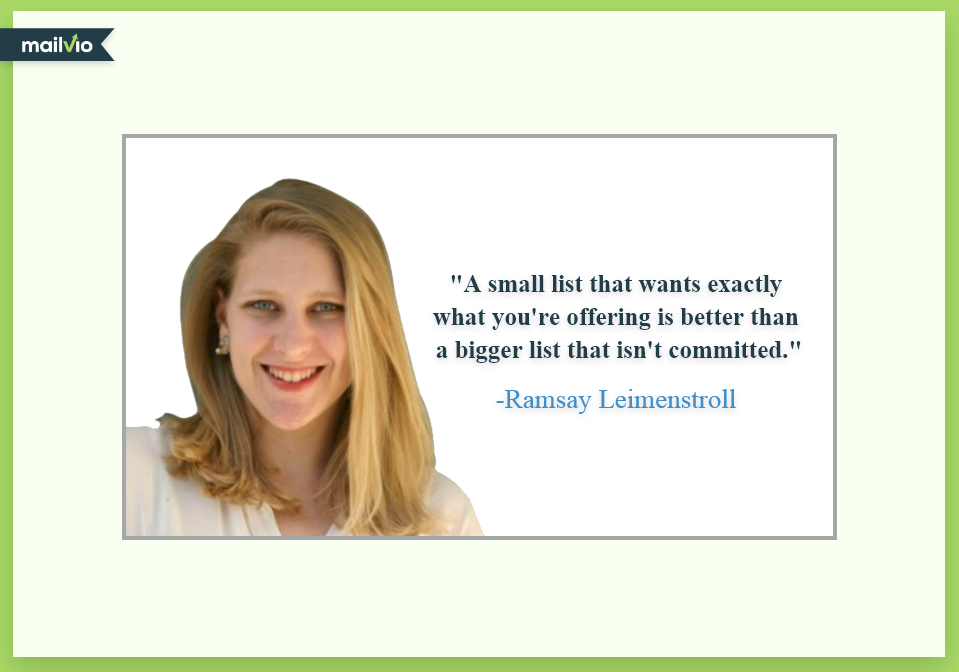 Building a strong email list should be your number one priority, not building a large one. There is no point in having a long list of people who will never open your emails, much less buy your products.

Having a small, quality list allows you to communicate with interested customers.

Having quality subscribers means they engage with you. These subscribers are easy to convert and find value in your offerings. Subscribers who have not engaged with your emails can actually damage your deliverability.

If email clients are seeing low engagement rates, the emails from graymail senders may go right to recipients' junk folders. And emails may not be seen at all. To sum it up, more subscribers do not equal more sales. So focus on cultivating quality subscribers. So keep this motivational email in mind then you will never go wrong in your email marketing strategy.
"Focus on growing your list all of the time as newer subscribers are more engaged, adding to healthier open rates and ROI." – Karl Murray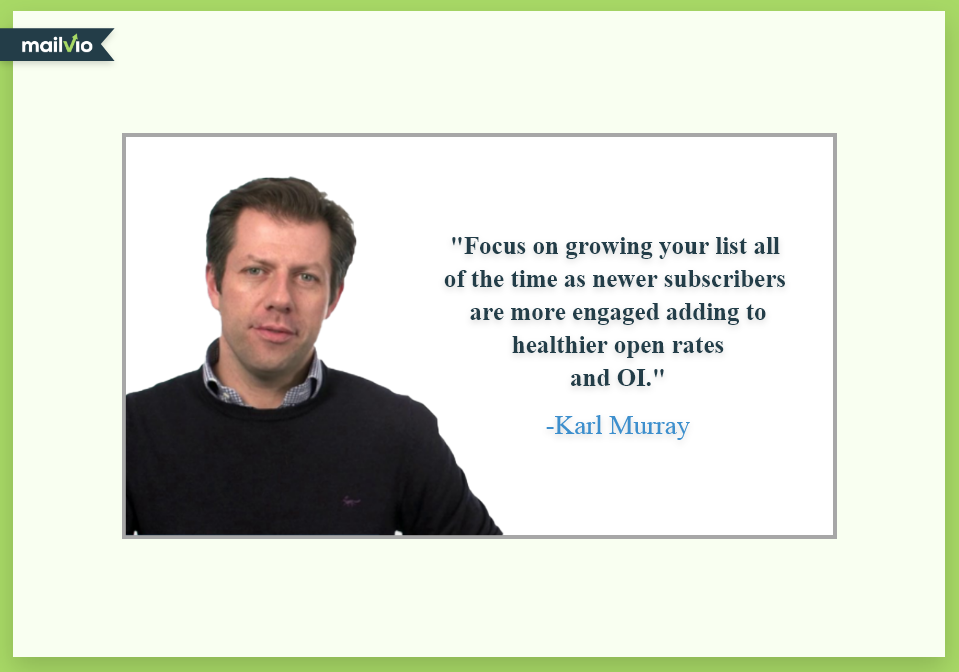 Engaged email lists are more profitable. When subscribers open your emails, they become more familiar with your products and are more likely to make a purchase.

Don't stop expanding your email list. Keeping engaged customers helps you maintain a solid reputation and boost your bottom line. It takes a long time to build an engaged list, but it's well worth the effort. Subscribers will be more likely to interact with messages and engage with emails. This will prevent your emails from winding up in the spam folder.
"Quality over quantity—Emails may be cost-efficient but it's no excuse to not produce quality content to give to a targeted audience." – Benjamin Murray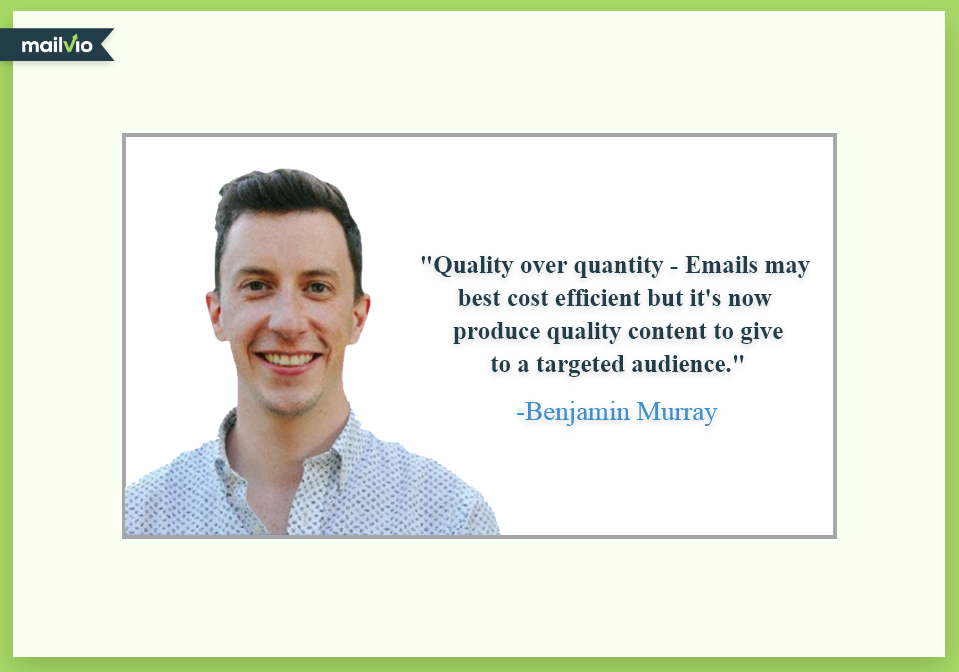 There are 100 new e-mail addresses on your email marketing list, and you're thrilled! This is exactly what you want–all of those new contacts to become paying customers. It is not always guaranteed that these new contacts will turn out to be as beneficial as you think.

Adding five engaged subscribers is better than acquiring 95 inactive ones. Marketing professionals are increasingly acknowledging the value of quality lists. According to Accenture, subscribers who are engaged will spend 66% more than the average customer. Besides, engaged subscribers are more likely to recommend you to their family and friends.

Making every message personally relevant will help you build a strong list of engaged contacts. Getting subscribers' attention requires some effort. Utilize metrics to determine the times when your subscribers are most engaged and send emails during those times.

You should deliver relevant, useful, high-quality content to keep subscribers engaged. You should avoid producing content that fails to meet your readers' needs and will only hurt your business.
"I want to do business with a company that treats emailing me as a privilege, not a transaction." – Andrea Mignolo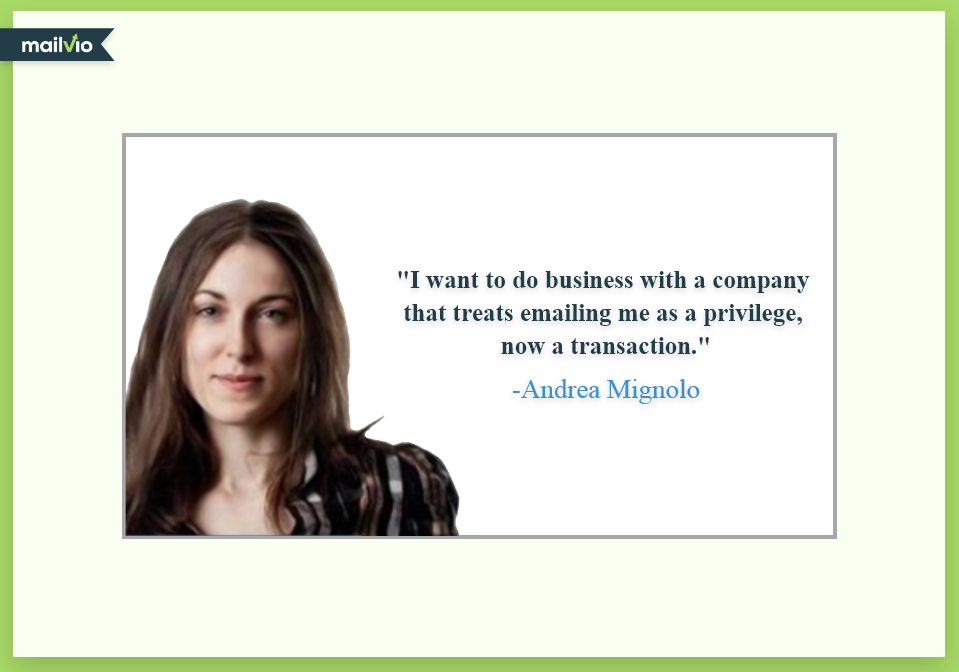 It sounds like a pretty simple concept, doesn't it? Consider your customer's people, and don't get swayed by dollar signs. Simply say please and thank you, and you will never go wrong. Never stop simplifying things for the customer.

Please respect your customer's time and make it easy for them to return items and redeem coupons. Think of the people you love – wouldn't it be great if you could make working with your business easy for them?

When creating your email marketing messages, consider what it is like to be in the customer's shoes. Keep in mind that it's not what you say to the customer, but how you say it.

To create meaningful interactions with your customers, pay attention to the tone of your emails. Email marketing personas should match the brand persona as a whole. So customers expect consistent messaging across channels.

We live in an era of transparency, and word-of-mouth travels swiftly thanks to social media. So make good decisions to maintain your business' integrity. Very simple yet important motivational email marketing quotes that will surely help you in your business.
"Personalization—it is not about first/last name. It's about relevant content." – Dan Jak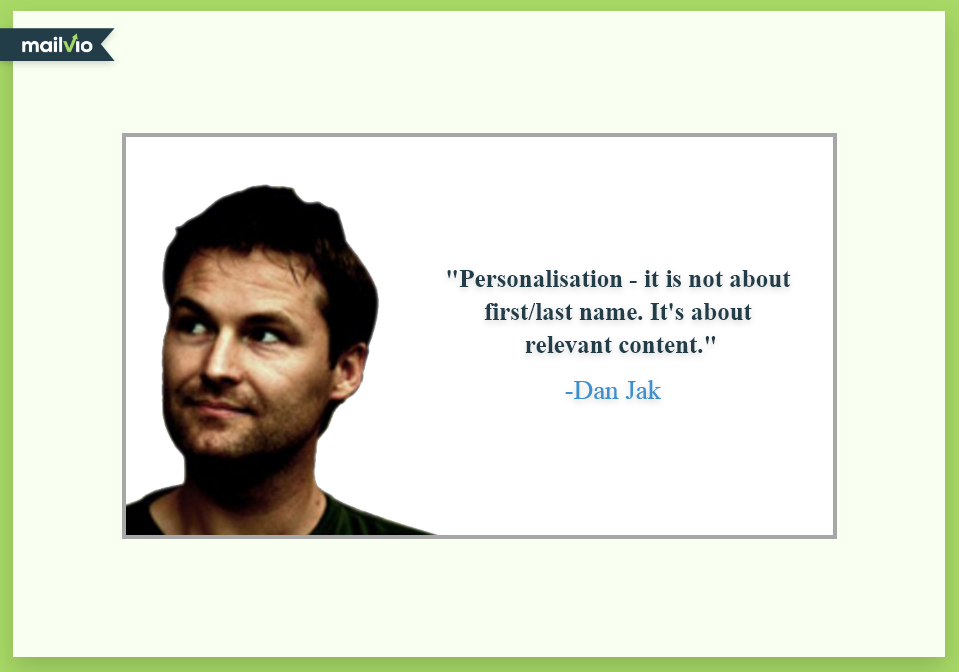 Personalized and segmented campaigns are no longer an option, they're necessary. Marketing must be able to fulfill these requirements in 2022 and there are no exceptions.

Marketing managers need to create customized email marketing campaigns. One that subscribers want to open.

Dynamic content fosters stronger relationships because of the power of personalization. Dynamic content allows marketers to write one email. And then customize portions of it for selected subscribers. For example, if you have brick-and-mortar stores in two cities. You can localize the content and images based on the subscriber demographics of each city.

Marketers can utilize dynamic content to create a stronger relationship with each customer. This can make the customer feel as though they are speaking directly to them.
"When you have written your headline, you have spent eighty cents out of your dollar." – David Ogilvy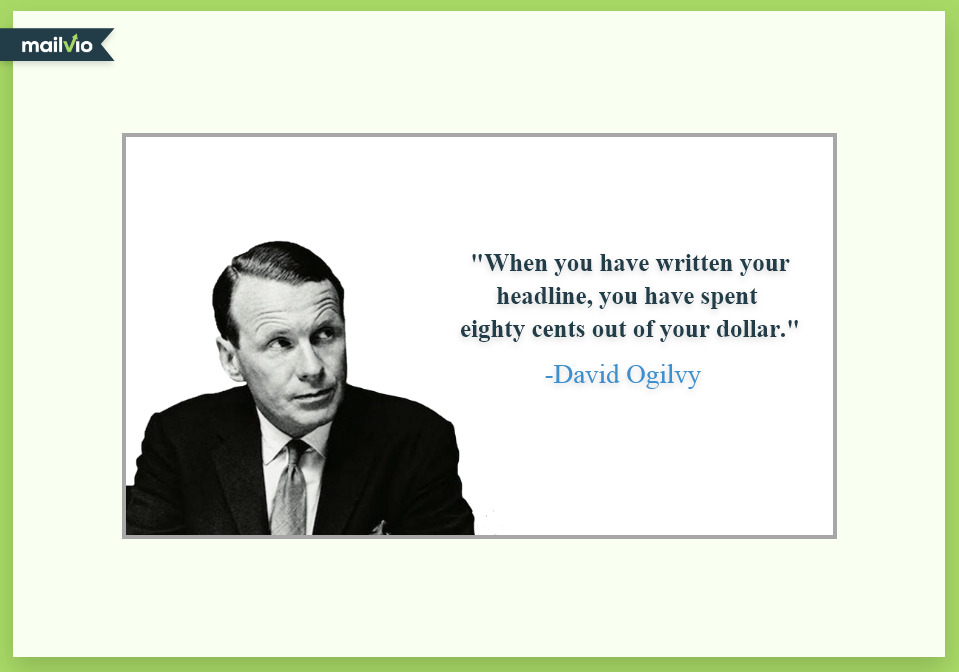 A headline is important—without a great headline, your great content won't get read. Just throw out all the work you put in since no one will read it.

Take the time to create a compelling headline—it needs to be both creative and clickable.

When you want your content to receive the traffic it deserves, concentrates on using simple but powerful words. Bold statements, especially ones that include some shock factor, always lead to high click-through rates. Headlines also make sense with numbers because people like predictability and avoid uncertainty.

Asking unusual questions is another way to grab your readers' attention and leave them wanting more, which creates a curiosity gap. If they can only find your headline by clicking, they will follow you. Look for more tips on how to create compelling subject lines for emails that will help your click-through rates.
"Email has an ability many channels don't: creating valuable, personal touches—at scale." – David Newman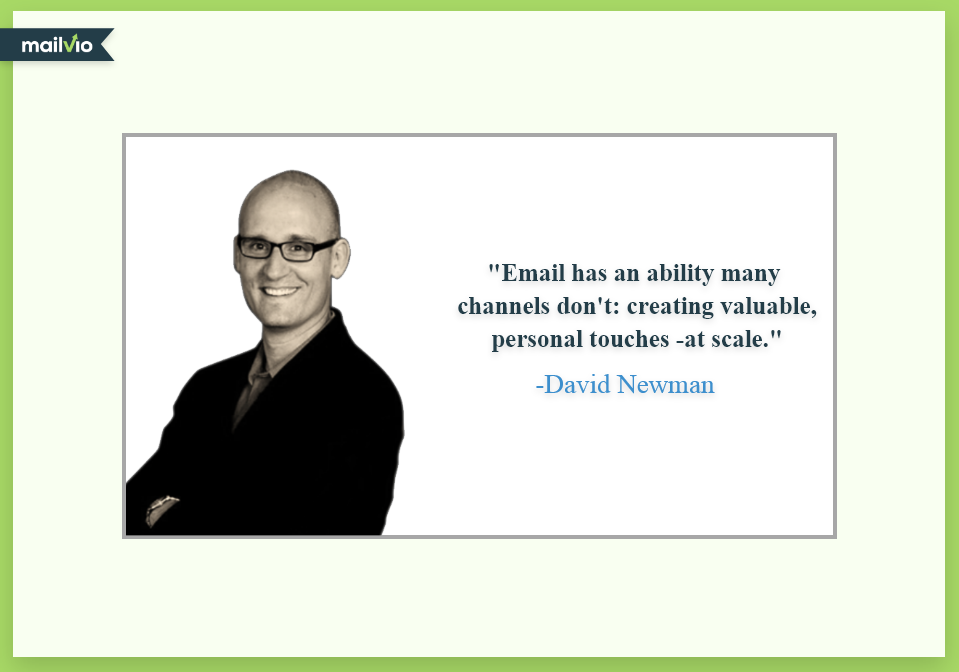 By adding a personal touch to your business, you can see a significant impact on your bottom line and your success. Only 5% of businesses use personalization in their marketing efforts. This is despite 94 percent of businesses recognizing the importance.

Using videos can help you make your email marketing strategy more personal. The use of videos is an effective marketing strategy. It increases retention rates, builds trust, and engages customers. An approach that is simple, yet personal can have as great an impact on the customers' minds, decision-making, and emotions as anything else can.
Conclusion
Your goal as a business owner should always be to grow your business. It's important to recognize that email marketing is still one of the most affordable and effective ways to reach new customers. In your search for motivation, remember that email marketing will be a cornerstone of your marketing strategy moving forward. In this age of constant evolution, you must embrace a fresh approach to your email marketing. Use these motivational email marketing quotes, tips, and ideas to elevate your efforts.

Use an email autoresponder that you can depend on to effectively execute all your marketing efforts. Mailvio is a great email autoresponder that I would recommend. In other words, they focused on email deliverability, which means better inboxing and ROI.

With Mailvio you can do :

Automation – It has powerful workflows and actions that allow you to automate all or part of your email marketing. Intuitive and easy.

Broadcast Emails – Quickly and easily send your broadcast message with its intuitive desktop.

Detailed Analytics – Stay on top of how your email marketing is performing with its detailed analytics.

Email Segmentation – Segment your audience based on an array of factors for better engagement.

Email Creation – Use your own HTML code or its powerful drag and drop editor. You can choose from different amazing free templates.

Transactional Emails – Your emails can make the sale for you with transactional email.

A/B Split Testing – Easily set up tests to see which messages are performing better, then drill down to the gold.

Drag & drop editor – Build your email campaign without the need to write complex code.