Mailvio or Mailchimp – which autoresponder should you choose? Choosing the right email automation tool for your business can be a difficult task. There's so much to consider:
Price
Features
Deliverability
Ease of Use
Support
Etc, etc.
On top of that, there are so many automation tools to choose from. But the importance of email marketing cannot be understated.
On average, email marketing has a return of 42:1. Meaning, every $100 invested can yield you a handsome $4200 in return.
But to reach these numbers you can't use just any random automation tool.
Today we look at two leading autoresponders in the digital marketing space, Mailvio and Mailchimp.
How do they stack up against each other? And, more importantly, which of the two will make it easier for you to scale your business efficiently?
Let's find out.
To begin, I think it's important to take a look at who these two autoresponders are for.
Mailchimp: Target Audience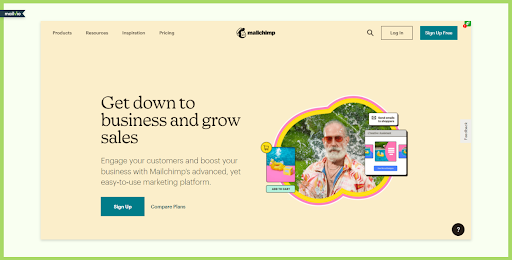 In recent years, Mailchimp has completely switched its target audience. Like other autoresponders, Mailchimp has started moving away from Affiliate Marketing.
Their main focus is now on small businesses, especially in the eCommerce space.
So, selling your own products or services then Mailchimp may be suitable. But, if you intend to run any form of affiliate promotion you'll want to avoid this platform.
It's a bit hard to pinpoint the exact focus of Mailchimp. But they help business owners easily contact their customers and promote their brands.
Mailvio: Target Audience And Focus

Mailvio is one of the most diverse autoresponders available. It caters to digital entrepreneurs across many niches.
Specifically, Mailvio is quickly becoming a household name amongst affiliate and digital marketers.
People who practice email scraping will find it hard to get accepted on this platform.
The main focus of Mailvio is to provide marketers with an autoresponder that:
Features world-class features like Active Campaign
Helps marketers achieve better deliverability
Is affordable.
Now, with that out of the way, let's begin our comparison starting with design and ease of use.
Mailvio vs Mailchimp: Design and Ease of Use
The purpose of technology is to make our lives easier (unless you're a dictator lol). And, for the most part, most email automation platforms are easy to use.
Mailvio and Mailchimp are no different.
Signing up for Mailchimp is quick and easy. It should take you no more than 5 minutes to get set up.
And they even offer a free trial which allows you to send 10,000 emails/month to 2000 contacts. Be cautious about that though, if your emails contain any affiliate promotions your account may get blocked.
From there, you'll become used to using Mailchimp by just navigating the platform and looking at its features.
Their drag-and-drop automation builder is especially impressive as well as their DFY automation templates.
So, in terms of use, I give Mailchimp a 10/10.
Now Mailvio has to get a 10/10 for ease of use as well. I've been using this platform for quite some time now and it's so simple.
The navigation and menus are self-explanatory. You can find everything you need on your own.
And, like with Mailchimp, learning to use Mailvio will take only a few minutes.
Mailvio's campaign and automation builders are also easy to use. It's almost second nature to build your campaigns on this platform.
The one thing that stands out with Mailvio is the signup process. Unlike Mailchimp, you do need to be approved before using Mailvio.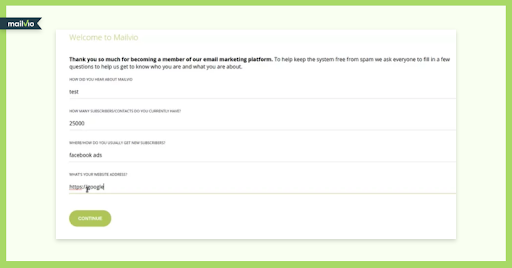 Thankfully, the approval process is quick. And can be completed by answering a few questions.
These questions will help both you and the Mailvio team decide if the automation tool is right for you. This will save you a lot of time in the long run.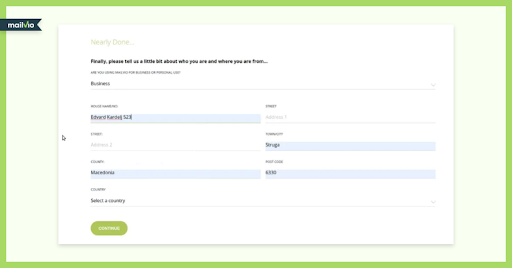 Other platforms completely skip this approval process. Then they put a stranglehold on people's accounts in the future.
And apparently, based on some Trustpilot reviews, Mailchimp seems guilty of this.
But once you are approved, you'll find Mailvio to be one of the easiest autoresponders to use.
Both platforms come with a ton of pre-built email and automation templates. You can customize these to your heart's content or just use them as is.
I must say though, I like the color scheme and design of Mailchimp more than Mailvio. But that just comes down to personal preference.
All in all, Mailvio and Mailchimp are super easy to use and have a very good user interface.
Verdict
I will mark this round as a tie. 1/1 to both autoresponders.
Let's have a look at deliverability.
Mailvio vs Mailchimp: Deliverability
This is probably the most important point of comparison today, deliverability.
Email marketing doesn't work unless your emails end up in your recipients' inboxes. So an autoresponder with a high deliverability rate is essential for email marketers.
With that said, it's a bit hard to get an accurate understanding of deliverability rates. Deliverability depends on many factors including list quality and sender reputation.
This means that deliverability rates don't entirely depend on the autoresponder.
And that's why Mailvio stands out in the deliverability department. It's designed to help you get a better sender reputation and improve your list quality.
Mailvio is one of the first autoresponders to offer a dedicated, pre-warmed IP address to its users.
That means, even as a brand new user, you'll be able to improve your sender reputation.
A higher sender reputation means more trust from email service providers. Which leads to more emails finding the inbox.
Additionally, Mailvio has its own list cleaning service. This helps users improve their list quality.
All this extra quality has resulted in open rates way above average for Mailvio users.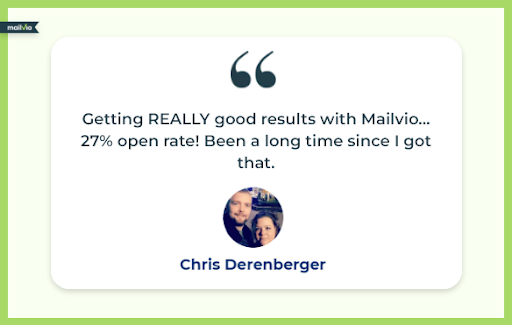 And here are some of my personal results from some of my most recent campaigns: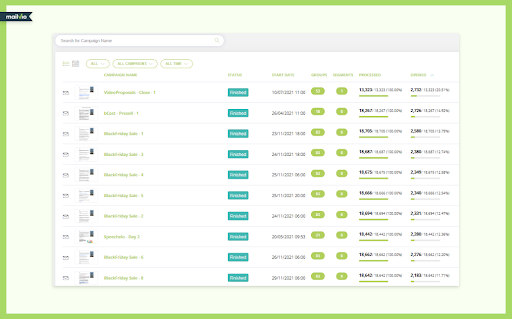 As you can see, my open rates are well over 10%.
Mailchimp's delivery rates are also pretty.
According to EmailToolTester, Mailchimp has pretty decent rates of up to 100% with Gmail.
This does vary depending on email service providers as we can see rates as low as 74.3% with Outlook.
Also, the report goes on to show that at least 60% of emails sent from Mailchimp end up in Gmail's promotion folder.
But the most telling factor is probably the overall inbox placement rates.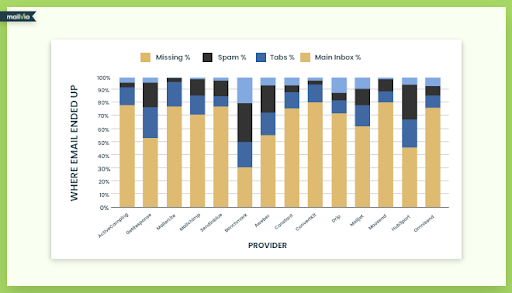 Here we have Mailchimp with a rate just below 70%. Meaning, over 30% of your emails may never reach your recipients' inboxes.
Of course, this depends on the method of testing used by Email Tool Tester. Also, the sender reputation used could have also played a factor in these results.
A user with a strong sender reputation may have even better results than shown above.
But, newer users may take some time before reaching these numbers.
The only way to get an accurate assessment is to send a few campaigns with Mailchimp yourself. Just ensure they don't contain any affiliate promos.
Verdict
Mailvio comes out on top in the deliverability department. It seems a smart move by the Mailvio team to provide dedicated, pre-warmed IP addresses and list cleaning options. Will any competitor ever reach this level? We'll have to wait to find out. Score: 2/1 to Mailvio.
Mailvio vs Mailchimp: List Management
The money's in the list alright. But remember, so too are spam traps and invalid emails.
The results of your email marketing campaigns depend heavily on the quality of your lists.
I'm now seeing where top autoresponders are placing a greater emphasis on list quality and management. This is very good for the industry.
But some platforms still need a bit of improvement. Case in point – Mailchimp.
Mailchimp makes it easy to upload your lists but you can only have one (1) on the free plan.
Meaning, even if you build 50 different email lists in different niches…
Once you upload your lists to Mailchimp they will be compiled into one big master list or audience.
If you would like to have more audiences you'd have to upgrade to a higher plan.

And unless you have the automation skills of an Olympic committee, you'll have a hard time organizing your leads.
You could always upgrade to unlock more audiences but if you have less than 2000 subscribers…
You'll just be paying leads you don't even have.
Once you have your leads added to our audience, you can organize them by adding tags.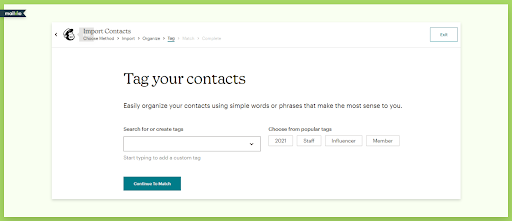 With Mailvio the process is different and simpler. Simply upload as many lists as you want and they will be automatically organized for you. There is no need to upgrade as all of Mailvio's features are available with all plans.
From there you can create segments, view your subscribers' statuses or add custom tags.
Plus you can see which of your subscribers are active, bounced, or blacklisted.
This is vital information. Sending emails to blacklisted, bounced, or inactive addresses will ruin your reputation.
But all this aside, the fact that Mailvio has its own built-in list cleaner is what separates it from the competition.
Failing to remove spam traps from your lists will result in a high email bounce rate. Plus, your sender's address may eventually get blacklisted.
Normally, you'd have to use some external list cleaning services to get rid of spam traps. But they tend to be expensive and lack accuracy.
With Mailvio's list cleaning service, you can send emails with the confidence of knowing only valid email addresses will receive your content.

Verdict
Mailchimp isn't very big on list management and I think they would be happy to concede this round. Score: 3/1 to mailvio.
Mailvio vs Mailchimp: Email Design and Testing
It's a given, you'll have to design emails at some point in your email marketing campaign. That's true even if you outsource your content creation.
So, ideally, it would be great if your autoresponder had an easy-to-use email builder.
And, both Mailvio and Mailchimp seem to take this into consideration.
They both use a drag-and-drop builder that even a 5-year-old won't have trouble using.
In terms of look and feel, both email builders seem natural and well-designed. But it will come down to your own preferences.
Mailchimp's text editor, for example, looks very similar to Google Docs' editor.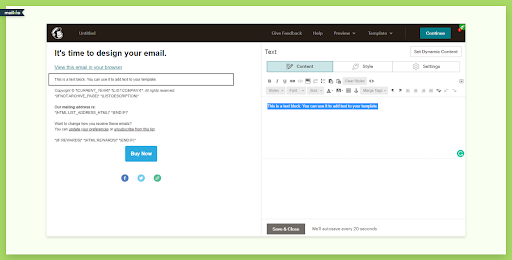 Mailvio's text editor has all the same features but a slightly different layout. Maybe a little bit closer to that of the WordPress classic editor.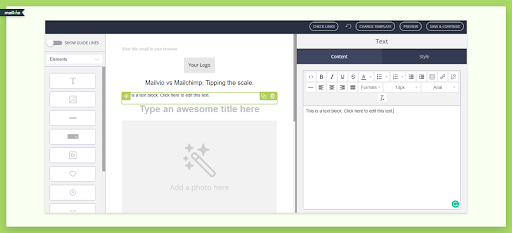 Users should not have any problems designing beautiful emails with either platform.
And as mentioned earlier, there are tons of pre-designed templates to choose from. Just be mindful that you'll have to upgrade from the free plan to access these templates with Mailchimp.
Mailvio and Mailchimp are slightly ahead of other competitors when it comes to testing. They allow users to send test emails and preview their content on different devices before sending.
Users will also have an easy time adding the right links to their email. Each autoresponder has a much-welcomed Link checker.
Here's Mailchimp's: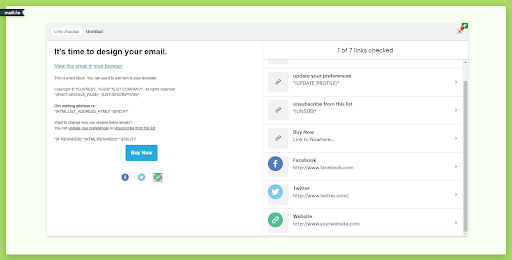 And now, Mailvio's link checker.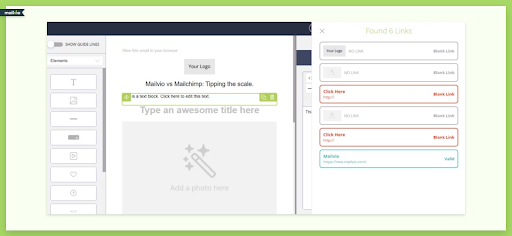 The first time you send the wrong link to a list of subscribers, you'll come to understand the value of a link checker.
Verdict
Both autoresponders are on equal footing here so this is a well-deserved draw. Score: 4/2 to Mailvio.
Mailvio vs Mailchimp: Automation
Email automation is more than just sending an email blast to a list of subscribers.
You need to be able to create detailed automation that's responsive to each subscriber's individual journey.
Why? Well, not all your subscribers will react to your content in the same way or at the same time.
You cannot send the same email to someone who just purchased from you as you would send to an inactive subscriber.
The only alternative to detailed automation is to hire staff or spend hours trying to do everything yourself.
The right autoresponder will save you tons of time and money in this department.
Mailvio and Mailchimp have invested heavily in their automation capabilities. And they are well worth checking out.
It's worth noting that Mailchimp's free plan doesn't offer email automation. You'll have to upgrade.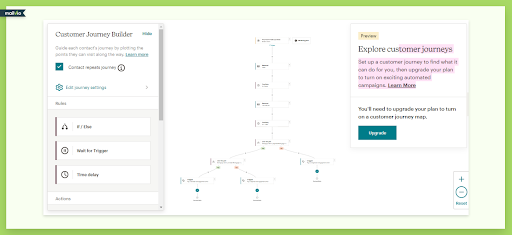 On their upgraded plans you'll find many pre-built automation for many purposes including:
Abandoned cart emails
Thank you emails
Re-engagement emails
Welcome emails
Etc
This makes it easy for anyone to get started.
I've also already mentioned the intuitive drag-and-drop editor. Aside from that, Mailchimp has all the high-level features you'll need to effectively communicate with your audience.
Mailvio's automation capabilities are definitely on par with the best in the industry.
It's simple enough for newbies to jump right in and set up their own workflows. And yet it has the depth to handle customer interactions for a large firm.
You can set up triggers for virtually any customer interaction and create steps to match.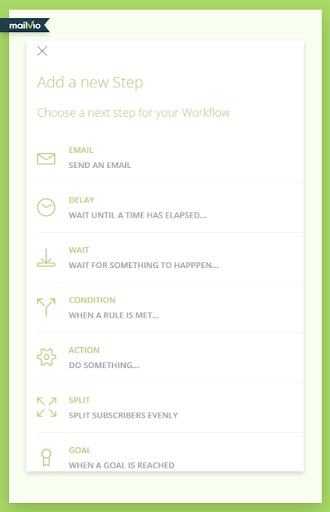 The layout of both automation builders is slightly different but overall, they have the same capabilities.
Verdict
Because of the drag-and-drop builder, I'm giving this round to Mailchimp 🙂 Score: 4/3 to Mailvio.
Now, there are a lot more points to cover but let's round this off with:
– Support – Customer Stories – Pricing –
Mailvio vs Mailchimp: Support
Great customer service goes hand in hand with success. Companies must be willing to go above and beyond their customers' expectations.
Otherwise, they'll have a poor reputation and struggle to retain customers.
Apart from valuing customers, help must also be accessible.
And that's what I like about Mailvio.
Mailvio: Customer Support
They have several different ways to provide support and help.
First off, Mailvio has an extensive knowledge base that helps solve most problems. People new to email marketing will find this knowledge base very educational. In fact, anyone in the industry could benefit from it.
Secondly, Mailvio has an interactive Facebook group that does weekly training. This group was created to help everyone understand the best email marketing practices.
Third, everyone has unlimited email support. Send in your queries and they'll usually be answered within 24 hours.
Finally, Mailvio offers weekly live call support. It allows you to speak 1-on-1 with a support member about any issue you may have.
Mailchimp: Customer Service
Mailchimp is also big on customer service.
They offer full email support on all membership levels. Although people on the free plan will only have 30 days of support. They would have to upgrade after that time if they needed further help.
Their higher plans include 24/7 live chat and phone support on the highest plan.
Support is accessible but it might be hard to get in touch with a real human judging from these reviews: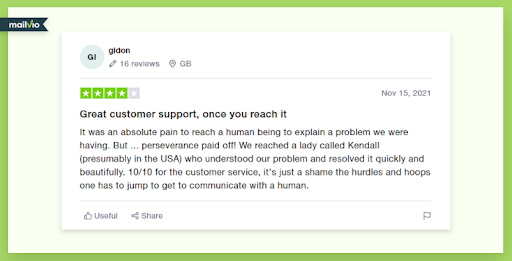 And: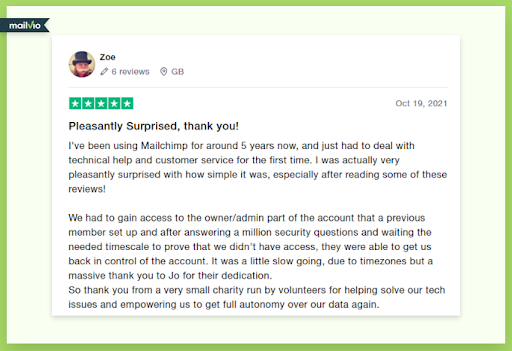 Verdict
Support seems to be Mailvio's playground because so far in this series, no one has been able to outdo them. Score: 5/3 to Mailvio.
Mailvio vs Mailchimp: Customer Stories
No one really makes online purchases without checking customer reviews and testimonials anymore.
The best way to tell the quality of a product or service is to check the feedback of real users.
Let's have a look at a few customer stories for Mailvio and Mailchimp now.
Mailchimp: Customer Stories
I was quite surprised to check out the Mailchimp reviews on TrustPilot. I've never seen so many bad customer reviews in this industry.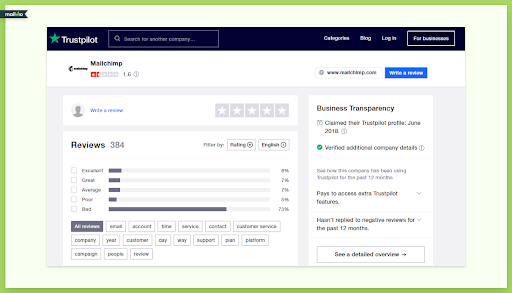 I reckon it's due to the fact that Mailchimp has moved away from the affiliate marketing space.
As a result, many affiliate marketers have had their accounts restricted. This has also given rise to many Mailchimp alternatives like Mailerlite.
We can see a few customer complaints here: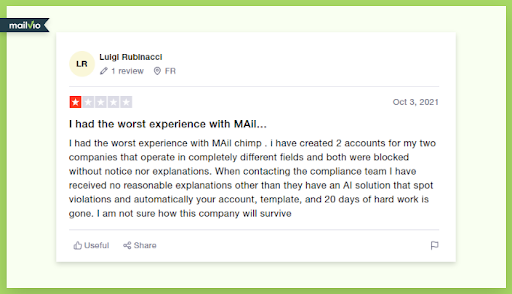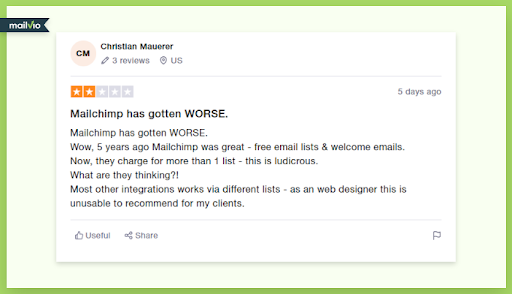 It might be worth giving Mailchimp some time as they are transitioning into the eCommerce space.
Mailvio: Customer Stories
Mailvio has been doing well in the customer testimonial market. It might be early days yet but I haven't come across any negative testimonials so far.
Many of Mailvio's users are actually affiliate marketers who switched from Mailchimp. Since Mailvio is suitable for affiliate promotions it has a high satisfaction rate.
Here are a few testimonials: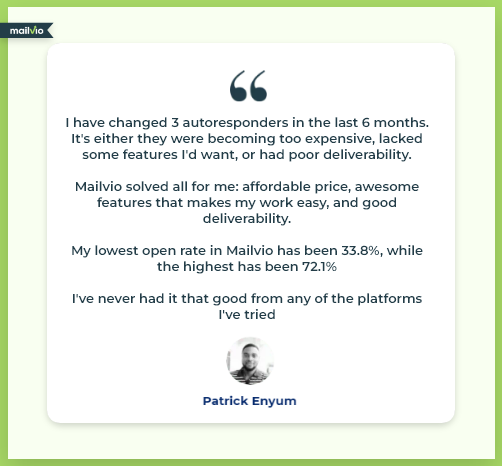 And another: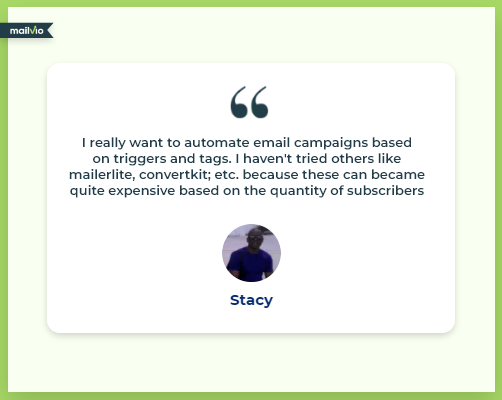 And lastly: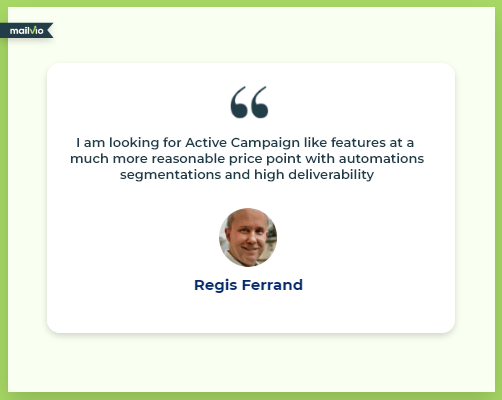 If you happen to come across any negative customer stories for Mailvio, please let us know below.
Verdict
Mailvio is the fan's favorite but you may have a different opinion depending on your niche. Score: 6/3 to Mailvio
Mailvio vs Mailchimp: Pricing
We have to spend money to make money. It's true.
Just like any other business, email marketing has expenses and a good autoresponder is one of them.
So let's see the pricing plans for these two competing autoresponders now.
Which has more value for money?
Mailvio: Pricing
Mailvio offers a 14-day free trial.
Beyond that, their introductory plan begins at $39/month with all features included. You can send unlimited emails to up to 10,000 subscribers on this plan.
There is no need to upgrade to unlock any feature.
At the highest level, Plus, you can send unlimited emails to 50,000 contacts for $149/month.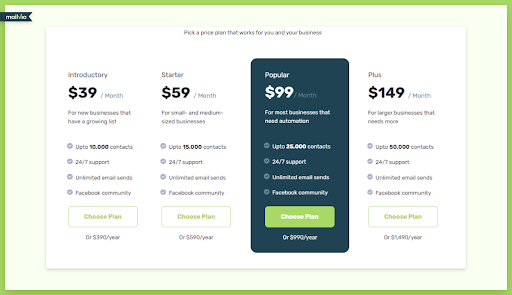 This pricing structure is very simple and so far, unmatched.
As it stands, Mailvio is 95% more affordable than its closest competitor, Active Campaign.
So, where does Mailchimp fall on this list?
Mailchimp: Pricing
Mailchimp's pricing strategy is a bit different from Mailvio's.
They have a free plan that allows you to send 10,000 emails to 2,000 customers. But this plan has limited features.
Mailchimp users will have to upgrade if they require more features.
Their Essential plans start at $10/month for up to 500 contacts. That equates to about $200 per month for 10,000 users. More than 5 times more expensive than Mailvio's basic plan.
At the premium level, all features are unlocked and it costs $300 to contact 10,000 subscribers per month.
To put that into perspective, 50,000 subscribers would cost you $1500 every single month.
Making it at least 10 times as expensive as Mailvio.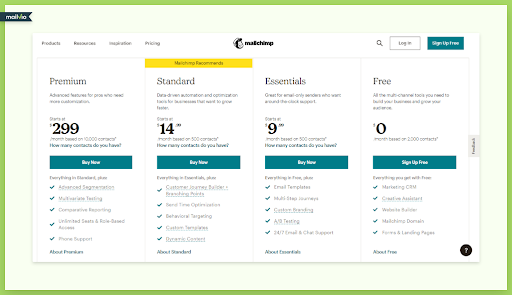 Verdict
For what it provides, Mailchimp seems rather overpriced. It will be hard for small businesses and new email marketers to scale on Mailchimp unless they have really deep pockets. Mailvio again stands the test of pricing. Score: 7/3 to Mailvio.
Mailvio vs Mailchimp: Final Thoughts
Both platforms are pretty awesome but Mailvio comes out as the better value for money. Mailvio has won 7 of the ten points of comparison but Mailchimp is still powerful.
So if you are a small business owner or into eCommerce it may be worth checking out what Mailchimp has to offer. Especially if budget isn't an issue for you.
Otherwise, if you are in need of a more versatile autoresponder that's cost-effective and suitable for all digital marketing promotions then…
Mailvio is the tool for you. Check it out here.
And if you want us to compare a specific autoresponder, please let us know which one in the comments below.
Until next time, it was a pleasure.
Take care.