Service marketing is the act of promoting and marketing an intangible commodity. It has been quite influential in helping companies promote their services worldwide.

A service's marketing is how it is marketed and how it is used in the marketplace. Although it is unique, it requires intangible representations of commodities (services).

As opposed to Product Marketing, which involves an advertisement for a physical product. Service Marketing involves the promotion of a non-physical service.

Customers have the option of choosing from a variety of services. Those that extend activities, benefits, or facilities as commodities. Let's consider a situation where a family visits a restaurant as an example. They avail of the services (dining) while there.

Those who have used these services pay for them and consume an intangible good in return. Recently, we have been focusing on services that tend to benefit the common masses. Services in one form or another, from transportation to education.

Globalization has emerged as a global hub of service. Providing many services to global clients.
The Importance Of Service Marketing
Marketers promote a range of different types of entities. Such entities as products, services, events, and individuals. Service marketing is a marketing approach that targets services. Providing services does not result in ownership of any assets. The production of services may or may not be tied to physical products.

Achieve the excellence of service marketing at three levels. These are internal, external, and interactive. Internal marketing involves training and motivating staff to provide customers with excellent service. External marketing involves pricing, distribution, and promotion of products to end-users. Client interaction is a method that describes how employees serve the client.
Service Marketing Features
The concept of service marketing is new compared to the concept of marketing itself. After exploring a brief introduction in the previous segment, here are a few different characteristics of this discipline.
Cost of Consumption
The cost of consuming a service is not standardized like the cost of manufacturing a product. Use the example below to understand more.

Restaurants with 1 star provide their services at a low price with low quality. The 5-star restaurant offers the same services with more refined quality. But, there are many important differences between the services.

It is possible that service marketing is not a standardized cost of consumption. Because of this, services cost may not be standard. The cost of consumption becomes a major highlight to sell a service.
No Ownership
In contrast to product marketing, which obliges the audience to own the product. The other one does not engage in such promises. After all, you can consume a service rather than own it.

Services can only experience not owned. This is a holistic concept that relates to customer experience.
Intangible Performance
Service Marketing emphasizes an intangible performance above all others. The definition of a service is more like a performance than a consumable product.

Additionally, it is an intangible commodity that is very popular with the masses. Services are both invisible and intangible, which makes them different from goods. Marketers are adept at doing this under the lens of performance marketing. This is because they are promoting an unseen service.

An example would be the hotel industry, which sells only services. So, the industry advertises and performs an intangible service to reach out to the masses.
Perishable goods
In contrast to a product that lasts for a long time, services tend to perish within a short timeframe. That makes it to refer to as a perishable product. Which is what defines it as a perishable product. In other words, as long as the customer is present at the venue, the service continues.

The experience fades away into memory, and there's nothing left to do but think about it! Since the service is perishable, the audience tends not to be convinced. Yet, service marketing is to market perishable products to intended consumers.
Interesting
Promoting a service is a great way to market your brand. A service is inseparably linked to its producer, i.e. it cannot be severed from that producer. While it calls for the audience to enjoy a particular service to the fullest.

When compared to a tangible product that the consumer can own, a service is an intangible entity that should appeal to the audience. Take the example of a beauty salon, that relates an entire service to its producers.

The salon itself provides the services. Thus, because you use the services at the salon, you don't take anything from it physically. Thus, you cannot separate the service from you. Still, the service appears to interest you. This is because it involves a commodity that leads to a better lifestyle. This is why you see services as interesting commodities in service marketing.
Service Marketing Types
One should know about the marketing strategies they used to promote their services. Before learning about that, one should learn about the types of service marketing so that one can better comprehend the concept.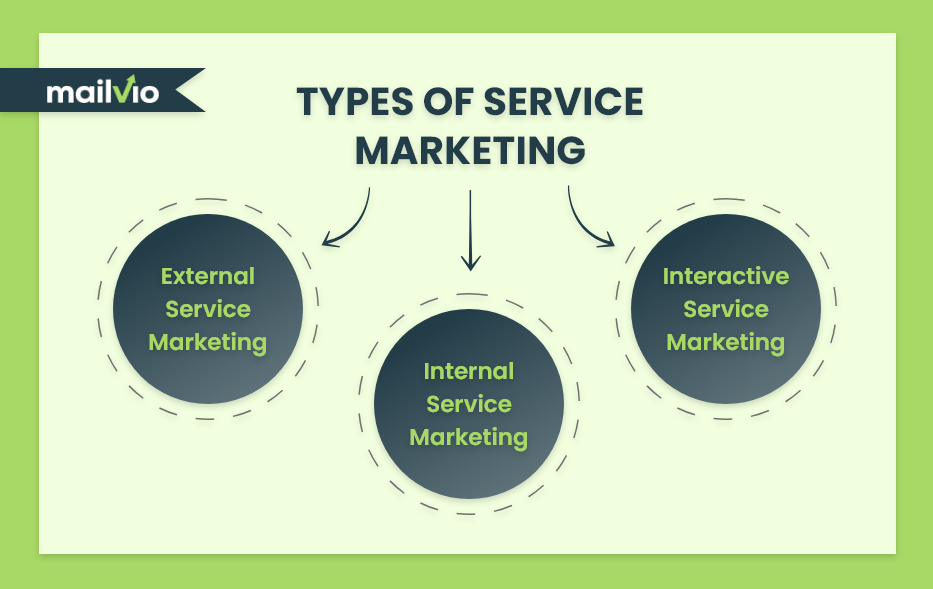 Types of services marketing
1. Internal
It involves the company's employees in promoting service.

The promotion of the service occurs internally. In that matter, employees are aware of the location of the service. And are able to pass along information in a more effective way.

It aims to focus more on employees than customers. It is integrally linked to the marketing process.

The more understanding an employee has of what the company does. Then the better they are able to spread the word and promote that company.
2. External
The second type deals with promotion. Promoting the company's services in an external environment by the company.

The traditional type of promotion involves various traditional methods to promote the service. These methods are pricing, product, and purchasers.

It aims at promoting services in the external environment. So that you can access the services and consumed.
Service Marketing Mix
Service marketing is based on traditional techniques of promotion. Here are some of the factors that make up the mix.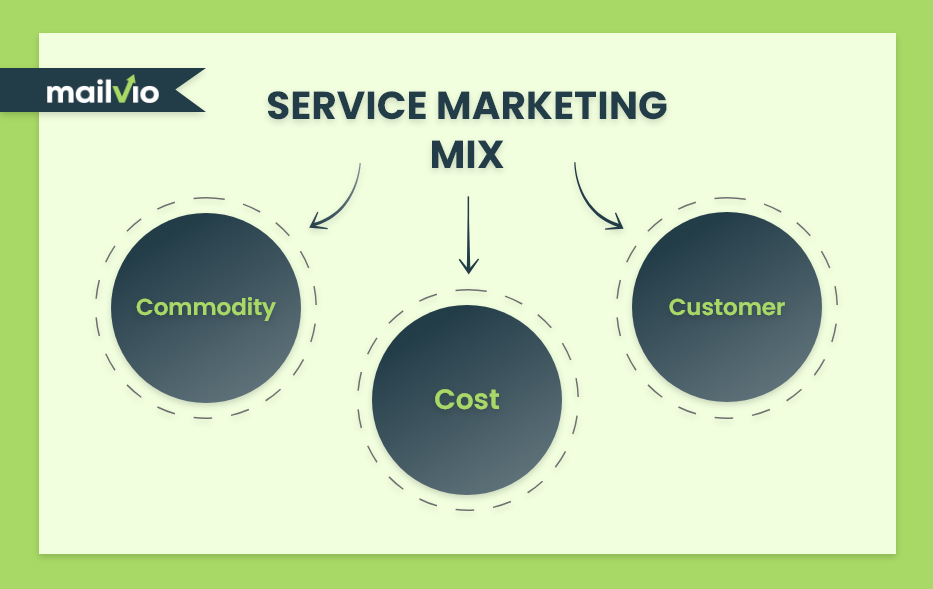 The marketing mix refers to some components when marketing a product or service.
Commodity
You should present commodity or service should in detail and well. Service is more difficult to promote than a product, which can be clearly advertised.

Despite this, you advertise the commodity as a whole across the spectrum of media. This is to catch the attention of its target audience.

If an advertisement for a bank has a service marketing component, the target audience isn't required to buy that bank.

It means that the audience is prone to buy the banking service. You need to market banking services in this instance as a commodity or a facility.
Cost
Because of the non-standardization of service marketing costs, as we have already read. There is no standard range of costs for customers to choose from. This commodity as it varies from service to service.

Restaurants, for example, can offer dining experiences of 500 or even 5000 rupees. Because services such as dining, a bar, and location are available, the services provided are extensive.

So, depending on the kind of experience one has, the cost can be a variant, yet important part of the marketing mix.
Customers
The third component is customers are in fact the most important.

Despite detailing the cost and commodity of the service. The concept of the customer represents the purchaser or the person who is going to buy the product in the end.

As such, one must be very careful when marketing a service. So about each of your target audiences in an attractive yet effective manner.

Customer satisfaction is very important because they are at the receiving end. So one must be careful about the features and specifications of the service.
3. Interactive Service Marketing
The most important part of service marketing is promoting the company's service. But there is a lot more to it than that.

Rather than promote a product, a service is instead promoted through this marketing chain. The company officials must be humble and kind to their customers to provide a service.

Another vital component would be technical service. which would need a third form of service marketing – Interactive Service Marketing. This is an example of service promotion between employees and customers.

Interactive marketing in which employees interact with customers about their company's services.

Among other things, Taj Hotels wishes to market its services to the target audience. Here is a brief description of the types of service marketing it will use to do its goal.
First, the company will produce advertisements. Highlighting the services that the hotels are offering under the chain. This is under External Service Marketing.
The next step will be the internal promotion of the company's services. So that its employees become familiar with them and become involved. This is under internal service marketing.
The company's employees will interact with the customers once they actually use the service.
Engaging employees in providing the customers with administrative and qualitative services. Under the Interactive Service Marketing.
As a result, the company will be able to conduct its service marketing campaigns.
Conclusion
Companies use service marketing to market intangible, interdependent, and perishable services. As the service sector emerges on a global scale, the marketing of services takes a variety of forms.

Furthermore, service marketing is very different from product marketing. It requires a variety of features. Recent years have seen a tremendous increase in the importance of service marketing. Due to the growth of commodities like education, banking, hospitality, and more.