You should always keep these things in mind when writing closing lines for emails:
It's only natural to end our sentences or conversation with a strong closing line.
The same is true when writing a professional email.
Be sure to change up the email's sign-offs beyond the typical ("sincerely," "from," "best regards," "best wishes," "warm regards"). Your sign-offs should vary based on the context of your outreach.
Email formats should include this practice.
We have compiled our best practices for sending emails. Along with 15 common email sign-offs and the best ways to end an email in various situations.
Closing Lines for Emails: Best Way to End an Email
When you're considering an email closing sentence, you have two options:
You can automatically insert a general sign-off into your emails by placing it above your full name in your email signature.
Organize your sign-offs separately for each message, so you can be as flexible as possible in real-time.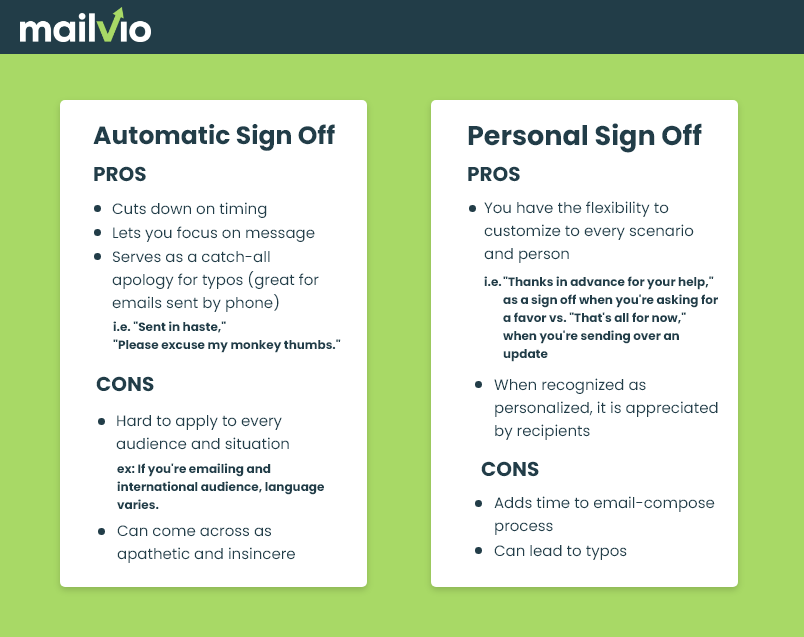 So, which option would you choose?
Personalized sign-offs are always a good idea.
You should only use your email signature as a blanket message when an apology or an important message when needed.
A sign-off for each email is well worth two seconds, and you can use an extension to spot-check for typos as you write.
The 15 Best Closing Lines for Emails
1. Closing lines for emails you use when you need an answer
Sign-offs can motivate action when they include a gentle reminder.
Our brains respond to visual cues.
Our memory is influenced by sight associations, which is why we frequently glance at headlines when reading.
You are 40% more likely to complete a task if you associated it with a visual reminder.
The method was tested with elephant statues and stuffed aliens, and it is an efficient way of ending an email. There are a few ways to remind your recipient:
"I appreciate your answering my question,"
It would be great if you could reply by [day or time] – thank you."
"I appreciate you guiding me in the right direction,"
2. Email closings when requesting a meeting
Remember: your email may be scanned.
That's fine, though.
According to research, people read using an "F" pattern. Your left-aligned signature is the last thing they see in the body of your email.
This gives you a final opportunity to remind them to confirm the meeting.
"Hoping to find a hole in your schedule,"
I am flexible to work around your schedule,"
If you're sending a sales email, add a P.S. line to remind them:
1) what they get out of it, and 2) the short amount of time they need to give.
«P.S. I guarantee that [x] minutes spent with me will produce [tangible value] for you."
3. Closing Lines for email when you want feedback or a task completed
According to research, gratitude promotes positive emotions and, therefore, builds stronger relationships. Gratitude makes people view you more favorably, which is beneficial when asking for something. Here's how you can take advantage:
Thanks in advance for taking the time,"
"I appreciate your help very much,"
"I look forward to your response,"
Let me know if there are any holdups," "Thank you."
Tip: If your follow-up might take some time and/or they need a second nudge, set a reminder to monitor if they reply. And ensure you're notified if they don't at the time/day you specify.
4. How to end an email when you're cultivating a relationship
Show them you care about them since you know them well. Send an email that ends with a message of support or an interesting piece of content. You can do this in the following ways:
Keep being awesome,
"Keep the good fight,"
5. Email sign-offs for planned meeting
You leave the door open for further conversation by mentioning that you'll be in touch. If you'd like them to reach you by phone, please include your contact information.
"Hope to talk soon,"
"I hope to speak with you soon,"
"I'm looking forward to connecting soon,"
"Interested in chatting, (Specifically for calls)"
"Hope this helps!" (If you're sending content or new information they'll find it helpful.)
6. Closing lines for emails when making an update
Keep in mind that the person (or people) receiving your email might have feedback, questions, or concerns. If there is further information coming, please let them know.
I'll keep you posted,"
"More soon," (only if you're committing to an update in the near future)
"That's all I have for now,"
"Happy to help if you need more information,"
I would be glad to answer any questions you may have,"
7. How to end an email when someone has helped you
Something was done for you by someone who went the extra mile. The following are some tips to end an email with gratitude:
"Thanks for everything [they did for you – use a quick phrase],"
"You're awesome,"
8. Using different closings when it's okay to break the norm
You can use these pattern interrupts from Criminally Prolific to move away from what everyone else is sending. In addition to humor, they use it as a persuasive tool to increase response rates.
Note: Make your own example.
Examples of funny email closer:
Enjoy your day and watch out for falling space stations,"
Sending "from the bottom of my heart," (a play on the typical mobile sign-off)
"This message is made entirely from recycled electrons."
I've found some funny alternatives to "Sent from my smartphone" for mobile:
Using a small phone, I typed with big thumbs,"
9. Closing lines for emails based on your send time
We all love a good shortcut to get things done.
With the right time to send emails at hand, you no longer have to wait around to message your recipients. It can be written now and scheduled for later, so you can personalize the time it lands in the inbox.
Here's how to do it right in your inbox. Check out these examples:
"Have a good morning, afternoon, evening, or date,"
Wishing you an amazing week, (if you are sending on a Monday or Tuesday and don't expect an immediate response).
"Have a wonderful weekend," (for Fridays)
("Hope you are having a good weekend,") sent on a Saturday or Sunday.
"Have a good holiday,"
10. Ending an email when you're wrapping up a project
A project you completed with someone went well! Take a moment to show some extra appreciation to your collaborator – it will go a long way.
With that in mind, here's what you should do to end a formal email:
"It's been a pleasure working with you,"
"Thank you for all the hard work,"
11. Ending an email response to rejection
Something didn't turn out as you expected. Even though you're feeling disappointed, it's still important to appreciate the opportunity, to begin with.
The fact that you do so can actually win you what you lost. Especially when you've submitted a resume or cover letter for a job.
Maintain a gracious tone throughout your email and indicate your desire to stay in touch. End the email by emphasizing the sentiment:
"Thank you for considering this,"
"I greatly appreciate your time and consideration,"
12. Closing your emails when you are reminding people
Another way of summarizing your main points. Reiterate your main point to make sure your email is understood.
"Don't forget to take action,"
"Again, please [action],"
13. Email closings when sending congratulations
Whenever you receive a compliment, you feel obliged to give one back. Right?
It is known as the Rule of Obligation.
Consider ending your email with a final note that acknowledges the recipient's accomplishment, in case you need their help in the future. It will create subconscious, positive attitudes toward you and your company.
Keep up the good work."
"Congratulations again!"
"In awe of your accomplishments,"
14. End an email to catch their attention in a last ditch effort
Whenever you end an email, you're likely to be conforming to a social norm. ("Thanks," "Thank you," "Yours truly," "Best" — you get the point.)
In other words, if you want to grab someone's attention, break it.
Like when someone stands the opposite way on an elevator, everybody notices. A good way is to:
"I appreciate you."
15. Putting an end to emails when they are more like instant messages
The rule of always ending emails with professional closings has one exception:
A formal signature with your full name is not necessary if you do not start your email with a salutation ("hi," "hello," "hey," etc.). People commonly sign off informal emails with "thanks," or even "thx."
There are times when this occurs, and everyone understands.
Improve your Email Management with Mailvio
One of the best ways to improve your email management is by using Mailvio.
It has great email deliverability. You can use this tool for:
Email automation – It has powerful workflows and actions that allow you to automate all or part of your email marketing. Intuitive and easy.
Broadcast Emails – Quickly and easily send your broadcast message with its intuitive desktop.
Detailed Analytics – Stay on top of how your email marketing is performing with its detailed analytics.
Email Segmentation – Segment your audience based on an array of factors for better engagement.
Email Creation – Use your own HTML code or its powerful drag and drop editor. You can choose from different amazing free templates.
Transactional Emails – Your emails can make the sale for you with transactional email.
A/B Split Testing – Easily set up tests to see which messages are performing better, then drill down to the gold.
Drag & drop editor – Build your email campaign without the need to write complex code.
Get creative and find what suits you and your audience.