The request for information email (RFIs) is a clear, simple, and business-friendly way to request information from your colleagues and customers. Here are 7 super quick steps to completing a final, written endpoint for your RFIs.

Email users are increasing at an astonishing rate every year. By the end of 2022, there are expected to be over 4.2 billion users. Besides the fact that email remains one of the most preferred communication methods for businesses. These numbers state that email marketing is still an effective way of reaching out to potential customers. If not essential to a successful marketing strategy.

The fact that over 293 billion emails are sent every day makes it inevitable to ask the question. How can you create an email campaign that stands out from the crowd? An email that gets higher open rates and click-throughs?
1. Make Your Subject Lines Short
Once you feel ready to write an email, write an approachable subject line. Try to summarize all of the contents of your email into a single sentence. In addition, you can use the subject line as a kind of generic greeting to create a friendly tone and entice your recipient to open the email and read on.
Only 47% of email recipients open the subject line and personalized emails are 22%. You can see from this that subject lines for emails are crucial for the success of your email marketing campaigns. The statistics, yet, point out that you need to be cautious not just about the content, but also with the number of characters used. Email subject lines with 6-10 words are the most likely to be opened. Another statistic to your advantage is the 22% higher open rate you get when you use urgency or exclusivity in your subject lines.

An example of a short and relevant subject line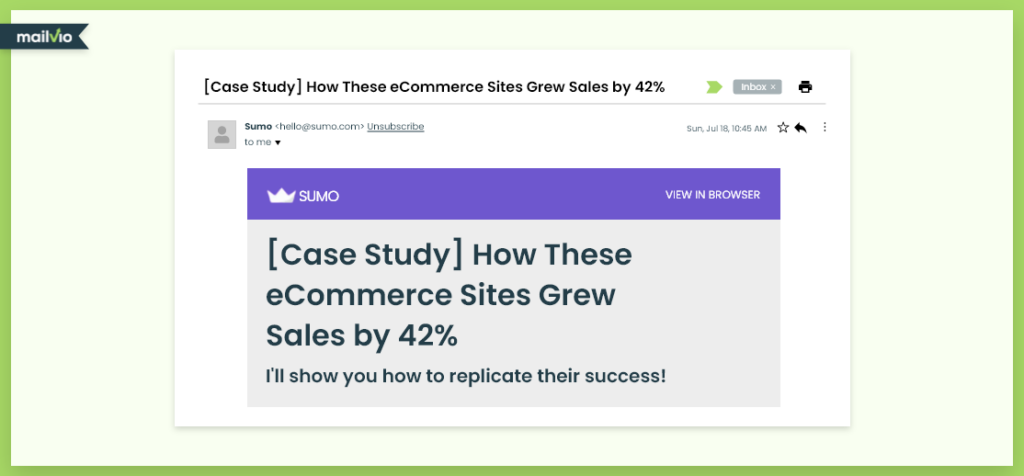 It can be difficult to come up with the right one-liner for an ad that seems simple. Your subject line can make or break your campaign. So, next time you're crafting one, keep in mind that the more you say with less, the better your chances are of being successful. This is very effective in doing requests for information by email.
2. Get Personal – But Keep Your Boundaries
There's no doubt that email personalization provides great benefits to your mail campaigns. Personalized promotional mailings have a 29% higher unique open rate. And also a 41% higher unique click rate compared to non-personalized mailings, according to Invesp. But the benefits go even further. In an Epson survey, 80% of consumers say they are more likely to buy from a brand that provides a personalized experience.

It's great to be familiar with the relationship you have with your customers, but you need to be careful not to cross the line. Using too many names will make you look weird in the eyes of your customers and damage your reputation.

Having the right customer data can be helpful here. Email marketers use requests for information emails to gather data. An alternative option for personalization would be to use general user data. Such as birth dates.

According to an Experian study, birthday emails generate 342% higher revenue per email. Also, 179% higher unique click rates and 481% higher transaction rates than promotional emails. It seems like a pretty good reason to include personalization emails in your email marketing campaigns, doesn't it?



Don't forget, though, that personalization doesn't end with just mentioning each customer's name in the email. You should try all of them to see which option suits your mailing list best.
You can ensure the reader of your professional motivations this way, establish trust, and create a pleasant first impression, which might increase the chances of the reader answering your request for information email.
3. Choose the Right Time to Send Emails
When it comes to the success rate of your email campaigns, timing is everything. Since you're aiming for a better open and click-through rate, selecting the right time to send the email is essential. Another reason is that loyal users may want to engage with your content (share with friends or on social media, etc.). So you should use all the tools you can to determine what's the best time to engage with them.

There is no one-size-fits-all period for sending. There are other factors to consider, such as the type of business you own. The following table will help you select the optimal timing, depending on the type of business you have:


According to the study, 51% of companies currently use automation tools. The timing for reaching out to your customers is now easier than ever to execute advanced multivariate testing. As a result, you will save your business time and resources. And let you concentrate on the most important elements of your email marketing campaigns.

I recommend using tools such as Mailvio. This tool enables you to integrate AI delivery. It focuses on email deliverability which is one of the important things to consider for your email marketing campaign. By using this tool you can focus on sending emails and engaging your leads and customers. Their service ensures that you're working from warmed-up IPs for better inboxing.

With this type of email optimization, you can definitely save time and resources. That will help you not to invest in the wrong email marketing strategies.
4. Create mobile-friendly email campaigns
When you send an email, consider how impressive it would look. But the moment you open it on your phone the images don't show and the design looks bad. As a result, your subscribers aren't able to interact. This situation can seriously affect your campaign's success.

Here are some helpful design tips that will help you avoid your subscribers disliking your marketing strategy: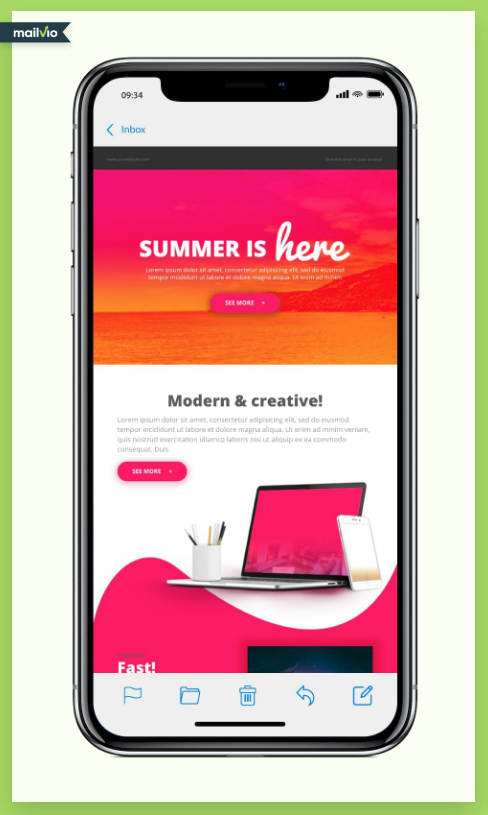 80% of Internet users own a cell phone, and that number is growing. You should never ignore mobile-friendly design when planning your email marketing strategy. No matter what platform subscribers use to check their emails. Always send emails that will be of high quality.
5. Reconnect with inactive customers
If you don't continually send relevant and engaging content, you will lose roughly a quarter of your subscribers every year. The decay of an email list is inevitable, but you can prevent it to a certain extent. What's the best way to keep your subscribers active, or to put it in another way? how can you make inactive subscribers active again?

Campaigns for re-engaging inactive subscribers are also known as a win-back campaign. This involves sending them a series of emails.
To do this, you will need to define what inactivity means to you:
It will determine the correct strategy by answering the above-mentioned questions. Followed by the creation of a re-engagement campaign. You can do rebuilding in a variety of creative ways. Many companies use the "we-miss-you" type of campaigns, as well as discounts and promo codes.

It is not always easy to win back customers. Remember that companies that invest in re-engaging campaigns in their email marketing see a $28.50 return on every $1 spent. In other words, getting back inactive subscribers is more cost-effective than acquiring new ones.

Whatever your strategy, you may send a certain number of emails and your subscribers won't return. It would be best to ask what their email preferences are in this case. Then, let them decide whether they want to continue receiving your emails. If you clean your list your email marketing success will be better than if you spend resources on subscribers they won't return no matter what strategy you use.
6. Create segments for your subscribers
By segmenting your email lists, you are able to communicate directly to your users. Your users receive the right information at the right time. If you follow your strategy perfectly the results are certain. A recent study by Optimove examined the power of segmentation in their marketing campaigns. They discovered that target groups with up to 150 customers had at least a $1.90 uplift per customer. Groups of 1,500+ had an average increase of $0.90. This demonstrates that the smaller the group, the greater the range of potential campaign outcomes.

Businesses that use email segmentation experienced 24% higher sales, according to Lyris' Annual Email Optimizer Report. Customers want to receive content that is relevant to their likes and dislikes. This makes the customer experience seamless. As a result, properly segmenting your lists is crucial to increasing engagement.

Research performed by Lyris, Inc. revealed email list segmentation.

A table showing the results of an email list segmentation study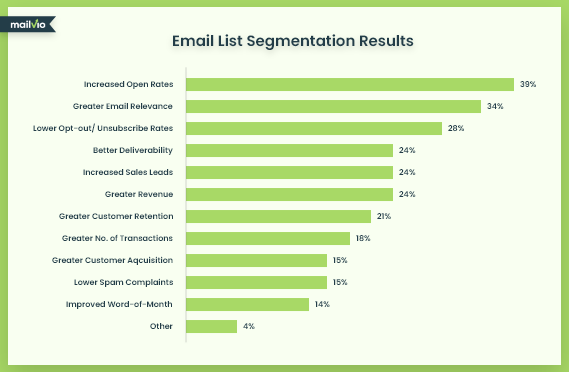 Here are some simple segmentation strategies to get you started:
Demographic segmentation
One way to segment your list is by demographic factors (gender, age, location, income level, company position, etc.). For instance, if you run a clothing store, knowing the gender of your customers will be very helpful. If you're a B2B software developer, you will also consider demographic details such as company position.
Email segmentation
This may sound simple, but it actually has a major impact on the results. Usually, the open rate and click-through rate are the primary metrics here. You can use this type of segmentation to identify active and inactive users (ex. Someone who has not opened an email in 90 days). Once you create this segment, you can build a specialized re-engaging campaign targeted at these inactive users.
Segmentation based on past purchases
Another simple but effective way of optimizing your targeting. For example, you could send users recommendations for similar purchases they have made before. Let's take the example of someone purchasing a hair product on your site. You could send the user an email asking them to reorder before this product runs out based on your educated guess.
Segmenting your users by their position in the sales funnel
A valuable way to customize your messages is to segment your users by their position in the sales funnel. That is to say, you can't target those users at the bottom of the funnel with the same message as those at the top. The message you send should be more generalized if they are new.
Subscribers at the bottom of the list
they should be offered a wide variety of products. If they've already signed up and interacted with your content, you can use that information to determine their interests, and more specifically target them.
7. Provide freebies
Your revenue can increase through promotional giveaways as well as your subscribers. Many subscribers like this kind of promotional content, and they're willing to give you their email address in exchange for it. While you might be skeptical on why you should give something away free of charge. This is the type of promotional content subscribers like and prefer. A click-through rate of 26% to 66% is the highest with freebies, such as templates and tools.

Your next paragraph can describe the benefits the recipient may receive by following your request. In this step, you can reassure your reader that they will be receiving something valuable in exchange for complying with your request for information email. Describe in two to four sentences what personal or professional benefits your reader may have by following your request.

Although you are eager to grow your email list, you need to follow certain rules. And that is the CAN-SPAM Act (Controlling the Assault of Non-Solicited Pornographic and Marketing Act). The CAN-SPAM Act stipulates that emails should have a relevant subject line. Your commercial email address is at the bottom, and an unsubscribe option at the bottom without exception.

You still have to follow what the law says even though your subscribers gave you their email in exchange for a freebie. Not only because of the legal consequences but more importantly, because building trust between your brand and your customers is your top marketing strategy.
Conclusion
The most effective way for your business to determine what works is to test your email campaigns. You will avoid typos, errors, bounces, and other kinds of issues. You can prevent it by sending out a test email before sending out your official one.

It's also important to note that testing shouldn't be done occasionally but rather continue on the go. It will be quite beneficial for you to test different variations of the same email campaign to discover how your subscribers respond. With next time's campaign, you'll know what's working and what needs improving.

Email marketing combines challenges and excitement by giving clients so many possibilities for growth and success. If it is implemented correctly, it can provide a great basis for creating well-planned strategies that lead to higher sales. Keeping in touch with your subscribers on their way to becoming loyal customers is what will put you ahead of your competition.