As a part of email marketing strategies, a reminder email plays an important role in reaching email subscribers and driving engagement.
While most brand content will fall under products and educational tools, some brands will use other email marketing tactics, like reminder emails.
Sending out a reminder email can be a great way to provide customers with important information, such as an upcoming event or sale.
When you share content with customers, you can improve your brand's reputation, increase sales, and achieve your business goals.
You may find it useful to learn how to craft a clear and concise email. If your organization requires you to send reminders to customers.
This article sets out to explain what a reminder email is and when to send reminders. Also, we will list the steps you can take to create a reminder email.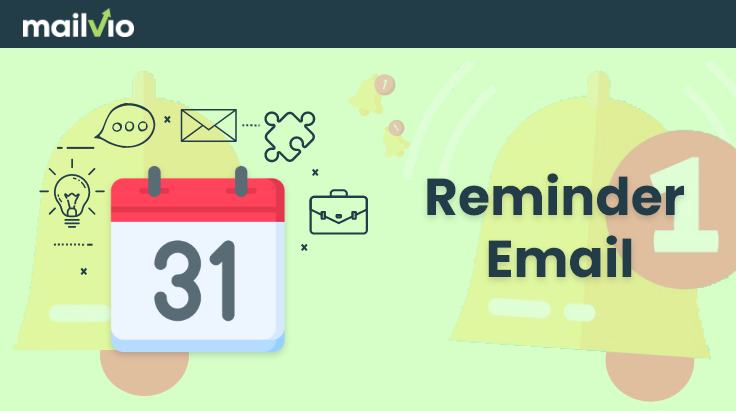 Reminder Emails: What Are They?
A reminder email serves the purpose of reminding your subscribers or customers about valuable information or actions to take. In fact, we need reminders as recipients. In our inboxes, we often see an interesting email.
Our schedules are too tight for us to open or respond to the email immediately. Thus, we leave it unanswered until a later date. However, we don't always do that. The sender and the recipient can both benefit from a timely reminder email.
Our reminders are a very important part of our daily lives. I am sure that we would all like to get reminders about our upcoming vacations and travel plans, about upcoming meetings and events.
Wouldn't it be awesome if we receive timely reminders of our savings, investments, and discount points collected each week?
Messages reminding us of the products we have ordered but did not have the time to check out. Reminders are extremely essential to our daily lives.
Automated Reminder Emails
Using email service provider technology will help you send timely and effective reminder emails. Autoresponders like Mailvio are second to none when it comes to email automation.
It isn't necessary to spend hours creating and distributing your reminder emails manually. To build your email lists for each deployment, you shouldn't need to use multiple spreadsheets and complex formulas.
In an ESP, you can set triggers, conditions, and create automated workflows and customer journeys. Reminding everyone about something does not require mass distribution of one single email.
You can send reminder emails with interactive content to give your recipients a personalized and engaging experience. Thanks to marketing technology, this kind of automation becomes a possibility.
Various Forms Of Reminder Emails
Reminder emails can be used for a number of things. Among the reasons for sending reminder emails includes. Flights, events, sales, discount expiration reminders, appointments, etc. Some examples of reminder emails are as follows:
Reminders For Upcoming Events
It is no surprise that event reminders are one of the most popular and well-known types of email reminders. It may be a good idea to remind customers about upcoming events such as workshops or conferences via a reminder email.
When you put time and effort into creating an event, it's exciting to see registrations pour in. Getting closer to the event day, you may be wondering what you can do to attract more attendees.
Although people may have a high sense of excitement about the event when they registered. It's easy for them to lose interest or simply forget about it.
Reminder messages won't guarantee full attendance, but they'll definitely increase attendance.
A Reminder Email About Sales And Discounts
Sale reminder emails are another type of reminder email that is extremely popular. You have one last chance to get a discount. One last opportunity to purchase before the product sells out. One last day of a sale. Adding a sense of urgency to these reminders may drive additional engagement and conversions.
Re-engagement Reminder Email
There might have been a long period of time since your customers interacted with your workplace. So it might be a good idea to send them a reminder email to reengage them.
Perhaps you can offer them a discount or invite them to an upcoming event to encourage them to become active customers.
Policy Updates
If you need to inform your customers about the policy changes at your workplace, it is handy to send an email. In this case, a clothing retailer may send an email reminding customers that a change to its return policy has recently been made.
Reminders About Feedback
Business owners should never underestimate the importance of customer feedback. Even so, in order for your subscribers to find the time to respond back to you, it can be quite difficult. Due to this reason, many marketers use a series of reminders to get the reviews they need or to get the feedback surveys completed.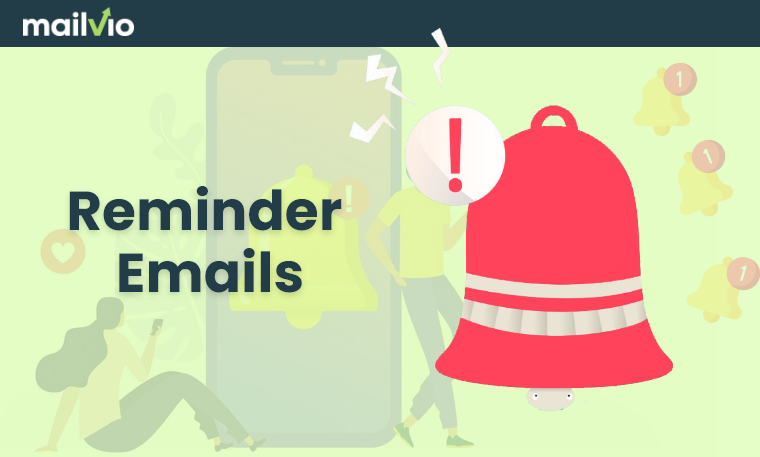 Reminders About Updating Or Deadlines
As consumers, we're using subscription-based products or services increasingly more. Despite our own personal opinions, it feels like the technology is going towards more subscription-based products.
That said, it's creating different challenges for consumers. For example, multiple subscription-based products mean managing various expiration dates or time-frames for renewal, and let's not forget timely cancellations.
Therefore, these types of reminder emails can be very beneficial for your email recipients.
Reminder Emails Decorum
Businesses can reach their sales, conversion, or registration goals by sending reminder emails. In any case, these emails are mainly intended to remind your email subscribers that you are here to help.
Hence, keep this main objective in mind when you create appealing content and captivating graphics for these types of emails.
Email reminders must be sent at the right time to prevent them from being ignored. If you do not send email reminders at the correct time, they are viewed as not important.
Ensure you also include all the information you need in the emails. Be as concise as possible.
The emails that you send should be easy to scan, and the call-to-action in your emails should be clear and easy to understand.
In my opinion, it's very important to remember to include a relevant call to action. Even if it's something as simple as an "Add" button to your calendar.
Please use an appropriate subject line when composing your email. In addition, please try not to send the same email as the original one. It might cause annoyance for some of those who have already read it and have already seen it in an earlier email.
The deadlines for expiration or important dates and times should be included if applicable. With the advent of technology today, accurate real-time countdowns can be included in emails themselves. Which makes life easier for email recipients.
The fear of missing out, or FOMO, remains a great and useful tool for marketers. Since the fear of missing out can boost customer engagement to a great extent. No one enjoys the feeling of missing out, more so if its beneficial.
Reminder Email Best Practices
When creating a reminder email, here are a few tips to keep in mind to get the best results.
Conciseness
In order to make sure that the message makes sense to your customers, you should keep it short and sweet in your reminder emails. Keep the email between one and two paragraphs in order to keep it short and sweet.
Check For Errors
Please proofread your mass email reminders if you are sending them out in bulk. Having the email proofread will help you identify any spelling errors or typos and ensure that it's easy to understand.
Email A Variety Of Reminders
Sending more than one reminder email might be helpful if you want customers to recognize your email. If you're reminding your customers of an upcoming sale. You may send a reminder email one week before the event and another email the day before the sale.
Examples Of Reminder Emails
The following are examples of reminder emails:
Invitation
Subject: New Kickers FA training event on March 20, 2022
Dear Mason,
I'm reaching out to you today to remind you of an upcoming event here at New Kickers Stadium. The event takes place at the stadium on March 20, 2022. The event involves a new coach who will teach new techniques on close control and long-range shooting.
Please respond to this email by March 10, so that we can reserve a spot for you in the training. If you have questions about the event, please contact the New Kickers FA customer service number at 993-356-6255. Thank you for your time in reviewing this email.
Sincerely,
Alvin Thomas, New Kickers FA coach
Re-engagement email
Subject: Update of account inactivity preferences
Dear Sandy,
In the last seven weeks, your account has remained inactive. We're emailing to ask if you'd like to receive content from our brand.
Please respond to this email if you wish to receive emails from us in the future. We appreciate your time. We have attached a coupon for 30% off any item at our store as a way of showing our gratitude.
Sincerely,
Tom Clancy, Brand Manager
An upcoming sale
Subject: High Rising Shoe sale beginning on June 12
Dear Matthew,
I'm emailing to remind you of High Rising Shoe's biggest sale of the year. Which takes place from June 12 to June 22. This sale includes 60% discounts on sneakers, boots, and flip-flops.
We would appreciate your participation in the survey attached to this email so that we can better understand what products you are interested in. Thank you for taking the time to read this email. If you have questions regarding the sale, please contact our customer service email, highrisingshoe@email.com.
Sincerely,
Kerry Breakspear, Manager of Sales
An update on policy
Subject: Must Watch Theater policy update
As of March 7, we have a new customer service policy, which I am emailing to remind you about. Customers may now send an email to mustwatchtheater@email.com with questions, requests, or comments about our theater. We just hired a new customer service team that will reply to your emails within 24 hours.
Any questions regarding the policy update should be directed to the new customer service email address. We appreciate your time and look forward to seeing you at the theater soon.
Sincerely,
Cindy Williams, Director of Theater
Expiration approaching
Subject: Blue Fields Library Membership expiration on February 13, 2022
Dear Diana,
I am sending you this email to remind you of your upcoming membership expiration on February 13. The renewal form, which is required for account renewal, has not yet been received.
Fill out the attached renewal form and submit it by February 12, if you are interested in renewing your membership. We appreciate your time. In case of questions regarding the expiration or renewal of your account, please respond to this email.
Sincerely,
Susan Hope, Blue Fields Library Manager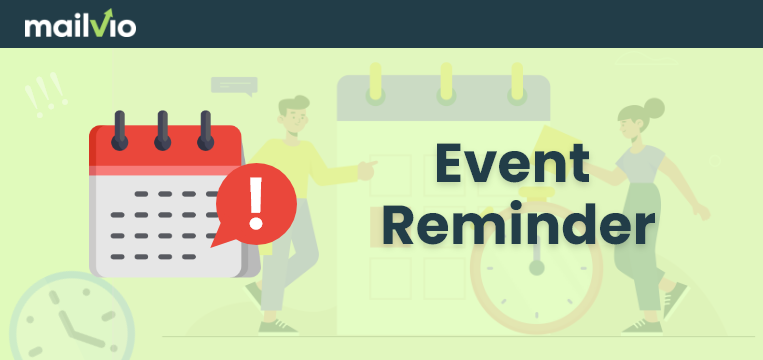 Final Words On Reminder Emails
Both email recipients and companies who send reminder emails can benefit from them. We are increasingly reliant on reminders, and timely emails can help keep your subscribers and customers informed.
Mail reminders in digital marketing are important in terms of retaining the client.
Most of these emails are sent automatically after a user performs an action on the website, so we call them trigger emails. But there could be exceptions.
Additionally, they can assist you with your goal-setting at the same time. Having automated email marketing in place can help you achieve good results. Consequently, it is time to move away from what used to be a single manual email reminder. To a customized and timely user journey instead.
You can sit back and relax while your emails work for you when you use email solutions such as Mailvio for your email automation campaigns. It's as easy as that.
Hope this article has provided useful and useable information for you. And now you are ready to update your email reminder strategy with Mailvio, the most effective email marketing platform.